Future electric cars: new EVs and plug-in hybrids due in 2020 and beyond
There's a vast array of new electric and plug-in hybrid cars in the pipeline. We look at the highlights due in the coming months…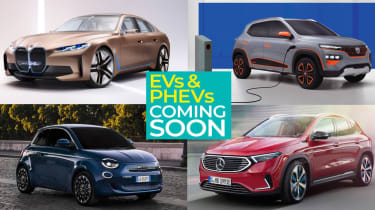 The next few years will deliver an embarrassment of riches for the electric and plug-in hybrid car buyer. With hundreds of electrified models arriving in the next five years, consumers will be spoilt for choice.
Electric cars are rapidly becoming available across all sections of the car market and extending downwards in price to move within easier reach of more and more buyers. That process is only going to accelerate as we move forwards with the EV arriving in the near future set to make the switch to plug-in motoring a more attractive choice for a growing number of buyers.
Best electric cars to buy 2020
It's a similar tale with plug-in hybrids. Often seen as a stepping stone from petrol or diesel to full electric car ownership, these models make a lot of sense if your car usage patterns fit.
Below we preview 10 new electric and plug-in hybrid cars that will be hitting a dealer's forecourt near you in the coming 12 months…
Future electric cars 2020
BMW i4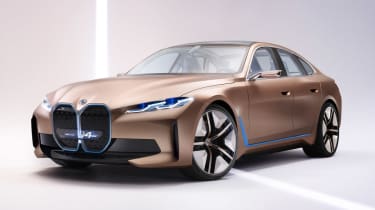 While the car seen here is a concept, the BMW i4 will enter production largely unchanged. The final specs are still to be confirmed, but the Concept i4 (above) has a 523bhp electric motor, which BMW says is good for 0-62mph in four seconds and a top speed of 124mph. It carries an 80kWh battery pack, which will provide a Tesla-beating maximum range of 373 miles. Like Tesla's Model 3, the i4 will have a huge infotainment screen that's responsible for controlling almost all vehicle functions.
Read more about the BMW i4…
Dacia Spring Electric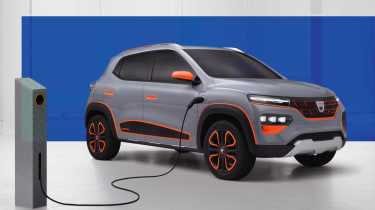 Dacia bosses say the Spring Electric will be the cheapest electric car in Europe when it goes on sale next year, indicating a sub-£17,500 starting price after EV grant incentives. It sits between the Volkswagen Up! and MINI hatchback in size, although the Dacia's SUV stance should aid interior space. While no official figures have been released, other than its 124-mile range, the Spring Electric is based on the Chinese-market Renault K-ZE, which has a 26.9kWh battery and a 44bhp electric motor.
Read more about the Dacia Spring…
Fiat 500 Electric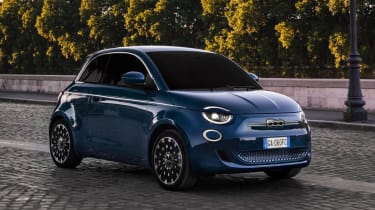 The second-generation 'new' Fiat 500 is one of the most eagerly anticipated electric vehicle launches of the year. It's available to order now in hatchback and convertible guises, and while it's slightly larger than the previous car, Fiat promises a range of up to 199 miles and a 0-62mph time of nine seconds. It'll take as little as 35 minutes to charge from empty to 80 per cent, and Fiat is set to launch a 3kW home charger that plugs into a domestic socket without professional installation.
Read more about the new Fiat 500…
Ford Mustang Mach-E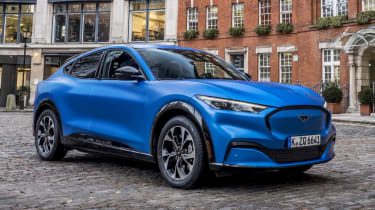 While Ford's use of the Mustang name might have caused controversy, there's no doubting the Mach-E is a car that will get you noticed. The Tesla Model Y (right) rival is promising some equally impressive specs, too. The official range is between 260 and 370 miles, and when hooked up to a 150kW charger, it will add 57 miles of range in 10 minutes. Buyers will be able to choose from rear and four-wheel drive, and a forthcoming GT variant promises a sub-five-second 0-62mph time.
Read more about the Ford Mustang Mach-e…
Mercedes EQA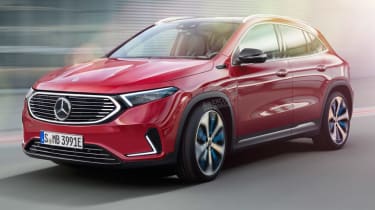 Mercedes' EQA is poised to be the only fully electric compact crossover on the market when it goes on sale early next year. Despite its name suggesting otherwise, the EQA will be an SUV, which is a shape better suited to maximising interior space in an electric vehicle. Mercedes will offer the car with a range of battery sizes, and it claims around 250 miles will be possible on a single charge. Our exclusive image shows it'll borrow styling cues from the brand's larger EQC.
Read more about the Mercedes EQA…
Mitsubishi Outlander PHEV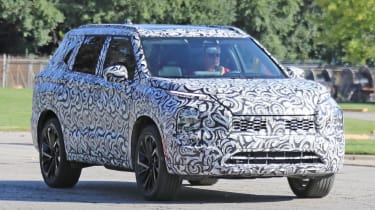 The Outlander was the first plug-in hybrid to sell in large numbers in the UK, and it remains the most popular. The new car will feature a bold new look, inspired by the Engelberg Tourer concept. While it's yet to be confirmed, we expect the new model to be powered by an upgraded version of the 2.4-litre petrol engine found in its predecessor, supplemented by a new, larger battery pack. The interior is in line for a significant overhaul, too, with a fresh infotainment system expected.
Read more about the Mitsubishi Outlander PHEV…
Skoda Enyaq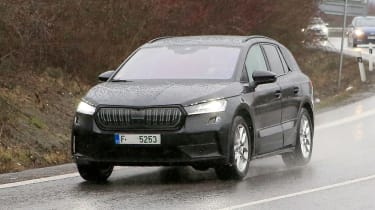 Enyaq will be Skoda's first all-electric car, based on the VW Group's MEB platform which it'll share with the VW ID.3, among others. It's a little smaller than the Kodiaq, but interior space is excellent. And during a recent drive in a prototype, we found it to be exceptionally refined on the move, with pliant suspension. Depending on the version, the Enyaq has a claimed range of between 211 and 286 miles, and using 125kWh DC charging, it can be topped up from 10 to 80 per cent in 40 minutes.
Read more about the Skoda Enyaq…
Tesla Model Y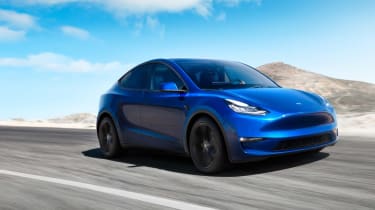 Tesla's Model Y could be the car to really drive the manufacturer to mainstream sales success. It packages all we love about the Model 3 saloon into the SUV bodystyle that buyers love so much. The similarities to the Model 3 are more than skin deep: it shares the same powertrains, platform, interior and tech. That tall stance brings not only improved interior space and a larger boot, but also a higher centre of gravity. Still, it's great fun to drive and sharper than the larger Model X.
Read more about the Tesla Model Y…
Vauxhall Mokka-e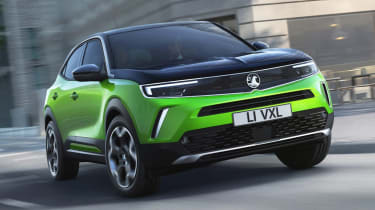 The second-generation Mokka will move to PSA's CMP platform which, as with the Vauxhall Corsa and Peugeot 208, allows full electrification. It'll be about the same size as today's car, but thanks to the use of high-strength steel, it will weigh 120kg less. It's likely the Mokka-e will use the same 50kWh battery and 134bhp electric motor as the Peugeot e-2008 which, combined with the weight reduction, will give it a range of around 200 miles. It will be the first car to adopt the 'Vauxhall Vizor' nose.
Read more about the Vauxhall Mokka…
Volkswagen ID.3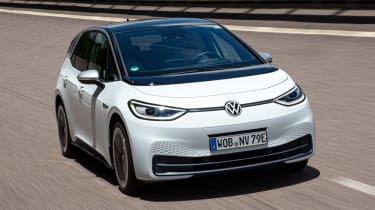 The ID.3 marks the birth of VW's new all-electric brand. It's roughly the same size as a Golf, and we estimate it'll cost from about £23,000 after the plug-in car grant, a similar price to the equivalent petrol or diesel Golf. A choice of motors and battery capacities will be offered, with ranges of between 143 and 342 miles, and mid and higher-spec models will support 100kW charging as standard. Inside, the ID.3 will be clean and uncluttered, and will provide more passenger space than a Golf.
Read more about the VW ID.3…
Which of these new electric cars are you most excited about? Have your say in the comments…
Source: Read Full Article