F1 2020 Review: A Winning Formula
This year's real world motorsports calendar has, so far, been rubbish. Right now we should be half way through the 2020 season but, following the last-minute cancellation of the Australian event in March and almost every event since either going in the bin or into a perpetual holding pattern, we're only one race down.
That means that, for the first time, an F1 game will land on consoles right at the start of the season. It also means that F1 2020 simulates the 2020 season as it should have been — Australia to Abu Dhabi, and all points between — rather than as it has turned out to be.
But F1 2020 promises far more than just F1 2019 with a new coat of paint (or two, in the case of Williams) and a couple of tracks, and we've been putting the game through its paces ahead of its official July 10 launch date. It's lights out and away we go.
Content and Value For Money

The core of any F1 game is… well, F1. For F1 2020 that means all 22 tracks on the planned 2020 calendar — including new additions Zandvoort and Hanoi — and all 20 cars, two for each of the ten teams. There's actually four short-track variants as well, for Bahrain, Silverstone, COTA, and Suzuka.
That's not a huge amount in the modern racing game era, but F1 2020 does have a few extra tricks up its sleeve. There's also 20 cars from the 2019 Formula 2 season, though they are all the same control chassis and engine — Dallara F2 2018 with a 620hp, 3.4-liter Mechachrome V6. A free update down the line will add the 2020 F2 cars too.
You'll also get to race in a selection of classic F1 cars, from the one-and-done championship-winning Brawn to the almost invincible McLaren MP4/4. There's 20 classics in total, though five are exclusive "Deluxe Schumacher Edition" rides. Even so, you're looking at 80 high-performance open-wheelers for your money, and that's a pretty decent return.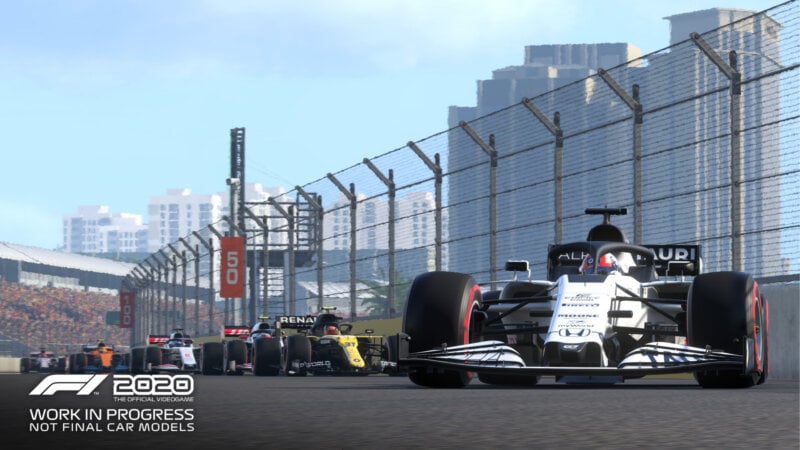 But why the fifth star in our rating? That's because of the 81st car, which looks like a generic 2019 F1 model that could be from any team. It's not exactly a special car, but it's what it represents that tips F1 2020 over the edge. That car is ultimately an entire new game placed right on top of the rest of the package: My Team.
The My Team mode is purportedly just a new game mode, but it's nothing short of transformative. What it does is add a story-driven aspect to a driving game that, unlike almost any other, doesn't feel in any way hokey or loosely screwed on to justify some big-name voice actors.
In My Team you make your own racing debut in F1 as a team owner for the new 11th team on the grid. Though there are slightly limited options, you create your own branding, liveries, and color schemes, pick up an engine supplier and some sponsors, grab a talent from F2 (they're all you can afford at first), and head into a ten-year career with slightly more invested into the game than being faster than an AI driver with Lewis Hamilton's face.
You'll be the driver-manager of your own F1 team, and that allows you to construct your own narrative. It's up to you whether you try and bring back the Tyrrell or Brabham name and go for glory, pick an automotive brand you're fond of with no real-world F1 history, build something around yourself, or go wacky.
At first you'll need to scratch around for cash. You can pick up additional sponsors to inject some funds, but they all come with their own conditions. If you want to reap some juicy bonuses, you'll need to match their expectations for your achievements — and they can hinge on driver or team points, finishing positions, distance driven, and so on.
Cash and Resource Points — earned for taking part in certain activities in addition to pounding round the race track — guide how you can develop your car. In fact your media activities also help in this direction, and you'll need to be careful, diplomatic, and evasive when it comes to your answer options. Pay too much attention to the aero department and the chassis team might start sulking. Additional media training gets you better — or at least more non-committal — answers.
If your second driver isn't pulling their weight, or you want a bigger name, you can hire someone new. Alternatively you can renew their contract, and they'll spend their own money on driver perks. And then there's the driving.
Of course F1 2020 retains the basic driver career mode from F1 2019, so you don't have to be as concerned with all of that. There's still the car R&D and negotiation for your own driver contract, and you can still spend a season (or part of one) in F2 proving your own worth first, or just jump right in. You can also sidestep everything and just dive into one-off single-player races.
Online Features

For a game with its own dedicated international esports series, you'd expect a pretty decent showing from the online. F1 Esports indeed has its own entire section of the main menu screen, and while at present that largely consists of external links, we can expect that to become more populated at a later date.
The main multiplayer hub gives myriad options, which includes a brand new (or at least returning after a decade) Splitscreen section. This allows for two players to play on the same console, for that head-to-head Friday night fun. If you like to have a few more people round, there's a LAN mode too.
As for full online multiplayer, there's again a truckload of options. You can run weekly events, which allow you to set leaderboard times against other players — though you'll need to take care of your qualifying opportunities — and then head into races at the weekend against them.
There's also Ranked and Unranked events. These are perpetually ongoing, with Unranked races giving a wide variety of options — you can set up your own rooms if required — and Ranked matches allowing players to gain or lose rating points.
You'll also find League matches. These allow players to set up groups with regularly scheduled events, and you can either join or create your own.
In addition, players have their own Super Licence. This acts as a record of player behavior and ability, with three ratings on view. Skill shows your pace, Safety your racecraft, and Attendance your reliability — determined by how often you fail to show in League matches.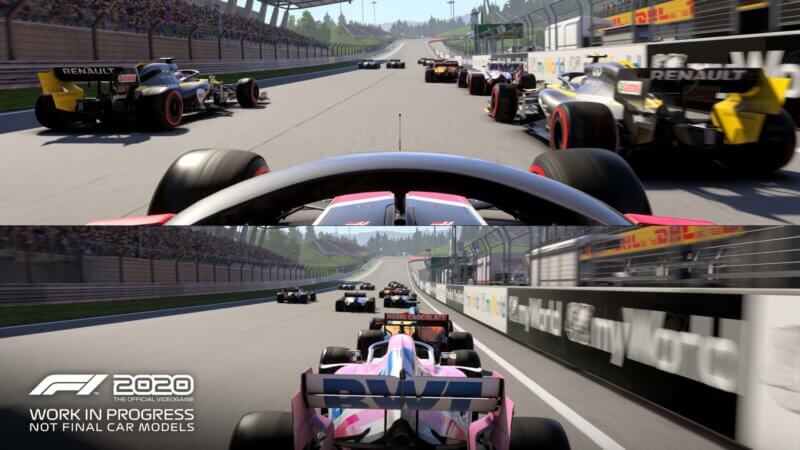 Driving Physics and Handling

Exactly how an F1 car handles is something only a few people can describe with any credibility, so we're not going to focus on how authentic the handling model underneath F1 2020 is. Generally speaking if you watch F1 on TV and then hop into F1 2020's cockpit and copy the same throttle and brake inputs, you'll get the same results.
There is a notable difference between the extremely sure-footed F1 cars and the more twitchy F2 models too. If you jump back into the lower formula after some time in the 2020 year F1s, you'll be fishtailing in lower gears in very short order. Some of the classics are certainly eager to bite the unwary.
Also clear is the difference between the various tire grades, and the effects of wet weather. Rain in particular generates a lot of understeer, especially if you're not going quick enough to heat the tires or pull air over the front wing. Get too eager on the gas and say goodbye to the rear end — it's fun, in a pretty scary way.
The game certainly seems to recreate the complexity of driving a modern F1 car, and there's a good chance that it'll be something of a finger-twister on a regular game pad. We've certainly brought up the multi-function display instead of activating DRS or ERS more than once. However, it's a perfectly playable game on a controller.
F1 2020 definitely comes more into its own with a wheel, if only for the ability to assign functions to the array of buttons. Mapping the MFD to the control wheel of a Logitech G29 makes life so much easier — ERS is now a one-button operation in F1 2020, but you do after all have to hit the right button…
There's plenty of options for fine-tuning your wheel's set up. We found the default option for the G29 was a bit too vague, but with some adjustments to the force feedback it was much nicer. The same ought to be true of higher-end wheels.
Codemasters has spent some time on accessibility, and it shows. On the easiest possible settings the game feels good to drive but also spares you from the outer limits of F1. You can pick from a variety of presets for the driver aids, or have free rein to mix and match as you prefer.
Similarly, there's plenty of options on the vehicle settings front, which will engage car tuning enthusiasts for eternity. For those not so bother by the fine tuning, the presets — which vary from maximum downforce to maximum straight line speed — will prove good enough.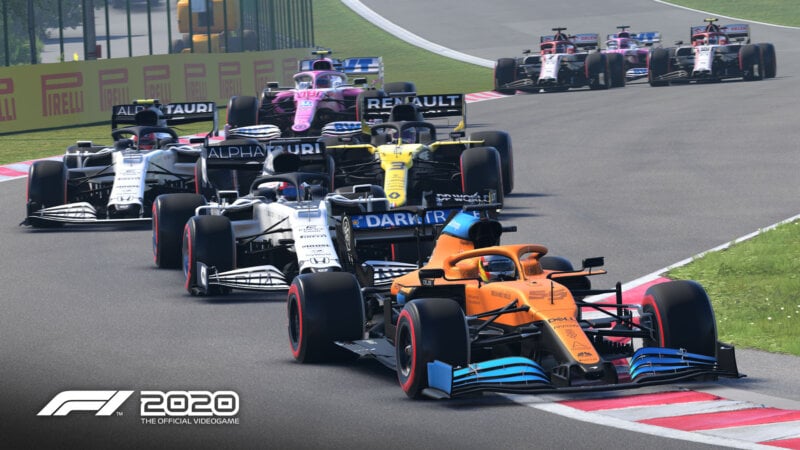 Graphics

This is perhaps one area where the "new coat of paint" criticism is valid. If you've played F1 2019, chances are you'll recognize F1 2020. More to the point, without any other clues, you might mistake one game for the other.
That includes a lot of the cutscenes. There's no noticeable difference between your pit garage in the two titles (except in My Team, with your own badges and livery all over the place), and for the most part the UI screens and in-game information panels are unchanged. Of course there's not necessarily any need for there to be changes, and it does retain that wholly authentic look of being an F1-licensed product.
In terms of gameplay graphics, there's barely any change either. Unless you're running them head-to-head there's not that much to notice. There's a hint of slightly better lighting, but you'd be hard pressed to point to anywhere in particular that's notably better. This might change if there is a PS5/XSX version later down the line.
Nonetheless, it's something that F1 2019 did extremely well, and while other games might be outright prettier, F1 2020 continues to be visually appealing and appropriate to the F1 experience.
We didn't discover any obvious issues with the graphics running on a base PS4 console. The game held a steady frame rate with no screen tearing or popup that was immediately apparent, even on a full grid of 22 cars with a bit of a monsoon going on.
Sound Design

The audio on F1 2020 remains excellent. There's clear sound differences between the modern blown hybrid V6s and the classic models, and for that matter the larger V6s in the F2 models.
That said, there isn't so much of a difference between the four F1 engines themselves. Regular F1 viewers can probably pick out a Honda from a Ferrari by ear alone, and this is something that doesn't appear to effectively translate into F1 2020 at this point.
However, there's much that is truly authentic, and that includes official commentators for both F1 and F2 game modes. You'll experience the occasional non sequitur — such as Alex Jacques declaring that the championship leader's points advantage has been cut… after the first race of the season — but it all adds to the atmosphere of the career.
In addition to the commentary team, there's other human voices in the form of your race engineer, and someone who acts as a helping hand through the pretty deep My Team mode, as well as the interviewers from the various media.
On the negative side of the audio equation is atmospheric sounds. At many races you'll spot helicopters noiselessly buzzing round, and even sometimes you won't catch the sound of a tire spinning. Of course F1 cars are noisy old beasts, but if you can hear the roar of a crowd as you zip past a grandstand, or the reflection of the engine on a close pass to the barriers, we would expect more ear candy.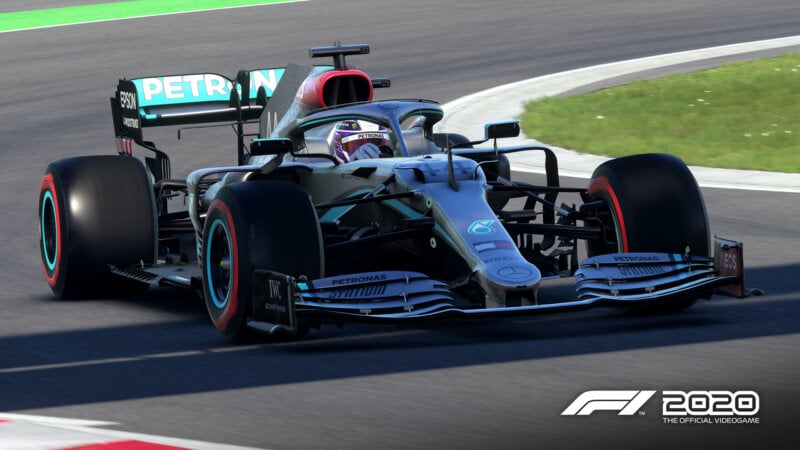 The Verdict
As we suggested last year, F1 2019 wasn't exactly F1 2018 2, and the same applies here. If you're expecting [Sport] [Year] title that simply updates last year's game with some new names, you're not giving Codemasters enough credit.
F1 2020 definitely continues to provide what F1 2019 did, but the addition of My Team is quite literally a game-changer — it's a mode that could even be a standalone game. We figured that last year's game was the most enjoyable in the genre, but F1 2020 moves to a whole new level.
It is perhaps not the best-looking, best-sounding, or most realistic handling (we'll defer to Lando and George on that front) game there is out there, and F1 itself is an acquired taste, but it stands a good chance of being among the most fun. The customizable driver aids make it accessible to all talents.
But we're going to be sinking some serious time into My Team and making our own F1 dynasty. That alone makes F1 2020 worth the entry fee.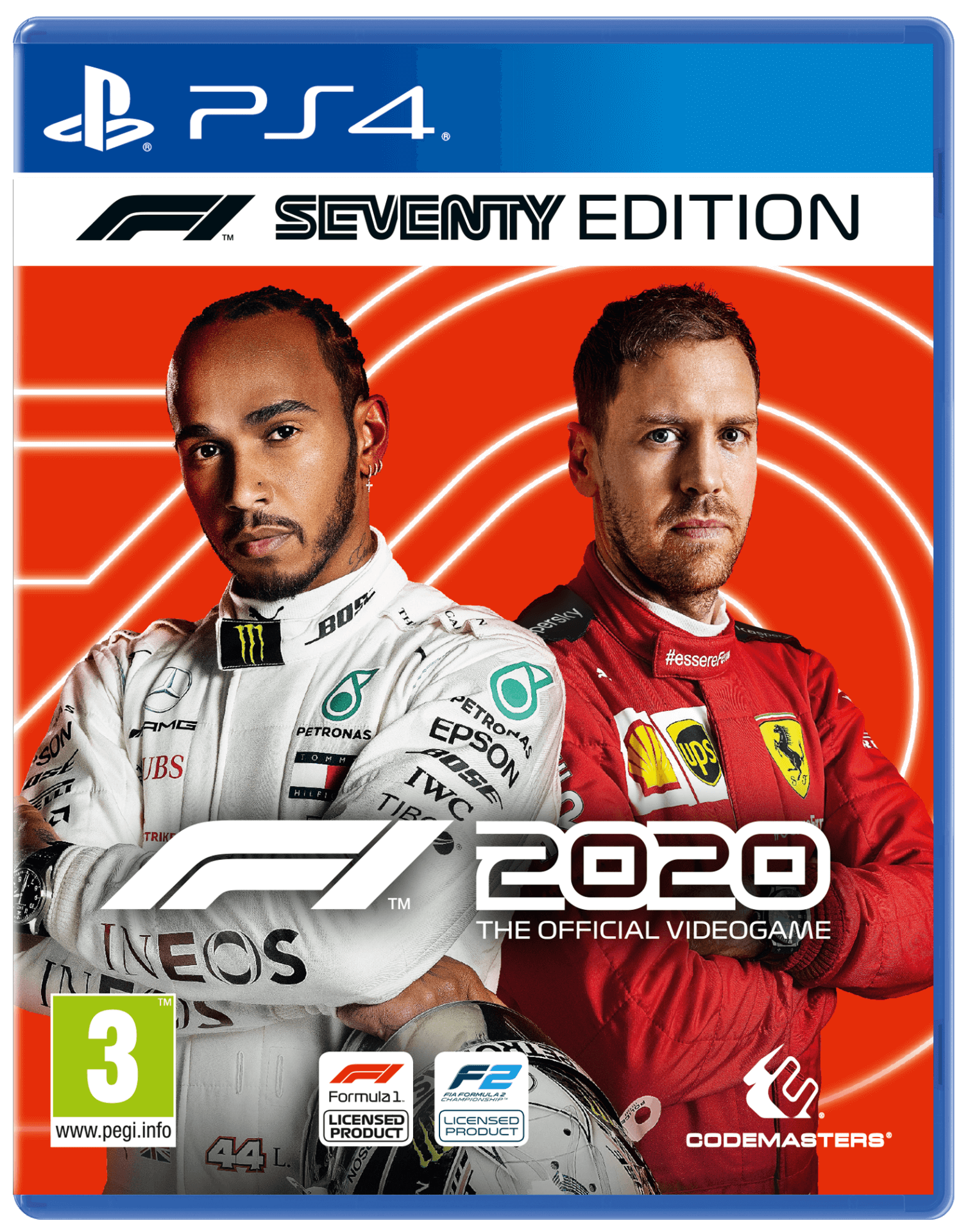 Content and Value For Money
My Team could be its own game, on top of everything you'd expect from F1 2019.
Online Features
One of the most complete online experiences out there, from entry level to full-blown world championships.
Driving Physics and Handling
New assists make for a more accessible experience, but still plenty challenging for the best.
Graphics
Retains its authentic F1 feel, even if it isn't among the best-looking titles this generation.
Sound Design
More could be made of environmental sounds, but it's a largely compelling experience, particularly with the official commentary teams.
Source: Read Full Article