Electric police cars in the UK: exclusive survey plots forces' EV uptake
Some constabularies have embraced electric vehicles, while other haven't any on their fleets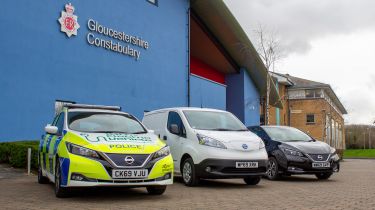 Police forces in the UK have more than 430 electric vehicles on their fleets and in excess of 808 chargers. These numbers are not evenly spread among forces, however, with some constabularies having adopted large numbers of EVs and others none at all.
Auto Express sent freedom of information requests to the UK's 45 police forces and received 34 responses, revealing how EV-friendly the majority of constabularies are. Some forces refused to provide the information we asked for, while others had not responded by the time we went to print.
Tesla Model 3 gains favour with the police
Unsurprisingly, the Metropolitan Police Service – which is the UK's largest police force – had the greatest number of EVs. The Met told us it runs 99 fully electric vehicles, including 50 Nissan e-NV200 electric vans, 41 Nissan Leaf hatchbacks and eight BMW K17 C Evolution motorcycles. The force also operates a number of BMW i3 patrol cars, but these were not included in the Met's response because they are range-extender models that have petrol engines fitted.
The Met also has the highest number of chargers, 264 of them spread across 33 police stations. The force told us it mainly tops up its EV fleet at its own chargers, but occasionally uses public chargers, too.
Another force with a large number of electric vehicles is Gloucestershire Constabulary, which has 83, including 72 Nissan Leafs, nine Nissan e-NV200s and two Tesla Model 3s. It has 59 chargers across 17 locations and its policy is to only use these and never public chargers.
Of the 33 forces who answered our request, seven told us they have no EVs whatsoever: Cambridgeshire, City of London, Durham, Lancashire, Northern Ireland, Staffordshire and Warwickshire.
Among the 26 forces that do run EVs, the Nissan Leaf proves to be the most popular, with 117 of these in operation. The BMW i3, Nissan e-NV200 and Vauxhall Corsa-e are also highly popular choices, with 87, 71 and 60 of these vehicles featuring in police fleets respectively.
Most of the EVs used by police forces are cars, but we were told about a number of vans and motorcycles as well.
One constabulary that refused to respond to our request was Police Scotland, which claimed it would be against the public interest to tell us how many EVs the force operated, and claimed not to hold the other information we asked for.
It did, however, answer a similar request from the Scottish Liberal Democrats back in August, from which it emerged that Police Scotland had spent around £20million on buying a fleet of electric cars, but had failed to install the necessary infrastructure to charge them. This led to the cars being left to charge overnight in public car parks.
Most popular police EVs
| | |
| --- | --- |
| 1. | Nissan Leaf |
| 2. | BMW i3 |
| 3. | Nissan e-NV200 |
| 4. | Vauxhall Corsa-e |
| 5. | Renault Zoe |
| 6. | Peugeot e-208 |
| 7. | BMW K17 C Evolution |
| 8. | Peugeot e-Expert |
| =9. | Hyundai Kona Electric |
| =9. | SEAT Mii |
| =9. | Vauxhall Vivaro-e |
How many EVs and chargepoints does your force have?
| | | |
| --- | --- | --- |
| Police force | Number of Evs | Number of chargepoints |
| Avon and Somerset Constabulary | 21 | 10 |
| Bedfordshire Police | 1 | 0 |
| Cambridgeshire Constabulary | 0 | 0 |
| Cheshire Constabulary | 5 | 12 |
| City of London Police | 0 | 0 |
| Cleveland Police | 1 | 4 |
| Cumbria Constabulary | * | * |
| Derbyshire Constabulary | 2 | 1 |
| Devon and Cornwall Constabulary | 4 | 6 |
| Dorset Police | * | * |
| Durham Constabulary | 0 | 0 |
| Dyfed-Powys Police | 11 | 12 |
| Essex Police | 8 | 8 |
| Gloucestershire Constabulary | 83 | 59 |
| Greater Manchester Police | * | * |
| Gwent Police | 6 | 25 |
| Hampshire Constabulary | 15 | 62 |
| Hertfordshire Constabulary | 3 | 10 |
| Humberside Police | * | * |
| Kent Police | 2 | 19 |
| Lancashire Constabulary | 0 | 0 |
| Leicestershire Constabulary | * | * |
| Lincolnshire Police | 21 | 29 |
| Merseyside Police | 8 | 64 |
| Metropolitan Police Service | 99 | 264 |
| Norfolk and Suffolk | 12 | 20 |
| North Wales Police | 12 | 19 |
| North Yorkshire Police | 1 | 6 |
| Northamptonshire Police | * | * |
| Northumbria Police | * | * |
| Nottinghamshire Police | * | * |
| Police Scotland | * | * |
| Police Service of Northern Ireland | 0 | 0 |
| South Wales Police | 3 | 11 |
| South Yorkshire Police | 11 | 24 |
| Staffordshire Police | 0 | 0 |
| Surrey Police | 32 | 42 |
| Sussex Police | * | * |
| Thames Valley Police | * | * |
| Warwickshire Police | 0 | 0 |
| West Mercia Police | 16 | 11 |
| West Midlands Police | 41 | 52 |
| West Yorkshire Police | 2 | 6 |
| Wiltshire Police | 10 | 32 |
| Total | 430 | 808 |
| *Did not respond | | |
Click here for our list of the best electric cars on sale in the UK…
Source: Read Full Article