Electric cars in Norway: why the country is in love with EVs
More than 50 per cent of new cars sold in Norway are electric, and a further 27 per cent are hybrids. We find out what's driving this trend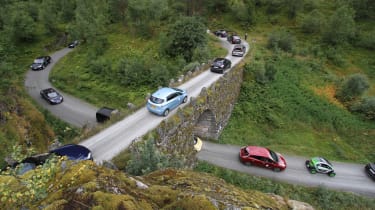 Despite being one of the world's most oil-rich countries, Norway's love affair with the electric car is well documented. The Scandinavian nation is one of the biggest and most influential global EV markets. Last year, more than 54 per cent of new-car registrations were electric, with an extra 27 per cent being plug-in hybrid (PHEV) models.
Norway is also looking to ban the sale of petrol and diesel cars by 2025 – five years sooner than the UK. But this kind of mass adoption doesn't happen overnight; Norway has been championing the electric car for almost three decades now.
'The UK should follow Norway's lead for a successful EV future'
Indeed, the incentives for EV buyers in Norway put the British government's recently reduced plug-in car grant to shame. As well as being exempt from the country's 25 per cent VAT rate, electric cars in Norway aren't subject to road tax, while drivers also benefit from reduced road and ferry tolls, as well as discounted parking. EV owners can even use bus lanes without fear of retribution.
These wide-ranging incentives will continue at least until the end of this year, at which point they'll be "revised and adjusted parallel with the market development". VAT exemption has been approved by the European Free Trade Association Surveillance Authority (ESA) until the end of 2022.
But how does a country with a daily oil surplus of almost two million barrels find itself in such a forward-thinking and eco-conscious position?
It all happened rather quickly, as Christina Bu, Secretary General of the Norwegian Electric Vehicle Association tells us, contrasting her home nation's progress with one on the other side of the world. "In Australia at the moment there is a lot of debate on EVs. There are a lot of myths and a lot of political anti-EV communication, because the coal lobby is very strong," she says.
"That could've happened in Norway, too, but it didn't really. In the nineties no one really cared, and suddenly around 2010-11 something started happening. Those who could've been negative didn't really see it happening, the transition was so quick."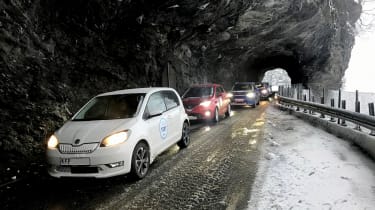 Furthermore, the majority of Norway's power needs can be met by renewable energy – almost all its domestic electricity comes from hydropower – so its reliance on oil for feeding its national grid is next to nothing. Contrary to popular belief, the money it makes from fossil fuels has had little to do with subsidising zero-emission transport solutions, or boosting the public charging infrastructure.
"The rest of the world thinks 'Norway can afford this because they have all that oil income'," Bu tells us. "But the fact is, we have had really high taxes on cars for years. Norway has an income to the state budget that other countries do not have. What Norway has done, however, is to not tax some cars – and those are the EVs. So it's not really subsidies, it's exemption from taxes," she adds.
The body Bu works for was founded in 1995, when Norway was building its own urban EVs; the Kewet (latterly Buddy) and TH!NK City. Early adopters loved them, yet take-up was small and the market didn't really evolve until cars like the Mitsubishi i-MiEV and Nissan Leaf brought EV motoring to the masses in the late noughties and early 2010s.
The Norwegian Electric Vehicle Association now has more than 90,000 paying members, and has had a foothold in major discussions regarding the rollout and taxation of EVs in Norway for more than two decades, championing electric mobility for the benefit of the climate and environment.
"In Norway you've been able to purchase an electric car for pretty much the same price [as a petrol or diesel car]" Bu tells us. It's a comparison made clear on the association's website, where the purchase price of a petrol VW Golf is compared with the now-discontinued all-electric e-Golf.
Despite the base import price being more than 10,000 Euros (around £8,600) more, the electric model is cheaper to buy when you factor in the various taxes that are applied to internal combustion-engined (ICE) cars. ICE drivers in Norway pay separate CO2 and NOx taxes, plus a 'weight tax', and VAT; combined, those fees add almost 12,000 Euros to the cost of a modest family hatch.
It's savings like this that have helped EVs dominate Norway's best-selling cars list over the past few years. Four of the top five biggest sellers in 2020 were fully electric; the Audi e-tron SUV finished first, ahead of the Tesla Model 3, Volkswagen ID.3 and Nissan Leaf in second, third and fourth. The petrol, diesel and plug-in hybrid Golf was fifth.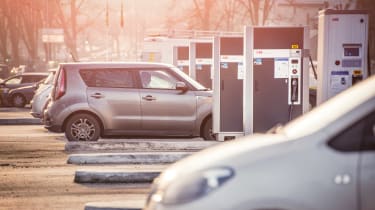 List prices and tax breaks are only part of the country's success story. Take into account the average domestic electricity price of just 0.87 Norwegian krone (7.3 pence) per kilowatt hour, versus a price of 17.23 NOK (£1.46/litre) for petrol, and the savings become clearer still.
Assuming the petrol Golf does 50mpg, you'd pay around £1,327 for fuel over an average year or 10,000 miles. If you charge the EV at home and average 4.5mi/kWh, you'll spend just £162 to cover the same distance and time period.
Tot up the amount Norwegian EV drivers will save on parking and tolls, and the true price makes an electric car a no-brainer. Norway is working hard to ramp up its public charging infrastructure, too: over the past decade, the number of EVs per charger has dropped from more than 160, to fewer than 120.
Despite the UK government's £2,500 grant for EVs costing less than £35,000, EVs in Britain are, generally, more expensive than equivalent petrol or diesel cars. Added to that, the cost of electricity is greater than it is in Norway (roughly 17.2p/kWh in the UK), meaning the savings are less substantial if you choose to run an electric vehicle over here.
Bu thinks other markets will see EV uptake surpass Norway's soon. "The mentality is completely different now to what it was back then," she tells us. "It's not like Norwegians are more environmentally friendly. [Electric car uptake] will happen even faster in other markets."
Norway isn't the only country offering incentives to push new-car buyers into electric or hybrid cars. Italy and Spain run schemes offering up to 6,000 Euros towards the cost of a new low or zero-emission car when an older model is traded in and scrapped. Germany has teamed up with manufacturers to reduce electric car prices by up to 9,000 Euros. All things considered, the UK's incentives seem out of step with its bold EV ambitions.
Norwegian tax
| | | |
| --- | --- | --- |
|   | Volkswagen e-Golf | Volkswagen Golf |
| Import price | € 33,037 | € 22,046 |
| CO2 tax (113g/km) | N/A | € 4,348 |
| NOx tax | N/A | € 206 |
| Weight tax | N/A | € 1,715 |
| Scrapping fee | € 249 | € 249 |
| 25 per cent VAT | N/A | € 5,512 |
| Retail price | €33,286 (£28,427) | €34,076 (£29,103) |
Click here for our list of the best electric cars on sale in the UK…
Source: Read Full Article