DS range to expand to six models by 2022
PSA's premium brand DS is expected to treble its model range in just a couple of years, Auto Express can reveal.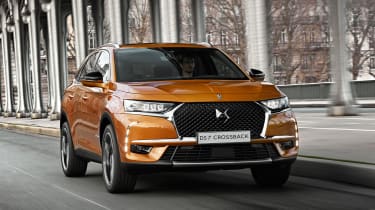 DS has already confirmed that a flagship DS 9 saloon will join the existing DS 3 Crossback and DS7 Crossback early next year, but DS UK managing director Alain Descat has revealed that there would soon be six models in DS showrooms.
Speaking exclusively to Auto Express, Descat said, "We are going for a six-car showroom."
After the DS 9 saloon arrives in the first half of next year, two versions of a new DS 4 model – spied testing earlier this year – are expected to follow in hatchback and Crossback forms.
Best family cars to buy 2020
Descat would not confirm whether a DS 4 was planned, but he did admit: "Clearly it's something I'd like to complement the range we have."
It's expected that the new DS 4 will be based on a new version of the PSA EMP2 platform that will allow for full electrification rather than just plug-in hybrid tech, as on current EMP2 cars.
Descat also revealed that nearly a quarter of all current DS models sold across Europe are electrified, meaning the brand has an average CO2 output of all cars sold of 79.9g/km – the lowest of any premium brand.
Large SUV on the cards
As for the sixth new DS model set to arrive in showrooms, Descat told us, "The range is not settled; which models we are about to launch is not fully decided. I do not know, but I would probably go for something in terms of a bigger car – a bigger SUV.
"It makes sense when you're launching a new car to make sure it's global. That's like with the DS 9, which is relevant in the Chinese market. There is definitely the potential for a bigger SUV, but we also have to have the right electrified cars across the range."
The DS 9 saloon, at 4,934mm long, is just 5mm shorter than an Audi A6. A DS 9 Crossback SUV at a similar length would take it close to the Audi Q7 in size, meaning seven seats would be a possibility, too.
Descat also confirmed that there would be more fully-electric DS vehicles, saying that he expected a new DS model to be based on PSA's recently announced all-electric architecture, codenamed eVMP. "The platform is launched from 2023 so I would expect very soon after that we would have a DS on it," he said.
Check out our round-up of the top 10 large SUVs on sale now…
Source: Read Full Article