Cheapest cars to run 2021
When it comes to total cost of ownership, cut-price entry models aren't always the best. So what are the cheapest cars to run?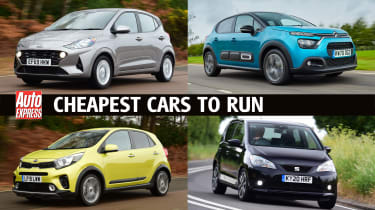 When you're looking for a new car and you're on a tight budget, the chances are you'll be comparing windscreen sticker prices of a range of city cars and superminis. You'll probably also be looking at promoted finance deals in the hope of saving a bit more cash, but are you considering the longer game? Which model is actually the cheapest to  run over the long term?
The cost of any car isn't just the amount of money you need to find up front, because you keep paying out while you own it for fuel, maintenance, road tax and insurance. You also get a chunk of your money back when it's time to sell. Taking all these factors into account produces a Total Cost of Ownership (TCO) figure, and while it's easy to be wise after you've owned a car, predicting a TCO figure before you buy it is a bit of a black art.
Cheapest cars on sale 2021
So we've teamed up with the experts at car data firm CAP HPI, and with the benefit of their expertise and algorithms, we've come up with predictions for the cheapest cars to run that are on sale in 2021. CAP is the industry leader for new and used car valuations, and its figures are widely used by manufacturers to calculate new car finance costs.
To avoid being repetitive and increase the range of choice, our list excludes duplicate models if more than one specification of the same car falls into our roster of low running cost champions. Instead we've picked the best performer from each model range.
Our TCO calculations are based on a typical three-year/60,000-mile ownership model too, and while this might not be the car buying pattern everyone follows, it's a great basis for making running cost calculations and comparisons.
So, on to our winners. As you can see it's not just bargain basement eco-boxes making the grade in 2021, as the super-low cost of charging an electric car compared to filling up with petrol or diesel has brought a number of EV options into play in spite of their comparatively high list prices.
So, without further ado, here are the brand new cars that cost the motoring equivalent of next to nothing to run…
Cheapest cars to run 2021
1. Dacia Sandero 1.0 SCe Access 
Total cost (3 years/60k miles): £12,979.24
Monthly: £360.53
Per mile: 21.6p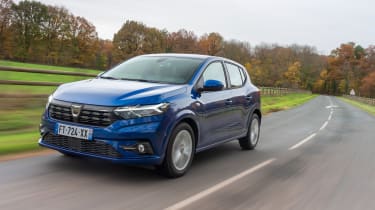 Unsurprisingly, the very cheapest car on sale in Britain also makes for the cheapest to own and run for three years. The Dacia Sandero in its most barebones form – Access trim with a 64bhp 1.0-litre three-cylinder SCe engine – has a list price of just £7,995, which is an incredibly small amount of cash for a brand new car. 
It's an extremely basic proposition, though. You'll have to be satisfied with white paint, black plastic bumpers and steel wheels with plastic trims, the absence of a radio, no air conditioning, plus manual windows and mirrors all of which are key to keeping the cost down. This simplicity has parallels with the way the Sandero drives, too. 
For those keen on the idea of a Sandero but wanting more, the Essential model – £8,995 on list price – adds a radio, air conditioning and a bit of colour. It's available with a more powerful, turbocharged three-cylinder engine and the new Bi-Fuel LPG/Petrol hybrid option – but you'll be up to around £10,000 by then.
2. Volkswagen e-up! 
Total cost (3 years/60k miles): £14,649.98 (e-up!)
Monthly: £406.94
Per mile: 24.4p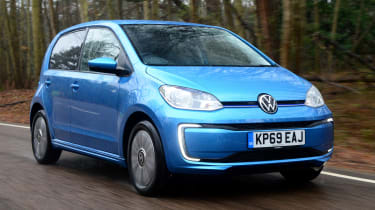 The little electric city car from Volkswagen can't match the cut-throat pricing of our TCO champ, and some may think the VW e-up! looks pretty pricey at almost £21,500 even after Her Majesty's plug-in car grant has been deducted. 
But you save big time when it comes to running costs, thanks to a 32kWh battery that will take you up to 159 miles on the WLTP combined driving efficiency test, and all on a charge time of around 4 hours from a typical domestic wallbox charger installation.
With fuel costing you pennies, no road tax to pay thanks to zero emissions, and extremely low service and maintenance costs, your high initial outlay is soon recouped as you rack up the miles in your e-up! You'll also benefit from the feel-good factor of driving a car with a distinctly more premium image than some of the cheaper to buy options on this list.
3. SEAT Mii electric
Total cost (3 years/60k miles): £14,656.18 (Mii)
Monthly: £407.12
Per mile: 24.4p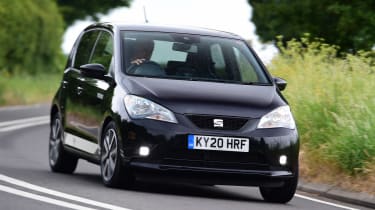 The SEAT Mii electric is identical to the VW in all important respects, because it's a rebadged version of the same car. While the badge isn't quite as highly regarded, there's little meaningful difference to the feel of the two cars, although the SEAT has a slightly sportier-looking nose. On the other hand the e-up! has a more upmarket appearance, and a  few more standard features such as steering wheel audio controls and  rear parking sensors. But then the SEAT costs around £1,500 less to buy than the e-up! so we shouldn't grumble. However, while that price advantage is initially appealing, the VW's stronger residuals pay off at the end of your three-year ownership period. As a result, the VW actually pips the SEAT's TCO figure by pennies per month in CAP HPI's calculations. It's an extremely narrow gap, but ultimately just enough to swing the result in VW's favour.
4. Mitsubishi Mirage Hatchback 1.2 Verve 
Total cost (3 years/60k miles): £14,821.08
Monthly: £411.70
Per mile: 24.7p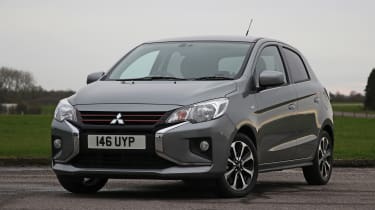 It's never been one of our favourite small cars on sale, but the Mitsubishi Mirage – recently facelifted and given a standard equipment boost – stacks up as one of the cheaper options to buy and live with, though only if you opt for the most basic 'Verve' model, which uses a 1.2-litre three-cylinder engine developing 79bhp. 
It's far from the best three-cylinder engine out there. Though it's more powerful than the likes of the Aygo's 1.0-litre it lacks zing and character and easily feels breathless, while power delivery is lumpy, and it's not fun to throw around corners either. 
There are far more accomplished rivals for similar money, but not many can come close to its combination of a low TCO and the amount of kit on offer. The base Mirage Verve features a radio with CD player, AUX connection and Bluetooth for hands-free telephone use, plus there's even a leather steering wheel.
5. Smart ForTwo EQ 
Total cost (3 years/60k miles): £14,901.77
Monthly: £413.94
Per mile: 24.8p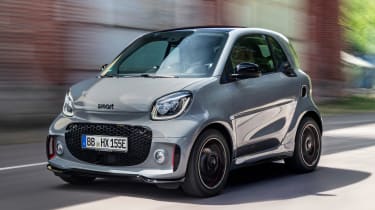 The Smart ForTwo EQ is another electric model with a forbidding initial purchase price.
That's because the Smart ForTwo EQ in Premium trim has a list price of almost £22,000 before the plug-in car grant is deducted. However, as we've said before total cost of ownership is calculated on how much money you'll spend from purchase to sale. Strong residual values, coupled with tiny running costs thanks to the electric drivetrain used in the ForTwo EQ mean that CAP gives it a strong ranking in the list of cheapest cars to buy new, run for three years, and eventually sell on. 
It certainly won't be a car to fit most lifestyles, however. The expensive purchase price will probably rule the Smart out for most buyers shopping on a budget, while the ForTwo is also strictly a two-seater. The small 17kWh battery means a maximum range of only 80 miles, too. N.B Costs calculated for previously available Smart Passion Advanced trim level.
6. Kia Picanto 1.0 1 
Total cost (3 years/60k miles): £14,908.24
Monthly: £414.12
Per mile: 24.8p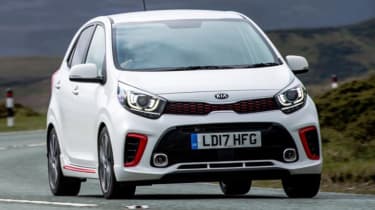 The Kia Picanto feels a bit more upmarket than some of the cars on this list, and is better to drive than the Mirage. It's also a modern city car, newer in design than many of the cars that outflank it for total cost of ownership on this list. So if you're looking for a cheap car that's bang up to date in design, the Picanto could be the one. 
Go for '1' trim, and you get auto lights, USB and AUX connections and remote central locking. But then there are basic features such as manual mirror adjustment, only two speakers for the stereo and steel wheels with plastic trims. However, as mentioned, the Picanto feels a bit more grown up than some of its contemporaries, while the reassurance of Kia's seven-year warranty is sure to hold plenty of appeal, too.
7. Smart ForFour EQ 
Total cost (3 years/60k miles): £15,391.98
Monthly: £427.55
Per mile: 25.7p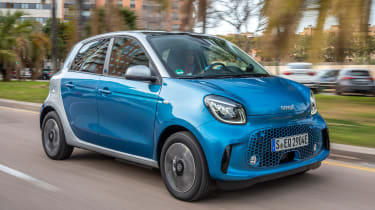 A great result for the Smart ForFour, the four-door four-seater version of Smart's electric runabout, which costs around £600 more than the two-seat ForTwo. It's just as cheap to run though, and with its similarly strong used values that means loads of extra practicality for less than a penny a mile more than its cheaper sibling.
While you may not be put off by an on-the-road price of £22,295 – or £19,795 after the grant – it's fair to say that running a Smart of any kind requires some compromises, and the EQ electric versions more than most. 
The primary concern for most buyers will likely be the limited range of around 80 miles, which may well suit very well for day-to-day city driving, but makes occasional explorations further afield somewhat challenging. 
There's always the three-cylinder petrol option of course, but that feels out of its comfort zone when you hit the open road, too. N.B Costs calculated for previously available Smart Passion Advanced trim level.
8. Hyundai i10 1.0 MPi SE 
Total cost (3 years/60k miles): £16,183.90
Monthly: £449.55
Per mile: 27p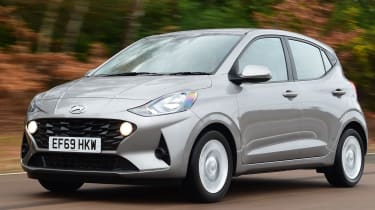 One of the more grown-up city cars is the Hyundai i10, and like its sister model, the Kia Picanto, it's a good small car choice if you're going to be doing any significant miles on the motorway. It's just that bit more refined than its contemporaries, meaning longer distance trips aren't as much of a chore. It's the newest car here, too. 
Even though the SE model is positioned as the entry-level i10, it's got luxuries some other cars on this list can't offer. A leather wrapped steering wheel and gear stick go some way to lifting the basic cabin, while electric windows are fitted all round. The mirrors are electrically adjustable and heated, too, while cruise control is standard equipment. We've found the new i10 to be one of the best city cars out there, so if you can afford it, it's certainly one to look into. 
9. Citroen C3 1.2 PureTech C-Series
Total cost (3 years/60k miles): £16,542.01
Monthly: £459.50
Per mile: 27.6p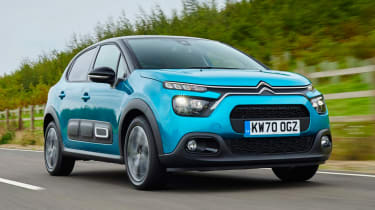 Competitive pricing, great fuel economy from the efficient three-cylinder engines, and a level of desirability that strengthens residual values all contribute to the Citroen C3 scoring a well-deserved 10th place in our list of TCO heroes.
The C-Series is a cost-effective trim level introduced last year that rolls many of the C3's most desirable options into a single package. That means you get 16-inch alloys, LED lamps, a black painted roof and privacy glass, as well as climate control and a seven-inch touchscreen with Apple CarPlay and Android Auto. The spec also includes lane departure warning, traffic sign recognition, cruise control and rear parking sensors, which means the C3 C-Series offers much more than we've come to expect from a cheap to run champion. 
What's the cheapest car to run that you've ever owned? Let us know in the comments…
Source: Read Full Article