Car industry's final plea to prevent £55bn Brexit blow
Auto bosses warn that UK car production will shrink by a third if no deal with the EU is reached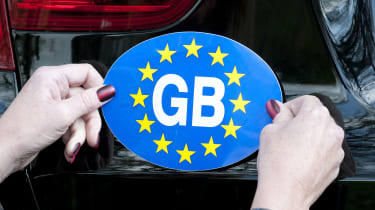 The UK automotive sector, which employs almost a million people, is warning that production will shrink to under a million cars a year, costing the economy £55.4 billion, if no Brexit deal is reached.
No deal would add roughly £2,000 to the cost of electric cars built in the UK and sold in the EU, and make an EU-built EV roughly £2,800 more expensive to buy here.
Brexit! What it means for cars, motorists and the UK car industry
In a last-minute plea before Brexit transition ends on 31 December, the Society of Motor Manufacturers and Traders (SMMT) asked negotiators on both sides of the debate to "stretch every sinew to get a deal in place by Christmas".
The SMMT says that defaulting to World Trade Organisation (WTO) tariffs would see UK car production shrink to under a million units a year, down from 1.52 million in 2019, while costing over £50 billion between 2021 and 2025. European car makers have already lost 100 billion Euros due to Covid-19, with trade tariffs having the potential to add a further 110 billion Euros to that tally.
Even if a basic trade deal were agreed, the cost of this to the UK would be an estimated £14.1 billion, with the SMMT saying "Brexit has always been an exercise in damage limitation."
The organisation, which represents UK car makers and retailers, added: "With scant time left for businesses to prepare for new trading terms, the sooner a deal is done and detail communicated, the less harmful it will be for the sector and its workers."
The SMMT's president, Dr George Gillespie, went further: "We've already spent nigh on a billion pounds preparing for the unknown of Brexit and lost twenty-eight times that to Covid. Let us not also be left counting the cost of tariffs, especially not by accident."
Mike Hawes, the SMMT's chief executive, said he welcomed the Government's recent plans for a 'green industrial revolution', but warned: "Automotive is nothing if not determined, adaptable and resilient, yet, as the clock ticks ever closer to midnight on Brexit negotiations, the competitiveness and employment we need get back to growth – green growth – hangs in the balance."
How has Covid-19 impacted the car industry? Find out more here…
Source: Read Full Article