Car colours: grey is UK's favourite shade for new cars again in 2022
The most popular car colours were overwhelmingly monotone again in 2022 but some brighter shades have shown growth.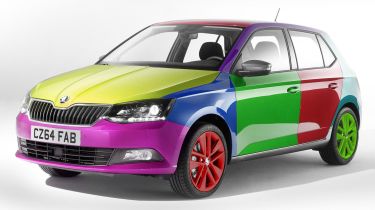 The only way was grey for UK car buyers in 2022, or 25.7 per cent of them at least. The shade we're all familiar with from elephants, battleships and November mornings was the most popular choice of paint colour on new cars throughout the year, just as it has been for the four consecutive years before that.
Car colour data released by the Society of Motor Manufacturers and Traders (SMMT) shows that a grand total of 415,199 grey cars were registered in 2022 as a whole, an increase of 1.7 per cent on 2021. The second and third places on the podium went to grey's partners in monotone crime, black and white.
Car paint protection explained: does your car need it?
Together those top three colour options accounted for 62.5 per cent of all the cars sold in the UK. Don't assume that grey and similar silver have been lumped together in one pot inflating the numbers, either. Sliver actually claimed 6.1 per cent of the market, taking sixth place overall behind blue (16 per cent) and red (8.5 per cent).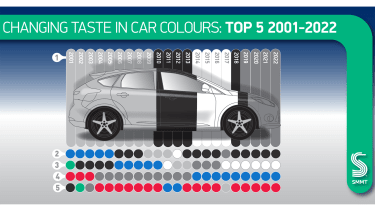 Between 2000 and 2011 Silver was the UK's favourite car colour for 12 straight years, but evolving tastes have seen it post its lowest numbers in 20 years in 2022, as we adventurous car buyers went grey in our droves. 
Data for the top 10 best selling cars in the UK showed that six of them, including the best-selling Nissan Qashqai are most commonly bought in grey. Only the Ford Fiesta in 10th place bucked the primarily monotone pallet with blue being its most popular hue.
Best car cleaning tips: the secrets to a perfect finish
At the other end of the spectrum some colours can guarantee your car an element of exclusivity, assuming you can stomach them. Maroon, cream and pink were bottom of the pile with a combined 1 per cent of the market but some brighter shades have shown growth, including orange, yellow, bronze and mauve. Green actually recorded huge growth of over 74 per cent through 2021 to take seventh place behind silver with 1.9 per cent of the market.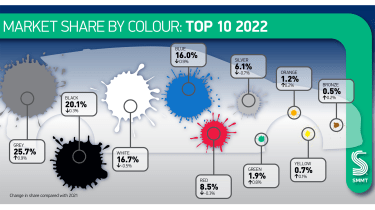 It's worth remembering that these car colour popularity figures have plenty to do with other factors as well as simple customer preference. For a new car buyer to select a colour, it needs to be available from the manufacturer and the colour choice in the brochure can be quite limited on today's models. You are certainly likely to find yourself paying more for some brighter shades. The fleet market is another important factor here, with businesses naturally opting for more conservative car paint shades in a bid to maximise residual values. 
Top 10 UK new car colours 2022
| | | | | |
| --- | --- | --- | --- | --- |
|   | Colour | Registrations | Market share (%) | Volume change on 2021 (%) |
| 1 | Grey | 415199 | 25.7% | +1.7% |
| 2 | Black | 324,993 | 20.1% | -3.7% |
| 3 | White | 268,886 | 16.7% | -4.8% |
| 4 | Blue | 259,950 | 16.0% | -7.5% |
| 5 | Red | 136,793 | 8.5% | -5.8% |
| 6 | Silver | 98,549 | 6.1% | -11.7% |
| 7 | Green | 31,220 | 1.9% | +74.2% |
| 8 | Orange | 19,403 | 1.2% | +16.6% |
| 9 | Yellow | 10,662 | 0.7% | +19.1% |
| 10 | Bronze | 7,800 | 0.5% | +73.3% |
How important is the colour when you're choosing a new car? Tell us in the comments below…
​
Source: Read Full Article