Can I buy a car during the Covid-19 lockdown? Dealers to reopen on 12 April
National lockdowns have kept dealers closed but the reopening is in sight. Here's how you can still buy a new or used car in all parts of the UK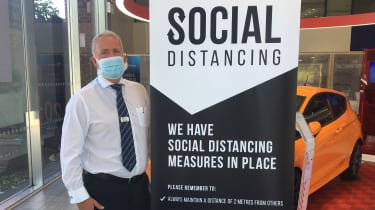 England entered its third national lockdown in January 2020, with Wales, Scotland and Northern Ireland employing similar measures. Three months later, the Government has confirmed the next stage of its exit strategy is going ahead on 12 April.
This means car dealerships – which are classed as non-essential retailers and, as such, have remained closed under local and national lockdown restrictions since before Christmas – are finally going to be allowed to reopen their doors to the public
Best new cars coming in 2021
The UK car industry is worth more than £82 billion in turnover, and adds £18.6 billion of value to the country's economy as a whole. Both new car registrations and manufacturing took a major hit last year and first impressions suggest 2021 may not be much better.
Read on to find out what buying a car will look like from 12 April onwards.
Can I buy a car from a dealership?
From Monday 12 April, customers will be able to walk into a showroom to look at a car, test drive it, configure it and buy it. It's hoped this will provide a boost to the industry, as those who don't feel comfortable buying a new or used car entirely online will have an opportunity to kick the tyres.
The experience won't be totally normal, however. It will be mandatory for customers to wear a face mask when visiting a dealership, unless they're medically exempt, and test drives will be taken alone rather than with a salesperson in the passenger seat.
This will at least be a more familiar and comfortable experience for many car buyers than purchasing a car remotely.
Can I still buy a car using click and collect?
Yes, click and collect services will continue to be offered for those who can't visit a dealership, be that for reasons relating to distance, Covid, or anything else.
Cars bought via click and collect services are ordered online and collected from car dealerships. Delivery services are also still allowed, so dealers can deliver cars to customers' doors. Our sister site BuyaCar is one of many offering a completely online car buying service. 
Going into a dealership to talk to a salesperson, look round a car and go for a test drive, though, is no longer out of the question if this is preferred.
Covid-19: what it means for motorists and the car industry
Can I get my car serviced, repaired or MoT tested?
Car servicing, repairs and MoTs weren't interrupted by the third lockdown, so you can take your car to a dealer or garage for any of these services. There has also been no MoT extension scheme like we saw during the first lockdown.
Confused over car finance? Check out our handy guide here…
Source: Read Full Article