"Brexit and the pandemic have hit the UK car industry hard, time for the fightback to begin"
Brexit in 2019 and 2020's global pandemic mean the UK auto industry's numbers look grim but Mike Rutherford sees better times ahead.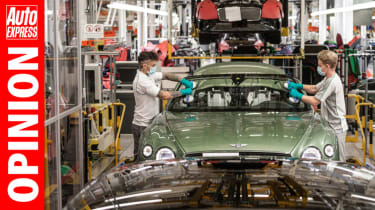 Remember the good old days of 2019, when health, financial and employment woes were far less of a worry? Looking back, it was a comparatively calm and blissful year. Well, it would have been were it not for Brexit, which resulted in 2019 being the final full year when the United Kingdom could call itself a member of the European Union.   
So how did Brexit shenanigans affect the British motor industry last year? That's a question that was effectively answered last week, when the Society of Motor Manufacturers and Traders gave me detailed data on the UK automotive sector's performance in 2019 compared to 2018. Let's start with the positives. 
'Ineos's clean-sheet approach looks eerily familiar'
In 2019, the number of engine manufacturers grew to 11, from nine in 2018. Not only that, but Britain also acquired a new car-producing nation – Wales – which is now home to an all-new Aston Martin factory. Also, the UK automotive supply chain and aftermarket showed greatly improved figures, including growth in the number of big suppliers having a base here, plus a whopping £12.5bn contribution to the economy from the often-forgotten but hugely important aftermarket sector. At an eye-watering £82 billion, turnover in Britain's big, wide auto industry was the same in 2019 as 2018. The level of net capital invested (£3.3bn) also stood still.
The overall employment figure was unchanged at 823,000. Jobs reliant on UK diesel engine production were as before, at 3,500, while the number of Research & Development centres also stood still, at 20. Given all the turmoil and uncertainty of 2019, the above isn't so bad.
On a less positive note, we already knew that production and sales were down, while the number of design centres dropped from six to five, and what the SMMT describes as major premium and sports car manufacturers slipped from eight to seven in number. Almost inevitably, improvements in CO2 emissions reduction were smaller last year than in 2018, largely because of the war on diesel, which meant consumers switching to petrol, therefore harming rather than helping the worthy CO2-reduction cause. 
"It's bonkers that politicians can get free travel to work when low earners can't"
As I've been warning for the past year or two, the Czech Republic was always going to overtake Britain in global car production, and it did last year, when it built 1.4 million cars against our 1.3m. But we still sit comfortably in the top 20; the cars we build are also generally of higher value, and have more prestige than those built in other nations. 
But it's the pandemic that's causing the damage – and then some – in 2020, due to everything from factory shutdowns, to some of the worst ever months for sales. So it's two tricky years on the trot for the UK's motor industry. All the more reason why we need to replace outgoing, old-school Honda, with incoming, cutting-edge firms. Now that Britain has departed the EU and its rules, our government can offer subsidies to attract such investors – just as it did almost 40 years ago with Nissan. And why not?
Our diverse workforce is willing, able and reasonably priced. Chairman Chung of Hyundai-Kia, and Musk, the godfather at Tesla – our country needs you.
What do you think the future holds for car manufacturing in the UK? Join the debate in the comments…
Source: Read Full Article