BMW Concept XM reveals new name and M-power for X8 flagship
BMW's Concept XM previews its upcoming SUV flagship, featuring M power and larger kidney grilles than ever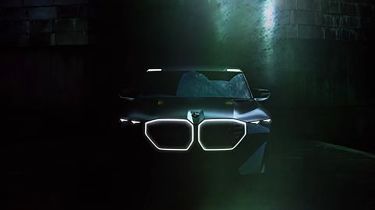 If the oversized kidney grilles of BMW's 4 Series were divisive, the Bavarian marque might just cause a cataclysm when it reveals its upcoming flagship SUV. As the M division nears its 50th anniversary, BMW has created the Concept XM; an electrified, high-performance SUV that previews the XM production car – a range-topping SUV previously known as the X8.
When it goes on sale, the XM will be exclusively available in M guise, making it the first standalone M car since the M1 supercar from 1978. With this concept, BMW is making "the most expressive statement in almost 50 years of BMW M", while giving us our best look yet at the forthcoming Mercedes GLS rival. 
New 2022 BMW X8 SUV caught on camera again
The Concept XM has an imposing, bulging snout, with far bigger grilles than any previous BMW. For this concept, the outer edges of the grilles are illuminated, with two raised bonnet bulges to accommodate them, much like the current M3 and M4. 
With so much space taken up by the grilles, there isn't much room for a set of headlights, and the Concept XM uses a pair of small, triangular light units either side of the grille. There's also a set of lights above the squared-off, shallow windscreen, although these are unlikely to reach production.
The roof, bonnet and front bumper all feature sharp, origami-like creases and folds – the Concept XM Concept looks like nothing we've seen before from BMW, or any other brand for that matter. 
It is said to be fitted with a high-performance electrified powertrain, which will also apply to the production version. The most potent variant is rumoured to be fitted with a twin-turbocharged 4.4-litre V8 with hybrid assistance, producing more than 700bhp and making the XM the most powerful production BMW in history. 
BMW describes the concept as 'a unique X to the M brand', highlighting that the XM will be exclusively available in M flavour when it goes on sale in 2022.
Check out the fastest SUVs on sale now…
Source: Read Full Article