Best steering wheel locks 2020
We test the best steering wheel locks on the market to stop hi-tech thieves in their tracks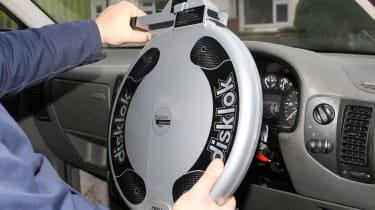 An increase in the keyless theft of cars has seen sales of steering wheel locks, pedal locks and gearlever locks soar, as owners look to bolster their car's vulnerable electronic security. With a number of products to choose from on the market, we decided to test the best steering wheel locks on offer to help drivers pick the best kit to deter criminals.
Ironically, it was electronic security that left devices like steering wheel locks redundant, as immobilisers improved, stopping thieves in their tracks. Now, those electronic systems can be hacked quickly and quietly with specialist devices bought online. Hacking gives thieves keyless entry, ready to drive the car away or load on to a truck in a matter of seconds.
• How to avoid keyless car theft
Yet an old-fashioned steering lock can persuade a hi-tech thief to look elsewhere. And the basics remain the same as in our first tests in the mid-nineties – a bright colour is best so thieves notice the extra security, while devices to stop the wheel, gearlever or pedals being moved will help prevent a car being driven away.
Most pieces of kit have barely changed, but which will stop the hackers?
How we tested them
We focused on the most popular devices: steering wheel locks. With the help of security specialist Giles Verdon, we rated each for their deterrent value, plus storage and ease of use – there's no point buying a device if it's so fiddly that you'll never use it.
We also looked at how easy it would be to remove them by cutting the steering wheel, plus whether the lock would be vulnerable to drilling. We then fitted them to our VW Polo test car and timed how long it would take to get them off – initially with no tools, then with basic kit like a hammer, chisel and pry bar, and finally with cordless tools like drills and angle grinders. As well as noting the time taken, we took into account the noise we made. Our final consideration was price, taken from online sources.
Verdict
Three of our eight were defeated with no tools in under five seconds. For obvious reasons, we haven't named them. But our top two stood up to over five minutes of attack, and were only removed with noisy power tools. The Disklok had the edge on security but is heavy and awkward. Stoplock's Pro is far more user-friendly, and at half the price, it edges the win. In third is the Carpoint.
Stoplock Pro
Disklok
Carpoint Steering Wheel Lock
Scroll down to read our full analysis of each steering wheel lock…
Stoplock Pro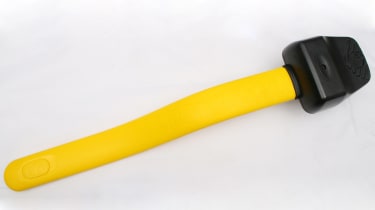 Best price: Around £45
Time to defeat: 5 minutes plus
Rating: 5 stars
We weren't sure whether to make this our champion when the Disklok had been a frequent winner for a decade or so, and is still very effective. But in the end it comes down to ease of use, and the slender Stoplock Pro is much quicker to fit and store in the cabin. It looks similar to its smaller stablemates, but it's much tougher, with several case-hardened parts that held off our tester. The final defeat was neither quick nor quiet. Unlike the other Stoplocks, it also clamps around the spoke so would require two steering wheel cuts, rather than just one. It combines security with ease of use, which is critical as the targeted cars are often driven regularly.
Disklok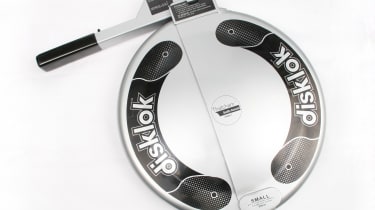 Best price: Around £110
Time to defeat: 5 minutes plus
Rating: 4 stars
For the ultimate in physical security, look no further than Disklok. Its design means it's not vulnerable to steering wheel cuts, and it just spins when you try to apply force with tools. We also noticed areas where the product has been improved, eliminating weaknesses we had used when attacking the lock-in past tests. And although other products hinted at approval by insurance research body Thatcham, Disklok has had its status renewed. As a deterrent, it is mighty effective, and it comes in a choice of colours if you think the silver of our sample is insufficient. But could you live with it? It's heavy, not the easiest to lock on to the wheel and a pain to store. For daily use maybe not, although for cars that aren't driven very often, it would be ideal.
Carpoint Steering Wheel Lock Elephant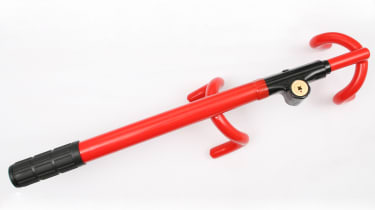 Best price: Around £20
Time to defeat: 10 seconds
Rating: 3 stars
There wasn't much between our remaining three, which could be defeated relatively quickly once their weak spot had been identified. This lasted the longest, and was noisy to remove. It was made of thicker materials than similar rivals and couldn't be forced off without tools. Plus, it could be hooked around a spoke for added security, but we could not see how it wouldn't be defeated by a wheel cut as claimed on pack. Fitting was easy, helping make this our budget pick.
Stoplock Original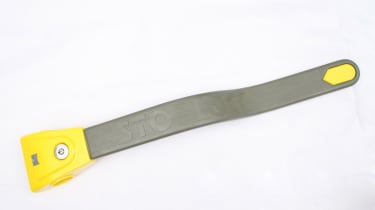 Best price: Around £30
Time to defeat: 5 seconds
Rating: 3 stars
Looks similar to our winner, but smaller and less sturdy. It also lacks the case-hardened parts and some of the materials didn't put up much resistance. As the pack says, these devices are only a deterrent, so we'd have preferred a more yellow than grey finish. There's a flashing LED in the casing, but it's too small. The lock snaps shut – no need to find a key – and it can be stored under a seat. But once we found a weak spot with tools it quickly gave way.
Stoplock Pulsar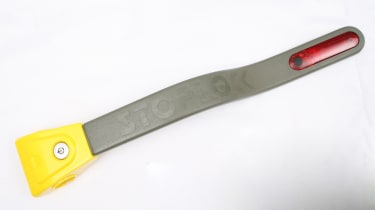 Best price: Around £35
Time to defeat: 5 seconds
Rating: 3 stars
This Halfords exclusive has a large flashing LED on the arm; more effective than the small light on the £10 cheaper Original, but still not bright enough. Otherwise it's identical, with the same locks, materials and design as the Stoplocks we tested 10 years ago. Again, we defeated it quickly and quietly with tools once we found the weak spot. These devices are light and convenient, with snap shut locks, long, slender designs and no hooks to get snagged.
Source: Read Full Article