Best rotary multitools
Which of these versatile hand rotary multitools is your car DIY must-have? We take a look at eight of the best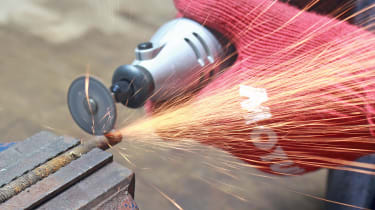 There's not much beyond the scope of a rotary multitool, which can get into places beyond the reach of cordless drills. These products are incredibly versatile: they can grind, clean, sand, polish, sharpen and even repair damaged hand tools with ease.
We looked at eight corded models in this test; clearly they don't have the convenience of cordless versions, but they offer more power without the possibility of flattening a battery. 
All came in useful, protective cases and included a number of attachments and accessories, which varied considerably. But which provides the best balance of kit for the money? We spun up eight to find out.
How we tested them
We used each multitool for a selection of typical car tasks, including polishing, using a disc to cut into an aluminium sheet, drilling and, finally, timing their three attempts to slice through a 6mm steel bolt using a 38mm x .75mm disc. 
The technical specifications were compared, especially the lowest and highest speeds on offer. Softer material needs a lower speed and vice versa, so the speed difference is an important factor in any machine's versatility. We considered the number and type of consumables (small brushes, discs, grinding wheels etc) and attachments, such as a stand and flexible drive, plus we took into account prices from makers and online sources.
Verdict
Once again, the Sealey has an unbeatable mix of performance and value, while the similar but lower-powered Wolf takes a fine second. Completing our podium
is the pricey but high-quality Dremel.
Sealey E5188 Multi-Purpose Rotary Tool Set
Wolf 135W Crafter Ultimate Rotary Multi Tool & 240pc Accessories
Dremel 4300 3/45
Reviews
Sealey E5188 Multi-Purpose Rotary Tool Set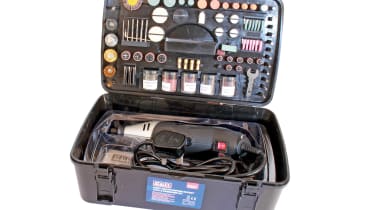 Price: Around £46
Rating: 5/5
Speeds (x1,000)/Watts: 8-35/170
No changes for this impressive set, which includes a flexible drive and 219 accessories, although we'd swap a few of those for a bench stand. The tool was well made and the slight 'kick' to the design at the back made it comfortable to use. The top-mounted, rotary speed selector offers six options but, even at the highest speed, it remained smooth and quiet. The powerful motor ripped through the bolt with no hesitation in a searing, Dremel-matching 14 seconds. Price, quality and performance make it a winner again.
Buy now from Amazon
Wolf 135W Crafter Ultimate Rotary Multi Tool & 240pc Accessories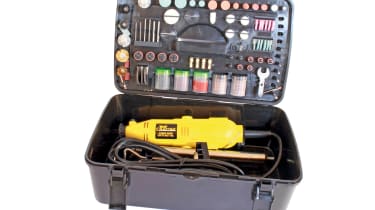 Price: Around £35
Rating: 4/5
Speeds (x1,000)/Watts: 10-35/135
The well-priced Wolf gave us déjà vu; because the strong, lidded case and tot tray are the same as the Sealey's. Its 200-plus accessories are remarkably similar as well and, although there is no clear plastic cover to keep them in place, a bench stand is included. Under the tote is a conventional tool, 135W rather than 170W, something reflected in the cutting time, which at 30 seconds, was about par for the course. As the no-load speed was increased, it vibrated more, although it was steady enough while cutting.
Buy now from Amazon
Dremel 4300 3/45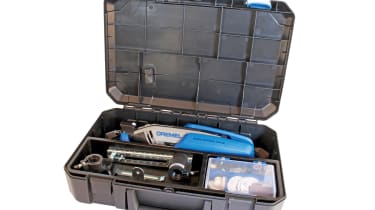 Price: Around £120
Rating:  4/5
Speeds (x1,000)/Watts: 5-35/175
From the company that gave its name to an entire genre, the latest Dremel was impressive in most areas. With 175W on tap, it's the most powerful tool on test and has the best low/high rpm. This helped it to a cutting figure of 14 seconds. Extremely well made, it features a neat LED light over the nose, a flexible drive, cutting guide, line/circle cutter and, uniquely, a three-jaw chuck that doesn't need collets. The downsides are the price and limited accessories, but it's one to consider for heavy or long-term use.
Buy now from Amazon
Tacklife RTD35ACL Rotary Tool Kit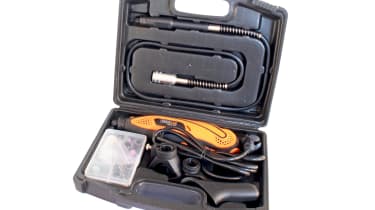 Price: Around £26
Rating:  3/5
Speeds (x1,000)/Watts: 10-32/135
The Tacklife stepped up a notch from our last mini test thanks to a better price, down by about £8, and stronger performance on the day. It comes with a flexible drive and a small box of 80 accessories. Even though there is no bench stand, a cutting guide is included. The design was comfortable, similar to the Sealey's, and we rated the handle that could be fitted to the nose for more control. The motor spun freely and was fairly quiet as it cut through our bolt in 30 seconds, albeit struggling a little halfway through.
Buy now from Amazon
Draper Storm Force Rotary Multi-Tool Kit 83652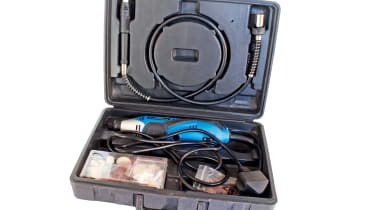 Price: Around £50
Rating: 3/5
Speeds (x1,000)/Watts: 10-35/135
One of the smartest tools on test, the bright blue Draper is neatly finished and comfortable to use. A generous tally of 101 accessories is included, with a flexible drive but no bench stand. We liked the rotary speed dial and, because it was positioned underneath the tool, adjusting this during use was easy. The Draper's cutting time of 25 seconds was better than in our last test, and more in line with the opposition. But, even allowing for its high accessory count, it lost out heavily by being the priciest 135W kit we tried. 
Buy now from Amazon
Silverline Multi-Function Rotary Tool 249765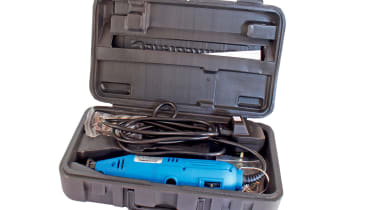 Price: Around £20 
Rating: 3/5
Speeds (x1,000)/Watts: 10-32/135
This is about as simple as you can get; Silverline packages the tool and 45 accessories in a basic plastic box. The motor spun smoothly and quietly, and a cutting time of 30 seconds wasn't bad, although it struggled somewhat as the disc bit deep into the bolt. We didn't rate the instructions, which had no diagrams or photos, but it does come with an impressive three-year warranty. If you only need a rotary tool for occasional use, at less than £20, this is worth a look.
Buy now from Amazon
VonHaus Multitool with Accessory Set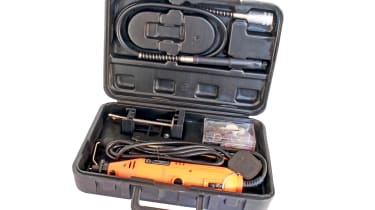 Price: Around £25
Rating: 3/ 5
Speeds (x1,000)/Watts: 8-30/135
A no-frills set from VonHaus which includes only 40 accessories in its blow-moulded case, but balances this with a very competitive price. The tool is conventional with rocker on/off and rotary speed control with six settings plus max. We liked the comprehensive instructions, which featured plenty of photos and diagrams, and its two-year warranty. But we found it vibrated noticeably as it was wound up to the max for the steel bolt and, after recording a figure of 40 seconds, the motor was getting rather warm.
Buy now from Amazon
Powerplus POWE80060 135w Rotary Multi-Tool with Accessories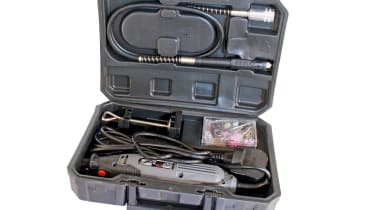 Price: Around £31 
Rating:  2.5/5
Speeds (x1,000)/Watts: 8-32/135
The Powerplus's case, layout and accessories look identical to the VonHaus set. Despite also having a two-year warranty, it costs £6 more. To date, our experience of Powerplus tools has been good, but this was disappointing. The instructions were limited, with no diagrams or photos, but the tool itself was the real letdown. It vibrated a lot and, especially with no load, was easily the loudest product on test. It struggled to cut the bolt, stalling and snagging much of the time.
Buy now from Amazon
Source: Read Full Article