Best racing games for mobile phones 2020
Fancy a bit of racing fun on your smartphone? We put 10 mobile racing games through their paces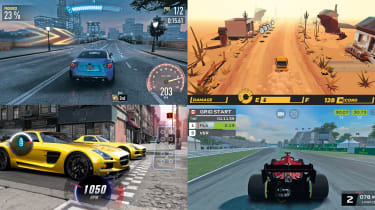 Mobile gaming isn't a flash in the pan – for a great many people, smartphones are the only games consoles that they own.
Luckily for them, game developers have realised this, and created racing games to let mobile gamers get their driving fix. While mobile racing games can't necessarily beat dedicated home consoles for graphical prowess or in-game immersion, they can certainly compete for their fun factor and replay value.
But do these apps really hold up for playing racing games? We sat down with 10 of the best currently available to find out.
How we tested them
The racing games in this list are all playable on smartphones or tablets running recent versions of iOS or Android. Our test device was a Google Pixel 3 XL, a fairly high-end, but not cutting-edge, Android phone.
Best driving games 2019: The racing sims you have to play this year
The deciding factor throughout was how much fun we were having. The best mobile racing games are easy to dip into and out of, with short, snappy levels; after all, most will be played on the move.
Graphics quality is important in games that aim for realism, and nothing's more irritating than a game that frequently loads up with adverts. We also considered price; most games here offer paid ways to level- up, but it's often nicer to just pay once.
Verdict
GRID Autosport may cost the most, but it's a fraction of the price of a console game, with the quality, graphics and gameplay of one. And it's a one-time purchase, with no extra costs to level-up. As a mobile racing sim, it's unmatched, and well worth the price.
If you're less of a serious gamer, Mario Kart Tour is our pick of the more arcade-style titles here. Nintendo isn't exactly experienced with mobile gaming, but it's hit the nail on the head with this app.
Horizon Chase: World Tour takes third place for its impressive depth and lack of any 'freemium' goodies, where you eventually have to pay. It's a solid racer, but not realistic.
GRID Autosport

Mario Kart Tour

Horizon Chase: World Tour
Reviews
GRID Autosport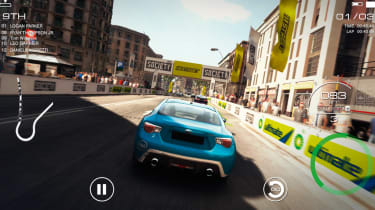 Price: £9.99
Rating: 5 stars
This game destroys the notion that you can't get console-quality graphics and challenging gameplay on mobile. It's a near-as-makes-no-difference direct port of the original GRID Autosport available for PS3 and PC, with controls adapted for mobile. It's a hefty app with a big price tag, and you'll need a high-end phone with plenty of spare storage space. But it looks spectacular, and race veterans can truly sink their teeth into the gameplay. There's also an easy-to-digest rookie mode, helping less-experienced players to improve as they go.
Mario Kart Tour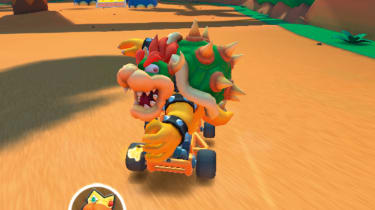 Price: Free (in-app purchases)
Rating: 4 stars
Now that Mario Kart Tour can be played live online, it embodies the sort of frantic action we love about this series. The tracks and characters have been translated brilliantly to mobile, and the single-finger control for steering, drifting and using items has been very well implemented. At launch, this game felt slightly half-finished; now, it's matured into a must-download for Nintendo fans. Not a serious racer, but hours of fun.
Horizon Chase: World Tour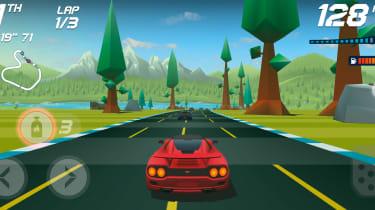 Price: Free
Rating: 4 stars
This game's retro look and feel will be immediately familiar to anyone who played arcade-style racers in the eighties; not that that's in any way a bad thing. The hit of nostalgia is backed up with an appropriate soundtrack and nice blocky graphics. It's not a sophisticated game, but one with considerably more depth and replay value than you might at first expect, thanks to a huge library of cars and tracks. There's no need to buy anything, either, which is really refreshing.
#Drive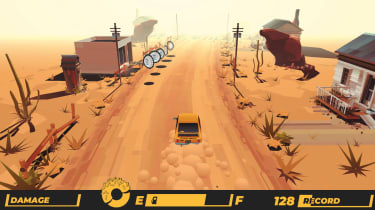 Price: Free (£3.49 ad-free)
Rating: 4 stars
#Drive's atmosphere is absolutely spot on, with a super-cool eighties vibe and blocky graphics giving a great aesthetic as you drift down the road. It's not a classic racer, as such, but more of an endless chase game, which sees you evade police as they pursue you. Clean controls make #Drive a simple game to pick up, with levels lasting as long as your skill does, meaning you can easily play in short bursts on your phone. A cute array of real-world cars, alongside some comedy power-ups, only add to the fun.
Real Racing 3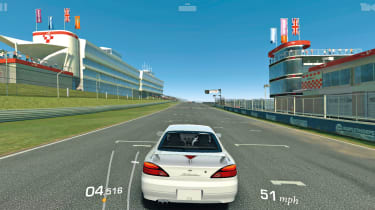 Price: Free (in-app purchases)
Rating: 4 stars
This game lives up to the name: there's very impressive realism here, with true-to-life cars and real-world tracks to compete on. It looks downright brilliant, almost console-quality, and there's a huge range of road and race cars to choose from. You can select various levels of assistance to make the game as easy or as difficult as you need. There is a 'freemium' issue if you don't make in-app purchases; it's not as bad as it is in Need for Speed (below), but you'll still spend a lot of time waiting for mandatory upgrades to your car.
CSR Racing 2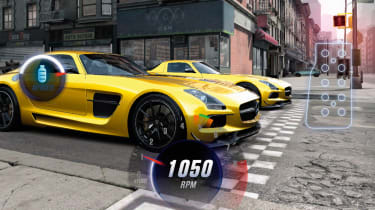 Price: Free (in-app purchases)
Rating: 4 stars
CSR Racing 2 is a visually stunning drag racing game, with 2D action in a 3D world. There's plenty to keep you occupied, with car upgrades and even the semblance of a storyline. There's a lot going on, which makes it a little tricky to keep track of where you're progressing to if you're dipping in and out. It's graphically intensive, with some slight lag on our phone; the only game tested where we noticed this. A vibrant online community makes up for many problems, though.
Beach Buggy Racing 2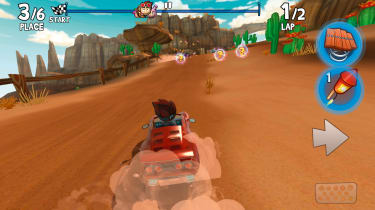 Price: Free (in-app purchases)
Rating: 3 stars
There's lots to like here: cartoony graphics and physics, friendly gameplay and synchronised online multiplayer, all wrapped up in a kid-friendly package that's fun to play even without paying. It's a bit devoid of charm, though; the tracks and characters are generic, and it can't hold a candle to Mario Kart Tour for overall fun. It's also a little too easy to accidentally slip and make a purchase, so be sure to protect your card details before handing this over to a child.
F1 Mobile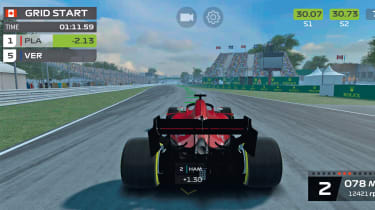 Price: Free (in-app purchases)
Rating: 3 stars
Despite the faithful track and car recreations, this isn't as convincing a sim as Real Racing. You can choose your level of driving assist to make life easier and, although you can play against AI, the real challenge comes when you head online. The match-ups aren't brilliant, and we often found ourselves pitted against opponents we had no hope of beating, even with a perfect run. Since online races are the only real way to progress, that can be annoying.
Need for Speed: No Limits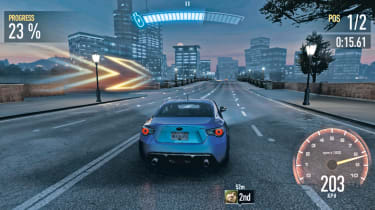 Price: Free (in-app purchases)
Rating: 3 stars
Great fun… for a limited time. No Limits effortlessly captures the street-racing thrills that have been Need for Speed's raison d'être for decades now. It looks fantastic and the controls couldn't be any simpler. Plus, the super-short races slot easily into a busy day; most last for around 30 seconds. But progress stalls if you don't resort to in-app purchases. After a few hours of playing, you'll find yourself either waiting for your fuel to regenerate, or forced to purchase 'gold'.
Asphalt 9: Legends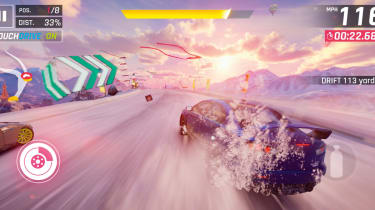 Price: Free (in-app purchases)  
Rating: 2 stars
Asphalt 9 is an utterly gorgeous game, with well rendered scenery and graphics effects. The hectic action is pure arcade fun, but it really doesn't feel like a game because there's almost no skill involved. That makes it a rather hollow and pointless exercise; the AI racers provide no competition, there aren't any real controls, and it ultimately comes across as flashy but pretty pointless. At least it's free to play, yet if you want to 'progress', you will need to pay.
Source: Read Full Article