Best LED head torches
An LED head torch lights up under your bonnet and leaves your hands free to work.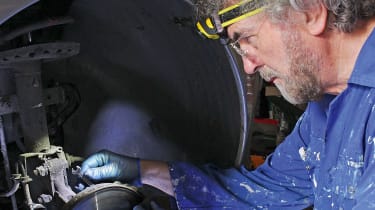 Working on your car often requires extra light, whether it's underneath, in the engine bay or behind the dashboard.
While an inspection lamp or flashlight can often do the trick, sometimes a better option is to use a head torch. It will always be shining exactly where you're looking and, more importantly, it leaves both hands free. In addition, head torches are light and easy to store in a glovebox for night-time emergencies and, of course, they can be used for non-automotive activities such as camping, cycling or hiking.
We tried 11 models, a mix of alkaline and rechargeable, to find the shining stars.
How we tested them
We used the torches while working on a car in the engine bay and under a wheelarch, as well as assessing how useful they were both in a darkened garage and outdoors.
The spread of light from the widest beam to spot at one metre was measured, and we looked for comfort, ease of adjustment, beam spread and practicality. Plus we marked for extras, like a flashing mode, red beam, power-saving and anti-moisture/knock certification. All non-rechargeables had batteries, and price from online sources was taken into account.
Verdict
Newcomer Nightsearcher has knocked our previous champ from the top spot.
1. Nightsearcher ZOOM 580R Rechargeable Spot-to-Flood Head Torch
Reviews
Nightsearcher ZOOM 580R Rechargeable Spot-to-Flood Head Torch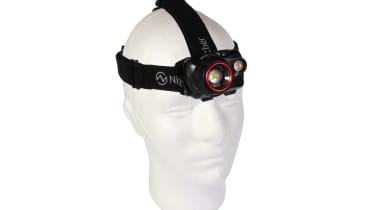 Price: Around £38
Rating: 5 stars
Power: Li-ion rechargeable
Contact: shop.nightsearcher.com
Nightsearcher's latest offering impressed from the off, with the three-point headband keeping it secure in all situations. We liked the wide-to-spot twist zoom function and that the beam could be adjusted through 90 degrees, and shines at a powerful 580 lumens on main beam. It also has two lesser settings, 270 lumens and 30 lumens for closer work. Plus it has a useful 10-lumen warm white option for reading, and we liked being able to swap the 0.8Ah rechargeable battery for thee AAA alkaline units. This torch boasts a five-year warranty, with IP64 certification against dust and moisture.
Buy now from Amazon
Coleman CXS+300R Rechargeable LED Head Lamp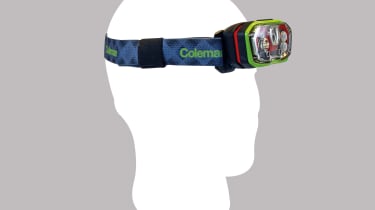 Price: Around £39
Rating: 4.5 stars
Power: Li-ion rechargeable
Contact: www.coleman.eu
Our Mini-test winner remains an impressive piece of kit, awash with useful goodies. Like the Coast it is IPX4 and ANSI-certified against moisture and knocks. It boasts gesture control to toggle through the four flood and spot modes, along with REAX automatic close-up/distance beam adjustment. There's also the BatteryGuard function, to prevent gradual battery draining. It worked well in the engine bay and garage, and wasn't bad outside. But we couldn't match the price of the last test, which was enough for it to drop a spot. 
Buy now from Amazon
Draper Rechargeable COB LED Head Lamp with Action Sensor 54374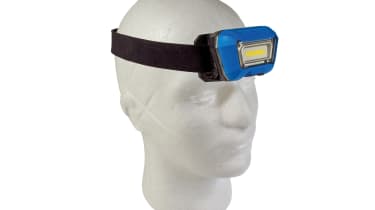 Price: Around £29
Rating: 4.5 stars
Power: 1.5Ah li-ion
Contact: www.drapertools.com
Like its rivals here, the Draper has COB (Chip on Board) multiple LEDs built directly on to a circuit board. They take up less room, should be more energy-efficient, and make more light, all the while being more reliable. This IP65-rated torch boasts a maximum of 300 lumens, with the low beam being 100 lumens. The li-ion battery is a healthy 1.5Ah.
It felt good in use, throwing a wide beam under the bonnet, even at the lower setting. We liked its Smart Motion Sensor that turned the main beam on or off once activated. In most aspects it was comparable with the Coast, but it was more expensive and about double the weight. Still, a cracking torch.
Buy now from Draper Tools
Nightsearcher HeadStar R-Hybrid Rechargeable Dual Beam LED Head Torch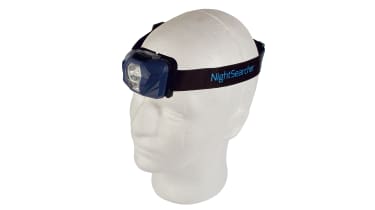 Price: Around £40
Rating: 4.5 stars
Power: Rechargeable li-ion / 3 AAAs
Contact: www.nightsearcher.co.uk
Like its 580R sister the HeadStar can also run on AAA batteries so will not always need recharging. There are two beams: wide for engine bay work, and narrow for distance. We liked the handy Switchlock feature, which prevented unintentional operation, and the way it 'remembered' the previous mode, reducing toggling time. 
Buy now from Nighsearcher
Philips Rechargeable Headlamp HL22M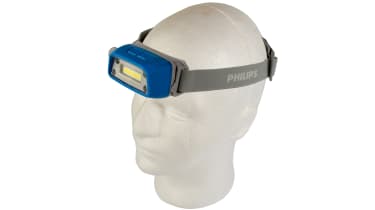 Price: Around £30
Rating: 4.5 stars
Power: Rechargeable li-ion
Contact: www.philips.co.uk
This is an impressive debut from the 300-lumen, COB (chip on board) Philips. Its high-power, 1.4Ah battery is claimed to last from four to 12 hours depending on the light mode, and take a fair 2.8 hours to charge. But, at 115g, it was more than twice the weight of the Coast. 
It is certified IK07 against impact and shock, and IP67 protected from immersion in a metre of water for up to 30 minutes. The clever rotary power control lets the user control the light, or you could opt for one of three preset modes. We really rated the motion-sensing feature, which required two hand swipes to activate, stopping accidental operation. 
Buy now from Amazon
Coast FL13R Rechargeable Head Torch with COB LED Light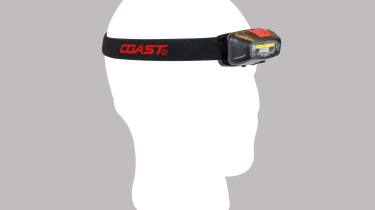 Price: Around £30
Rating: 4 stars
Power: Li-po rechargeable
Contact: www.coastportland.com
We still rate this Coast model, which is already a double winner and, like the Zoom 580R, is equipped with COB (chip on board) LEDs. We liked the two red modes – flashing for emergencies, and solid to aid night-time visibility when reading. The white modes were also well chosen, rated at 270 and 85 lumens, making them good for distance/outdoor use and working on the car. 
Despite its beam performance the Coast FL13R is seriously light, at an impressive 55g and, even better, it includes a five-year warranty and IPX4 certification against moisture ingress, and ANSI against damage from dropping. Despite having no hands-free operation, the Coast is easy to operate and can be angled through 90 degrees. But it doesn't have a zoom feature, which lost it some valuable points and, as in our last test, we found the lens got noticeably warm by the time we had finished.
Buy now from Rokmax
Draper 3W COB LED Head Lamp 66018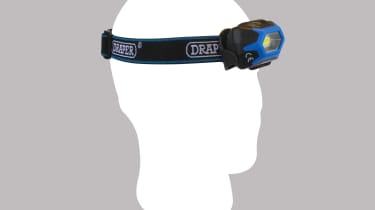 Price: Around £8
Rating: 4 stars
Power: 3 x AAA
Contact: www.drapertools.com
The Draper's specification looks distinctly lacking, because it has no zoom function, just 130 lumens (high/low) available, and none of the features fitted to some of the competition. The top-mounted button was a bit hair-trigger, which was good when we were working, but it was easy to operate accidentally when making adjustments. In use, the torch was surprisingly good for garage and engine work, and it includes a flashing red mode. But most important is the price – a real bargain, with a two-year parts warranty and batteries included.
Buy now from Draper Tools
Princeton TEC Snap LED Head Torch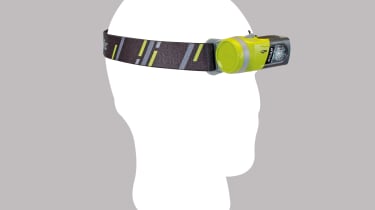 Price: Around £50
Rating: 4 stars
Power: 3 x AAA 
Contact: www.whitbyandco.co.uk
The Snap takes the award for versatility, and then some. IPX4-certified with a five-year warranty, the torch and battery make a neat unit which 'snaps' magnetically into its holder on the headband. It's then easy to remove and use it as it is on a metal surface, or place it in a holder to make a camping-style lantern; alternatively, you can strap it onto an adaptor for use on a bicycle. The adjustment from max to min was infinitely adjustable by pressing and holding the button, and the spread was good, but we would have liked a red beam and flashing option at this price. 
Buy now from Becketts Store
Sealey LED360HT Rechargeable Head Torch 2W COB LED Auto Sensor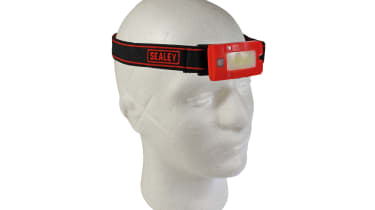 Price: Around £12
Rating: 4 stars
Power: 0.5Ah li-poly
Contact: www.sealey.co.uk
Sealey's new addition is neat and is the lightest torch we've tried, at 44g. The downside is it has a small 0.5Ah battery, but that's sufficient because it only powers a maximum beam of 160 lumens. It's a li-poly unit, which saves weight and, despite its size, it still has auto-sensing on/off. The unit turns in all directions on a ball/socket joint, and can be used off the headband. With a two-year parts and three-year labour warranty, it's a good option if you don't need massive lighting power.
Buy now from Amazon
Ring Zoom 240 LED Rechargeable Head Torch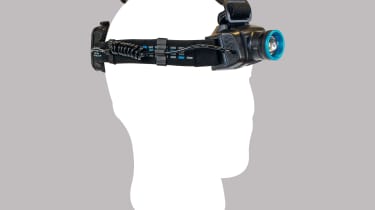 Price: Around £28
Rating: 3.5 stars
Power: Li-po rechargeable
Contact: www.ringautomotive.com
Ring's first new head torch for a while boasts an impressive maximum output of 270 lumens from its rechargeable 3.7V battery, mounted at the rear – probably as well, being the heaviest we tried, at 186g. The quoted battery life was good, a full seven hours at maximum, and eight hours at the lower rate of 115 lumens. We also liked the zoom function, which gave great distance performance. It didn't quite zoom out far enough for engine-bay work, although both light modes worked well. Overall, it's not bad, but it felt like the specification could have been higher.
Buy now from Amazon
Sealey HT110 3W Head Torch with Motion Sensor & Hand Torch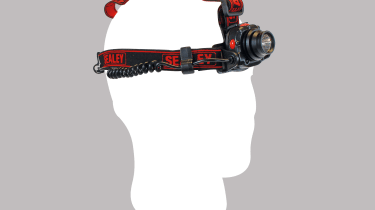 Price: Around £21
Rating: 3.5 stars
Power: 3 x AAA 
Contact: www.sealey.co.uk
Like the Ring, this Sealey had a rear-mounted battery with an over-the-head strap. The top button toggled through the full (170 lumen) and half beams, plus flash mode. Tapping the red button at the side activated the motion sensor, although this operated only on full mode, which was a bit limiting. We found that the light was heavily biased to the centre, and we would have preferred a zoom function for engine-bay work. It's not as powerful as we'd like but it is very good value, especially because it also includes a small, 110-lumen LED hand torch in the bubble pack. 
Buy now from Sealey
Ledlenser iH5 Head Lamp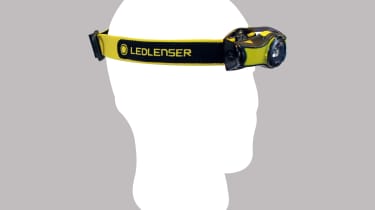 Price: Around £40
Rating: 3 stars
Power: 1 x AA 
Contact: www.ledco.co.uk
Uniquely here, the IP54-certified iH5 featured just one battery, despite its claimed 200 lumens maximum output. As ever, the high build quality was backed up by an incredible seven-year warranty. There were just two modes – high and low – and we liked the zoom function, which worked like a camera focus ring. It was handy to be able to pop out the torch from the headband and use it hand-held or with its pen clip. It was a bit pricey, but we thought the main hassle for car use was that the gap from high to low beams was too big: 200L to 20L. 
Buy now from Ledlenser
Princeton Tec Remix LED Head Torch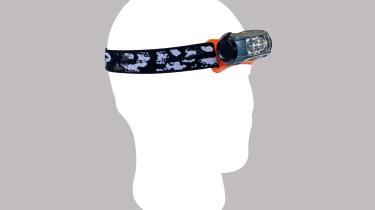 Price: Around £55
Rating: 3 stars
Power: 3 x AAA
Contact: www.whitbyandco.co.uk
The Remix had a typically asymmetric Princeton design that featured a cluster of three LEDs on one side and one Maxbright LED at the other. Each side offered a high and low setting, flood and spot. Pressing the large on/off button on the IPX4-rated device brought high or low, but to switch sources it was necessary to press and hold. Between them, we could find something that was suitable for most requirements, although the unit's distance performance seemed a bit limited. And, despite having no zoom or red option, it was the most expensive we tried.
Buy now from Amazon
Source: Read Full Article