Best hybrid cars to buy 2020
Hybrid power is the way forward if the car industry is to be believed so we've found the top 10 best hybrid cars to buy now…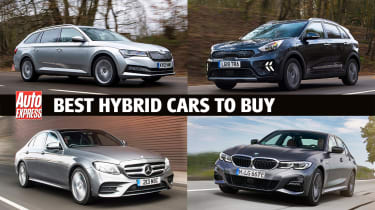 Electrified cars are becoming an increasingly common sight on our roads thanks to political and environmental pressures, not to mention the public's desire to save money on fuel, and hybrids especially are leading the charge. With technology moving on at pace, what was once a strange concept is now a must-have for a large proportion of buyers and the best hybrid cars are very much in the mainstream.
It's not hard to see the appeal. Conventional hybrid technology is able to improve the fuel efficiency of a variety of cars – from saloons to SUVs, hatchbacks and even supercars. CO2 emissions reduction is another advantage and so is limited pure-electric travel, if you're careful with your right foot at town speeds. Hybrids also make a lot of sense for lower-mileage or urban-based private buyers, as well as for fleet users looking to decrease company car tax bills. Plug-in hybrids (PHEVs) need to be regularly plugged in to deliver their best but they can offer real electric-only range of 30 miles or more.
Best hybrid SUVs 2020
Mild-hybrid vehicles will appeal to those not wanting to worry about charging up as they incorporate a small electric motor that is used solely to assist the engine and not work independently from it. Mild-hybrids are usually the cheapest way into hybrid ownership but there's no pure-electric driving.
With manufacturers achieving an ever-improving balance between performance and efficiency, hybrids of all types are playing a key role in bridging the gap between internal-combustion and all-electric cars.
How to choose the best hybrid car to buy
Choosing a hybrid car of any kind rather than a conventionally powered alternative needn't be the big step that many might fear.
As with any new vehicle purchase it's sensible to assess your annual mileage, and to consider what you'll use your car for. If you're a lower-mileage driver, the running costs of a conventional petrol hybrid could make it a sound alternative to a petrol or diesel car, but if you plan to rack up motorway miles, a regular diesel or even a diesel hybrid may make more financial sense.
The choice is easier for company car users, however; the lower CO2 emissions of hybrids mean they qualify for much more palatable Benefit-in-Kind rates than most non-electrified models.
• Best plug-in hybrids on sale
Plug-in hybrids tend to be more expensive than self-charging models but you could well recoup the extra if you regularly travel shorter distances purely on electric power, thanks to their bigger batteries. If your budget allows, a PHEV makes a lot of sense as a zero-emissions, zero-fuel commuter, all the while offering the option for covering longer distances with acceptable fuel economy once the engine has kicked in.
Current industry trends mean that SUV buyers are spoilt for choice, but those after other forms of hybrid transport have a little less to choose from. Our list covers most bases but you won't find many PHEV city cars or sports cars, for example.
As hybridisation spreads through more car makers' ranges, it's likely that choice will expand exponentially. But for now, if you're buying your next family car and want to take a step towards a lower carbon footprint, or just lower running costs, there's a lot to get excited about.
Below you'll find our list of the 10 best hybrid cars on sale including a mix or our favourite plug-in and conventional hybrid models…
Top 10 best hybrid cars 2020
Mercedes E 300 e/de

Toyota Corolla

Toyota Prius

Hyundai Ioniq PHEV

Skoda Superb iV

BMW 330e

Volvo XC60

BMW X5 45e

Kia Niro

Peugeot 508 Hybrid
1. Mercedes E 300 e/300 de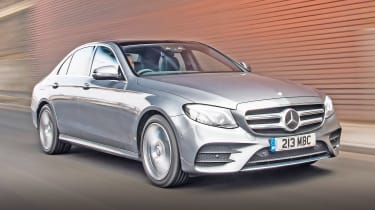 Prices:

£47,780-£54,675

Economy:

141.3-188.3mpg

CO2:

41-46g/km
Range: 30-33 miles
The plug-in E-Class retains everything we love about the standard car – hushed refinement, a smooth ride and a well equipped cabin – but boasts impressive fuel economy and major Benefit-in-Kind tax savings.
It shares the same plug-in hybrid powertrains as the C-Class PHEV, so the petrol option is good for regular short trips (it'll cover around 30 miles on electric power alone), while the diesel-hybrid is a sensible option for those covering big miles, and is the only option if you go for the estate bodystyle.
Sure, the E-Class isn't as sharp as a BMW 530e to drive; it was designed for comfort, and it delivers this, especially with optional air suspension fitted.
However, it suffers the same storage problem as the C-Class. The battery is awkwardly mounted in the middle of the boot, which robs it of 120 litres of space.
2. Toyota Corolla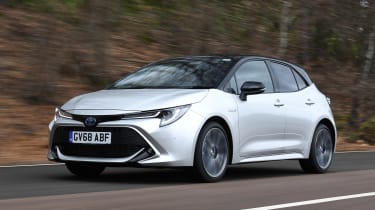 Prices: £24,140-£29,955
Economy: 50.5-62.8mpg
CO2: 76-89g/km
Much like its Prius relative one place lower down on this list, the Corolla is powered by Toyota's tried-and-tested 'self-charging' petrol-electric hybrid technology.
The British-built hatch is offered in 1.8 and 2.0-litre models, both of which automatically shuffle between their two power sources and use the car's petrol engine to charge the battery. A continuously variable transmission (CVT) takes the place of a traditional automatic gearbox, and this helps to make the most of the drivetrain's power.
Unlike the Prius, there's no all-wheel drive version but for that won't matter for those looking to maximise fuel efficiency. The Corolla is available as a hatch, saloon or Sports Tourer estate, so there's flexibility in the range to suit most family buyers, as well as business users.
The Corolla hybrid has been designed to do battle in the highly competitive family car market – it has to look good and be fun to drive while ticking all the practicality boxes – and Toyota has done a great job of making sure the car measures up. It's miles ahead of the old Auris and is a genuine rival for established favourites like the Volkswagen Golf and Ford Focus.
Those craving a little more punch can pick the top 2.0-litre hybrid model. With 177bhp on tap, 0-62mph takes just 7.9 seconds in the hatch; fuel economy and emissions take a slight hit, but this model still offers a great balance of performance and low running costs.
3. Toyota Prius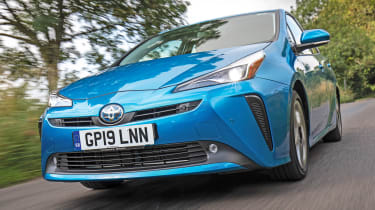 Prices:

£

32,125-£34,095

Economy:

188-217mpg

CO2:

29g/km
Range: 34 miles
Unlike some other models, the Prius Plug-In has a very different look to the 'self-charging' hybrid model. Beauty is in the eye of the beholder, but the Plug-In might offer a more appealing look to some buyers. There's no doubting its talent, though, as the headline figures suggest. Its 8.8kWh battery takes around four hours to charge from a domestic socket, or two and a half hours from a wallbox.
Combined power from its 1.8-litre engine and 'Dual Motor Drive' system is 120bhp, so performance isn't startling. It's more fun to drive than you'd expect, and sophisticated suspension means it's pretty composed at speed, too. Like other PHEVs, it works best as a company car, and the number of them pressed into service as taxis speaks volumes for the reliability, practicality and real-world economy on offer.
4. Hyundai Ioniq PHEV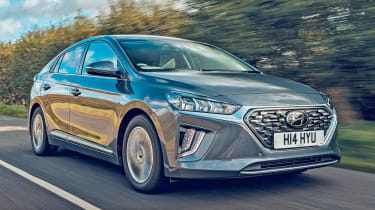 Prices:

£30,250-£32,250

Economy:

256.8mpg

CO2:

26g/km
Range: 39 miles
The Ioniq Plug In sits between the basic hybrid version and fully electric model, so represents something of a stop-gap between the two.
A recent facelift added a touch more style to the Ioniq, but this is a car that remains a practical family car aimed at those wanting to reduce fuel bills. The electric motor only develops 59bhp, so performance is adequate rather than exciting, but for moving effortlessly around town at low speeds, the Ioniq is more than capable. The ride is comfortable enough and the 443-litre boot is decent, too.
While the Ioniq has a healthy EV range, achieving that headline-grabbing 256.8mpg economy figure will be tough. To come close you'll need to keep the 8.9kWh battery charged, which takes two hours and 15 minutes from a wallbox.
5. Skoda Superb iV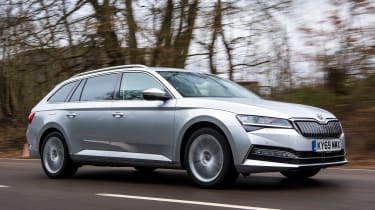 Prices:

£36,090-£41,860

Economy:

149-217mpg

CO2:

30-42g/km
Range: 36-37 miles
For years, the Skoda Superb has delivered an appealing combination of space, practicality and refinement, and the iV plug-in hybrid adds low running costs to the mix. Skoda claims headline figures of between 149 and 217mpg, but as is the way with PHEVs, that's a figure that will vary wildly depending on how frequently you charge it. In our experience, an average of more than 50mpg is easy.
The powertrain delivers benefits for refinement, too. In electric mode there's minimal wind and road noise, but even when the 1.4-litre turbo petrol engine fires up, electrical assistance keeps things relatively quiet. At speed, it feels punchy and muscular, while the ride is rarely unsettled. The battery nibbles at boot space in both hatchback and estate versions, but not enough to notice. The Superb iV is an effortless family car.
6. BMW 330e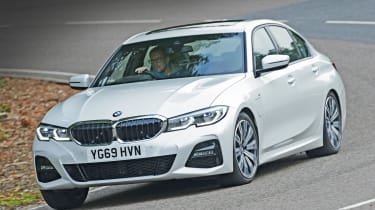 Prices:

£37,875-£48,700

Economy:

166.2-201.8mpg

CO2:

31-38g/km
Range: 34-36 miles
The BMW 3 Series is one of the UK's most complete cars: a high-quality, well built and practical saloon that's great to drive, comfortable, packed with top tech and – in 330e guise – doesn't cost the earth to run, yet boasts great performance.
The 330e isn't alone in the hybrid compact executive saloon segment – the Lexus IS 300h and Mercedes C 300 e are also plug-in hybrids that can run solely on electric power and boast decent performance.
While its badging may suggest a six-cylinder engine, the 330e has a 2.0-litre petrol engine and an electric motor. Power is 249bhp – boosted temporarily to 288bhp in Sport mode – with 420Nm of torque, all fed through BMW's superb eight-speed automatic gearbox.
A 12.0kWh battery supplies the motor and gives an all-electric range of around 35 miles; it's a no-brainer for buyers and business users whose everyday motoring takes them over shorter distances or in an urban area.
The car's punchy internal combustion engine is ably assisted by the motor for the rest of the time, producing a good compromise between performance and efficiency on longer runs.
7. Volvo XC60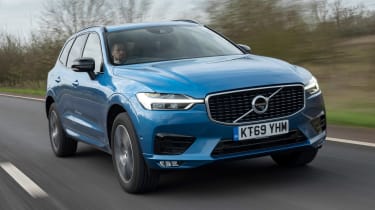 Prices:

£50,570-£63,145

Economy:

85.6-113.0mpg

CO2:

59-73g/km
Range: 28-32 miles
Fitting into the current trend of practical-yet-fast plug-in hybrids, the Polestar Engineered T8 Twin Engine sits at the top of the XC60 line-up. It pairs a 2.0-litre turbocharged and supercharged petrol engine powering the front wheels with an electric motor powering the rear, giving a total output of 400bhp and a 0-62mph time of just 5.4 seconds. There's a punchy 670Nm of torque available too. It's certainly a fast car, and while it's not the sportiest, the XC60 handles well and feels planted and comfortable – especially with the optional air suspension.
Volvo claims that the T8 can travel up to 34 miles on electric power alone – more or less par for the course. In our tests, real-world economy was around 58mpg. That's better than a diesel model and you get the option of all-electric running around town.
The XC60 might be three years old now, but the interior remains luxurious, and while not quite as well put together as some rivals, is a very relaxing place. Excellent infotainment and a range of (expensive) options help add even more appeal, and in keeping with Volvo's reputation, it's practical too. The boot is only slightly smaller than that of conventionally powered models and there's plenty of room in the back for adults.
8. BMW X5 45e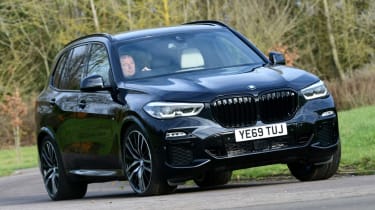 Prices:

£63,165-£66,665

Economy:

201.8-235.4mpg

CO2:

27-32g/km
Range: 50-54 miles
The BMW X5 has been near to the top of the premium SUV class since its inception 20 years ago and the new plug-in hybrid 45e version proves the X5 can move with the times.
Despite the X5 being a large SUV, its 24kWh battery is good for an impressive 54 miles of pure electric motoring – almost half the total range you can expect from a MINI Electric. The electric motor is paired with a 3.0-litre six-cylinder petrol engine making a combined 389bhp and 600Nm of torque. As you'd expect from that kind of power, the X5 45e's performance is decent. 0-62mph is dealt with in 5.6 seconds and it'll reach a top speed of 146mph.
With an all-electric range comfortably above the 29-mile cut-off and WLTP-rated emissions of 31g/km, the X5 45e will have a Benefit-in-Kind (BiK) tax rate of 12 per cent for the 2020/21 financial year, meanwhile a diesel-engined xDrive30d will mean a BiK of 37 per cent.
9. Kia Niro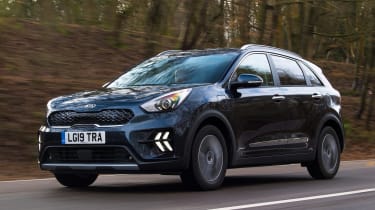 Prices:

£30,265-£31,945

Economy:

201.8-217.3mpg

CO2:

29-31g/km
Range: 30 miles
Kia's Niro SUV is available in impressive all-electric and plug-in hybrid versions but the standard, 'self-charging' PHEV model is still one of the best cars of its kind on sale. It has the same powertrain as its Hyundai Kona relative, and the car was designed from the outset for electrification; it's cleverly packaged to maximise interior space, both for passengers and in its useful 427-litre boot.
It shines in its role as a family SUV, giving a plush ride and plenty of refinement at higher speeds. Plus the build quality inside and out should stand the tests of time and small children alike. Even entry-level 2 trim gets a great level of equipment, while Kia's famous seven-year warranty further enhances the value on offer. It's a shame that you miss out on the new and improved 10.25-inch infotainment system, but the eight-inch unit on 2 spec is still modern, responsive and comes with plenty of tech like Android Auto and Apple CarPlay compatibility.
Power is provided by a 1.6-litre petrol engine and an electric motor which together produce a fairly modest 139bhp. The car will be plenty fast enough for most, however, and thanks to the decent dual-clutch automatic gearbox, it's easy to make the most of what's there. The Niro PHEV may not be the most fun to drive, but what really matters are the fuel economy and emissions; for a car of this type, both are very respectable.
10. Peugeot 508 Hybrid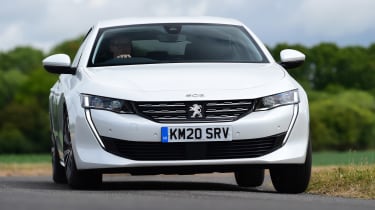 Prices:

£34,930-£46,540

Economy:

166.2–235.4mpg

CO2:

29–38g/km
Range: 33-39 miles
If you want a smart-looking car that offers a break from the norm, then the Peugeot 508 will likely be on your shortlist. More so if you're a company-car driver, where this plug-in hybrid version appeals thanks to keen Benefit-in-Kind rates.
Outright performance is blunted slightly due to the added weight of the battery pack, but the 508's combination of a 1.6-litre turbo petrol engine and an electric motor churns out a healthy 222bhp, which is plenty enough for comfortable motorway cruising. You can expect 30 miles on a charge, and a top-up takes less than two hours.
The Hybrid uses the same chassis as the standard 508, so it handles sweetly and rides smoothly, and has a premium-feeling interior, too. What's more, boot space remains unchanged, at 487 litres.
Do you own a hybrid car? Tell us what you think of it in the comments section below….
Get the latest electric car news, reviews and analysis on DrivingElectric.com
Source: Read Full Article