Best cars I've ever driven – Richard Ingram
From campervan to supercar to hot hatch, Richard Ingram's greatest drives might be our most varied yet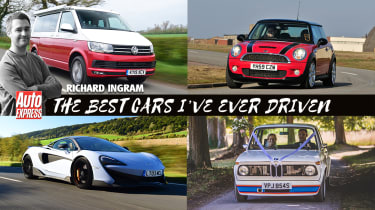 Rich has been a member of the Auto Express family for almost a decade, recently moving to head up EV sister site DrivingElectric.com. Not swayed by huge power or trick technology, his motoring back catalogue is best described as diverse – reflected in this list of the greatest cars he's ever driven.
Greatest drives – Porsche 911 GT3 RS, Tesla Model S, M3 CSL and more
1. McLaren 600LT
I remember my first time driving a McLaren 600LT like it was yesterday. It's the car that springs to mind now when I'm asked, "What's the best car you've ever driven?"
Despite being based in Woking, Surrey, in 2018 McLaren went to Hungary for the international media drive of its latest LT (Longtail) model. The chance to sample this hardcore track-focused supercar on the Hungaroring – perennial host of the Hungarian Grand Prix – wasn't to be missed.
But McLaren had thought longtail (sorry) and hard about this event. To highlight the improvements it had made to its flagship Sports Series car, it first rolled out the already exemplary 570S, on which the LT is based. I'd covered lots of miles in the 600's donor car, so while it was a useful way to familiarise myself with the track, it felt shamefully unexciting. Quick, of course, but a little underwhelming.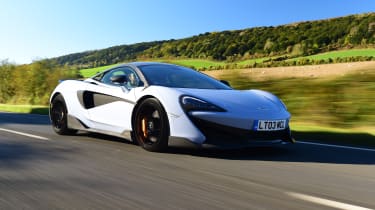 Then I swapped into the 600LT. The sense of occasion was palpable; the top-exit exhausts looked like they were lifted straight from a race car, while the streamlined body – signified by the fixed rear wing and more aggressive aero – gave the Longtail an unmissable identity.
Inside, the driver's seat immediately hugged me in places I didn't know needed hugging, and with the wheel tight to my chest and bum inches from the floor, I instantly knew this was Woking's finest turned up to 11. McLarens are often criticised for their muffled soundtrack, but flicking the starter button resulted in an unusually bassy growl.
By the time I'd reached the first corner, the difference between the 570S and 600LT was night and day. I'd not experienced something so clear cut since driving a Ford Fiesta and Kia Rio back to back at a test track in 2012!
The 600LT's steering was sharper and even more tactile, while the stiffer suspension made body control tighter, and the whole car felt much more alert. The special Pirelli Trofeo R tyres stuck to the tarmac like fresh chewing gum to the bottom of a shoe, while the extra power ensured acceleration was nothing short of brutal. As the laps ticked by, the LT rewarded the harder it was pushed, controllable and unhinged in equal measure. A sublime package.
I've since driven the 600LT in the UK, and any worries that it'd feel too focused are unfounded. The LT is a fantastic road car, and the LT recipe so transformative and so detailed, I can confidently say the 600LT is the best car I've ever driven.
2. BMW 2002 Turbo
Despite being launched long before I was born, the BMW 2002 was the car I lusted after as a kid. From an early age, I adored its long bonnet, two-door body and simple three-box proportions. And as I grew older, the idea of an analogue and simple-to-repair rear-wheel-drive coupé was too hard to ignore.
So five years ago, I bought the cheapest 2002 in the country. Rust had consumed the rear wheelarches and the bootlid was bubbling, while the seats were frayed and the headlining had started to sag. But it was a runner, with a valid MoT and enough tread on the tyres to see me home. It didn't quite make it that far – a story for another time, perhaps – but even so, I felt proud that I'd realised my boyhood dream.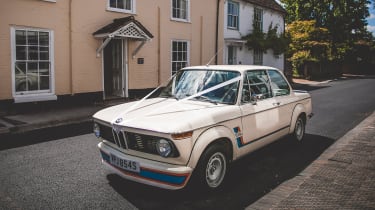 So when I proposed to my now-wife a couple of months later, there was only one car I wanted at the wedding. Unfortunately it wasn't to be – another story for another time, perhaps – so I had to pull in a last-minute favour. Little did I know it, but BMW UK's mint 2002 Turbo would turn out to be something of a centrepiece for our big day.
Truth is, I didn't even get to drive it that far. Aside from a short spin to stretch its legs the night before, my experience at the wheel of the Turbo was largely limited to the five-minute hop from the church to the reception venue. But with the sun shining and my new wife in the passenger seat, it surely has to register as one of the greatest drives of my life.
Adorned with ribbons and confetti, the car went on to spend the rest of the day being admired from afar. And although my 2002 (alas, not a Turbo) is currently in bits, having been stripped down for a bare-metal respray, I can't wait to get it back on the road and reignite memories of that truly special day.
3. Porsche Taycan
From one Turbo to another, the Porsche Taycan couldn't be further in ethos from the BMW 2002. However, it's arguably even more momentous in charting the greatest drives of my life.
Like many people – and long before I became editor of Auto Express's sister site DrivingElectric.com – I was initially quite sceptical about electric cars. Meagre range, poor charging infrastructure and compromised internal packaging meant early attempts at the EV deserved little serious consideration alongside their more conventional petrol and diesel-powered alternatives.
Progress is a wonderful thing, though, and the rate at which the electric car has consumed the automotive landscape in recent years has been fascinating to watch. There have been a number of notable cars along the way, not least the original Nissan Leaf and the game-changing Tesla Model S, which have made the public sit up and listen. Yet for me, not one of them has had quite the same effect as the recently launched Taycan Turbo S.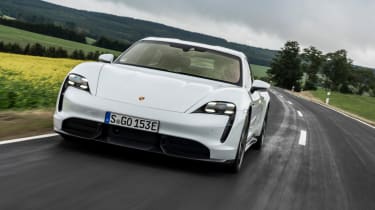 A Porsche has to be exceptional to drive – and the firm's first electric car is no exception. Blistering acceleration is one thing, but making something that is inherently heavy handle like a sports car is no mean feat. Porsche nailed the brief first time; the Taycan is nothing short of astounding.
The way it drives requires a complete recalibration of your brain; not only will it out-drag near enough anything on the road, it'll keep up with them in the corners, too. The Taycan's typically engaging Porsche steering plies the driver with confidence, while the compliant ride gives it a calm and collected GT-style demeanour on the motorway.
Add in space for four, a usable 200-mile range, and a tech-filled cabin that wouldn't look out of place in a NASA space shuttle, and you've got what I'd argue is the ultimate money-no-object family car with a conscience.
4. Volkswagen California
I'm not here to argue that a 2.5-tonne, two-metre-tall panel van that comes complete with a gas hob and a kitchen sink is anything like as good to drive as a McLaren 600LT, but the sheer breadth of abilities served up by the Volkswagen California that I ran as a fleet car solidifies its place in this list.
Let's not get too misty-eyed about where I went or what we did when I had the red and white camper last year, though. Instead, to explain its inclusion in this list, it's important to look at why the Cali is so good at what it does.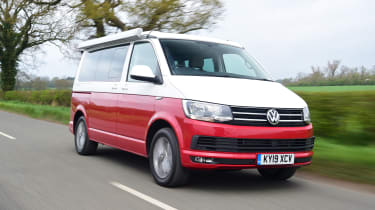 First, you either love it or you hate it; the California doesn't have the same overarching appeal as, say, a Volkswagen Golf, but to me it's an even greater all-rounder. Any car (or van in this case) that can double up as a mobile office, with coffee-making facilities plus space in the roof for that much-needed mid-afternoon nap, is worth its weight in gold.
That it was quick, comfortable and big enough – although not too big to fit in our underground office car park – to function as my only vehicle for six months is testament to its excellence.
While I did promise not to dwell on where we went or what we did, it's impossible not to recognise what a capable camper it is, too. It transported my wife and me round France for our two-week summer holiday – averaging no less than 32mpg in the process, may I add – with room left over for the essential wine and beer stop on the way home.
It did the tip run, the work commute, and even helped out when capturing road-test pictures on myriad photoshoots during its time with us. To say I miss it is an understatement; one day I'll buy a California of my own.
5. MINI Cooper S
My old MINI Cooper S was my first hot hatch, and it'll go down as one of my all-time favourites. It eventually met its demise thanks to a careless white van man, but it taught me more about car control than any Ferrari, Porsche or Aston Martin since.
Yes, it only had 180bhp and 260Nm of torque, but that little pocket rocket never failed to raise a smile – whether it was a dawn raid to my parents down in Devon, or a more mundane cross-town commute.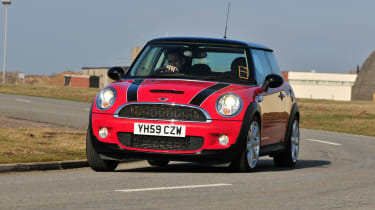 Weighing in at just over 1,100kg, it felt nimble and light on its feet, and I'm yet to find a sweeter-sounding or freer-flowing four-cylinder motor; the cacophonous pops and bangs in Sport mode meant it felt like an angry pit bull straining at the leash.
Many people point to the Volkswagen Golf GTI as the ultimate classless hot hatch, but I reckon one could argue a case for the Cooper S. My experience with it proved it was as happy parked outside my dark and dingy Leicester flat as it was pounding round Europe via the autobahn. Okay, it's not the most practical car, but as a young 20-something it was all the car I could have needed.
Having since driven everything from the 415bhp Mercedes-AMG A 45 S to a Ford Focus RS, I can confidently say none feels as playful as the MINI. Its dinky wheelbase and wide track meant it always felt planted yet predictable. With loads of grip and pin-sharp steering, it was a riot on the right road.
Every garage should have a hot hatch in it; make mine a MINI Cooper S in British Racing Green, please.
What's the best car you've ever driven? Tell us about it in the comments…
Source: Read Full Article