Best cars for dog owners to buy 2020
Our dogs deserve the best so here are the top 10 cars for dogs that'll keep their tails wagging.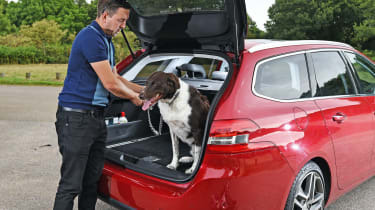 Dogs are a man's (and woman's) best friend – but how far would you go to ensure your furry companions are comfortable, relaxed and above all healthy? Well, a lot of us will go to the trouble of purchasing a car based solely on the needs of our canine friends, whether that's a smooth ride to make sure they're stress free or even a large, wipe-down boot for a slobbering St. Bernard.
It's obviously important to pick a car you personally like. There are cars out there that can cater to the needs of both human and dog so with this in mind, we've selected the best cars for dog owners.
Best estate cars to buy in 2020
These are good cars first and foremost, models that we wouldn't hesitate to recommend to anyone with or without a dog. Their advantage, however, is that they offer a range of qualities that make life with a dog that little bit more pleasant for owner and pet alike.
We looked for cars with large and easily accessible boot areas, particularly those that offer accessories to help keep the rear of the car clean. Any models with overly firm rides were discounted and the same goes for cars without low cabin noise levels. Eventually, we arrived at the models below, our best cars for dog owners…
Best cars for dog owners to buy 2020
Skoda Superb Estate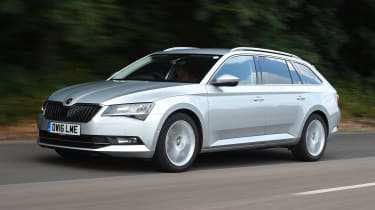 There are lots of cars from Skoda that are dog-friendly, but the Superb is the pick of the bunch. The Superb focuses on comfort, rather than performance, and being an airy estate there's a huge 660 litres of cargo room for your dog to sprawl out in.
The interior quality should be up to the standards of even pedigree pooches and there's loads of equipment in the cabin plus a range of load space accessories to make the boot area just a bit more practical. You can get your dog to leap in and out easily thanks to a low load bay and if your hands are full of chihuahuas or pugs, then the optional power-assisted tailgate will come in handy.
Mercedes E-Class Estate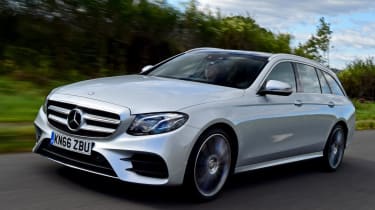 If you're a dog owner who wants to transport their beloved pet in a more luxurious car, there's little better than the Mercedes E-Class Estate. The E-Class Estate is particularly adept on long journeys, cosseting all inhabitants with excellent interior quality, a refined ride and quietness.
To protect your E-Class from dog claws, there's an optional folding sill protective mat and once the dogs are out, there's automatic boot closing (standard on the All-Terrain model) if you're busy with wayward dogs.
At 670 litres, the boot is actually bigger than the one you'll find in the Skoda Superb and one of the largest you'll find anywhere. With a range of punchy yet smooth engines, the E-Class Estate will get you and your dog to your destination composed and on time.
Range Rover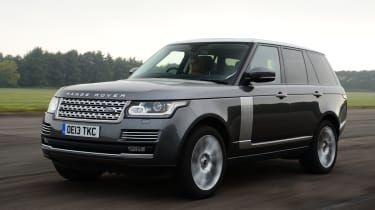 If you want to arrive in style, there's nothing better to transport your dogs in than a Range Rover. With the rear seats in place, the Range Rover's boot holds 909 litres of luggage and with them down, it's a whopping 2,360 litres – more than enough for several corgis. It's also relatively easy to pop them in and out of the boot with the split tailgate.
There's even a 'pet pack' optional extra for the Range Rover. Starting from £360, it includes accessories such as a spill-resistant water bowl, access ramp, foldable pet carrier, tailored quilted load space liner and portable shower.
The Range Rover offers limousine-rivalling comfort on the road, but it can also traverse most of the British countryside with ease. If you're looking to chauffeur your dog in a sumptuous and spacious car, but with the off-road ability to take them to the most remote walking routes, there's nothing better than the Range Rover.
Peugeot 308 SW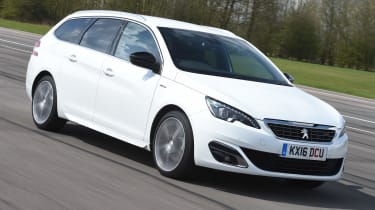 The Peugeot 308 SW luggage space matches the Skoda Superb at 660 litres, but it is shorter and taller so perhaps the 308 SW is more appropriate for Great Danes rather than Daschunds.
Most dogs won't want to spend any more time in the boot than they have to and in the economical 308 SW you won't be wasting as much time at fuel stops thanks to the efficient 1.5-litre BlueHDi diesel – which can return up to 63.8mpg.
Best SUVs to buy 2020
While Euro NCAP scores are pretty pointless for boot occupants, the 308 SW can help avoid crashes in the first place with optional extras like Emergency Collision Alert and Emergency Collision Braking.
Skoda Karoq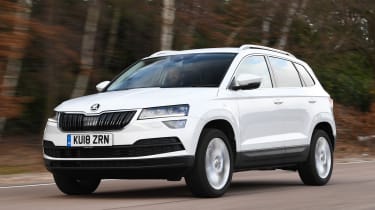 Given how many of us choose an SUV to ferry our dogs around in, it's unsurprising to see Auto Express' favourite small crossover SUV model make this list. The Skoda Karoq may be smaller than its Superb Estate cousin, but it still offers 521 litres of boot space with the rear seats in place or 1,810 litre with them down.
There's an optional 'pet protection pack' which include luggage dividers to help keep cargo and disobedient dogs in place, a tough boot liner for muddy paws, a rear bumper liner to protect against claws and even back seat protection if you want your pooch within arms reach.
The Karoq's predecessor, the Skoda Yeti, was a great chariot for dogs to ride around in. A tough interior to deal with hair, claws and bites as well as a large boot and low loading bay, it was a firm favourite with dog owners. The Karoq continues this trend.
Jaguar F-Pace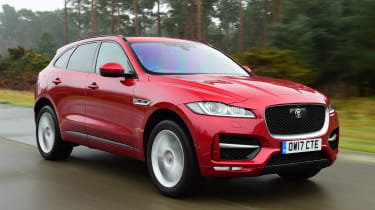 The F-Pace is an excellent first foray into the SUV world for Jaguar, but that's not surprising when you think of the obvious links to sister firm Land Rover. You might think the four-wheel drive F-Pace utilises a platform shared with a Land Rover, but it actually shares a lot of underpinnings with the rear-wheel drive XE and XF saloons. This makes for a composed ride with brilliant body control for a large SUV so comfort on the road is a strong point.
Despite having a saloon platform, the F-Pace is a capable off-roader – thanks to a clever 4WD system that sends power to whichever wheel needs it the most. While being good to drive on and off-road, the F-Pace is roomy too. There's 650 litres of boot space with the rear seats up (more than in a BMW X5) and 1,740 litres with them folded flat.
The F-Pace also comes with optional pet packs starting from £509, which includes a full-height partition and rubber boot mat.
Vauxhall Insignia Sports Tourer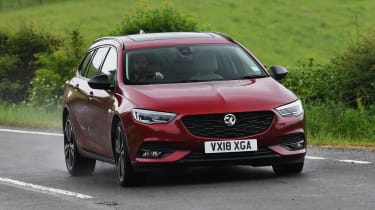 The Insignia Sports Tourer has a 560-litre boot and it's just as big in terms of value for money. Competitive pricing and a generous specification make this a sound choice for buyers looking for a big car that doesn't cost the earth, either to buy or run. The estate bodystyle with its wide boot opening and low loading lip should find favour with your four-legged friends and Vauxhall has managed to engineer-in impressive levels of refinement.
While there aren't too many pet-related accessories to get carried away with, there is an optional boot divider and the rear seats are electrically operated – a blessing if you've spent hours chasing after naughty dogs. The overall Insignia Sports Tourer experience should be relaxing for owner and pet alike.
Skoda Octavia Estate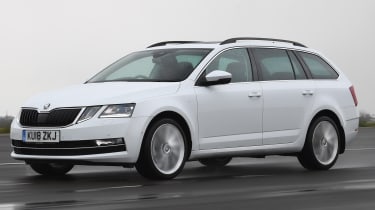 The Skoda Octavia Estate has a refined cabin with a tough, robust Germanic feel to it so it should be tough enough to cope with the worst your dog can throw at it. The interior quality rivals that of more expensive cars from premium brands like the BMW 3 Series Touring and Audi A4 Avant.
Our dog's safety is of utmost importance so Skoda's 'dog seat belt' will be an appealing optional extra for many, but it can only be used on the rear seat so it would be a good idea to couple it with the back seat protection cover option, too.
With 610 litre of boot space, the Octavia Estate will easily swallow up a couple of dogs and their accessories. Thanks to a solid reputation, the Octavia is a popular buy on the used market so if you decide to trade for larger car (in case of puppies), you shouldn't get bitten by hefty depreciation.
SsangYong Rexton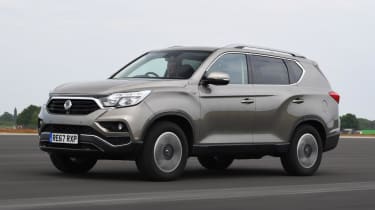 The latest SsangYong Rexton is a massive step up from its predecessor, but while it still drives like an upmarket pick-up, it remains a rugged SUV for dog owners to transport their four-legged friends.
As you'd expect from a Korean brand with limited badge appeal, the Rexton is relatively cheap – especially considering its size. It's available with five or seven seats, the five-seat version makes more sense for dog owners as it has a huge 820-litre boot which rises to 1,977 litres when you fold the seats. The seven-seat model can keep your dog from overheating with third-row air conditioning – a nice option to have if you don't fancy motorway-speed buffeting from an open window. Both the seven-seat and five-seat versions have a dog guard option and rubber floor mat, as you'd expect.
The new 2.2-litre diesel is SsangYong's own design while the gearbox remains Mercedes-sourced. There's a strong suggestion the Rexton is a well-built and tough SUV, so it shouldn't leave you and your dog stranded.
Dacia Logan MCV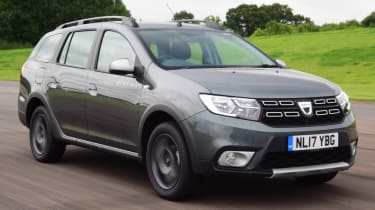 Dacia has grown its brand enormously over the past decade by offering up slightly dated cars at bargain prices. The top of the range 'Comfort' version of the Logan MCV estate costs from £10,300, but in reality there's not much in the way of comfort. It's best to go for the cheap and cheerful £8,495 'Access' version, which is refreshing in its simplicity and lack of gadgets while being robust enough to stand up to excitable dogs.
Dacia do offer a £265 pet pack for the Logan MCV, it consists of a bootliner, boot divider and foldable dog bowl. A 573-litre boot is impressive at this price range and while the Logan may be dull to drive, it offers up a surprisingly compliant and comfortable ride that only gets a little unsettled at high speeds.
Keep your dog secure and safe with our list of the best in-car dog guards and harnesses…
Source: Read Full Article