Best car dealers 2020
Participants in the 2020 Driver Power survey have reported on their experiences, good and bad, with franchised dealers from 25 manufacturers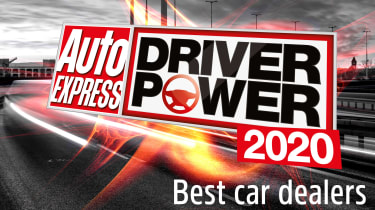 The car-buying landscape is undergoing significant changes at the moment due to coronavirus. Online sales and augmented reality technology are being embraced wholeheartedly by manufacturers and dealers that want to offer shoppers as many routes into a new car as possible.
With these changes, the importance of our Driver Power dealer satisfaction survey has arguably increased. That's because gauging how efficient and effective dealers are can be tricky in the virtual world, yet these elements are crucial when it comes to aftersales and maintaining your car.
It goes without saying that if you are one of the countless numbers of people who are considering visiting a physical showroom that are a crucial part of the new-car shopping experience, then Driver Power remains as important as ever.
Best cars to own: Driver Power 2020 results
For those who would prefer to buy their car online rather than heading to a showroom, however, this rundown of the brands with the best and worst dealer operations should give you a good idea of what you might expect when you enter a virtual showroom, or book your car in for a socially-distanced service.
Will you be spoken to politely by staff? Will your phone calls and E-mails be answered promptly and effectively? Will work be carried out promptly and to a high standard? And do dealers take the pride in their operations that manufacturers take in the cars that they build? All these questions, and more, are answered below.
However you intend to buy your next new car, our Driver Power dealer survey is an essential read.
Biggest complaint you had with your dealer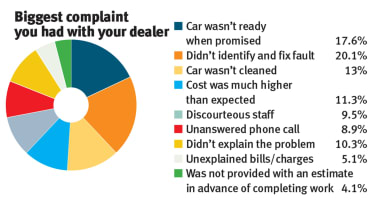 The good news is than in most instances, our respondents didn't have any cause to complain to their dealers, with almost nine out of 10 people going home satisfied.
But an average of 13.5 per cent of you did have cause to complain, with the most likely single cause for dissatisfaction being that workshops had difficulty diagnosing and repairing faults.
Best new car deals 2020
Communication is another area where showrooms and service centres could improve, with 8.9 per cent of complainants saying staff didn't answer their phones, and 10 per cent telling us any problems they had with their cars weren't properly explained to them.
Cars not being ready when promised would also be a problem for some dealers, with one in 10 complaints about delays. High bills or unexplained charges prompted 16.4 per cent of you to put forward a complaint with your dealer.
Reasons you chose your dealer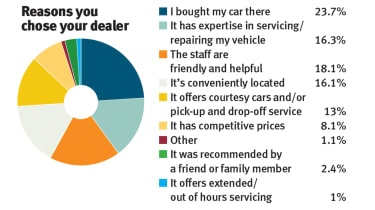 Never underestimate the impact friendly staff can have on your business. That's one of the key messages here, because it's the second most likely reason people will use a specific dealer.
The number-one reason for sticking with a dealer come servicing time, however, is inertia, with almost a quarter of respondents telling us they used the service facilities of their dealer simply because it was the same place from which they bought their car. Following that theme, a dealership being conveniently located is another key reason why buyers use the service centre they do.
It's interesting to note, however, that only 2.4 per cent of respondents chose their dealer based on a recommendation, indicating that word of mouth has less power than some people think it does.
What type of dealer do you use for servicing?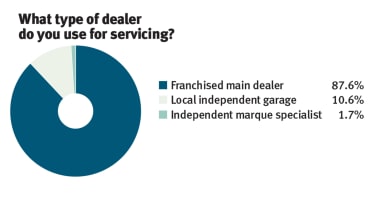 The majority of those responding to our survey use a franchised main dealer when work is required on their cars. This fact is possibly linked to the significantly high proportion of owners that consider these establishments to have expert knowledge of their vehicle – although a tiny 1.7 per cent of you opt for an independent mechanic who specialises in your make of car.
What type of service was performed?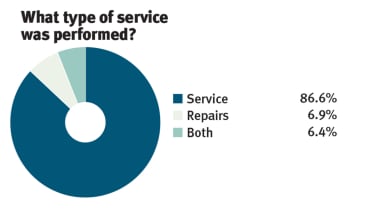 Pleasingly, almost all of our respondents only made use of the service department for scheduled maintenance, rather than a fault of some kind necessitating a pit stop.
Best car dealers 2020
1. Lexus – 93.42%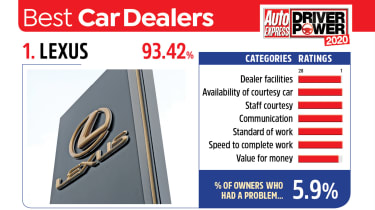 When Lexus came top of our Driver Power rankings last year, we said we couldn't remember a time when a brand posted such an impressive suite of scores in one of our surveys. Yet the Japanese firm has done it again in 2020, generating the sort of feedback that can only be described as exemplary.
No other brand has franchised dealers that employ such polite staff, you say, while communication to customers is nothing short of perfect.
You also highlight that Lexus service centres are faster and more effective at maintaining your cars than any other firm's workshops, while the top-place ranking you award to the availability of courtesy cars indicates getting a spare set of wheels when your vehicle is in a Lexus workshop is something of a given. True, Porsche dealerships are slightly swankier places, while three other brands' dealers offer better value for money. But as a high-end, premium firm, it's arguably all the more impressive Lexus ranks fourth for value.
Bravo, Lexus, and congratulations to its dealer staff.
Case study: Onur Ozkaya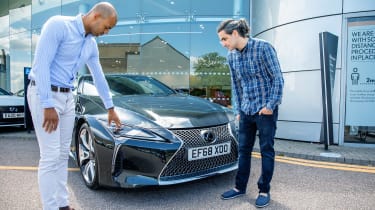 Lives: London
Drives: Lexus IS 250
Onur Ozkaya – a university lecturer from London – owns a 2012 Lexus IS 250, which he bought as an approved used car from Lexus Woodford in September 2018. First finding the car online, Onur saw it was precisely the model he wanted, and was located at a dealer not far from him.
"I saw the car advertised online," Onur told us. "I called and booked a test drive with the dealer, and after the drive I decided to go ahead with the purchase." Onur said that staff at the dealership were – and have been on every visit since – friendly and professional, as well as being knowledgeable on everything he's asked them about.
"I do my annual service every year," Onur explained. "Everything has been good so far."
For Onur, the best thing about the Lexus dealership experience is how efficiently everything runs. "I book the service online," he said. "I get a confirmation and am asked whether I need a courtesy car for the day."
Onur has only needed to take a courtesy car once – which was simply a matter of booking in advance. Even when he doesn't ask for a car, staff go the extra mile by giving him a lift to the nearest tube station.
Having had "massive problems" with other manufacturer dealerships in the past, Onur finds Lexus' approach a refreshing change. "They're more courteous, more efficient and they look after you," he concluded. "As a brand, they're very reliable."
Owner's view: "Lexus staff are more courteous, more efficient and they look after you. As a brand, Lexus is very reliable."
2. Honda – 91.66%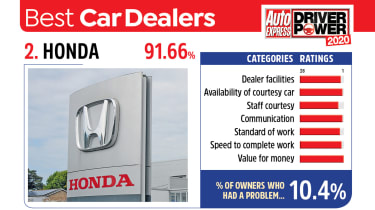 Honda pips its rival Toyota to claim second place, a result brought about by scores that are universally excellent.
No other manufacturer's dealer network offers greater value for money, your marks tell us, while courtesy cars are almost universally available. Staff are also excellent at informing you about the progress with transactions and servicing, while workshops are efficient and effective when your cars need a quick pit stop.
And Honda's dealerships themselves are nice places to visit. You can expect to find a parking space easily enough, and also encounter waiting areas that are clean and in good order.
Owner's view: "I have used the same dealer for more than 10 years and have always been satisfied with the professionalism and courtesy."
3. Toyota – 89.70%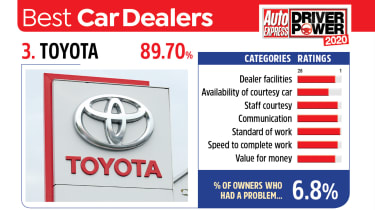 A bronze medal for Toyota, which slips one place compared to 2019's rankings, but still fields a performance that should cause other manufacturers to take notice.
Toyota dealers are both polite and good at keeping owners informed, you tell us, while the dealer facilities are spick and span, and there are plenty of parking spaces. Workshops, meanwhile, are nothing but fast and effective in the work they carry out on your cars. What's more, you also tell us that Toyota dealers offer excellent value for money.
The only score slightly dragging the firm down is for courtesy cars, but eighth place here shows they're not too hard to come by.
Owner's view: "The staff are always courteous and helpful, taking time to explain what has been done and answering any questions."
4. Porsche – 89.21%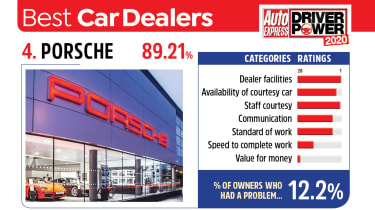 A new entry for Porsche in our Driver Power dealer rundown compared to last year, and one the German maker will be pleased with. Fourth place is an impressive debut, and it's a position Porsche has achieved thanks to almost perfect marks.
We say almost, but coming 23rd for value for money can't be overlooked, even if it shouldn't be surprising for a firm that makes cars which start at around £47,000.
However, no other dealers have better facilities, you say, while the staff are polite and courteous, as well as being effective at keeping you up to speed with what's going on. Services and repairs could be carried out a little more quickly, though.
Owner's view: "Waiting area and refreshments on offer are always of a high standard, and they also provide an office for me to work in."
5. Peugeot – 89.14%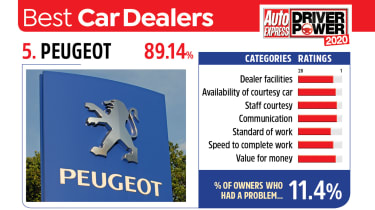 Peugeot's slogan used to be 'the lion goes from strength to strength', and based on its rise from last year, when the firm's dealers finished mid-way in the rankings, we'd say it's time that strapline came back.
Helping Peugeot to the lofty heights of the top five are scores that indicate few problems were encountered by Driver Power respondents. They say showrooms are tidy, staff are polite and excellent at keeping you up to speed, while the firm's dealer network offers good value.
If Peugeot were looking for areas to polish, its service centres could be a little swifter and more effective, but we're splitting hairs here.
Owner's view: "Car park is excellently laid out with adequate provision for Blue Badge holders. The service manager is also always very helpful."
6. MG – 88.91%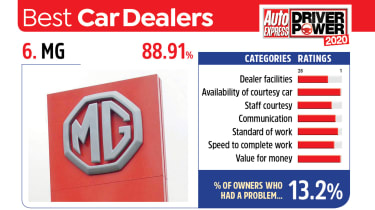 With a set of scores that larger and more premium dealers would be jealous of, MG franchises get almost everything right.
Waiting areas could do with a lick of paint and a bit of a tidy-up, but elsewhere praise is almost universal. You say that MG dealers are practically falling over themselves to give you a courtesy car, that service centres complete work quickly and efficiently, and that dealership staff have a winning combination of politeness and effective communication strategies.
Back when the MG 6 was around, the firm was seen as a bit player. But with scores like these, and competitive SUVs in its line-up, underestimate MG at your peril.
Owner's view: "I didn't even need to park my car up – I arrived and it was immediately taken into the service bay by a technician."
7. Kia – 88.14%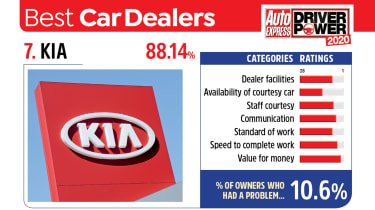 If Kia dealers had more courtesy cars available, the brand would be placing even higher up the rankings than it is here, because an average score in this area drags the overall result down a little.
Elsewhere, however, the news is almost universally positive, with a bronze medal for value for money, and nearly as impressive a mark when it comes to how quickly service technicians complete any work your Ceeds and Sorentos require.
The staff are also effective, polite communicators, and while you wouldn't mind some slightly snazzier waiting areas, you say Kia dealers tend to be neat and tidy, and you can park without too much trouble.
Owner's view: "The service staff are all very efficient. I needed new tyres and was given a range to choose from, all at reasonable prices."
8. Citroen – 87.48%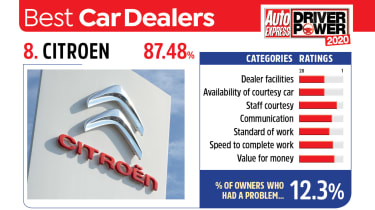 A strong result for Citroen, with owners reporting that dealers do many things right, and not a huge amount wrong.
More courtesy cars and a spruce up of dealer facilities, plus better parking, would address the brand's lowest scores, but elsewhere it seems refinement, rather than root and branch reform, is all that's needed here. You say staff at Citroen dealers are polite and effective in their communications with you, and reckon that workshop staff carry out routine or unscheduled maintenance in a timely manner. Work tends to be done to a pretty reasonable standard, too, while dealers are felt to offer strong value for money.
Owner's view: "The employees at my dealer look after me as though I were a family member. I'm on first name terms with most of the staff."
9. Jaguar – 87.14%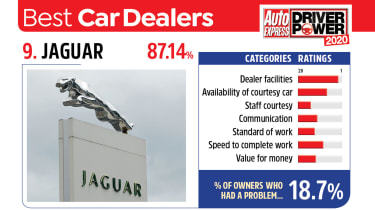 First off are Jaguar dealers who, you say, have deeply impressive showrooms and service departments, thanks in part to JLR's £1bn investment across its retail network that began in 2016. Courtesy cars are also generally easy to come by if you need to visit a Jaguar dealer for service or repair.
Elsewhere, though, things are a bit less positive, with staff rated as below average for their politeness, and dealers not felt to offer brilliant value for money. You reckon Jaguar is quick to mend your cars, though.
Owner's view: "Spotless showroom with helpful and friendly staff. They were very good when I bought the car and have been great since."
10. Vauxhall – 86.91%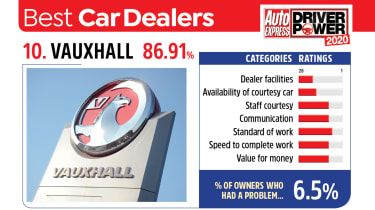 A big rise for Vauxhall, which sat close to the bottom of our table last year, and now rests in the top half of our countdown.
This boom in the positivity of owner feedback could be down to the influence of new owners Groupe PSA but, either way, it's pleasing to report that you consider Vauxhall dealerships offer good value for money, while staff are polite, good at keeping you up to speed, and carry out any necessary work quickly and to an impressively high standard.
If Vauxhall's new guardians are looking for areas to improve, the dealerships could do with a bit of a spruce up, while courtesy cars could be in greater supply.
Owner's view: "All the work I took my car in for was carried out in the quoted time and at a reasonable cost. Staff were very knowledgeable."
Worst dealers 2020
21. Mercedes – 82.48%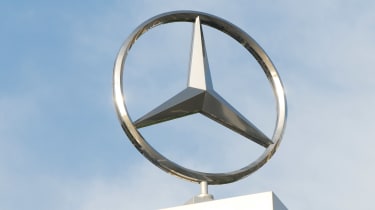 Need a courtesy car when yours is in for some work? You're in with a fairly decent chance of getting one at a Mercedes dealer, given this area is the firm's best-graded one. Dealer facilities are also said to be reasonably acceptable, too.
Elsewhere, however, things are far from rosy, with the high costs for servicing and maintenance responsible for Mercedes' worst individual category score.
You would also like it if workshops operated more swiftly, while the levels of staff communication on offer need to improve. Given Mercedes is a bona-fide premium manufacturer, these scores should be better.
Owner's view: "The technicians didn't do the work I asked them to do. When I pointed out the fault was still there, they made excuses."
22. Renault – 82.35%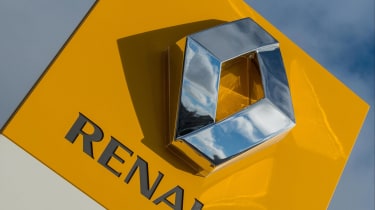 The good news is that Renault dealers are relatively swift when your cars need work, while prices in the firm's service departments are said to be pretty fair.
The bad news, however, is that you're not overly impressed with the standard of work carried out, while courtesy cars are thin on the ground. Communication between dealer staff and customers could also be improved, according to Renault owners, with staff not taking the time to properly explain paperwork among one of the issues raised. You also highlight that parking spaces are at a premium at Renault dealers, and waiting areas could be more comfortable places to sit.
Owner's view: "The car park is always full to the brim with the second-hand cars they have for sale, making it impossible to find a space."
23. DS – 80.86%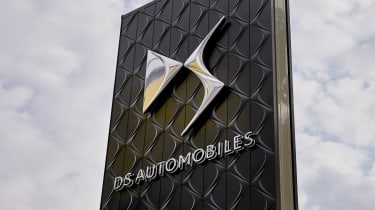 Expectations could play a role in these humdrum marks for DS, since customers who opt for a car from PSA's premium brand may hope for greater levels of service than they seem to be receiving.
Still, it's a better result for DS than last year, when the firm's dealers finished last, and the work the company has done in rebranding and designing its showrooms as DS 'Salons' may explain why dealer facilities are marked better than any other individual area. But staff need to be more polite and communicate better, you say, while there should be more courtesy cars, plus service and repairs could be quicker. At least DS dealers offer okay value.
Owner's view: "I checked their website for the price of a service, but was then quoted much higher when I rang them to book my car in."
24. SEAT – 80.45%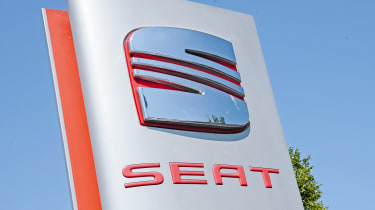 SEAT posts a bit of a mixed bag of scores, with one or two areas showing signs of promise, but others unquestionably poor.
The Spanish arm of the Volkswagen Group has the worst-rated dealer facilities in this rundown, with tight parking and unimpressive waiting areas partly to blame. You also say staff aren't great at talking you through paperwork, and that servicing and repairs take too long.
But at least staff at SEAT dealerships are felt to be generally polite, and when work is required on your Atecas, Leons, Ibizas and Alhambras, you consider hourly rates and the overall cost of work to be reasonably good value.
Owner's view: "The technicians damaged my intake manifold while working on my car and refused to admit it, leading to a dispute."
25. Land Rover – 72.88%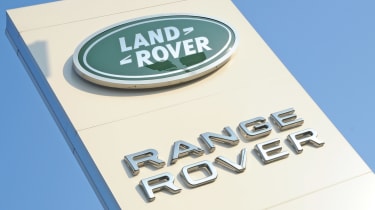 It must fall to one car maker's network to prop up our rundown of the best dealers in the country, and this year it's Land Rover's. The firm will be disappointed with this result, but with poor marks in all areas, last place is where the company must sit.
You say staff at Land Rover dealerships aren't as polite as they should be, and that they're poor at keeping you up to speed with what's going on with your Range Rovers, Discoverys and Evoques.
Courtesy cars are also thin on the ground, while servicing or repair work takes too long to complete, and you're not impressed with the standard of workmanship carried out, either.
Owner's view: "There are never any courtesy cars available unless you book months in advance. Very poor for such a large dealership."
Now see the best cars to own 2020, compiled from Driver Power data…
Source: Read Full Article