Audi to partner with Sauber for 2026 F1 season
Sauber will continue to use Ferrari powertrains in 2024 and 2025, before Audi will take over as engine supplier for the 2026 season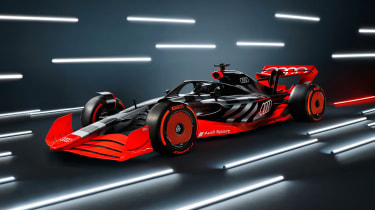 Audi and Sauber have announced a partnership for the 2026 Formula One season – the same year new engine regulations will come into force in the sport. A key driver behind Audi's desire to enter F1 is the sport's plans to become more sustainable and cost-efficient.
Sauber will split with its current partner Alfa Romeo at the end of the 2023 season, although it will continue to use Ferrari power units for 2024 and 2025. Frédéric Vasseur, Sauber Motorsport CEO and Team Principal said "The partnership between Audi AG and Sauber Motorsport is a key step for our team as we continue to make progress towards the front of the grid. It's the best option for the future and we are fully confident we can help Audi achieve the objectives they have in Formula One."
Audi e-tron GT vs Porsche Taycan 4S
The man tasked with overseeing Audi's F1 team will be Oliver Hoffmann. He said of the partnership, "We are delighted to have gained such an experienced and competent partner for our ambitious Formula 1 project. We already know the Sauber Group with its state-of-the-art facility and experienced team from previous collaborations and are convinced that together we will form a strong team."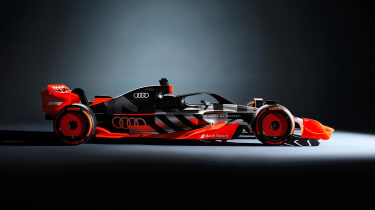 New rules for 2026 include manufacturers agreeing to abandon the complex motor generator unit from the hybridised and turbocharged V6 engines. New suppliers will receive extra testing time and larger spending allowances. Audi will develop its own engine near to its Ingolstadt headquarters, making it the first F1 powertrain built in Germany for over a decade.
From 2026 there will be an increase in power from the electrical side of the powertrain in F1. Audi says it's possible the electric motor will produce as much power as the 1.6-litre turbocharged engines. The engines themselves will also be required to run on sustainable fuel – a prerequisite, Audi says, for its entry. 
Audi has also referenced the broadening audience base F1 is enjoying. It said in a statement, "In 2021, more than 1.5 billion TV viewers watched the races. Formula 1 is popular in key markets such as China and the USA, and the trend continues to rise – even amongst young target groups."
Audi's has already provided a mock-up 2022 specification F1 car in the brand's presumed livery. 
Audi's entry may not be the only Volkswagen Group F1 commitment we will see this decade – Porsche is also widely tipped to re-enter the sport as an engine manufacturer. The German sports car maker recently called off a seemingly planned partnership with Red Bull, stating 'equal footing could not be achieved'. Porsche says it'll continue to look at entering the sport.
Click here to learn more about synthetic efuels…
Source: Read Full Article