2022 Infiniti QX55 Review: Satisfyingly Premium, But Not as Sporty as It Looks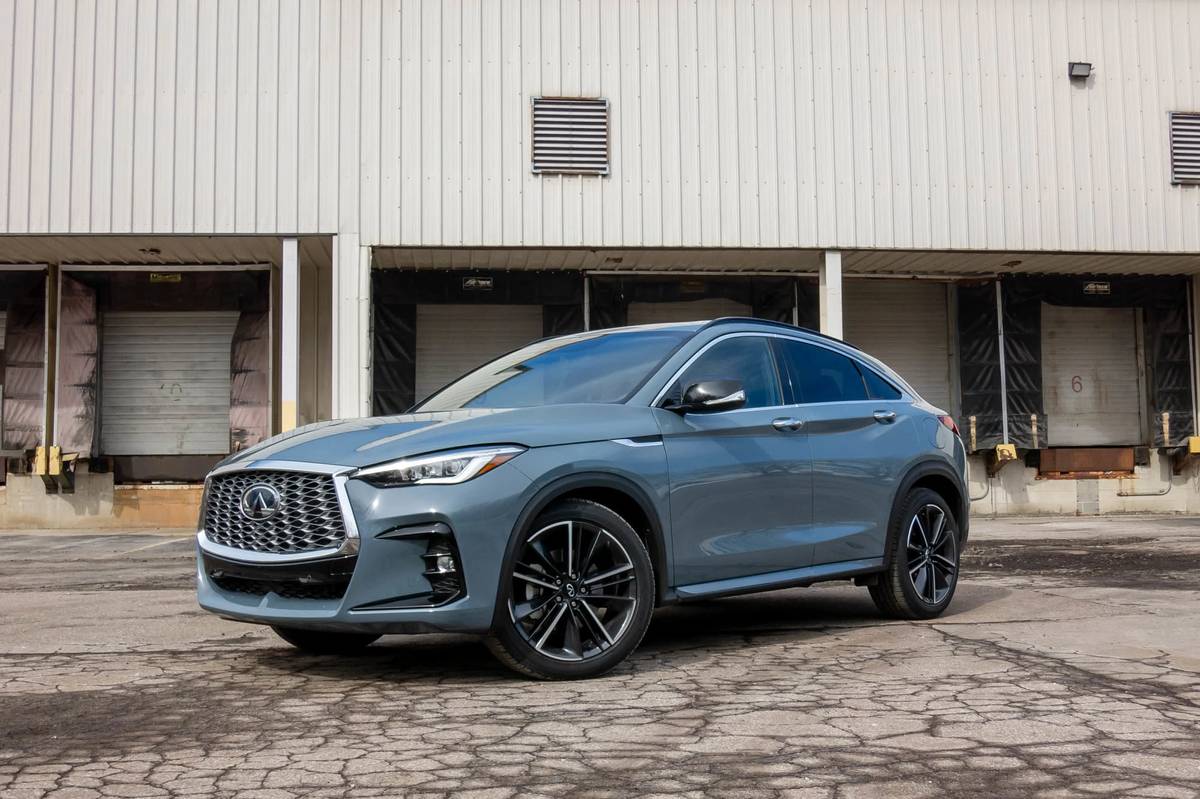 The verdict: A stylish and surprisingly roomy coupe-style luxury SUV, the new Infiniti QX55 is for people who value style but can't give up too much utility.
Versus the competition: The crossover coupe niche is a small one, but the QX55 might be the best of the lot. It's roomier and more comfortable — and has better visibility and is a better value — than the BMW X4 and Mercedes-Benz GLC300 Coupe, though it doesn't match up in terms of interior quality or multimedia sophistication. 
I've never quite understood the concept of the sporty crossover coupe. To me, calling a truncated, lowered-roof SUV a "coupe" is even more ridiculous than calling a four-door sedan a coupe. But a lot of luxury automakers — intent on expanding their lineups to fill every possible market niche — are coming up with them, and now Infiniti has joined the party with the new 2022 Infiniti QX55. 
The QX55 is based off the more traditional QX50 SUV but features more aggressive styling. It has a lower, swoopier roofline meant to give buyers a sportier, more stylish alternative to a traditional luxury SUV. Infiniti says it reached into its own history for inspiration, channeling the spirit of the original 2002 Infiniti FX — which some would call the original crossover coupe before there was such a thing. The result, says the company, is a stylish crossover aimed at stylish people that doesn't come with the compromises of competitors like the BMW X4 and Mercedes-Benz GLC Coupe — issues like poor visibility, limited headroom and a curtailed cargo area. We took one for a brief test to see if Infiniti really has cooked up a more cromulent crossover coupe.
Related:  Not a Shocker: 2022 Infiniti QX55 Costs More Than Comparable 2021 QX50
A Little Off the Top
Park the QX55 next to its cousin, the QX50, and you'll see the similarities right away. Infiniti made no changes to things like wheelbase or body panels below the beltline aside from slightly more aggressive front styling on the QX55. The QX55 has a larger grille that extends down to the chin spoiler, plus more prominent flanking air inlets. The rear bumper, meanwhile, is completely different, as are the standard LED taillights. Of course, the biggest difference comes in the greenhouse, which features a lowered roofline and a swoopier D-pillar treatment, which does away with Infiniti's odd little kink design in favor of a continuous arc. Usually I think the "coupified" versions of traditional SUVs look oddly proportioned, but Infiniti got this one right; it has a sleek, muscular shape that's more appealing than the SUV upon which it's based. 
Still Air Up There
Despite this lowering of the roof, the interior of the QX55 feels roomy, with plenty of front and rear headroom. It's definitely lost a couple of inches from the standard QX50, even ones with a moonroof, but it doesn't feel cramped above your head like the X4 does. Super-tall people might feel their scalp touch the headliner in the backseat, but average-height folks won't. 
Perhaps even more impressive is Infiniti's ability to maintain decent rear visibility despite a shortened window, which is something neither BMW nor Mercedes-Benz has successfully addressed. You can actually see out behind the QX55 for some distance, allowing for near-normal outward visibility — another check in Infiniti's advantages column. The brand's efforts to minimize the compromises one has to make in order to turn a traditional SUV into a coupe are clear, and the trade-offs do indeed seem to be minimized. The QX55 makes it easier to enjoy the style and look of this custom chop job while greatly reducing the penalty such a thing usually brings. 
Even the QX55's cargo room is appropriately sizable — if, again, smaller than the QX50's. You lose some space due to the lower roofline, but the rear seats can be adjusted forward and back, allowing for either maximum rear passenger legroom or maximum cargo compartment depth. So while it is smaller than the QX50, the size of the cargo area is overall quite surprising: There's 26.9 cubic feet with the rear seats up, 54.1 cubic feet with the seatbacks folded. That's considerably more space than in the X4 or GLC Coupe (based on manufacturer specs) and makes the QX55 as legitimately useful as it is stylish. 
Upgraded Interior
The QX55 is the latest Infiniti to hit our shores, so it comes with the brand's latest take on what makes a luxury interior. It's a good one: Materials quality is excellent, the designs and shapes are equally appealing, and the overall feeling the experience imparts is definitely one of a premium automobile. 
The interior design is somewhat let down, however, by some questionable choices, such as the two-screen multimedia system. It just seems unnecessary given pretty much everyone else makes it work with one screen. The top screen is generally for navigation and peripheral systems, like Apple CarPlay and Android Auto, both of which are standard. The lower screen is for audio, climate controls and other vehicle functions. This enables you to have CarPlay running on one screen while adjusting the climate settings on the other, or to have navigation running while changing channels on the native onboard audio system. Frankly, though, the reach to that top screen is a bit of a chore. Why not just do one screen well? 
The native audio and ancillary multimedia controls use several small fonts that are not easy to read at a glance, and that lower screen's position on the console doesn't make it easy to use while driving, either. It's not the worst multimedia setup out there, not even close, but it's definitely not the best. 
Driving comfort is excellent, though the driving position is a little high. This is where you start getting reminders that despite the low roofline and aggressive styling, you're still, in fact, driving an SUV. The seat doesn't descend quite as much as I'd like, leaving you with a slight driving-on-a-barstool feeling, but it's not uncomfortable, just a little higher than you might expect looking at the QX55. The seats are well padded and covered in very nice leather, and I can never really fault an automaker offering a red upholstery option — one of my favorite looks. 
The QX55's interior is almost on par with the top luxury contenders in this field, but it stops short of being fully competitive. The Mercedes-Benz GLC300 Coupe's interior goes beyond the Infiniti's premium feel and into genuine luxury territory, while both the Benz and the BMW X4 have better, more cohesive approaches to their multimedia systems. The Infiniti's interior isn't all that different from the QX50, which is competitive with premium brands like Acura, Buick and Lexus, but the luxury German brands pay a bit more attention to detail, giving their buttons, layouts and construction a sense of specialness that's lacking in a nameplate sharing components with non-luxury brands. 
It Only Looks Sporty
Perhaps one of the most surprising aspects of the QX55 is that it doesn't have the athletic chops to back up its looks — and that's perfectly fine. If its seating position clues you in to the fact that this was an SUV, not a sports sedan, it's the driving experience that cements the idea. Infiniti stylists had a great time turning a QX50 into the sleek QX55, but the mechanicals don't feel that different from the original. 
The only available engine is a turbocharged 2.0-liter four-cylinder pumping out 268 horsepower and 280 pounds-feet of torque, and it's sufficient to move the QX55 with surprising quickness. It's mated to a continuously variable automatic transmission with standard all-wheel drive, and together, that powertrain combo proves to be the sportiest thing about the QX55. It is perhaps one of the best-tuned CVTs I've ever sampled, mated perfectly with the power available from the torquey turbo four, and it's always eager to move the QX55 smartly via a stab of the accelerator. It makes the QX55 genuinely pleasant to drive, just like most any vehicle with ample on-demand acceleration. 
For all the powertrain's entertainment ability, however, the chassis is set up very differently. It's harder to disguise the QX55's SUV roots here, as it tends to understeer through corners and lean over noticeably. The ride is well controlled but tuned toward the softer end of the spectrum in order to provide some damping, this given the massive standard 20-inch wheels and low-profile tires don't provide much cushion from road imperfections. 
The real knockout punch to the QX55's athletic pretense, though, is the utter lack of steering feel from the electronic Direct Adaptive by-wire steering. For all the feedback it gives you, you may as well be operating a video game steering wheel. It's light and even has a relatively quick-feeling ratio, but combined with the QX55's softer ride, the message it sends the driver is that the QX55 is a vehicle meant for style, not speed — which, once again, works just fine. SUVs make terrible sports cars thanks to their copious mass, high centers of gravity and a host of other issues that make them much better suited to causeway cruising than back-road bruising. 
Perfectly Premium
As long as you're OK with the idea that the QX55 is better suited to the style-over-substance set, it's a highly suitable choice for your next ride. There's no denying it looks good and provides a comfortable, perfectly premium driving experience; that it comes packed with all the technology and safety equipment you could want; and it does all that at a price that undercuts similarly equipped models. 
There are three grades of QX55, starting with the Luxe trim, at $47,525 (prices include destination). This is nearly $10,000 more than the starting price of a QX50 SUV, but there is no equivalent to the QX50's base Pure trim level for the QX55; it starts with the QX50's mid-level trim equipment. If you compare those trims, the QX55 costs about $3,000 more for less space and more style. Two more grades of QX55 are available: the $52,625 Essential trim and the top-of-the-line $58,075 Sensory trim, which was the version I tested. Not much is optional at that top level, and my test vehicle came with an as-tested price of $58,770 thanks to the addition of $695 Slate Gray paint. 
It doesn't have many competitors, but the QX55 starts at a significantly lower price than the BMW X4 ($52,595) and Mercedes-Benz GLC300 Coupe ($52,700). A loaded Sensory version of the QX55 is significantly less expensive than the top-equipped version of either German car. Yet there is one other option you might not have considered: a Tesla Model Y. It features a very similar style and interior layout to these crossover coupe models, but with an all-electric drivetrain, it's a very different animal meant to appeal to a different audience. A Long Range version theoretically starts at $50,190 (if Elon Musk hasn't changed the price twice since this was written) and is equipped with an electric powertrain that's far more zippy than any of these examples powered by gasoline. 
If you're intent on getting a coupified SUV — and if looking good and feeling good is more a priority than a quasi-athletic, entertaining driving experience — Infiniti's new QX55 should satisfy your needs quite nicely.
Cars.com's Editorial department is your source for automotive news and reviews. In line with Cars.com's long-standing ethics policy, editors and reviewers don't accept gifts or free trips from automakers. The Editorial department is independent of Cars.com's advertising, sales and sponsored content departments.
Source: Read Full Article