Why I bought a pre-owned Mahindra XUV 500 AWD AT
The car had run a little over 14,000 KM at the time of delivery (absolutely un-used spare tire) and the service history had a record that the previous service was done at 11,000 KM an year back.
BHPian Nishith recently shared this with other enthusiasts.
In this post, I have tried to list out my experience of purchasing a used XUV500 W10 AT AWD. (This is my 1st long post, hence please ignore errors if any).
Prologue: – The itch to upgrade to a better car started a couple of years back, but I just kept putting that thought on the back seat, in fact I had no plans to upgrade even till Dec'21 and the economic slowdown bought in by COVID just reinforced my thought of pushing the car purchase plan by another 3 to 4 years. Added to that our running is not very high and hence, I was not able to convince myself to invest the big ones on a depreciating asset which wouldn't be used much, thereby not justifying the money I would be spending on it, but still what made me upgrade? Read on to know about it.
Our garage consisted the following cars: –
The Hyundai Accent was our upgrade from a Maruti 800 (2000 model, which was again bought pre-owned). So, this was and still is our 1st ever brand-new car that we have owned and we are very happy with it. The Accent is mostly used by me after dad was not able to use it as his daily drive for his office commute owing to Bangalore's traffic. That's when the Celerio came in and took over all the city run-arounds. Accent was used by me in Celerio's absence and continued to do all the Highway duties. So far, the car has been extremely reliable and frugal to maintain. We have covered around 65,000 KM in 9.5 years of ownership with no breakdowns or major issues what-so ever. Early 2021, I replaced all 5 tires as they were old and I did not want to take a risk, as we had a couple of out-station travel plans then.
Everything was as per plan until December'21, in this month we had back to back trips scheduled on every weekend and the car saw an un-usually high running of 5,000+ KM in that month alone. This is by-far the highest the car has run in a month ever since we purchased it. The car performed really well, munching everything that was thrown at it effortlessly (we drove through cyclones, beach side roads, hill-stations all in this month). I can vouch that the Accent can still give a run for the buck to the latest cars in the market in terms of keeping up with speed, acceleration and A/c effectiveness. However, a couple of instances during these 5,000 KMs run made me re-consider the requirement of upgrading to a safer and well-equipped car.
Instances that made me re-consider upgrading the car:-
This incident made me realize the importance of Airbags, importance of structurally stronger cars and how we could become a victim irrespective of how safe and cautious we are on the road. Undoubtedly, the Airbags were the savior here and they gave all the occupants of both the cars a new leash of life.
After these two incidents I was already considering to upgrade as nothing takes precedence over safety.
 3. On the 1st week of Jan'22, when I was returning home from Ooty with my family, after crossing Mysore, we took the Tumkur route towards Bangalore and we again happened to witness one more accident scene where a Maruti Swift had got involved in an accident with a truck, looked like the truck applied sudden brakes and the tires of the Swift locked because of panic breaking and the car went sliding and hit the tuck. (I did not witness this, but noticed swift's tire marks on the road).
This was it! By the time we reached home that day. I had made up my mind and had convinced my family that we need to upgrade to a safer car and should not delay this purchase any further.
Now that I had made up my mind to upgrade the car, these series of questions popped up.
Which segment to look at?
What should be the budget?
Brand new vehicle or Pre-Owned?
If Pre-Owned, what would I classify as a decent mileage on the odo?
Are corporates like Cars24, Spinny better than the used car dealers?
What are the must have features?
And many more…
I started to list down my bare minimum requirements that the car must & should have, over and above the basic features all of us we are now used too.
Good to have features-
As you can see the Good to have features are just wants and I was clear that absence of these would not be a deal breaker if the car ticked the other mandatory requirements.
Based on the listed needs and wants, my heart was more inclined towards the XUV700, as I was always a fan of the XUV500 and I was at the verge of booking an XUV700 AX7L AWD. However, when I gave this a thought with a sane mind I realized that it would be too much of a stretch on the budget and I was not willing to invest that huge money on a car at this point of time. Added to that my parking at home is 1 feet short to accommodate the XUV700. So, buying such an expensive car and parking it outside was a big no! Given that the XUV700 a new launch, the car would definitely have its initial set of niggles and I dint want to be a part of the initial testing batch. When I started to list real-life use-case of scenarios I understood that I would the features would not be of much use to me at this point and did not justify the need for such a feature loaded car.
By now I had worked my finances, decided the budget and concluded that I will be getting a Pre-owned car because of my budget and parking limitations. I had narrowed my options to XUV500 (under 40K odo and 2017 & above) or an Innova Crysta (under 60K odo and 2017 & above).
I was checking for many used car portals like Car-dekho, OLX, Car trade and many other portals. One such day, I read an article on Team BHP about players like Cars24, Spinny that they list cars in a good condition, but demand a premium price for their service. I decided to give it a try as the listings on OLX dint seem trustworthy, I had just installed the Spinny app on my phone and was browsing through and Voila!
I found an XUV 500 that ticked all my mandatory requirements and majority of the good to have features. So, I immediately scheduled a test drive, but the test-drive was available only a couple of days later and I called up the customer care and they repeated the details mentioned on the website and agreed to share the RC copy with me on WhatsApp to verify the service history at the nearby Mahindra service center.
The very next day I went to the Mahindra service center and found the service history to be clean and it matched the description on the Spinny's website and visiting the authorized service center revealed one more pleasant surprise that was not mentioned on Spinny's website the car has its extended warranty active till Sept'22!
I came back home and I was telling my family that everything seems to be green. I noticed dad was a little hesitant since the car was Black in color, a little convincing and he agreed!
The car arrived at our doorstep the following day, since there was some road construction work that was happening on the way, the car that departed clean and tidy from the yard, was already a little dirty on the exterior when it arrived. Quickly hopped in to the driver seat, took a small test drive within the colony and then wife took over the wheel when we went for a spin with our family and everyone liked the car and gave a go-ahead.
However, I was very clear that we will have to take the car to the Mahindra service center and wanted them to inspect the car to eliminate some last-minute & unpleasant surprises. Once we reached the service center, the car was physically inspected, put on the ramp checked for any leaks, under-body damages/ corrosion etc., then the service executive accompanied us and did a longish test drive (combination of empty stretches, bad roads and bumper to bumper traffic) to check for any suspension noise, engine noise, pick-up, transmission behavior etc,. everything came out to be clean and the service center guys gave us a go-ahead to purchase the car, but did mention to negotiate on the price a bit. They also highlighted that the regular service is due on the car and recommended me to get it done if I purchase the car to keep extended warranty in-tact.
Went back home, paid the advance and agreed to make the payments in the next 2-3 hours, and told the Spinny executive that we need the car delivered on the same day as the following day was a Saturday (the weekend curfew was in place at that time) added to that the following day was my mother's birthday so getting the car before that would make the occasion special and memorable.
Everything fell in place and the car was delivered to us at our doorstep by 9PM, the car was extremely low on fuel, immediately drove to the nearest fuel station and topped up fuel, the car gulped down 74 ltrs of diesel while the company listed fuel tank capacity is 70 ltrs.
The next couple of days were spent fiddling with the car, took it for the mandatory pooja to a temple within the colony, dad & wife driving it with the colony to get familiar with the car.
Will let the pictures do the rest of the talking.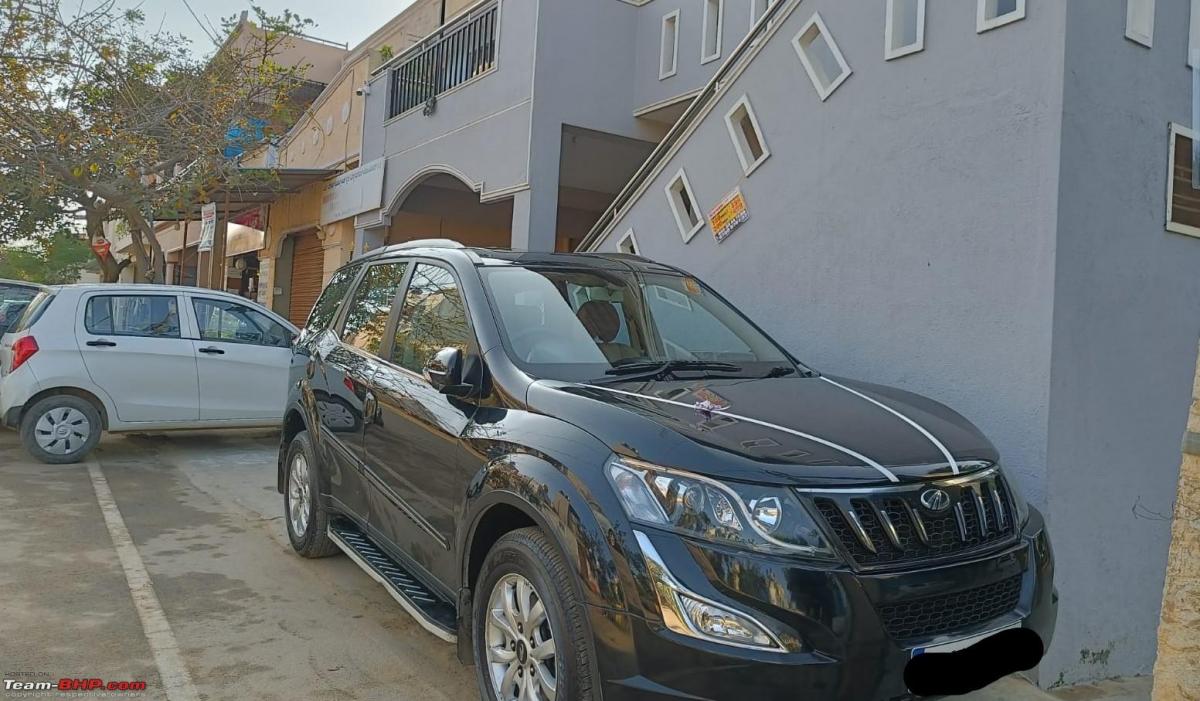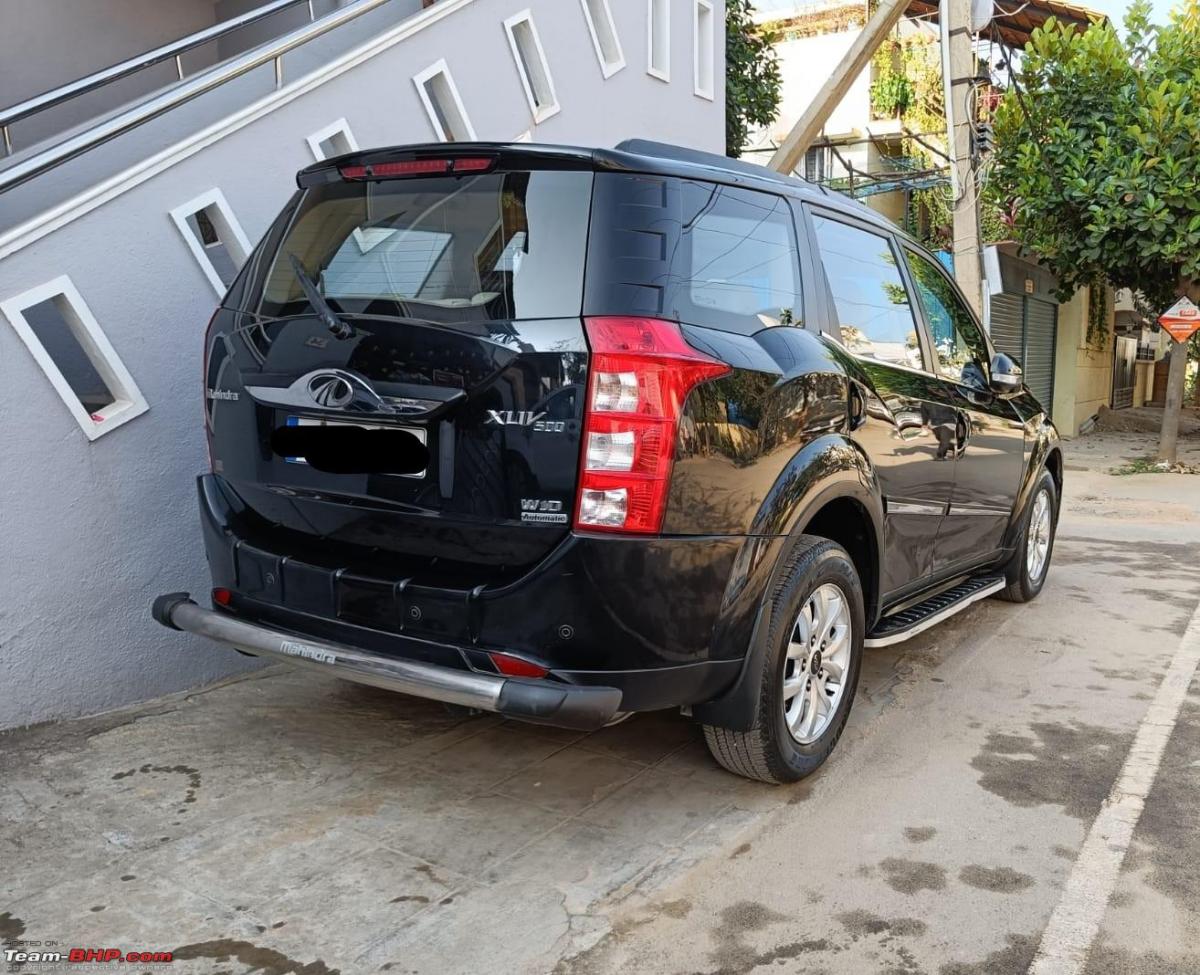 Below is a picture from the 1st and small drive we went in the following week.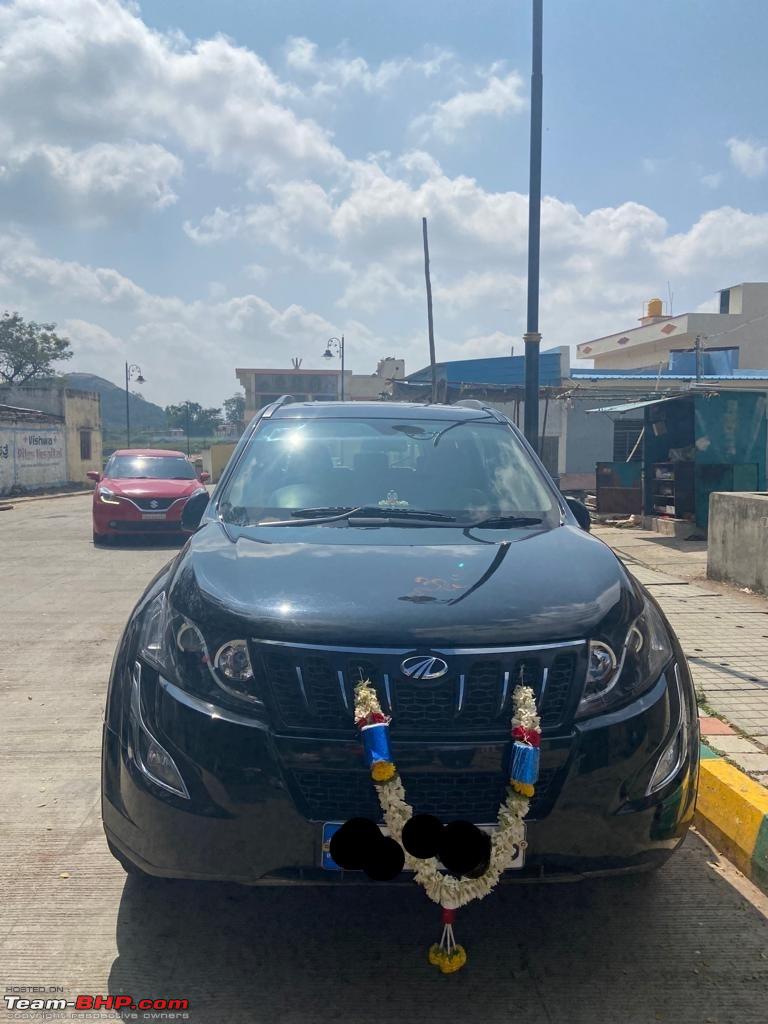 The following week, I left the car for its scheduled service at Mahindra and then took it straight to a detailing studio in Koramangala, Bangalore named "The Detailing Mafia" for ceramic coating and under-body rust protection paint.
The owner Mr. Mahaveer is a gem of a person and the car was shinning as good as new post the treatment. Would definitely recommend this place and Mr. Mahaveer is reachable on +91 7760801253 (sharing his number here after taking his consent)
Before detailing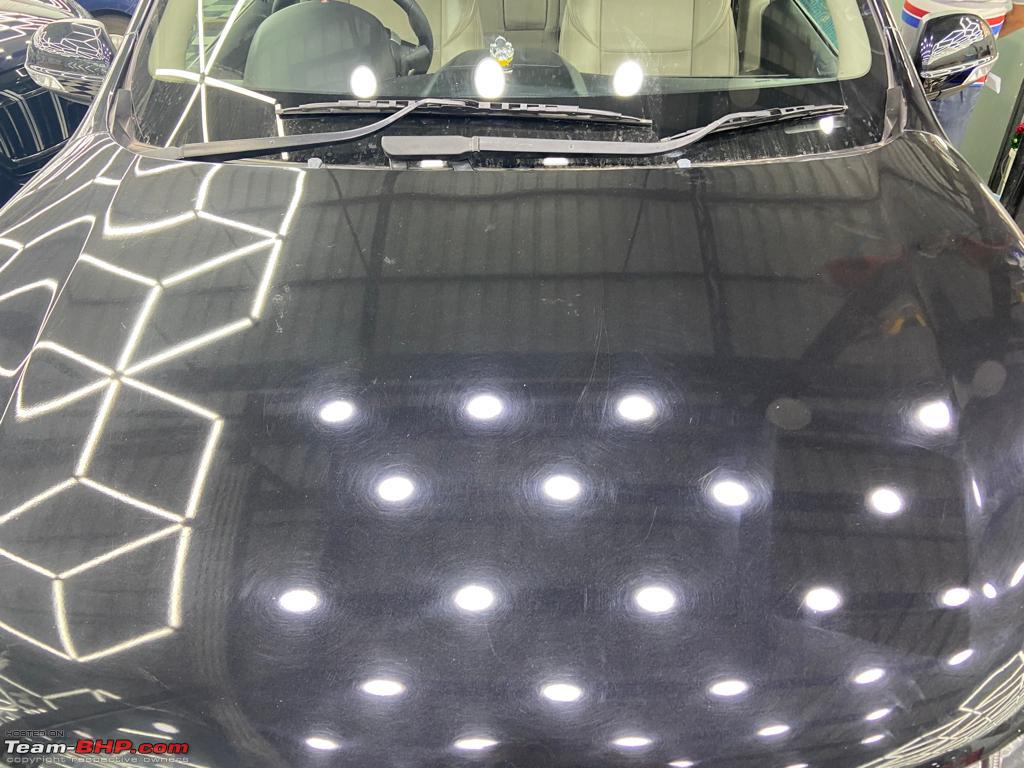 Work in progress
After detailing and Ceramic coating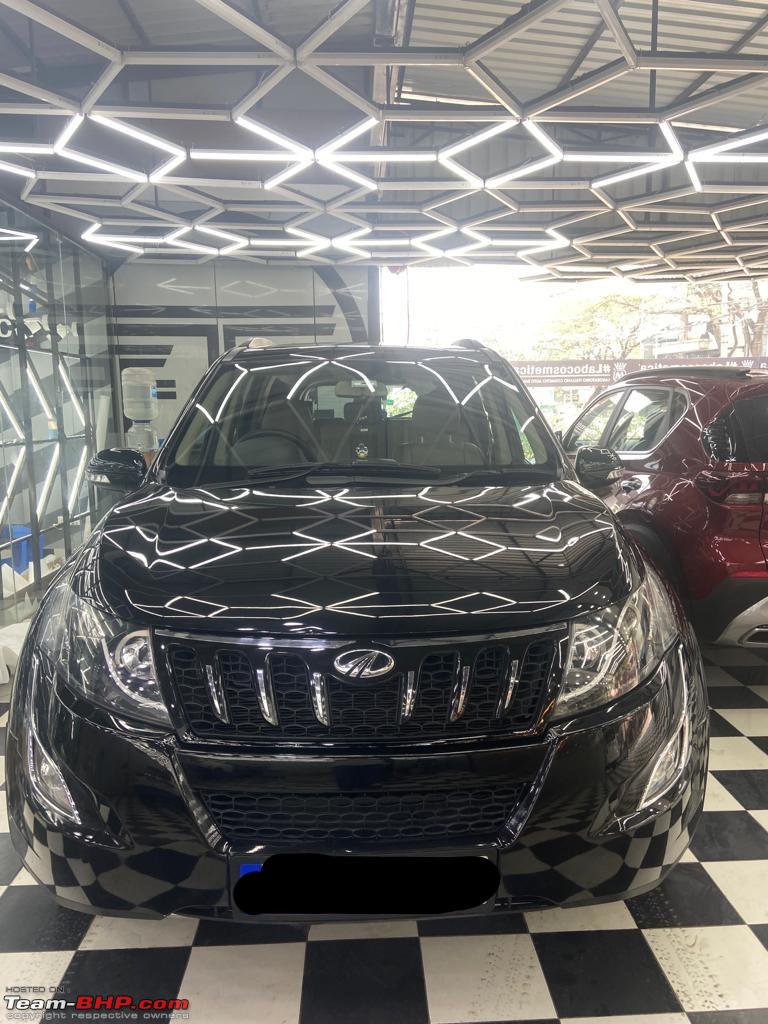 I've driven the car for around 2,500 Kms and here are the things I like and don't like about the car.
What I like
The car had run a little over 14,000 KM at the time of delivery (absolutely un-used spare tire) and the service history had a record that the previous service was done at 11,000 KM an year back. Very well maintained, can still sense the new car smell when we get into the car.
The Engine – The MHAWK is a time-tested engine. Have driven vehicles that have crossed the 2 lakh mark with just regular maintenance and are still a gem to drive.
Safety – The entire reason for upgrading. The car is equipped with 6 Airbags, ABS, EBD, ESP, Hill hold, Hill descent and 4-disc brakes.
Road presence – The car is a looker from every angle, the front left or right are the best-looking angles from my perspective.
AWD – The All-Wheel Drive model is not very common on the roads and I am glad I could find one in the used car market
Cornering lights – Had actually under-estimated the use of these, but now I am so addicted that I miss this feature in the other cars at home.
Cruise control – Though this not a new feature, I am extensively using this feature only from the time I got the XUV500 and it's a very useful. With cruise on 100 Kmph, the MID displays mileage of 15+ kmpl. I am impressed!
What I don't like
Absolutely no boot space with all 3 rows on.
Ride is bumpy (body-roll) when compared to sedans and I think it will take some-more time to get used to this, I have driven around 2,500KMs and have got used to it, but my wife still finds the car to be bumpy.
Comping from a history of petrol vehicles, took some time to get used to the diesel clatter noise in the cabin.
The engine feels sluggish initially (at 1st and 2nd gears), once the car moves to 3rd gear and above it picks up speed rapidly.
2nd row A/c is not very effective, I would have preferred the 2nd row passengers get independent A/c controls instead of the 3rd row. I switch on the 3rd row A/c as well if its too hot and point the vents forward to help in re-circulation.
No Isofix child seat mounts.
A few pictures clicked when we had been on a weekend trip to Kabini.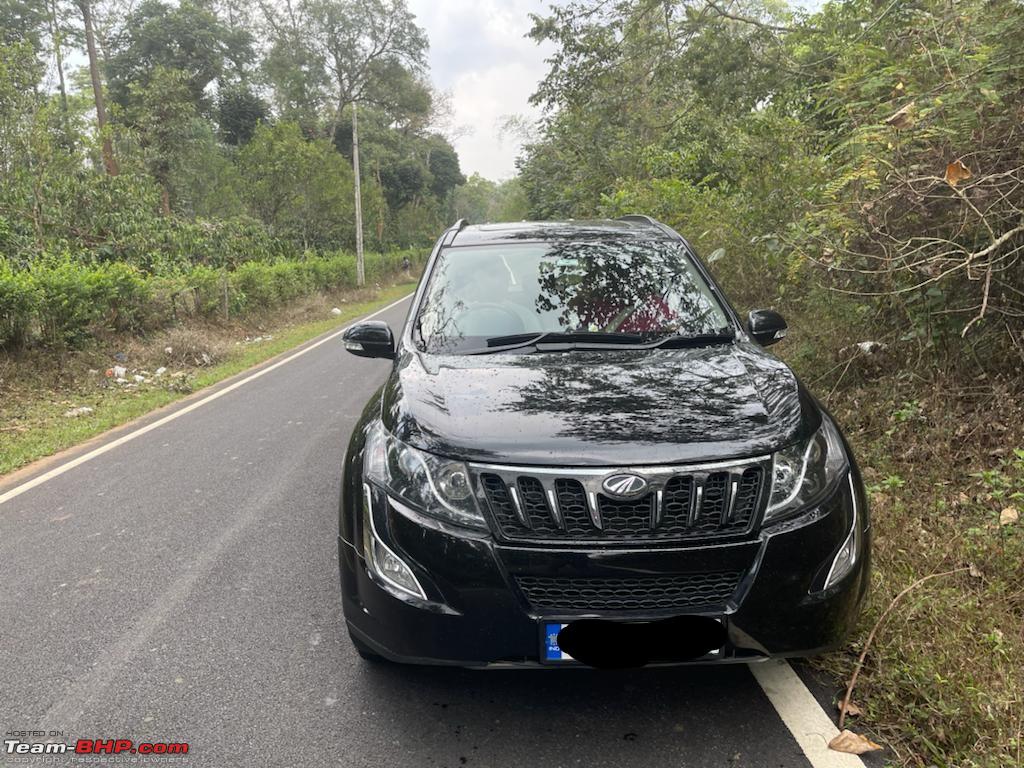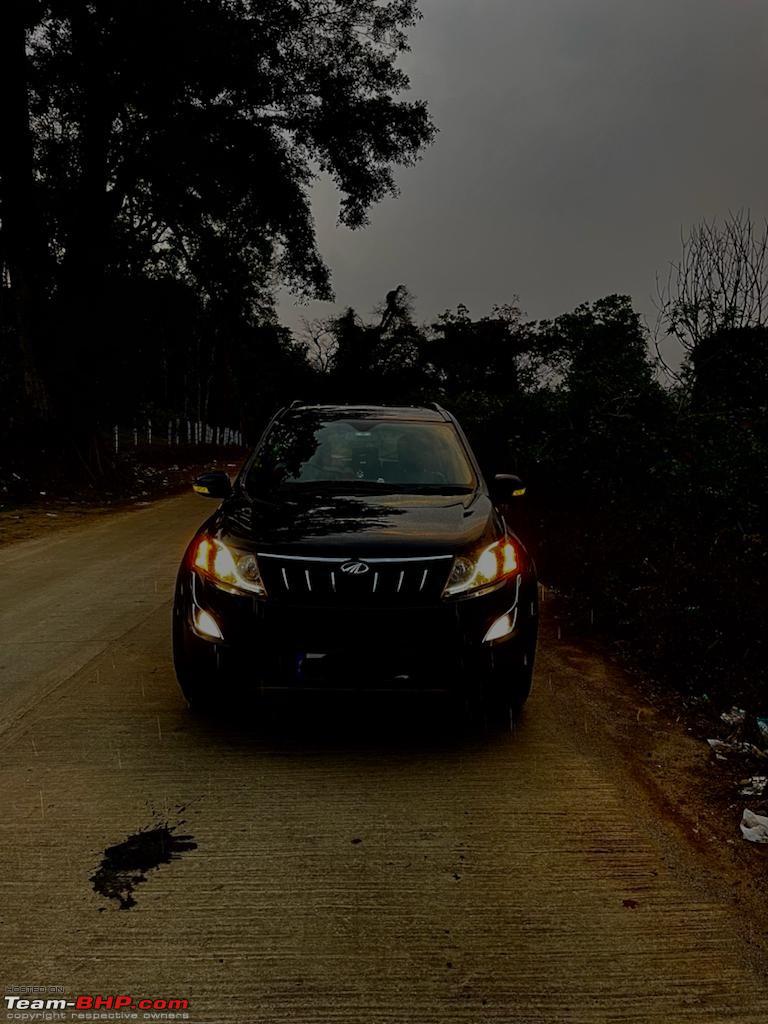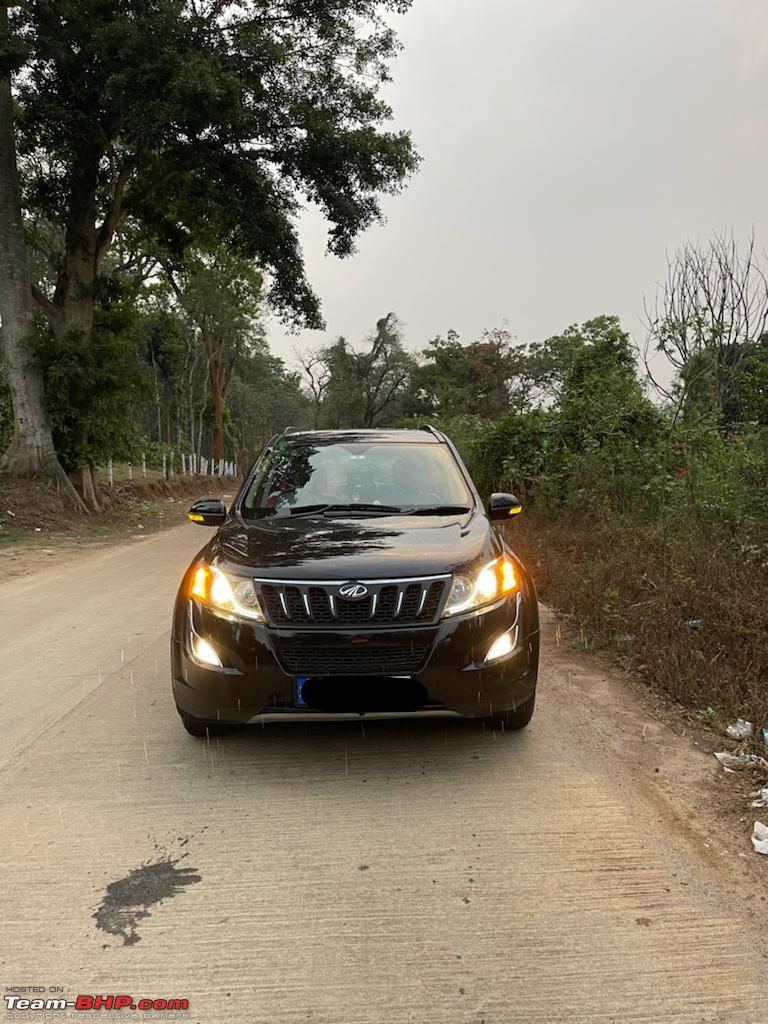 If you have read my post so far, a big Thank you!
Will try my best to keep this thread updated.
Thanks,
Nishith
Read BHPian comments for more insights and information.
Source: Read Full Article