Went in to buy a Toyota Corolla, bought a broken Skoda Laura
At this point, I really forgot why I came in and went out with a Laura L&K which looked really out of shape and I was still unsure why and what I did there.
BHPian onej_maverick recently shared this with other enthusiasts.
Background:
At this point, almost a year and a half back, I had an A6 C7 3.0 TDI as my primary car, and thought I needed a second car which should be abuse friendly with decent ground clearance and should be able to do most of the short city runs. Also my wife might rarely use that car. This was the criteria, obviously it also needed to be cheap to buy. I was thinking around Rs 3 lakh.
Naturally, I was ready to give up these aspects, I really value in cars in general:
Mature suspension
Good quality interiors
Like most of us here Power
In return, I expected:
Reliability
Decent ground clearance (With the A6, raising and lowering the air suspension was tiring, and it might scrape even when raised)
Cars Shortlisted:
Naturally since I wanted reliability, the first brand that came to mind was Toyota. There were a bunch of diesel Corolla Altis slightly above my budget. Was also thinking about a small Maruti or Hyundai hatchback. Suddenly i thought a Chevrolet would be cheaper to buy, my head was all over the place. But i made up my mind that i will go for the Corolla.
So I took my friend, who is also the one who takes care of my parts. He is an ex-Skoda head mechanic. Just to check if the car is alright. We did a test drive, it was the top end Altis diesel, and it was alright, I was okay with it. Ground clearance was better than the A6, Superb and 1st gen Octavia I have lived with, in the past.
And this happens
My friend: This will not work for you! (With a laugh)
Me: Why not? It fits my Criteria
My friend: Let me predict the future for you now, this will sit in your home used, you will stop using it after a couple of weeks
Me: What you trying to tell me now?
My friend: *Points a broken/abandoned Skoda Laura in the yard *
Me: No way, it's too broken, too old, too much for a 2nd car
My friend: Let's just ask for a test drive, I have 3 engines, 2 gearboxes and everything you might need at my garage, why do you care then?
Me: *Scratching my head* we didn't come for this, but a test drive wouldn't hurt
Initial impression
Car was dirty
Had a million dents
Rear wheel arch seemed crushed
Almost 10 years old
After entering the car:
The car didn't start
Christmas lights on the instrument cluster
It had 1,38,000 on the ODO
Seats were neat and clean
Few AC vents were broken
No glove box (literally)
AC was not working even after jump starting
At this point, I had that *I told you so* face. My friend didn't hesitate for a moment, he swapped the battery from his Laura (which is his daily driver) to this car. And suddenly all the errors were gone, AC magically worked, engine sounded very clean with no belt or excess noise, there was a little tappet noise, but we knew it was because the car was not used for a while.
The Drive
No front shock absorbers! LOL. The front was bouncing like there is no tomorrow and it was fun
2.0 CR Engine and DQ250 gearbox seemed to be solid, didn't feel like 1,38,000 km done
Clutch and flywheel felt new
Rear shocks were alright
Brakes were sharp
All 4 Injectors were new
ECM was new (the old one was in the boot)
Being an ex-Skoda guy, he quickly checked the service history, and we came to know that the previous owner had just spent 1.5 L on the car just a year back. Explains the new injectors and ECM.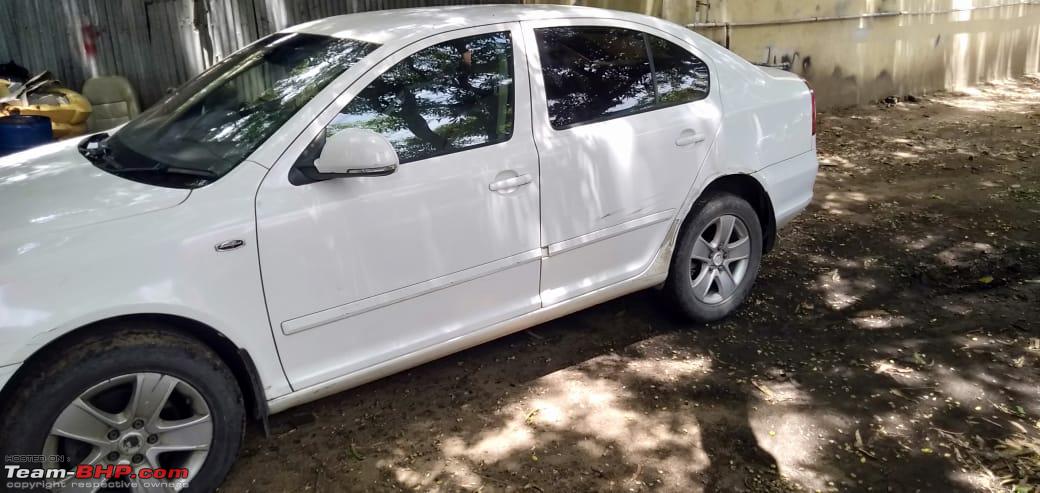 What next?
We purchased the car. At this point, I really forgot why I came in and went out with a Laura L&K which looked really out of shape and I was still unsure why and what I did there.
Works planned
All panels to be repainted
All four shocks to be replaced along with bushes (Bilsteins or Sachs? Okay, Bilstein, was an easy choice for me)
Order broken vents online
Get a glove box from a total loss vehicle
New battery
Unplanned work (how I got carried away, with this supposedly second car)
Full LED headlights
RS bumper with DRL
Replace headlight lens (ordered online)
Better tyres (Conti comfort series)
10 inch touch screen with android auto and can bus support
Changed the alloys to MOMO, anyway 2 OE wheels were bent, so it made sense to change all 4. But stuck to 16 inches (This was done recently)
After the above work was done, which took a month in total, here is the review of the car
What do I like?
Solid car, feels solid, drives well, feels safe
6 airbags, ESP, Traction control, EDL, Brake Assist (Safety covered)
Rides and Handles really well for the height of the car, rear independent suspension definitely helps
This Engine and Gearbox combinations is so much fun, down shifts are dramatic though not fast
Great fuel efficiency, I am getting 14+ km/l in Chennai consistently
Looks great with the RS bumper
Very good driving position especially compared to the A6 (I'm 6 foot 4 inches tall)
Awesome 12 speaker audio system
Sharp brakes, never needed to get used to it, and never made me feel nervous
Huge boot and very practical with the notch back design
More than enough ground clearance to tackle our roads
What I don't like?
Rattling sound from the dashboard, super annoying, especially on rough roads
No sunroof on the L&K? *cough* 2021 Octavia
Steering is heavy at low speeds (2010 version)
The wooden trim on the L&K doesn't go well with the interiors
AC is just enough
Rear legroom is average
Sound insulation isn't as good as the Superb
Definitely going to cost more to maintain than a corolla
How do I feel now?
Honestly, I never would have imagined I would be saying this, but this is my favourite car I have ever owned. It's quick, it handles well, the right size, fun too, convenience of the automatic gearbox, great audio system. This even made me question if I really need the Audi. Yes, the Audi is super quick 250 BHP, Quattro and can do stupid speeds, but I'm getting older, I have had all the fun in the 20's, now I'm entering the 30's. Without me realising, I'm appreciating better seating position more than doing 0-100 6.5s, practicality more than super soft interiors and taking my dogs with me more than the track days.
This also pushed me to make one of the hardest decisions of my life, selling the A6 I loved. I'm going to write a review of that special machine soon.
Check out BHPian comments for more insights and information.
Source: Read Full Article