The \u2018Autoweek Podcast\u2019 Ep. 126: Pikes Peak Spectacular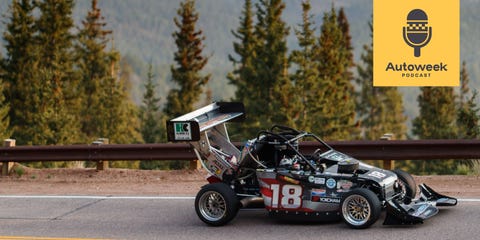 On this special episode of the Autoweek Podcast, the show dives into the legendary Pikes Peak Hillclimb. Kicking off the show, Mark Vaughn talks with this year's quickest man up the hill, Clint Vahsholtz. The two talk about the prizes you receive for taking top honors at the hill climb, what it takes to win the race, and Vahsholtz's next move. The pair also talk about the car that carried Vasholtz up the hill quicker than anyone else.
Later in the show, Robin Warner talks with two-time Autoweek Podcast guest Robb Holland about his adventure competing in the hill climb. Holland talks with Warner about what goes into the run up the hill and what goes through a driver's mind as they're getting ready for the run.
Tune in here, on Spotify, Apple Podcasts, Stitcher or wherever podcasts are played.
Source: Read Full Article