Tata Hexa XTA: 3 year service update & fixed multiple issues
The way the service center handled inspection/ warranty/ repairs in my car was commendable.
BHPian Prashant1286 recently shared this with other enthusiasts.
Update 3: 36 Month Service and TASS Experience
Lately, I have got many queries about the experience at TASS. This post, therefore, is a bit long as it deals with the service experience at TASS in detail. So once again, buckle up guys and grab your popcorn!
Background
Like many Team BHPians, I was also skeptical about TASS. Now it was the time to taste waters. The Hexa was due for 36-month schedule, which is a major service involving change of all fluids and few more consumable parts. Also, the main warranty was expiring and I needed to get a few things fixed. The car had clocked approximately 39k kms.
Initial Visit for Diagnosis of Warranty Issues
So, I took the car to SRT Coimbatore on 05 Mar 22, which was the last day of main warranty. The tasks to be accomplished were: –
And a few more.
Please note that these observations were compiled by keeping a keen eye on the car for over three months and approximately 4000 kms. Some of these could easily be ignored, but I wanted a car as perfect as it could be.
The GM and SA at SRT were helpful folks with a positive attitude. They promptly opened a job card and patiently noted down all the observations/ complaints I had. This was what the SA had written down over and above the routine stuff.
After that, they asked a senior technician to test-drive the car and diagnose the reason for coarseness. It was attributed to engine and gearbox mounts, which were to be replaced under warranty. The SA checked and found that the engine mounts were in stock but the one for the auto-box was to be ordered. Now this was a Saturday and their service center was filled with cars to max capacity. Nonetheless, they reverted within reasonable time and informed me that they could do the scheduled service but I will have to get the car back once the parts arrive. They also gave me an option of taking the car right then and getting it back once the parts arrive for warranty replacements as well as scheduled service in one go.
The max time expected for arrival of parts was 4-5 days and an appointment next week was possible with a caveat that I would have to drop the car with them for two days. This was a more suitable solution for me and I gladly accepted it.
On asking if the delay in service by one week would have any adverse effect on extended warranty, they assured that it won't be the case as the job card was already opened. The estimate given was what I had shared in my previous post.
Overall, I left contended with this experience at TASS.
Second Visit for Dropping-off the Car.
After about 4 days, the SA informed me that the required parts had arrived and requested me to drop the car. However, I was busy that weekend and expressed my inability to do so. He politely informed me that it would be difficult for him to keep the job card open for more than 10 days. I requested him to bear with me and promised that I will positively drop the car next weekend. He understood my predicament and was supportive.
Finally, I dropped the car at SRT Coimbatore on 19 Mar 22, a fortnight after the initial visit. I also informed the SA that I shall collect the car back on next Saturday and added the task of repairing the damaged door.
There was no communication from SRT over next few days. Next Friday, I enquired about the status of the car. I was informed that the repair/ painting of the door was over and they were working on the scheduled service. I checked once again if they will be able to deliver the car on the promised date. The SA assured me that they will, but requested me to collect it after lunch hours.
Third Visit for Picking-up the Car.
On 26 Mar 22, I reached SRT Coimbatore at about 1500 Hrs. I was warmly received and offered a cup of coffee. On enquiring about the car, the SA said that there was some delay as they had found alignment issue with one of the engine mounts. The technicians were removing and re-fitting it.
I went to their workshop and saw the car raised with technicians working near the engine area. I knew that I would not be getting the car before evening, despite the SA promising me delivery within an hour.
Now, as an outstation customer I could have pressurised them to finish the job asap and deliver me the car or I could have let them work at their own pace, accepting quality work at the expense of time. I choose the latter. I noted couple of the parts which were changed.
Engine mounts along with dampeners on both side.
Gearbox mount.
Torsional Vibration Damper for driveshaft.
Finally, the car was delivered at 1830 Hrs. It was spick and span. They had given it a thorough wash even when I had denied the washing service. Downside was that my plan to take the car to a detailing shop post-delivery was derailed due to the time taken as TASS.
First their senior technician did a test drive of the car and then it was driven by me. The car felt butter-smooth and there was a noticeable difference in vibrations pre-and-post servicing. Overall, I was happy.
The total damage to wallet was as under: –

Now, the Unacceptable Part
I started the journey to my destination. It was supposed to be a two-and-a-half-hour drive. The first thing I noticed was this:
After, driving for approximately 40 kms/ one hour, I felt that the steering was not as 'direct' as before. This was more evident when driving uphill on the winding roads. Another observation was that the car was slightly sluggish to respond to throttle inputs while overtaking.
I reached my destination at night. Out of habit, I popped open the hood and noticed this: –
The power steering fluid was spilled all over the engine bay.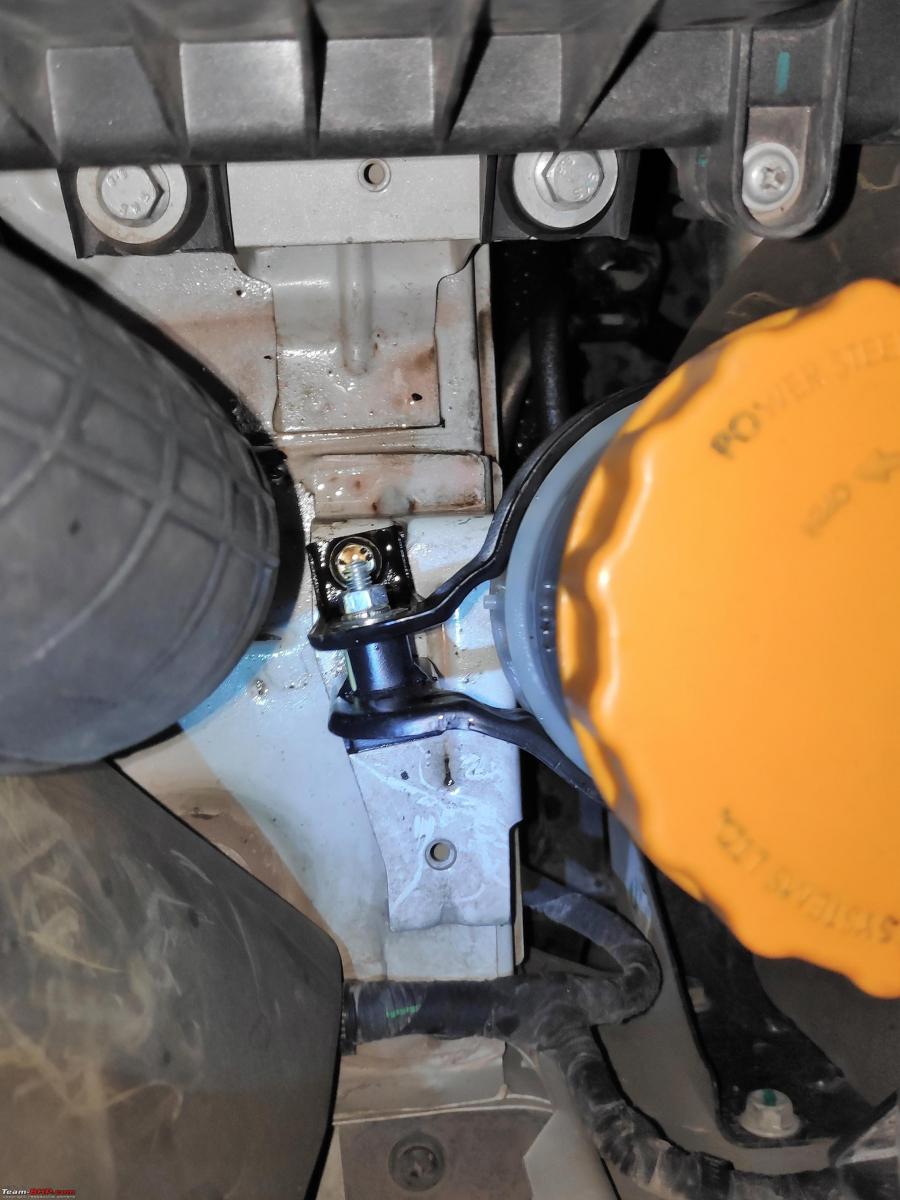 Honestly, I was heartbroken and frustrated. Myriad of thoughts came to my mind –
This was unsafe!
What could have happened had the steering failed on the meandering roads of Nilgiris?
TASS couldn't do one job properly. They had the car with them for eight days and still, they were working on it at the last moment. On top of it, they have done such a shabby job.
I sent these pictures to the GM that night itself. He apologised and promised that he will revert in the morning. Still cursing myself for trusting TASS, I went off to sleep.
The Follow-up.
The next morning I opened the hood once again and noticed the issue. It appeared to be a case of overfilling of power steering fluid which apparently was discarded from the reservoir. I checked for loose hoses/ leaks but could not find any. Finally, I drained about 50 ml of fluid from the reservoir and took the car for a spin. The steering was much more lively and 'direct' as before. The level of fluid in the reservoir after spill plus draining was as depicted in this picture:
Trying to figure out the reason for sluggishness, as suggested by an experienced Hexa owner, I ran the engine at 1000, 1350, 1700 and 2000 rpms while looking for any apparent leak from turbocharger or inter-cooler plumbing but could not establish anything. Finally, I let the car be.
Later in the morning, I got a message from the GM that he would get the car picked up from my place on Tuesday and will get it dropped after rectification. I was okay with this.
Now suspicious, I started noticing smaller issues like these: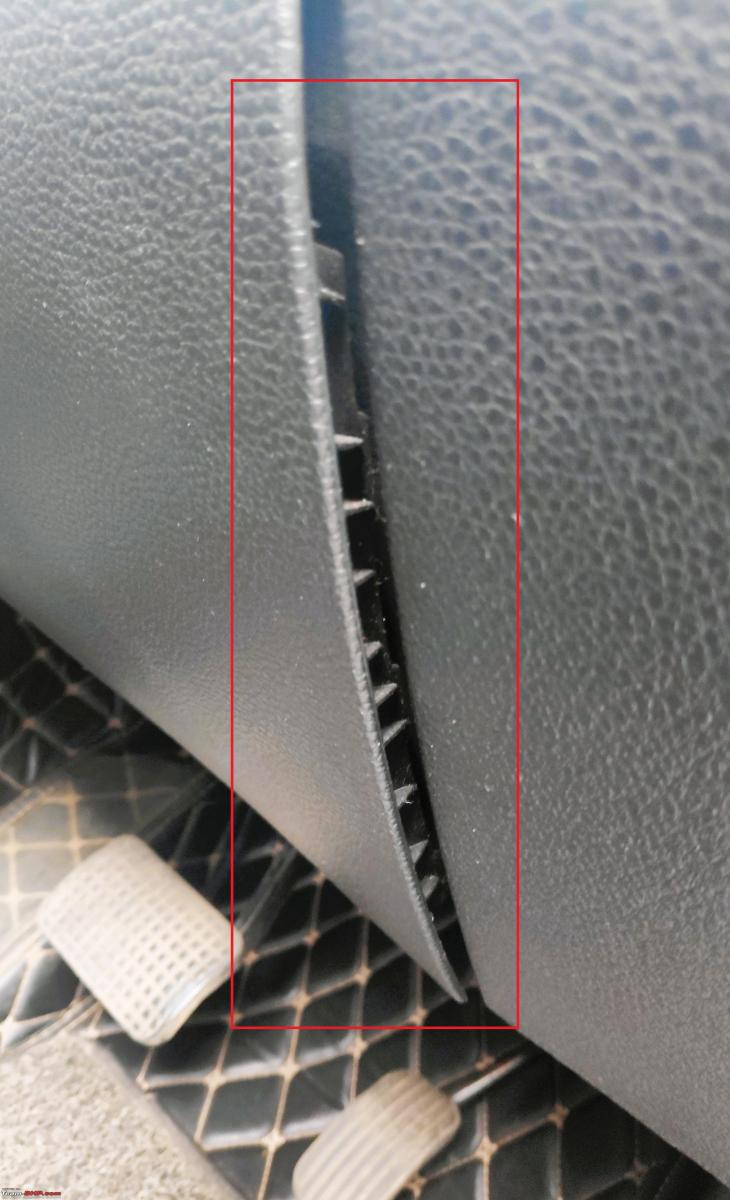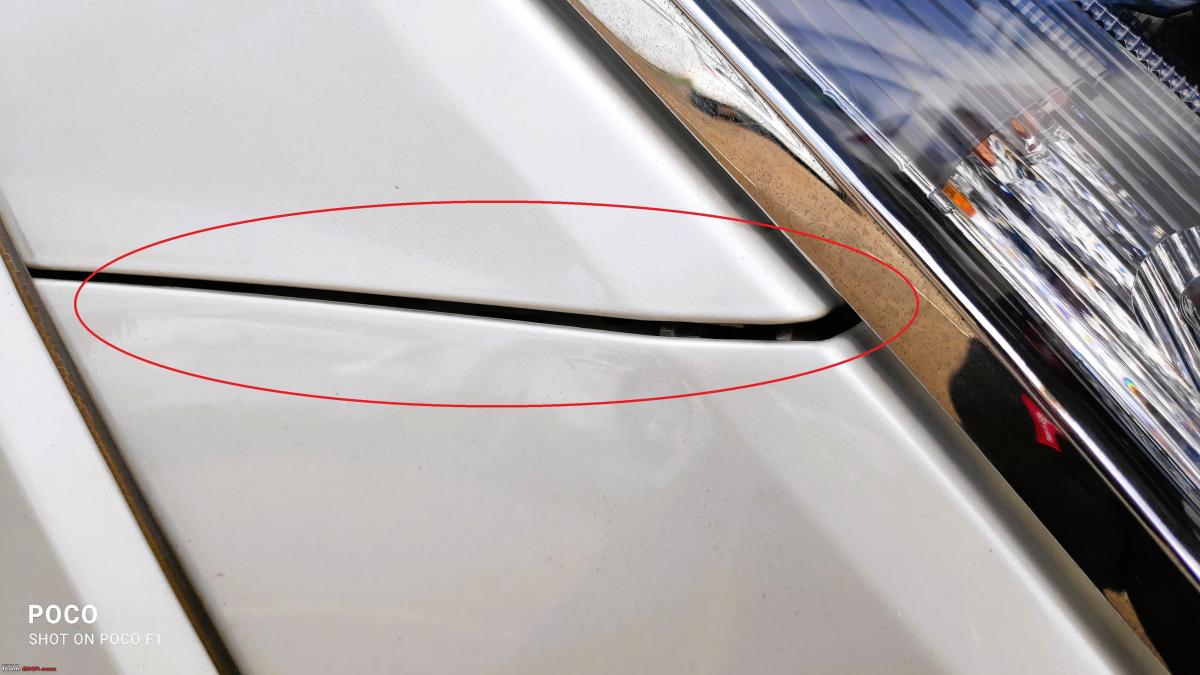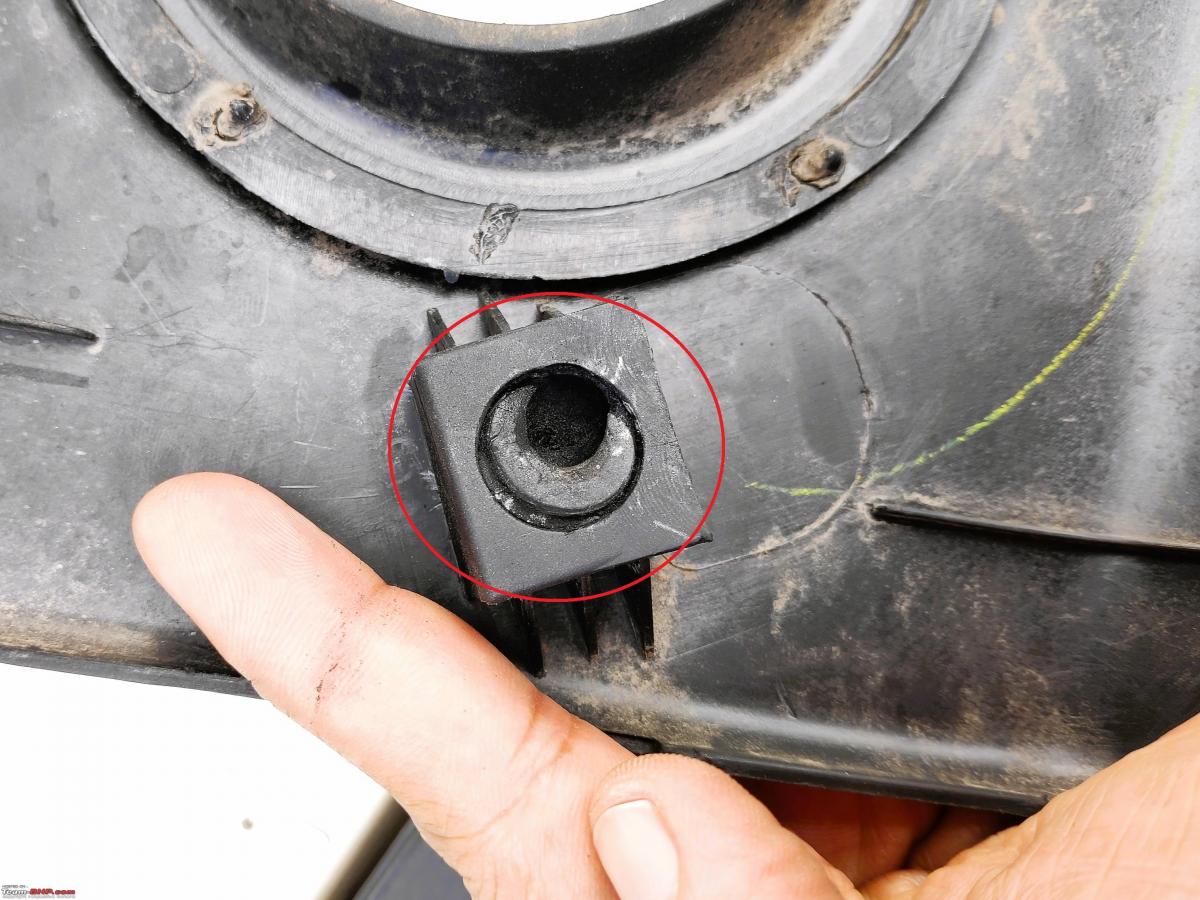 Meanwhile, the tyres which I had ordered for Hexa had arrived in Coimbatore. Therefore, I decided that I will take the car once again to Coimbatore on the upcoming Saturday to get both- the rectification and tyre change done on the same date. I informed the GM accordingly.
An Additional Visit to TASS
So, on 02 Apr 22, I was once again at SRT (fourth visit in a month)!!! I was once again received with warmth. The complaints were noted down and thoroughly checked.
There were no traces of leaks found in the power steering system. It was a classic case of fluid overfill. There was no leak in the windshield washer reservoir as well and the warning was because the technician had not filled water in the system. Turbocharger and intercooler plumbing were thoroughly checked and were found okay. The diagnosis laptop was connected to the car and boost values were found to be within limits. I requested for SPCS/ MDP update but for reasons beyond my understanding, this test which normally take 20-25 mins finished in a matter of seconds for my car
The door which was repainted was rubbed with 3M rubbing compound to correct a minor mismatch. The technicians and SA tried their level best to reduce the panel gap for the steering panel but couldn't. They were confident of fixing the panel gap on bumper but I denied that since it would involve taking off the bumper. Overall, it was evident that these guys were doing everything within their capacity to resolve the issues.
I shall now summarise the Pros and Cons of TASS in the subsequent paragraphs. Do note that these are based on my experience and are not meant to promote/ dissuade anyone.
Pros of TASS.
Attitude of SAs and GMs
Customer centric approach
No hesitation to honour warranty
Sincere efforts to resolve issues up to the best of their abilities
Good expertise at most major service centers
Fairly competent at handling mechanical issues
Not cheap, but not money minded as well
Cons of TASS.
Often loaded with more cars than what they can handle
Technicians with 'Chalta-Hai' attitude are present at every TASS
Finesse, especially in closing body panels, is a rare find
May not always stick to timelines
Need to be prepared to take the car to TASS once again after a service
Limited expertise in handling electronics/ technology in Tata cars
The Final Verdict
I have taken the pains to document this experience with TASS primarily because there were too many queries regarding the service experience at TASS here on this forum, as well as through other media. I have also noticed that while the official team BHP reviews rightly mention TASS as a 'hit or miss', few members take it more towards the 'miss' side of affairs. It appears that TASS have been stereotyped and maybe they deserve it. But let me honestly admit that the SAs and GMs at all three TASS that I have been to have had a very positive and friendly attitude. Their approach was customer centric and they sincerely tried to resolve any issues. The way they handled inspection/ warranty/ repairs in my car was commendable. The faux pas they did this time is insignificant to what I had to endure at Maruti Service Masters, Chennai in 2015. But that's for some other time.
In the same breath, TASS will have to improve themselves significantly if they don't want to be weak links in the Tata motors ecosystem.
PS: The car now rides like a dream. Its unbelievably smooth for an Indian made diesel car. Hope that this joyous experience with Hexa continues for years to come. Now a few pictures of the beast for visual delight.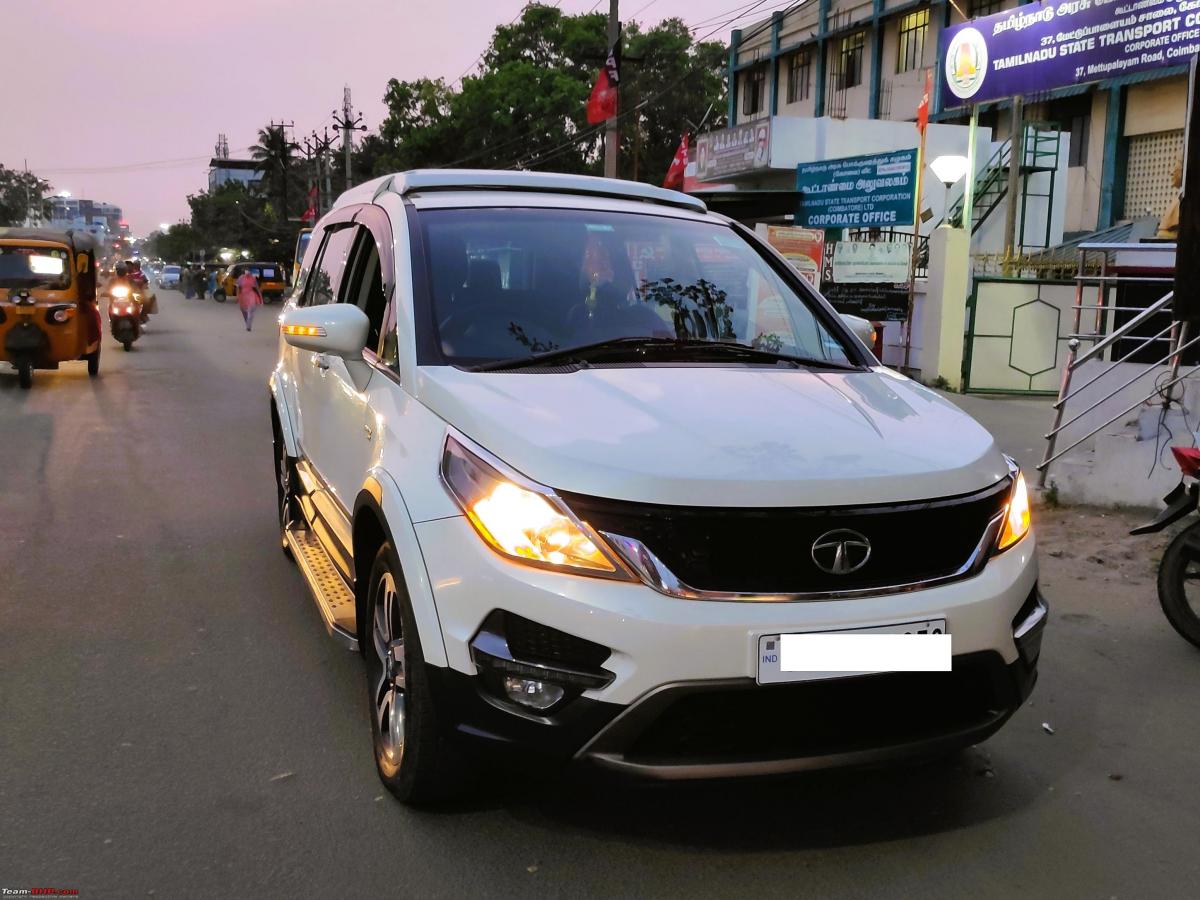 PPS: Another post will be coming soon regarding change of tyres and Treel TPMS. It's still a work under progress, but for now, this is the teaser:
Read BHPian comments for more insights and information.
Source: Read Full Article