Scrap, junk & budget DIY bicycle builds
For me, it all started off innocently enough – when I expressed buying my friend's then a not-too-old Merida Matts 20.
BHPian ringoism recently shared this with other enthusiasts.
Thought I'd start a thread here to showcase interesting bicycle finds and refurbs, whether my own or others.
There's loads of such material out there on YouTube and some of it makes for very interesting and almost therapeutic viewing as old bikes are methodically resurrected.
India is still now not too huge on DIY in general, the less so as we move up the socio-economic ladder… but there must be a few of us out there who've undertaken these kinds of projects, and if so would be great to see them featured here. I'll kick it off with a few examples from my own garage.
To preface re: my own "bicycle thing": For me, it all started off innocently enough – an Aussie friend here was heading back to his homeland and had what was then a not-too-old Merida Matts 20 which I expressed an interest in purchasing, since having arrived in my mid-40's, I thought I really ought to work on getting myself more physically fit. He was above 50 and made regular loops from Manali up past here, which I felt was pretty impressive indeed since on the one attempt I'd made years before to ride that 6 – 7 km's up here from the main bazaar, I'd given up by the time I reached the Circuit House – which is I guess around 1km from my starting point. Hills really can be challenging and seem about impossible when you're not used to them.
Anyway, back to Merida: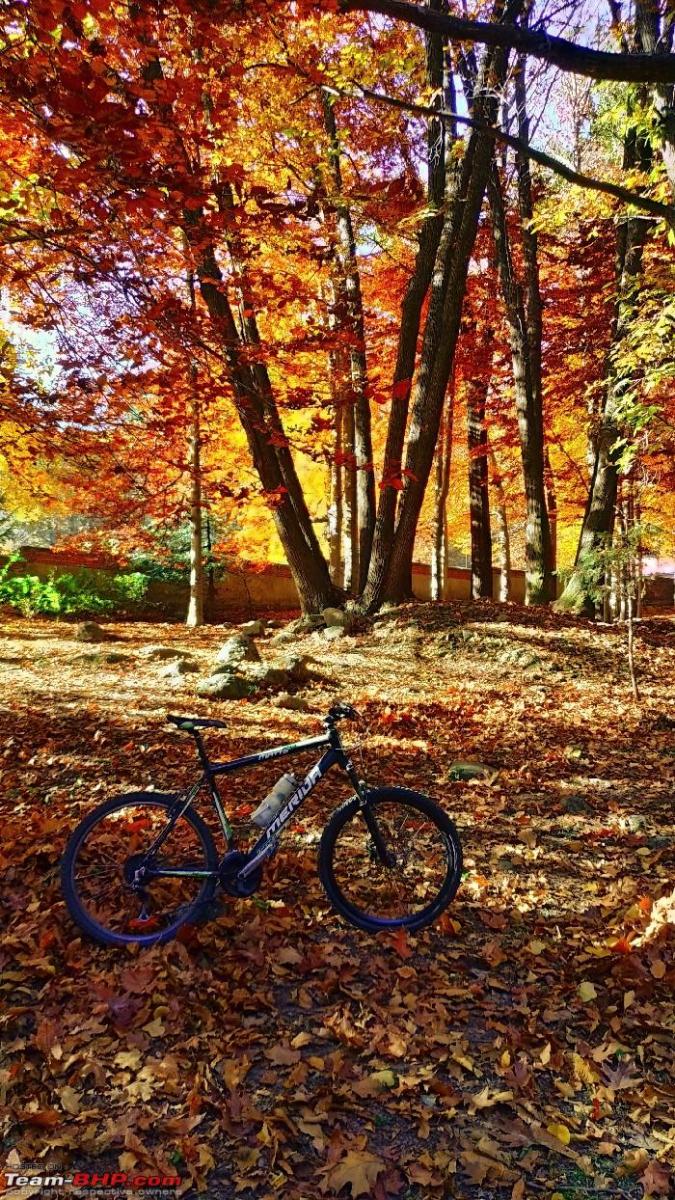 Around 10k to purchase, and a new cassette/chain/rear tyre later (an older American lady friend here must have taken care of changing the cassette for me, as I had no clue how to do that at the time), I had a really great riding cycle. Over the course of about the next five or six years I rode on average less than once per year, and very short distances at that (utterly pathetic!). The desi tyre I put on the back cracked badly from simply letting it sit out in the cold the first winter. Which was a good excuse to let it sit some more. I liked bicycles – but actually getting out and bicycling was another thing entirely. Despite all I'd done in my youth, I wasn't sure I'd ever be able to get back to it.
One day a scrap-dealer friend called me to see something he'd picked up, and I was pleased to find an older alloy Firefox, in weathered but not spent condition. Asked the price and he said, "pandra".
"Fifteen thousand???!!! I can buy a new one for that!" I blurted. "Nahi, pandra sau" he replied.
That much I could manage. No original pics that I could find, it was partially painted then but can't remember the model. Bought a rear wheel and put a plusher seat on it so my wife would have something comfy to ride… But the wife managed to get out even less than me, I think
So that one I eventually did up more like a hybrid, with a 700Cx35 front & 26×1.75 rear wheel/tyre combo; In full polish, it came out looking pretty nice, isn't too heavy, and rides pretty fast in comparison to your average MTB: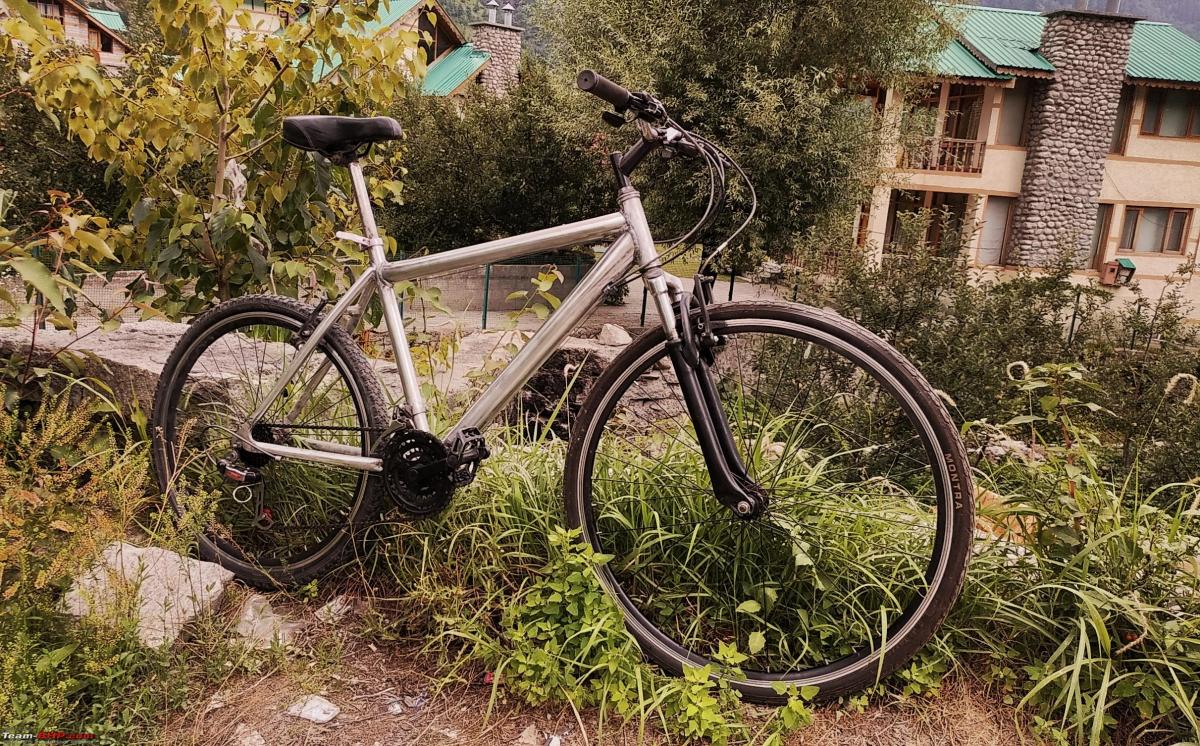 Meanwhile, I had started working on bicycles a bit as a sideline, since at my fabrication shop village kids kept coming over with their badly neglected machines saying "Pleeeze Ankal… mera cycle banao" – and I realized that if I didn't finally buy a few proper tools and stock some spare parts and start charging a bit for my services, I was going to spend a good part of my days getting distracted from my main business over things that definitely were not going to pay the rent.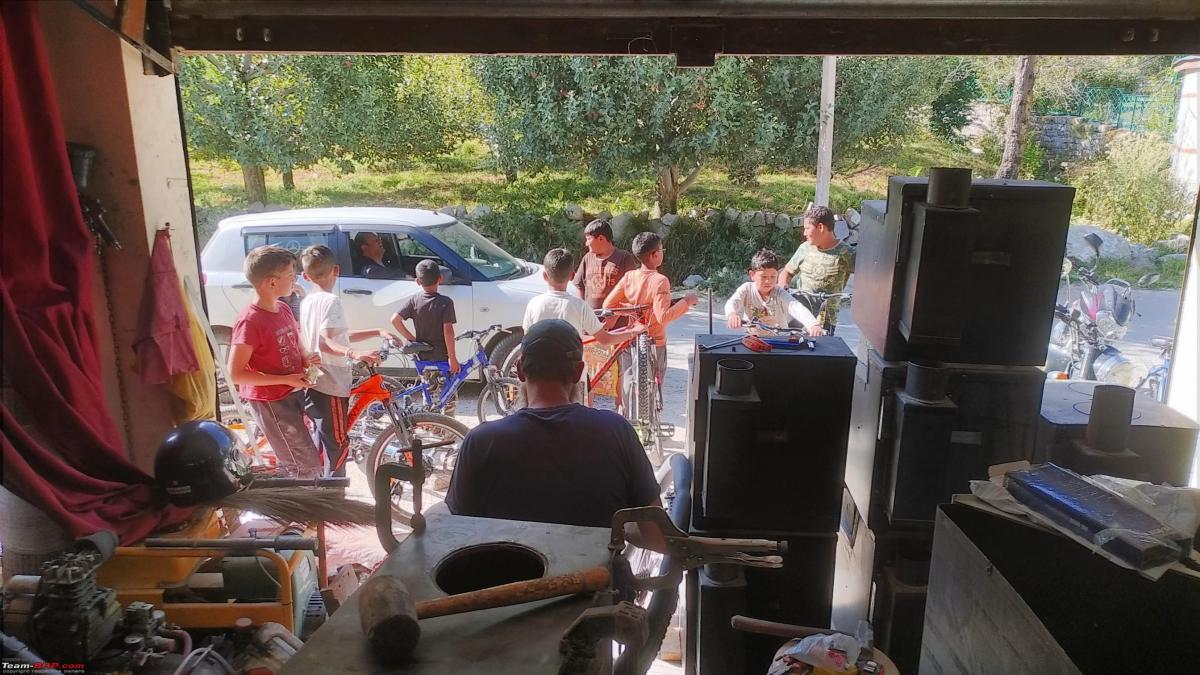 Occasionally that small voice within piped up telling me it was a bit incongruous to be working so much on bicycles while owning two I never rode, but I managed to mostly ignore it.
Occasionally, too, tourists would come by asking whether I had cycles for rent… I had no idea at that time how that sort of thing would work re: security and payment, so generally just told them no, despite the Merida and Firefox sitting there almost all the time. unused.
So fast-forward to early 2020… I'd just spent the winter out in Mizoram doing nothing much but eating (great food, and a culture of having an appointed "rice replenisher" present at the table each meal, who stealthily generously dumps fresh loads of carbs on your plate when the pile starts getting down a bit… Of course, with that big pile topped off, several other items need to be added to wash it all down). So yes, I gained some weight and in my case, it all goes to my paunch. And despite all the technically healthy food and clean air all that time, I can't say I was feeling especially great. Then the original emergence of Covid and months of lockdown followed which of course only got me feeling worse, and so in a lull after that first wave, I figured I'd do well to risk the hospital visit and full blood tests done.
I guess I've always been a "naturally healthy" kind of low-stressed person – no B.P./cholesterol/sugar issues ever. So was a bit surprised when my blood sugar result turned up borderline. Decided to take it VERY seriously and finally started exercising in earnest – walking the mountain paths and road up behind here mostly.
I tried riding the Merida again to that end, but somehow, though it was still utterly smooth despite all the neglect, it just never inspired me – maybe because it wasn't something all that unique or different, and because I'd not really put a lot of pains into building it myself.
Somewhere along the way, I started accumulating more junkyard cycles as winter projects…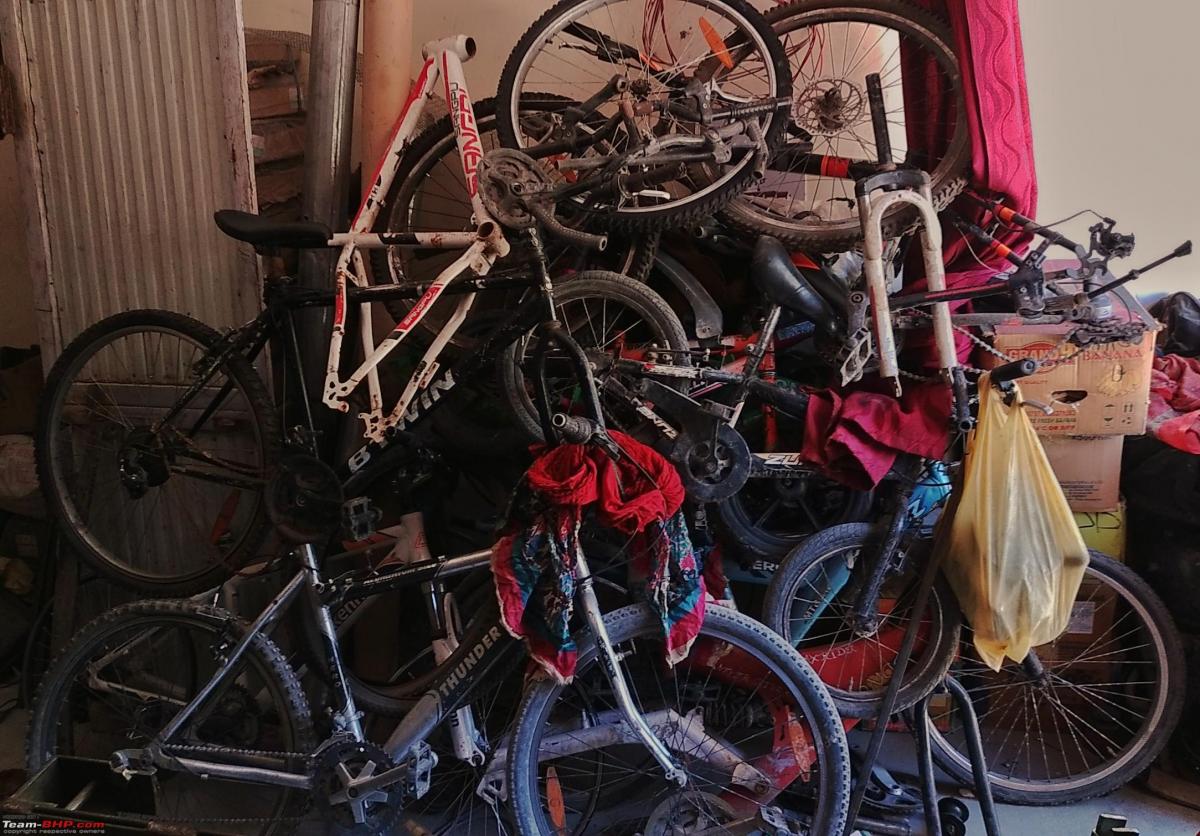 …Some of which were later sold, and some of which got me more inspired to ride, if for no other reason than to test out some new unit and/or its mods…
The idea was to build and commission some rental units out of these… which I partially succeeded in, though these days Manali tourists seem overall highly lazy and disinclined towards any kind of physical exertion…
I've continued servicing cycles, though, whether for myself or the local population.
So on occasion will share a few of my more interesting or inspiring defunct bike finds and builds/ refurbs here, and would encourage others to do so, too.
At present am pretty limited re: route options starting/ending at home, so while the riding aspect has driven me to boredom at times, the building process never seems to.
Will start with the latest one first:
Had first seen my first folding bicycle in the area when we were down-valley in Naggar for our anniversary earlier this year. It was chained to the iron fence outside a little eatery and looked weathered, as though it had been there a LONG time, maybe even abandoned. Curious little thing.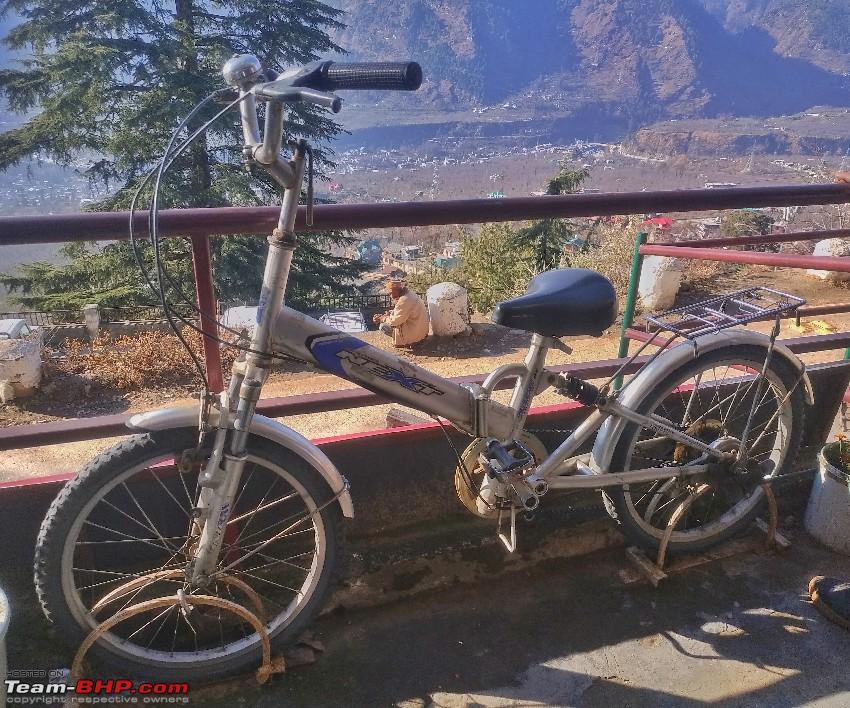 Couple of weeks ago drove past one of my scrap dealers and saw another almost just like thrown on a pile out front… Figured I'd better grab it, as it was unlikely I'd readily find another. At ₹600 it seemed worth whatever risks.
At home, fitted a (fatter) rear tyre, derailleur, cables, and a front mudguard on it (the original was there but scratched), removed most of the peeling stickers, cleaned it up a bit, and it was pretty much ready to go: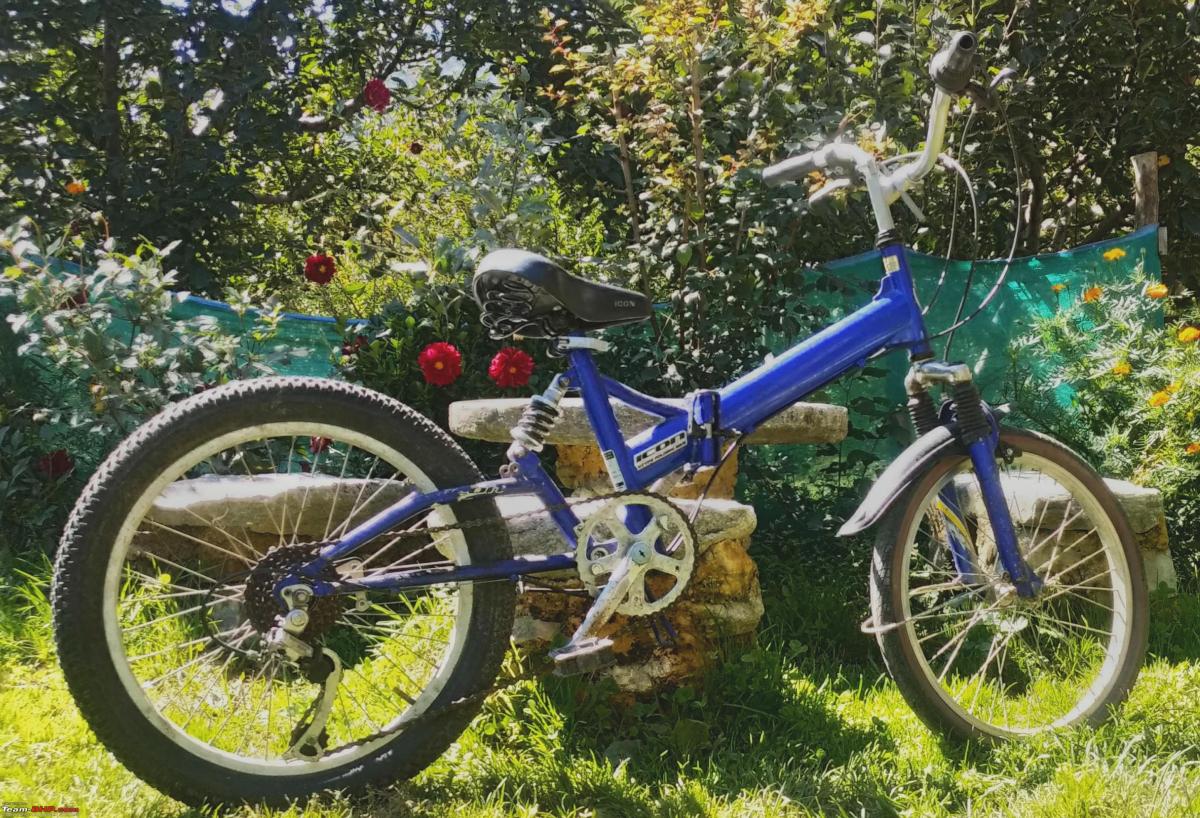 Looking at the 20″ wheels one would think this was a kids' cycle, but they were really designed more for adults, as is evident once the handlebar and seat are raised:
My wife says I look like a circus bear riding it and I'm sure she's right, but I don't mind. It's cute.
Had Korean-language stickers all over it and must have been brought from there one way or the other. Icon brand, which I couldn't find out a lot about online. It's a budget model for sure, and despite the alloy rims and handlebar, is way heavier than it ought to be for its size.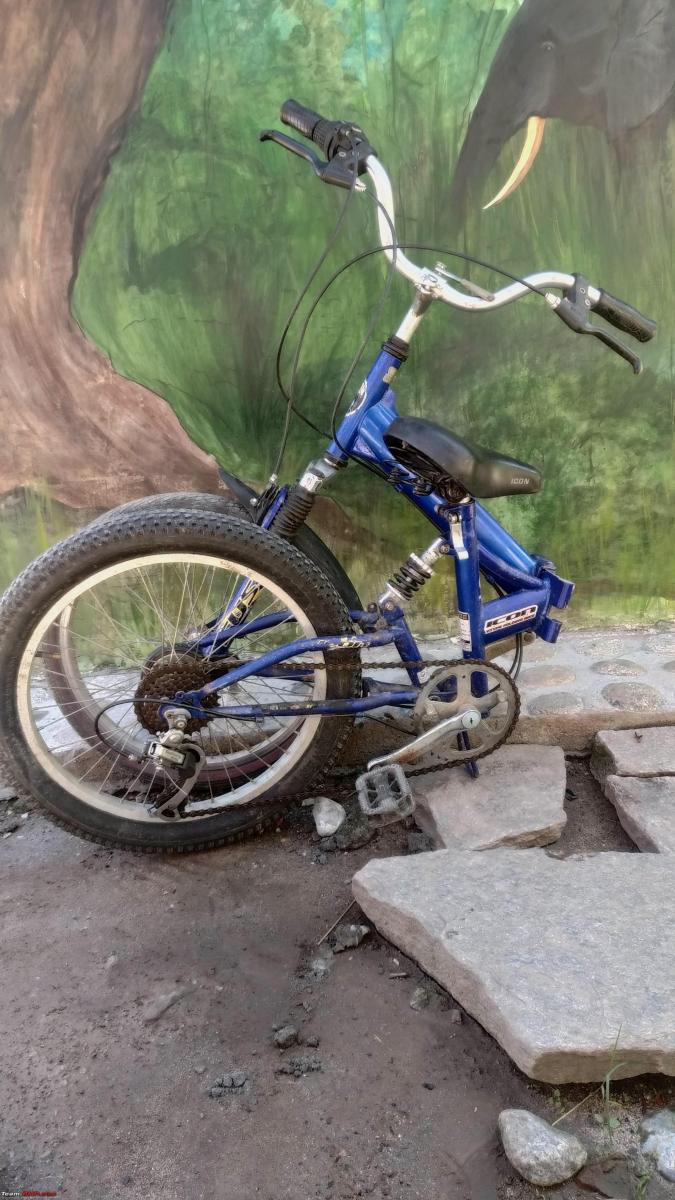 Has a quick-release for lowering/turning the handle, another which allows it to easily fold in half, and a third (as usual) to lower the seat – thereafter it's easy to stash in the boot of whichever car… I'll get some folding pedals for it too if Decathlon ever starts selling their parts online again. Am actually thinking to make it into an e-cycle, as that is quite common with folding units abroad. It's got a rudimentary f&r suspension, which would suit that purpose pretty well I guess.
Not that I can really think of a time when I'd really need something like this – though if I lived nearer a New Jersey shore boardwalk, it would be more obvious. In no way built for efficiency, it's certainly good enough for plodding/ perusing/ showing off a little. So Mall Road Manali, I guess? Just for kicks?
Quite ridable and a cool looker, regardless. It's got a longer wheelbase than I've ever seen on a 20-inch, and with the tall handle and fat/skinny tyres, it evoked comparisons to a Harley () from a couple of my young customers – could go even further and put some real ape-hangers on it, I guess!
I had a couple of people already ask whether it was for sale – I guess we'll see about that once I have an estimate on the e-conversion and can decide how far to go with it.
Interestingly, this one has a band brake on the rear – something I had on my old go-kart years ago but have never seen on a bicycle. Big friction surface there.
Continue reading BHPian ringoism's bicycle builds for more insights and information.
Source: Read Full Article