Parking my Hyundai Elite i20 using math calculations
The question is – when all the parking slots are completely occupied, will I be able to take out my car
BHPian AltoLXI recently shared this with other enthusiasts.
I have a peculiar, but not so peculiar question. When I bought my Elite i20 three years back, some of the adjacent and front parking slots were empty. I could easily enter these slots and park in my slot. Even then I took care not to buy a bigger car than my parking slot.
Now every parking slot is full and moreover people are parking bikes in the available space in front of their cars – of course within their parking. Another hindrance is the pillar in my parking slot.
The below "paper model" shows the parking to scale. i20 is 13.10 feet long and 5.82 feet wide. Right hatched area is adjacent parking. The small hatched area is the pillar and I have 10 feet space till I hit the vehicle in the front parking space. The rectangle in my parking is the car. I have more than enough length to park my car in my parking slot.
The question is – when all the parking slots are completely occupied, will I be able to take out my car – mathematically? Pythagoras theorem says NO.
The second picture shows that I inevitably have to move a little bit inside the parking in the front just as I escape scraping the pillar and avoid moving into adjacent parking.
Theoretically, though it is not possible to take out my car out in such situation, will the car's steering dynamics allow this?
There is this video in which the Innova is able to park but the space on the side is the slightly larger that car length.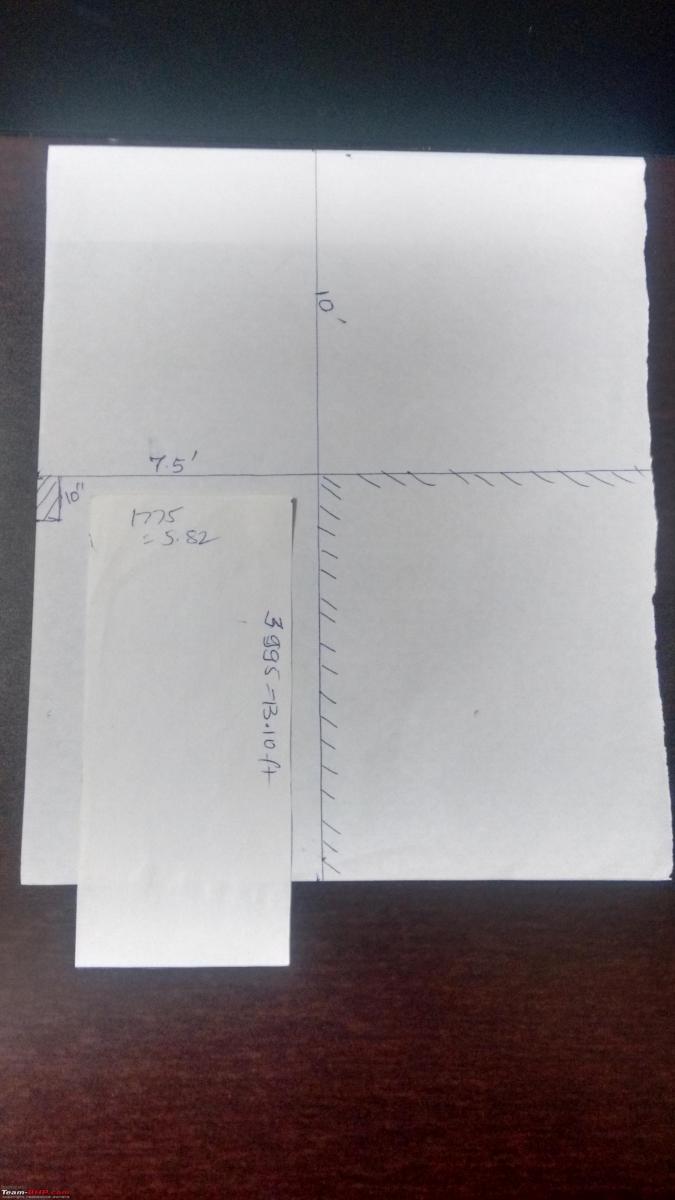 Attaching photos of the parking spot:
Here's what BHPian RedTerrano had to say on the matter:
If you have your scale model right, then please don't. You can't argue with math and pillars. I have seen my friend lose the argument with his brand new Skoda Octavia.

If you are still curious, besides the paper version, I suggest you try it out in some open place, where the obstacles can be represented with traffic cones or empty buckets.
Here's what BHPian Rajeevraj had to say on the matter:
Maybe I am not understanding the problem clearly. But I don't see an issue looking at the pictures.

Firstly the car is not going to move in a straight line angle, considering the steering dynamics, won't the movement be more of a curve? I don't think Pythagoras theorem is the one to apply here.

Secondly, it looks like the adjacent space is only demarcated by a line and you don't have a hard obstacle, which means unless your neighbour parks exactly on the line, you will have additional space on your right to maneuver.

Also, is this an issue you theoretically identified or you have faced the issue with all slots occupied? Or all slots have not yet been occupied, but will be in the immediate future?
Here's what BHPian audioholic had to say on the matter:
When you try to simulate vehicle movement using a scale model, you should keep in mind that the vehicle doesn't rotate on its dimensional center. It rotates based on the nature and maximum steering angle that is achievable and that too, with only the front axle steering you will have lot of sideway movement of the car. Hence, its difficult to judge things based on scale model. Since I park my SX4 in one of the tightest spaces, which we never thought the car would make it into, there are a few things that can be considered.

First is to drive in as close to one pillar and check the possibilities. In my case I have less than 1cm gap between the car and the pillar. This must be preferably done on the drivers side so that you can estimate the steering effort better. Next is to carefully take small steps and assess the situation. If you feel you are taking a chance, then never continue. Stop and call it quits instead of brushing against a pillar and then getting stuck there.

Does anyone have an idea if we can get wheeled dollys and then park cars better with the higher steering angle they offer? This would also reduce burden on the steering and clutch due to multiple maneuvers.
Here's what BHPian SS-Traveller had to say on the matter:
So where do you currently park your i20?

Parking doesn't quite work by that kind of calculation. Too many factors (wheelbase, turning radius at full lock, front & rear overhang, curvature of the bumpers, visibility) come into play, and it isn't possible to try and calculate ease of parking based on paper cutouts.

Going by your pics, I am convinced that it would be easy to park and drive out your car from that slot. Perhaps you need an expert driver friend to do it a couple of times for you, and you mark the wheel positions on the ground for your reference, and do it on your own subsequently.

Here's where I got to park with very limited space – not even wide enough to accommodate ORVM-tip to ORVM-tip. Missed out on making a video of the entry, but that was slightly more spectacular because of the upslope.
Check out BHPian comments for more insights and information.
Source: Read Full Article