My 2017 Mahindra Nuvosport: 6 years & 1,25,000 kms of happy ownership
The first road trip with my Nuvosport was an unplanned one, it was a lazy Sunday afternoon when I could not stop the itch to take it out for a spin.
BHPian Darpan666 recently shared this with other enthusiasts.
Almost after half a decade of lurking in this esteemed forum for inspiration, information, knowledge, and much for I gathered some courage to shrug off my procrastinating attitude to pen down my automobile journey (since my first road trip back in 2017) in this wonderful forum.
First of all, I would like to thank every esteemed member of this forum for parting invaluable knowledge and inspiring a generation of automobile enthusiasts in our country.
This write-up is going to be a mixture of a vehicle's ownership reviews and a bunch of road trips undertaken over the past five and a half years.
It all started back on May 5th of 2017, when we took delivery of my employer-provided Mahindra Nuvosport N8 in Royal Blue color; oh, I still can recall the smell of the fresh interiors of the new car and the smell of those new tires. A day that is still so fresh in my memory, it was more than love at first sight, it was something like a revere of companionship. We straight headed to Lake Kali Bari temple to seek her blessings and later tanked up at the nearest BP bunker and started our journey of soul searching. The initial run-in period was achieved within the first  days of delivery (would you believe it?) and I planned for a road trip even before getting the registered license plate from RTO.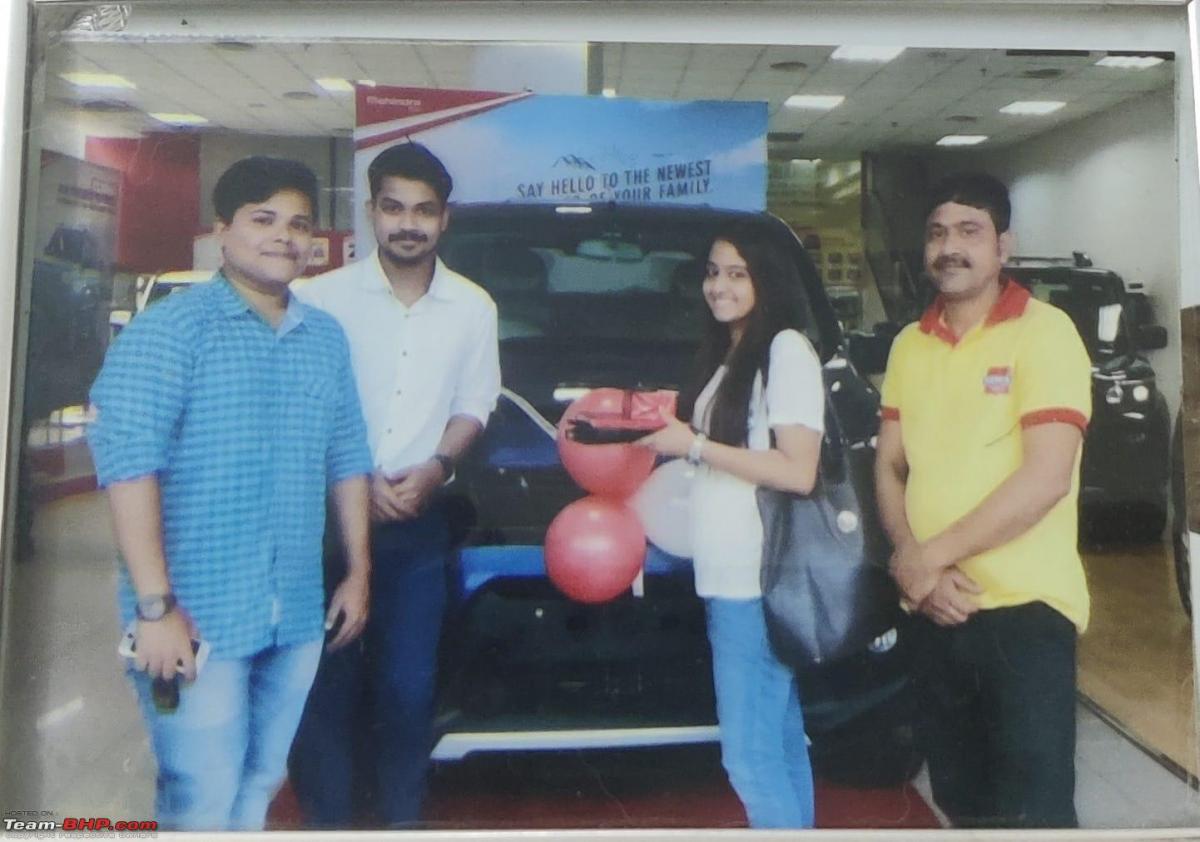 The first road trip with this vehicle was an unplanned one, it was a lazy Sunday afternoon when I could not stop the itch to take it out for a spin. I took it out of the garage, called my friend, and told her to be ready within 15 minutes and we would go somewhere. She was under the impression that was out for a short spin until we reached Dhulagarh toll plaza. Oh dear, I can still remember her perplexed reaction while my typing this, after some 170-plus km since we started our short Sunday afternoon spin, we ended up in Mandarmani beach. And that is how our vehicle embarked on its very first of the many road trips that followed.
Many short runs followed this trip and in the meantime, the vehicle underwent its first service as well (in less than 30 days of taking delivery). In the next couple of months, we took a few peaceful and uneventful trips to Shantiniketan, Masanjor dam, Durgapur, Mython Dam, Sunderbans, etc., and all these were day trips.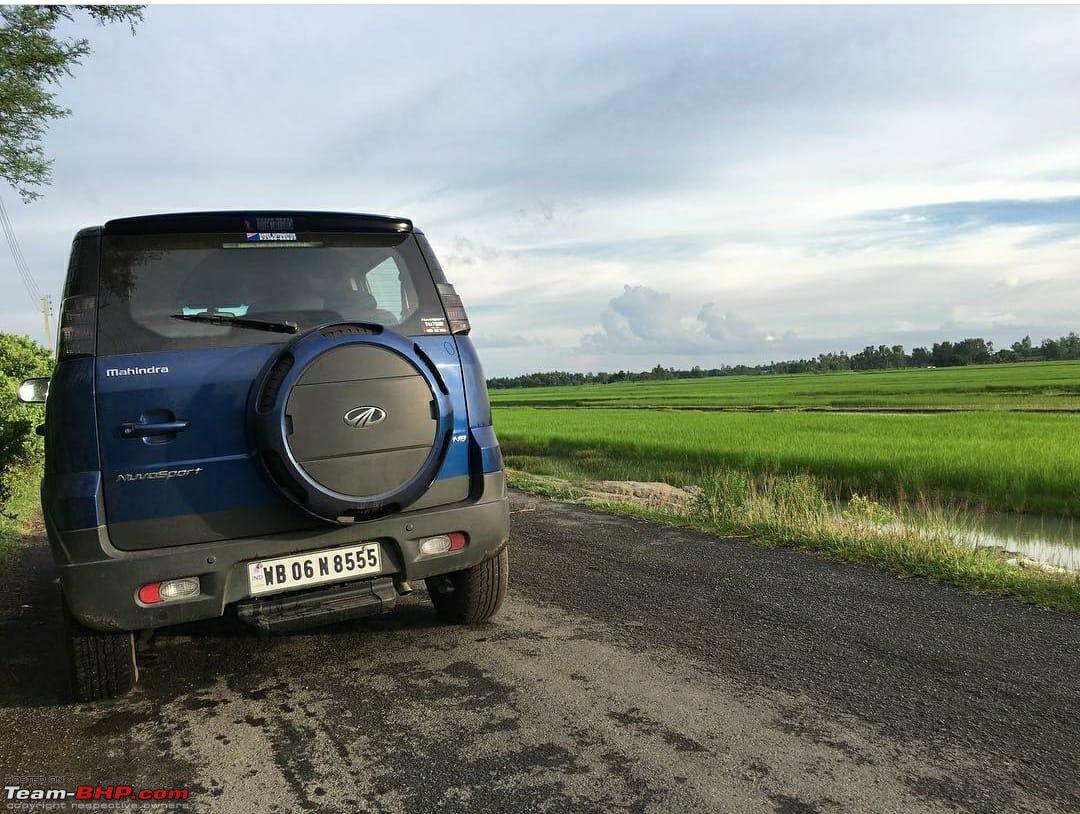 Then came the pujas and with Google's blessings, I planned a day trip to "Piyali Island" with my friends (they still may curse me for that). It was around a two and half hours of the trip and after reaching it was evident that google oversold the place. We spent the sunset near the river bank and decided to set off for the return leg. Till now we had no idea, what has been waiting for us on our way. After covering seventy percent of the return journey smoothly, we were welcomed by traffic barricades and two lean constables waiving their hands, upon reaching closer we were told that the road ahead has been blocked due to the ongoing Durga pujas.
We quickly surfed for an alternative route on Gmap and it was navigating us to the nearest paddy field (as a lot of folks here would expect). We asked the cops for directions to alternative routes and they asked us to follow a small goods vehicle (chota-hati) that reversed a bit and navigated itself through a small alley. Having no other option we tailed it, after following the vehicle for 2-3 km it pulled over to its destination, we asked the driver for directions and he guided us through interwinding country roads through a village. After navigating through this route for a few km we ended up in a 10-12 feet road and in the middle of a small fair with an uncountable number of people strolling around casually. Thinking about that moment still sometimes gives me cold sweats, it was a total mess. The locals were pissed and a few of them were hostile pushing and banging the car saying "ei hati ta ken iye ekane dhokar jayga" (is this a place to drive an elephant of a car like this?). My friends got down and folded their hands to the locals to give us the way to pass and I drove at a snail's pace completely riding on the clutch all the way and crossed this section of around 200-300 meters within a time frame that felt like an eternity but we and our vehicle came in one piece. After this incident, I was scared to drive through narrow lanes for a long time.
Well, fast forwarding to a couple of months the itch for another trip (but to the mountains) reprised and I casually gave the proposal of a road trip to Gangtok to my colleagues, and to my surprise, everyone was onboard in no time; but within 10 minutes one of them came to me saying, "Darpa, you have never driven on the mountains till now, will you be able to manage?" and I instantly replied, "don't worry about it, it is going to be fine". They all were on board; we did our reservations the same night and were ready to set off the next morning. My colleague's question regarding driving on the hills had somewhere sowed a seed of doubt and I was back on Team BHP reading all the articles based on driving on hills/mountains and guzzling all tips and suggestions that possibly I can within a span of a night. After reading dozens and articles and seeing numerous videos throughout the night I was ready for the first road trip to the Himalayas in December 2017.
We set off as early as possible and did a good distance till Bardhaman but tremendously slowed down at the Siuri- Nalhati stretch (back then I was not aware of bhatar-Khargram stretch). After reaching Moregram, the rest of the journey to Siliguri was uneventful and were reached Sevoke just minutes before dawn. My colleagues freshened up a bit and had tea at the nearest tea stall and after a break of 15 minutes, we were ready to take on the final stretch of the journey. This was the first time I was taking the wheels to navigate through the hills, it was an unexplainable emotional rollercoaster ride that I was going through. When we started to ascend, the daylight was yet to break and I was loyally following the reflectors/Catseye to navigate through the winding ghat roads. When we reached Sevoke Kalibari, the first stroke of dawn reflected towards our windshield, and trust me it was a sight to behold (I will attach the photo along with this); getting to see the mighty sun resurrecting itself out of the green valley and creating a magnanimous canvas across the sky was astounding. We soaked ourselves in such an astounding phenomenon for a few minutes and started our journey up to Gangtok. The rest of the journey to the edge of Gangtok town (Dereoli) was pretty much uneventful and we reached there within a little less than 3 hours.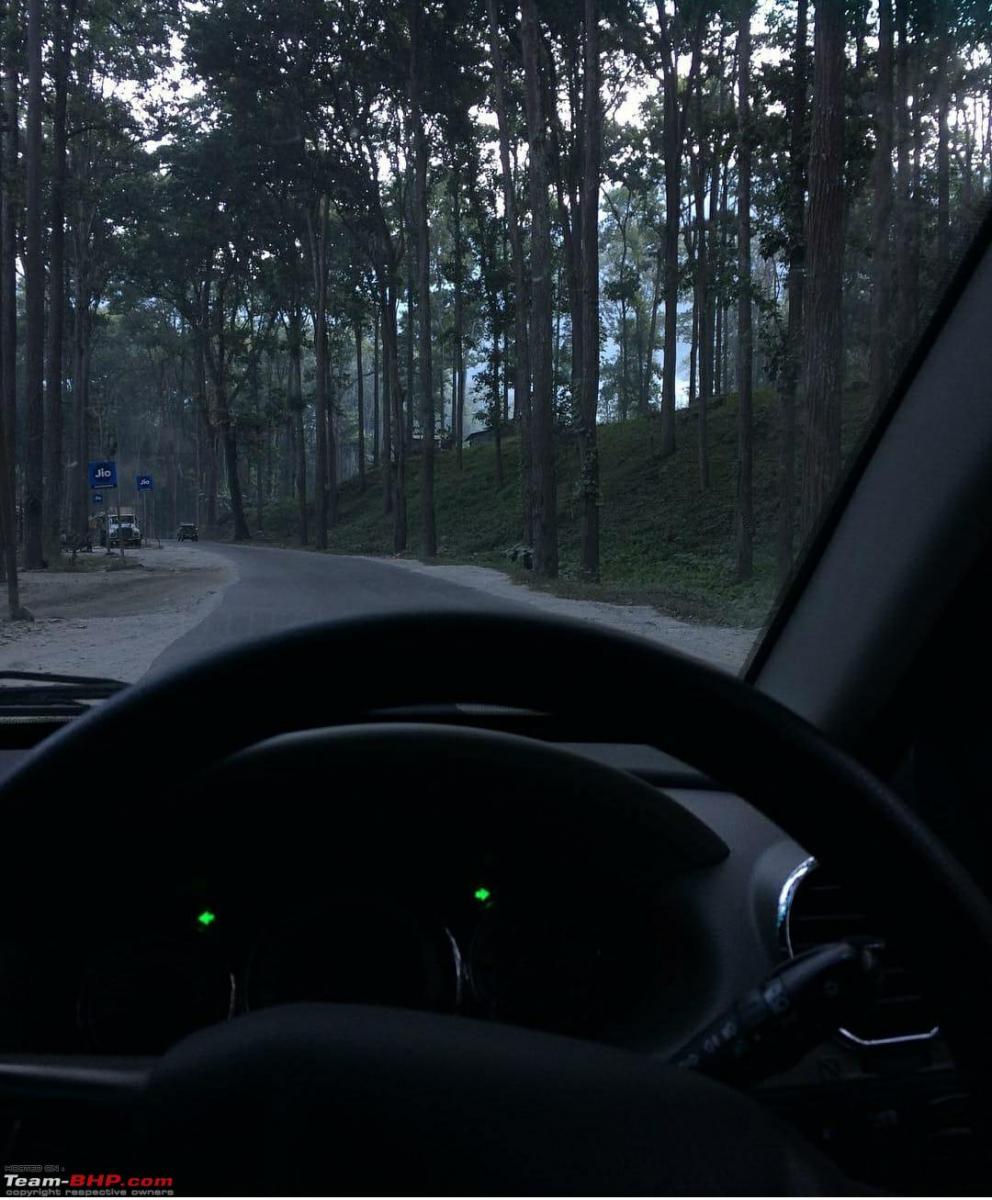 We were booked at Club Mahindra Resort, which was a little secluded from the main Gangtok town and was near the CM Bungalow that takes you towards the NATHULA PASS route. It was a bit difficult for us to navigate to our hotel being a first timer on the hills driving as well as to the city; though the locals were very helpful and were navigating us in both HINDI as well as in ENGLISH. It took nearly an hour to reach our hotel, navigating through the narrow, twisting, and untrodden roads after entering the city limits of this cosmopolitan city. We stayed here for 3 days and every day has been better than the previous one and forced me to return later and on multiple occasions.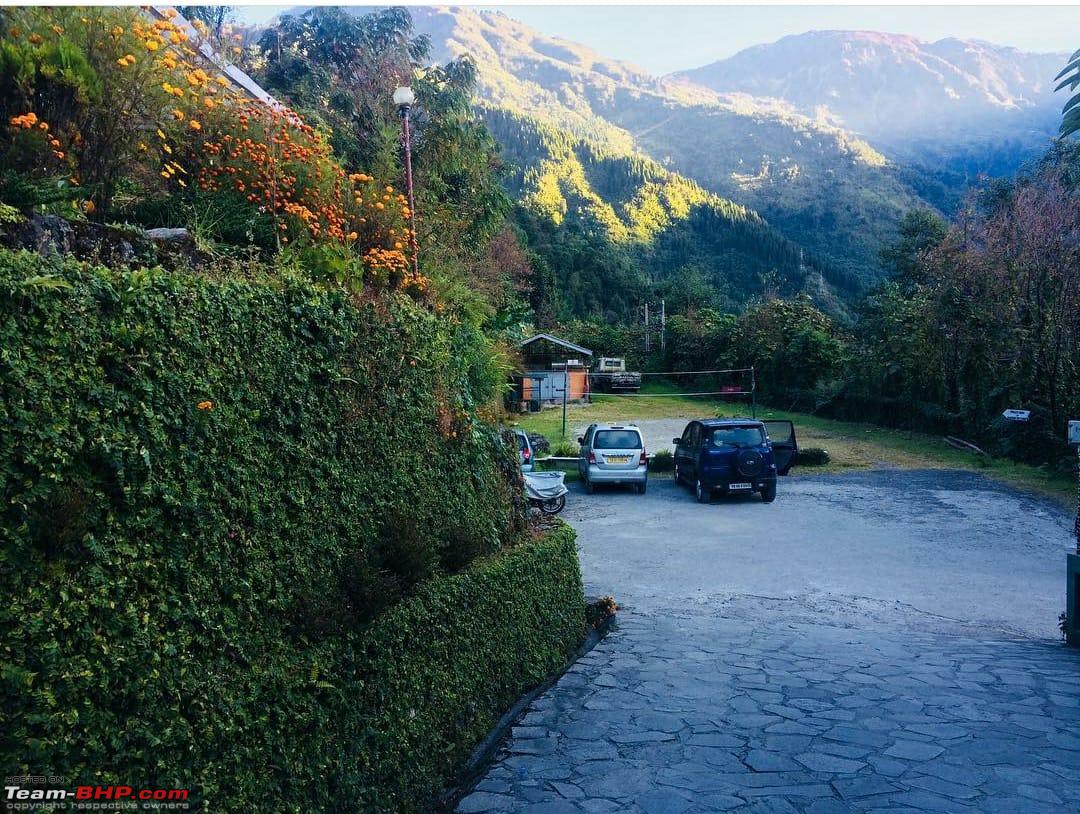 Our third trip to North Bengal took place in May 2018, it was again a sudden plan from my end to my colleagues and fortunately, everyone again signed up with grace. This time we planned up for Dooars (2-3 days slow-paced stays) in Gorumara national park and its nearby vicinity. We as usual set out of Kolkata at the midnight and managed to reach Siliguri by morning uneventfully (irrespective of the usual shenanigans at Dalkhola) and checked in to our hotel at Dooars by noon. As we already planned, we tried to take things slow and we just soaked ourselves in the nature around us. Peacocks were flying and flocking around us like as if they were crows back in Kolkata, we were lucky enough to even spot elephants in the wild within this span of two days and along with that, the delicacies our resort prepared for us were heavenly. These two days passed like zippy and we were hungry for more. The morning that we are supposed to check out, I proposed to my fellow travelers a plan that they could not refuse; I blatantly said- "guys, there is another heavenly beautiful country waiting for us at a distance of another 25-30 km that we can drive ourselves within an hour or else we can drive back to the boredom of plains i.e., to Kolkata". I guess you all can imagine the outcome, and we ended up having our lunch in Phuentsholing and spent some good time at the nearby crocodile temple before returning to India. We had a short stay at Darjeeling for a night the next day (on my insistence) and returned the next day.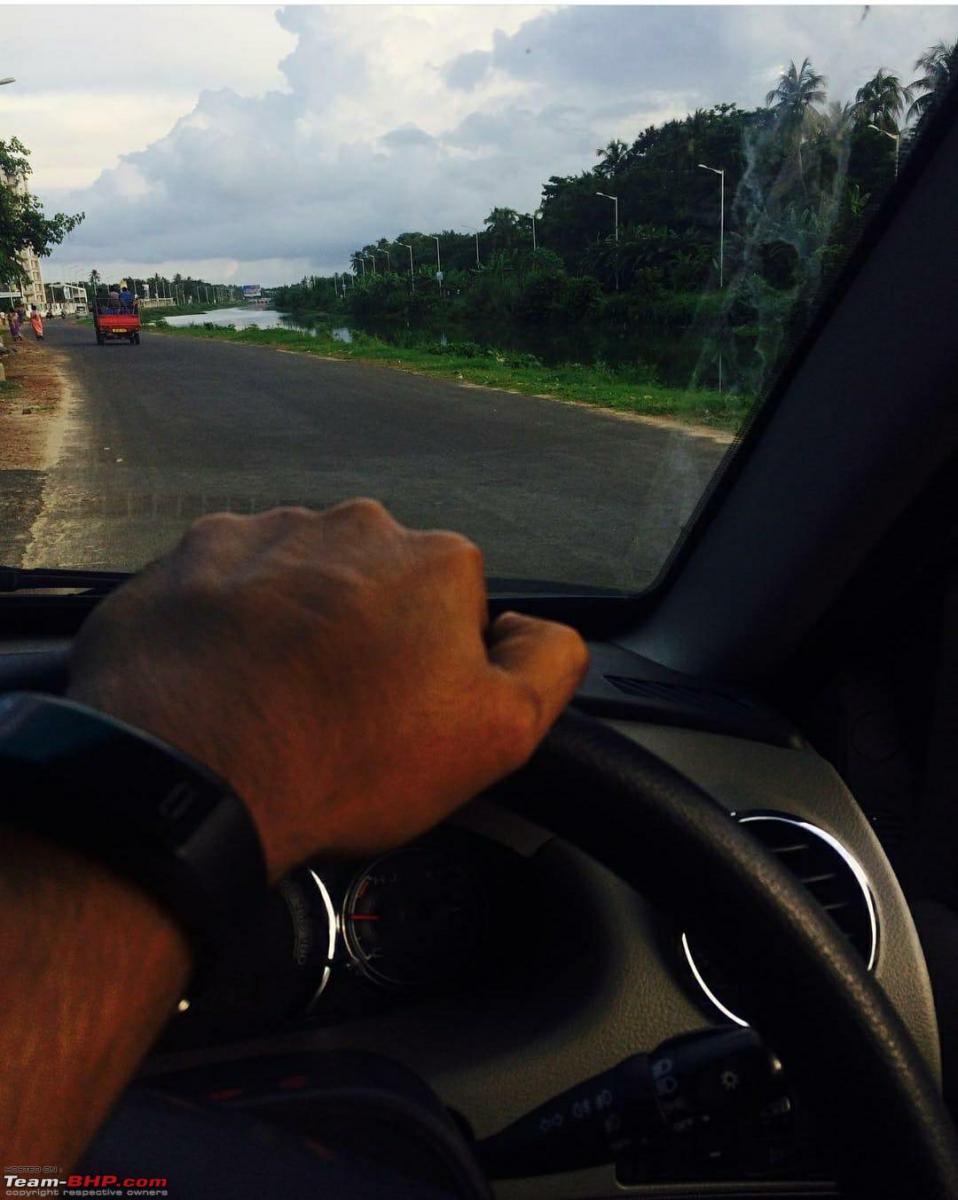 Well as I mentioned, we stayed at Darjeeling just for a night, and that too after insistence, my heart was aching the moment I checked out of the hotel, and I was already planning for the next road trip to mainly Darjeeling while I was driving back. I was hell bound to get back to the queen of hills at the earliest and believe me, I was all set to drive back within 15 days since our return and this time it was only me and my fiancé Shalini.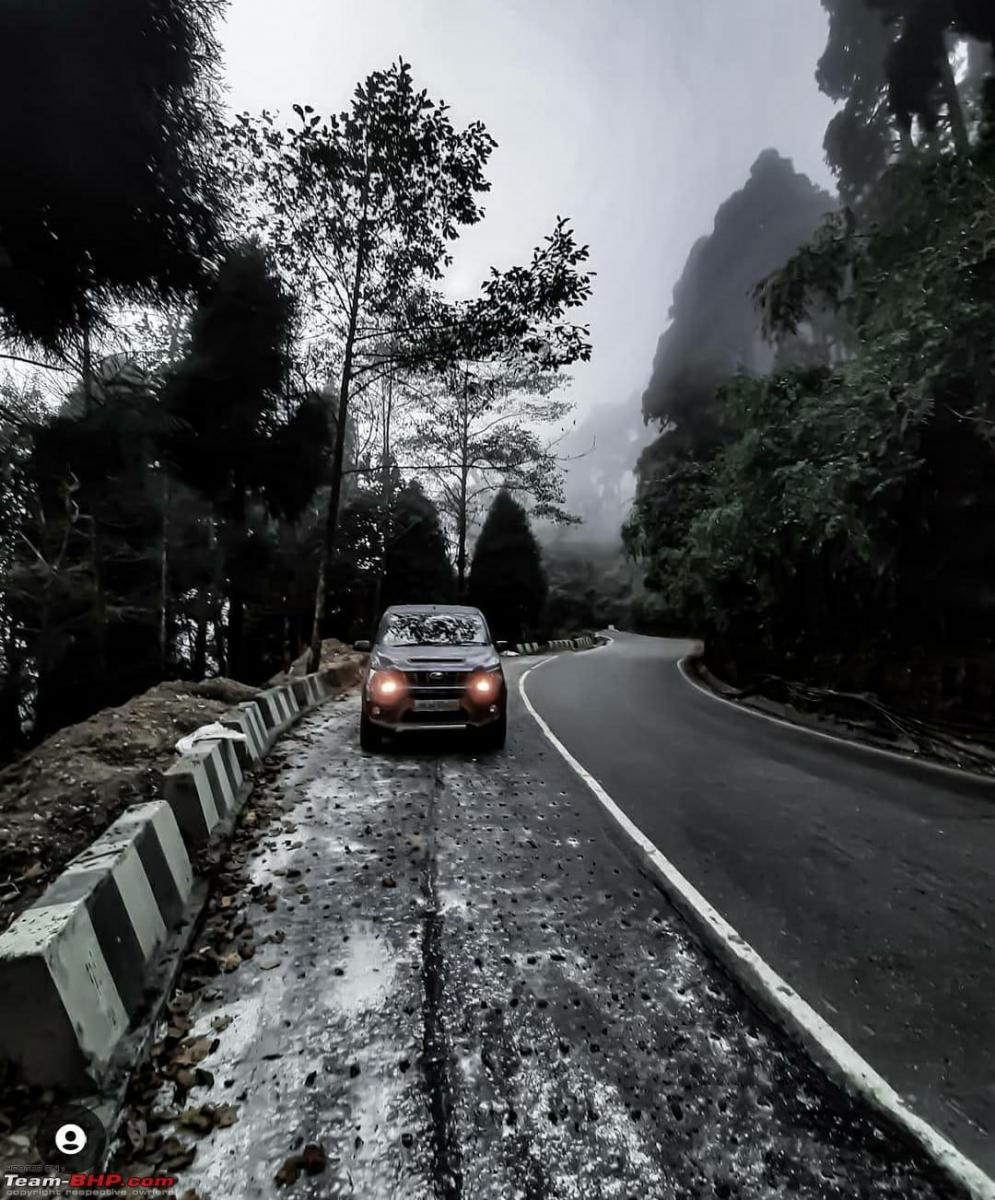 This time I tried to take care of the minute details, planned our routes, booked every hotel in advance, planned for alternatives in case of exigency as we would be traveling throughout the monsoon, etc. We started as usual and the trip had been uneventful throughout except few hiccups at Malda town we luckily reached Siliguri before sunset.
We both were excited to embark on this trip together and we were all set before time, were started from our hotel, and blindly followed Gmaps to take us to Darjeeling. But within a few minutes, we were stuck in snarling traffic of "Darjeeling more" and our great Gmaps suggested an alternative route through "Matigara". I knew this route through my research and planned on taking the Rohini route from there. But due to some unavoidable GPS issues and our lack of attention to the signage on the road, we missed the turn for Rohini and kept going straight. After going for a while, we asked a local for directions, and he asked us to take the route through Mirik. But as Google and our destiny had planned for us, we followed the google voice command and drove straight instead of taking left for Mirik from an intersection for Darjeeling.
After going for a couple of hundred meters, we were welcomed by a steep left hairpin bend and it was the steepest and narrowest switchback I have ever seen and had to encounter, it was the Infamous PANKHABARI route. As you know, by now I had only 200-300 km of ghat-driven experience under my belt and most of those were on wide and winding roads of Gangtok and a little bit of Darjeeling. As expected from the narrow bend, I could not take a turn in one go and I had to reverse back to attempt again, but during the second attempt my vehicle stalled and from there it was a nerve-wracking situation; after I restarted the car and revved hard to take on the apex of the turn, the wheels were not getting proper traction and slipping. The vehicle stalled multiple times in the process and I was getting cold sweats. I reversed back a bit and engaged the handbrake and reattempted to take the turn, thankfully this time with the help of momentum our vehicle made it. There were multiple hairpin bends throughout the route, the right-turn ones were still manageable but the left ones were making me anxious. Later we came to know that Pankhabari route is generally taken by vehicles going downhill mostly and traffic going uphill avoids this route. Thankfully my co-passenger Shalini was more than courageous enough to through such a drive and give me the confidence to endure this journey. With time I realized the mistakes I made while approaching the hairpin bends as a novice and the things that I could have done differently which could have helped me to take on the switchbacks better.
After reaching Darjeeling, we checked into our hotel and straightaway headed for the mall road. The next four days were spent most of our time on the mall road, soaking the sun, observing people, sipping coffee at Glenary's, grooving to the melodious numbers in the evening at Glenary's, and walking all over the town. We did not take out the vehicle in these four days and neither did we take any cabs to commute to nearby tourist attractions. These four days were one of the best times which I still fondly recall and always end up with a wide smile.
We decided to visit Gangtok for a couple of days from Darjeeling before concluding our trip, so we set off for Gangtok on the fifth day. The first night was spent strolling at MG Marg and hopping the local bars. The next day we booked a cabbie to take us to Nathula Pass, Tsomgo lake, Bitan Cho, etc. We knew the cabbie from our previous trips and he was very hospitable. When he came to know that I was interested to drive in this route, he gave his car keys to me without any hesitations with a wide smile. I still recall that day and wonder how selfless he was, as he had no idea how good I was behind the wheel (he knew I drove myself from Kolkata) and still gave his daily source of bread and butter in my hand. I was really excited as well as very cautious and drove to Old Baba mandir before giving his priceless possession back to him. I enjoyed the drive and learned a few small driving adjustments from his tips that can help while driving on such high passes. We spent a good time at Kupup, it was an enchanting Hamlet and was nothing like I have ever seen through my naked eyes till then. It was a wonderful experience. We drove back to Kolkata the next day while reminiscing the wonderful seven days we spent on the lap of the Himalayas.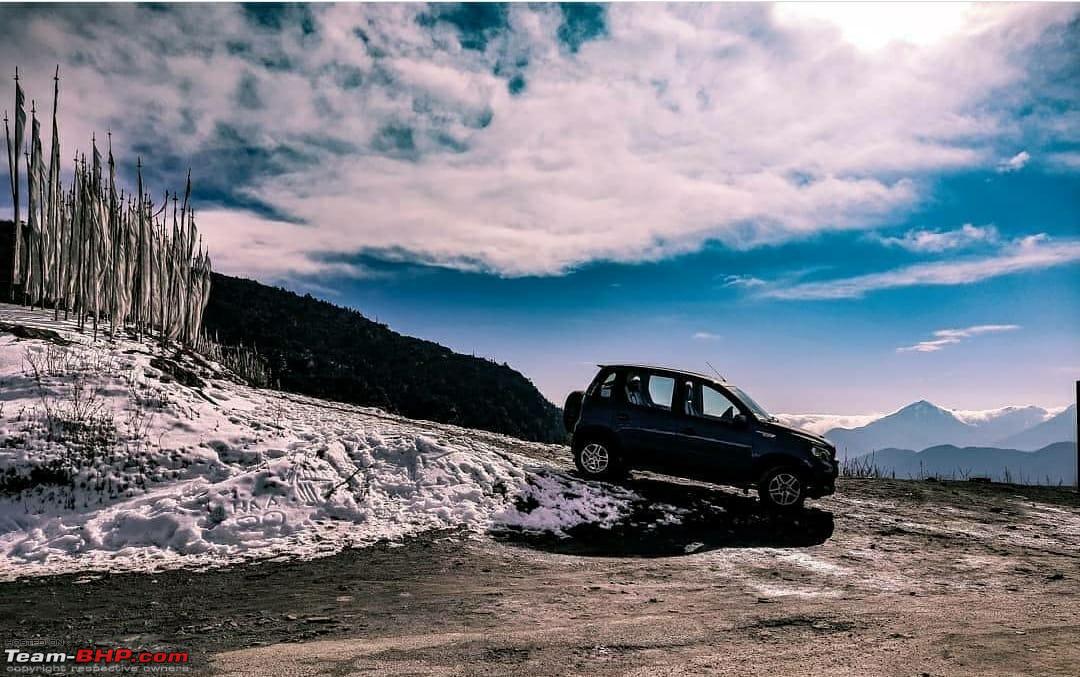 We took another very short trip to Darjeeling with Shalini's family six months down the line, but this time we had our best friend Mr. Floyd (my loyal Golden Retriever) with us. We all had a very laid-back couple of days this time in Darjeeling, we hardly went anywhere. This trip was special as it was Floyd's first time in the hills, though we had to face a few hiccups initially as none of the hotels were pet friendly in Darjeeling. When we almost gave up, one dog-loving hotelier near mall road who runs a small hotel by the name of "Hotel Moon" graciously allowed Floyd to stay. Floyd thoroughly enjoyed his couple of days here, taking long walks along the mall road in the December mornings in Darjeeling and gazing at the sunrise. We returned after two days and got back to our grind.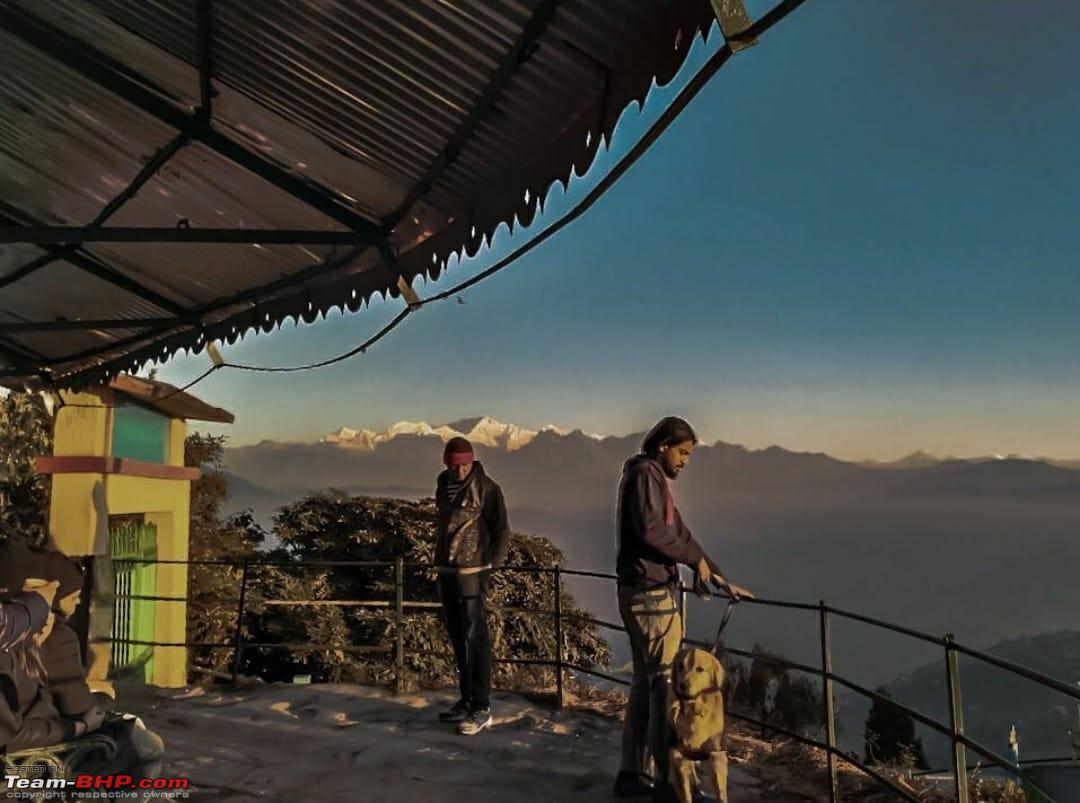 The next six months had been hectic and we could not even get the opportunity to even dream of planning for any trips. But the mighty Himalayas has their way to call us closer. My company's MD was due to visit Kolkata in June and himself proposed to visit Gangtok/Darjeeling with us, as he wanted to meet his boarding school teachers who are now settled in Gangtok after retirement (what are the odds). The vehicle was serviced and was back on road by the first week of June.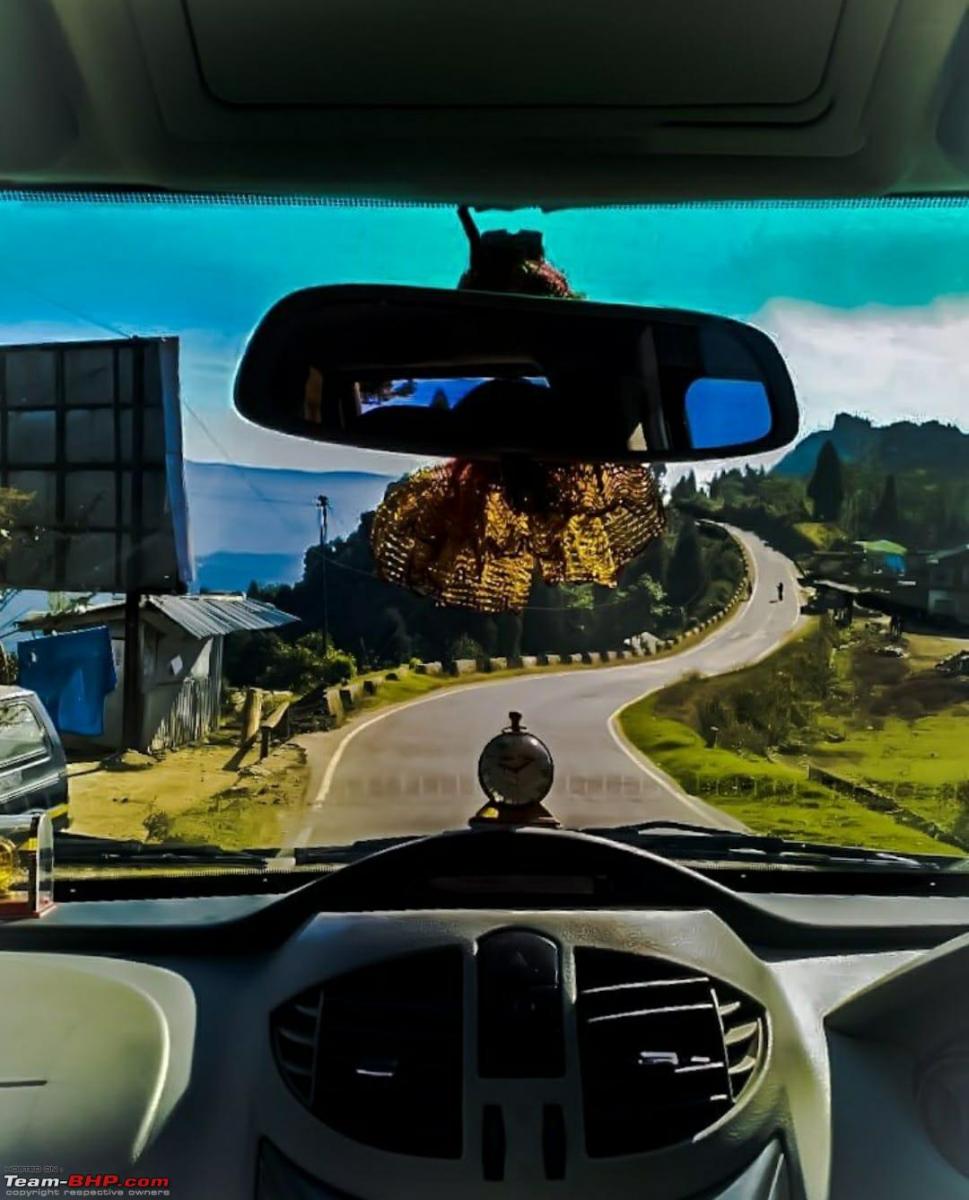 This time the complete road trip was fully laid-back, we were not worried about maintaining the minimum average speed, ETAs, etc. as per our Md's instructions. We leisurely set off from the outskirts of Kolkata by 8:30 am and by the time we reached Dalkhola, we were behind at least a couple of hundred trucks. It was already night and as expected we were stuck for almost 3 hours. When we reached our hotel in Siliguri it was well past midnight. We took it a bit slow the next morning and decided to head for Darjeeling the next day.
This time we climbed uphill through the Mirik Route for Darjeeling, considering how scenic the route is, we took innumerable stops for photos, videos, and whatnot. By the time we crossed "SIMANA" Nepal border, it was evening and the whole route ahead was smothered with a thick blanket of fog. This slowed us down tremendously and we reached Darjeeling by late evening. We could not do much that, had our dinner, and dosed off. The next day we had a late breakfast and spent most of the day shopping for various artifacts from the curio store in mall road (as it was our MD's first trip to Darjeeling). We had a great time strolling the streets of Darjeeling (I literally can't get enough of it) and ended the day on a high note at Glenary's (of course).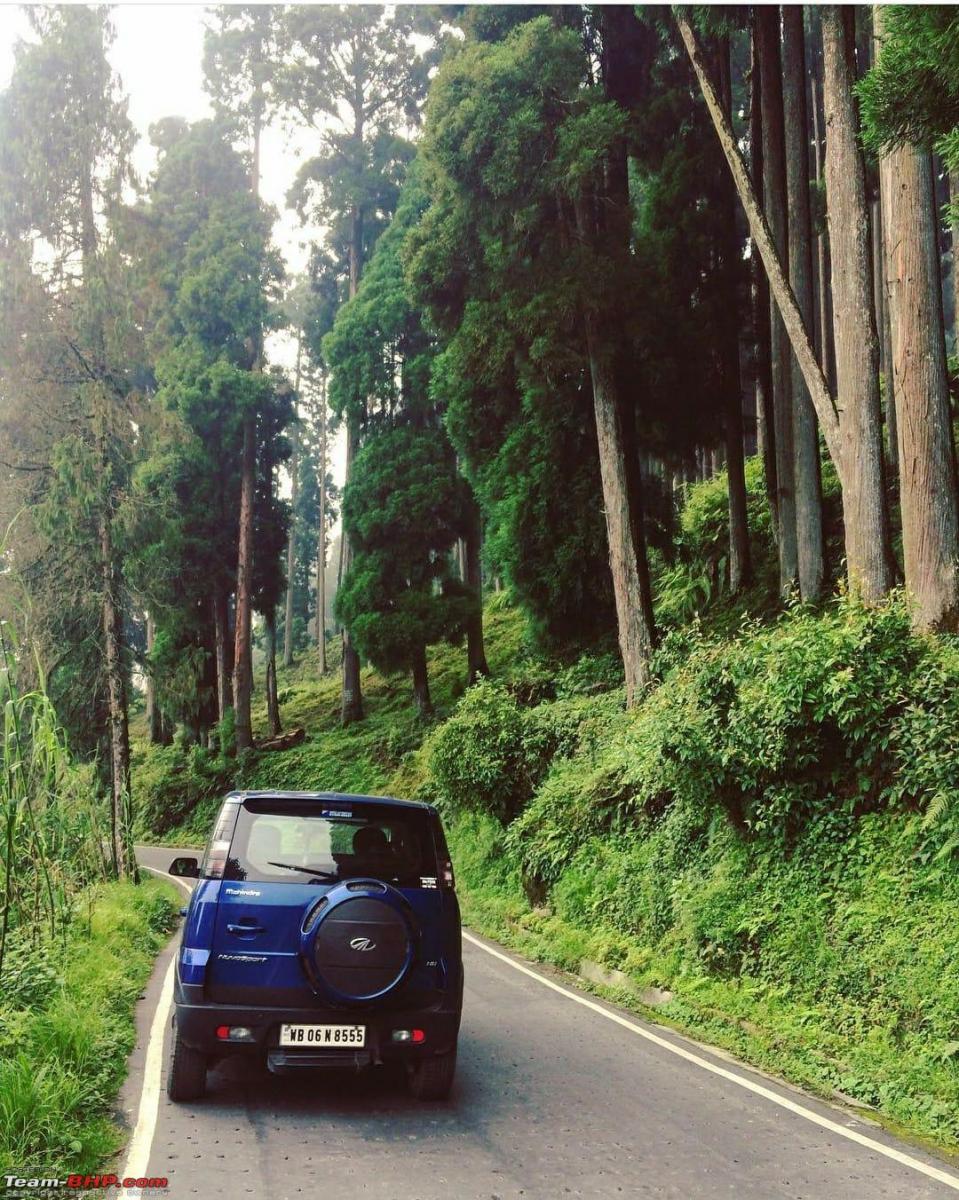 We went to Gangtok the next day and checked into a very lavishly done Italian villa by the name of "CASA TOSCA". This property is one of the best homestays that you can find in this part of the country. The furniture, paintings, patios, living room décor, tiles, etc. were handpicked/handmade and carefully chosen to complement each other and the whole theme of the place. If you ever get the opportunity do check this place out. We spent a total of three days in Gangtok, our MD was mostly busy chatting about his childhood shenanigans with his teachers (very warm and wonderful people). It was a very satisfying trip that ended on a high note as we were acquainted with a wonderful family.
The following trip was just 15 days apart from the previous one, as there was an important conference of Bharat Chamber of Commerce that was supposed to happen in Gangtok and we were supposed to attend it. My employer offered me to take the flight but how could I have missed the opportunity to drive back again to the hills when I have a valid reason to. We were ready to hit the roads again less than 2 weeks after the previous trip. This time one of our friends (Ishwar) also accompanied us. We booked ourselves at Gangtok for 3 days, the first day was occupied by the conference that we were attending and we kept the next 2 days to explore a few spots on the outskirts of Gangtok. I researched a bit online and shortlisted a few places to visit (that did not require any permit) that we missed during our past trips. We drove along the highways that take you to North Sikkim from Gangtok, the weather, flora fauna, and road conditions drastically changed after driving 5-8 km from the main town. As it was already July and the monsoon was in full swing, the road conditions were not very inviting due to multiple landslides along the way. We went to Phodong and decided to return. On our way back we visited the Phodong monastery, seven sisters fall, Bakthang fall, etc. This small drive was very satisfying for me, I witnessed waterfalls gushing through the middle of the road, and old abandoned bridges with prayer flags waving in a synchronized motion that was so hypnotizing to watch.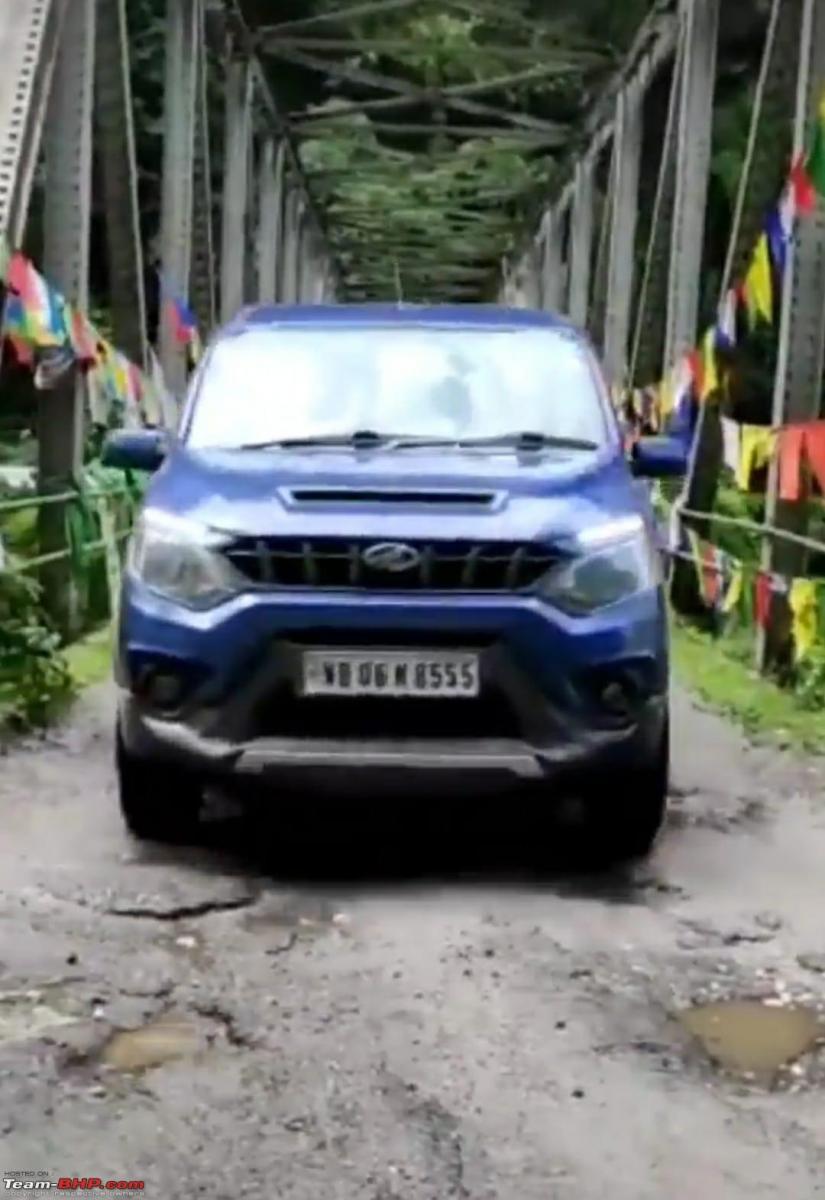 We went to Darjeeling from Gangtok and were supposed to stay for a couple of days. As usual, we did nothing here except for being lazy and strolling the streets of my favorite place. I was so hooked here that I convinced my friends to stay back for another 2 days and we ended up staying for a total of 4 days doing nothing but still enjoying. We returned after having a wholesome trip.
A lot of significant changes took place in my personal life in the next 6-7 months and I was not thinking of any trips at that moment. But my friends knew that I could use a short trip to loosen up myself. Hence a plan for another road trip started cooking one fine weekend during a get-together at my place. This time we were keen to explore a new place and thought of North Sikkim, but we could not get much clarity regarding getting permits for private out-of-state vehicles and had to drop it. Our next option was a cross-country drive to the kingdom of the thunder dragon, it checked all the boxes, and Bhutan it was.
I spend the next 7-10 days researching the routes, permit requirements, and homestay bookings and serviced our vehicle as well (the ODO was at 84k km back then). We were all set, this time for a change we decided t set off at night. We started from our place at Mukundapur at around 8 pm, had our dinner near Palsit toll plaza, and reached Siliguri by 9 in the morning. We all freshened up and had our brunch at a restaurant near Sevoke and continued towards Phuentsholing. It was already around 6 in the evening when we reached the border town of Jaigaon. We crossed the border and checked into a hotel, after settling in we all went out to scout for a good hotel to have our dinner. After having a sumptuous (not so for my vegetarian counterparts) dinner we all called it a night. The next morning we all headed out to the visa/permit office to get our permits to go beyond Phuentsholing. I was due for a surprise here, while I was diligently waiting in the queue, the guards pointed to the shorts that I was wearing and said "half pants not allowed". I had to run back to the hotel to change while my friends maintained the queue. It was almost 1 pm when we got our passports stamped. Now we had to run to the road transport department office to get permits for the vehicle. When we reached, there were shocked to see the long queue up to the staircase, all waiting to get their vehicle permits. Later we came to know the following day was Bhutan National Day and hence all the government offices will be closed and hence the rush.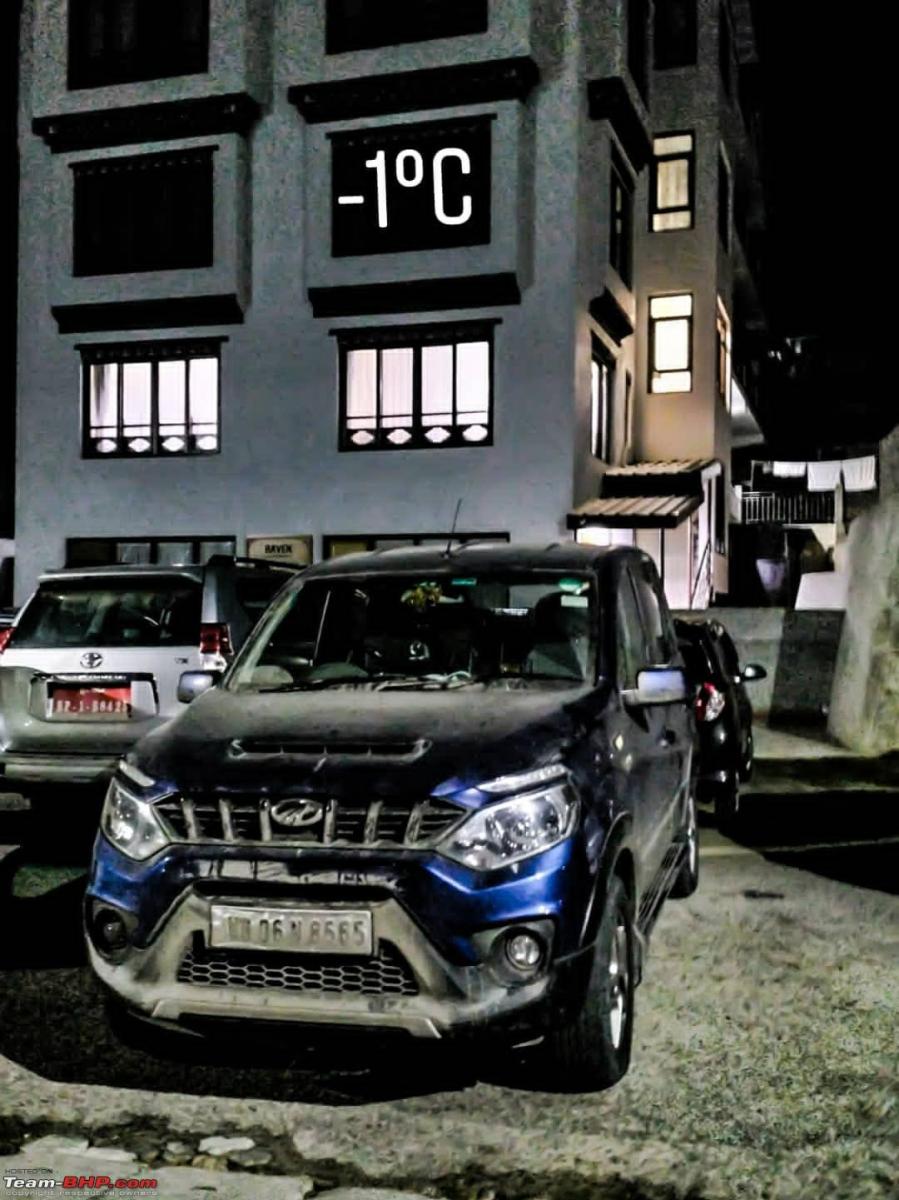 It was almost 4 pm when we got our vehicle permits and rushed to the hotel to set off for Thimpu. In the meantime, our friends finished the checkout formalities and got us new sim cards for our stay in Bhutan and local currencies. We started at around 4:30 pm (local time) from Phuentsholing and got our permits checked at the first checkpoint. After driving for another 30 minutes, dusk set in, and the visibility drastically dropped thanks to the fog. After a certain time, it was almost impossible to drive and I was contemplating pulling over and waiting till the fog subsides a bit. But thanks to the quality of roads and well-positioned reflectors, lane markings, etc. gave me the courage to continue. I tried to follow the local vehicles but they were driving so fast and was vanishing into oblivion. After driving dead slow for 10-15 minutes, the fog subsided and the visibility improved and literally gave me a much-needed breathing space. We reached Thimpu town by 8:30-9 in the night and checked into our homestay. The homestay was newly constructed and inspired by modern architecture and was neatly done. We arranged by packets of Maggi, snacks, and drinks from the local convenience store and cooked our dinner ourselves. We all were awake well past midnight and had a gala of a time, discussing so many things, it was indeed such a great night (thanks to my friends- Dipanjan, Ritika, Shalini, Sapna).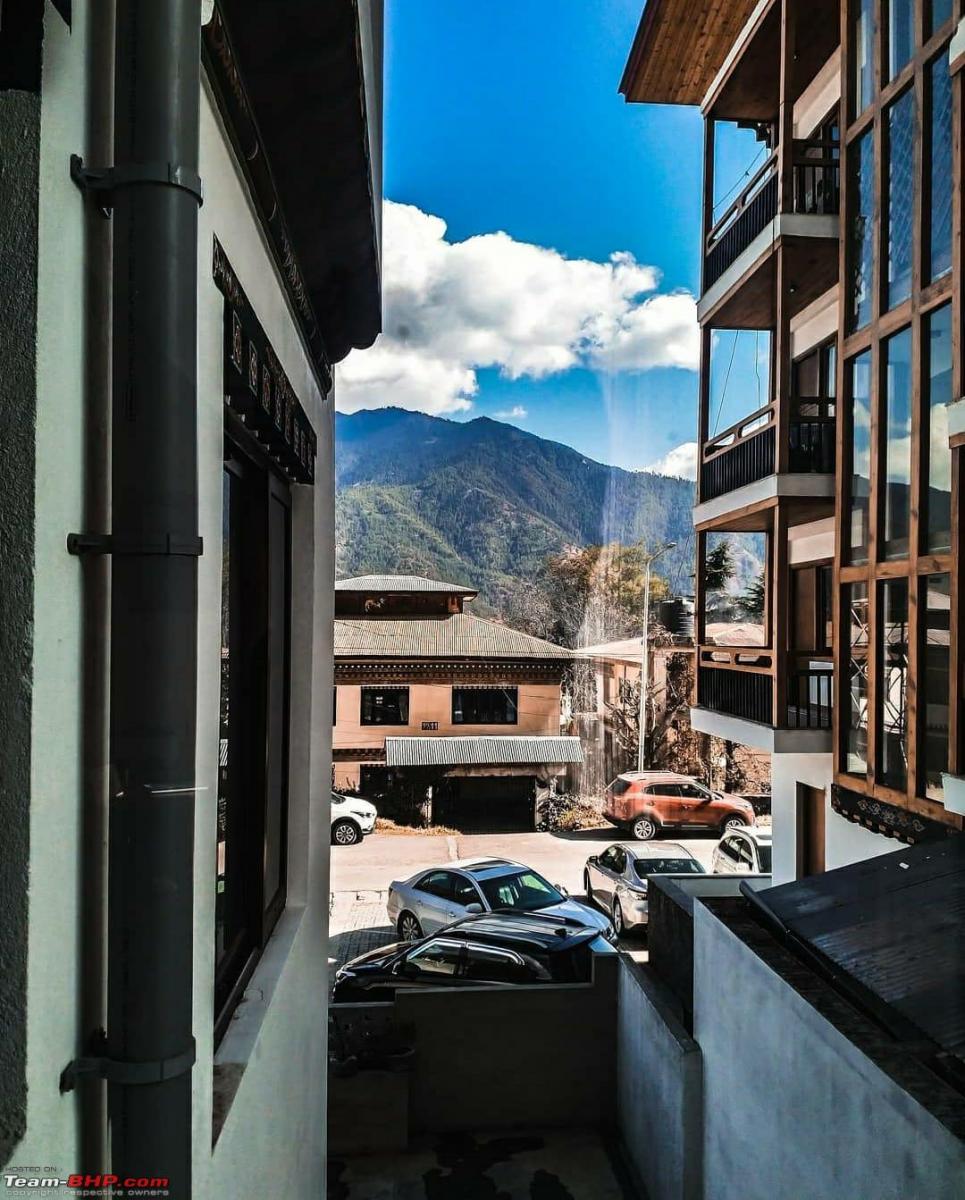 The next morning we decided to set out early to explore Thimpu town, and we were in for a surprise. As it was dark when we came last night, we did not realize the beauty of this town and country. The whole landscape of Thimpu along with its infrastructure will give you a European vibe. Everything is so well maintained; everyone is so disciplined. We knew that our permits were not valid for Dochula Pass but still thought of trying our luck and drove towards it. As it should have been we were not allowed to cross the checkpoint. The drive was so scenic, we did not regret it. We drove around the town of Thimpu admiring the beauty of the town and its people. Later we went to the town center (clock tower) to have some supper and some shopping. Later we went back to our homestay after a great evening.
The next day we headed towards Paro, the journey was very scenic crossing one mountain to another and the rivers flowing across alongside throughout most of our journey. We decided to directly visit Che lela pass, before checking in to our homestay in Paro. The road towards Chelela was steep and winding, after driving up for a km or so, we were welcomed with a fresh blanket of snow all over the roadside and on the pine trees. This was the first time for me driving on the snow and I was on cloud nine. We reached atop the Chelelela pass (the highest motorable point of Bhutan) and had a gala time up there, staring at the snowcapped ranges, it was a different and emotional feeling.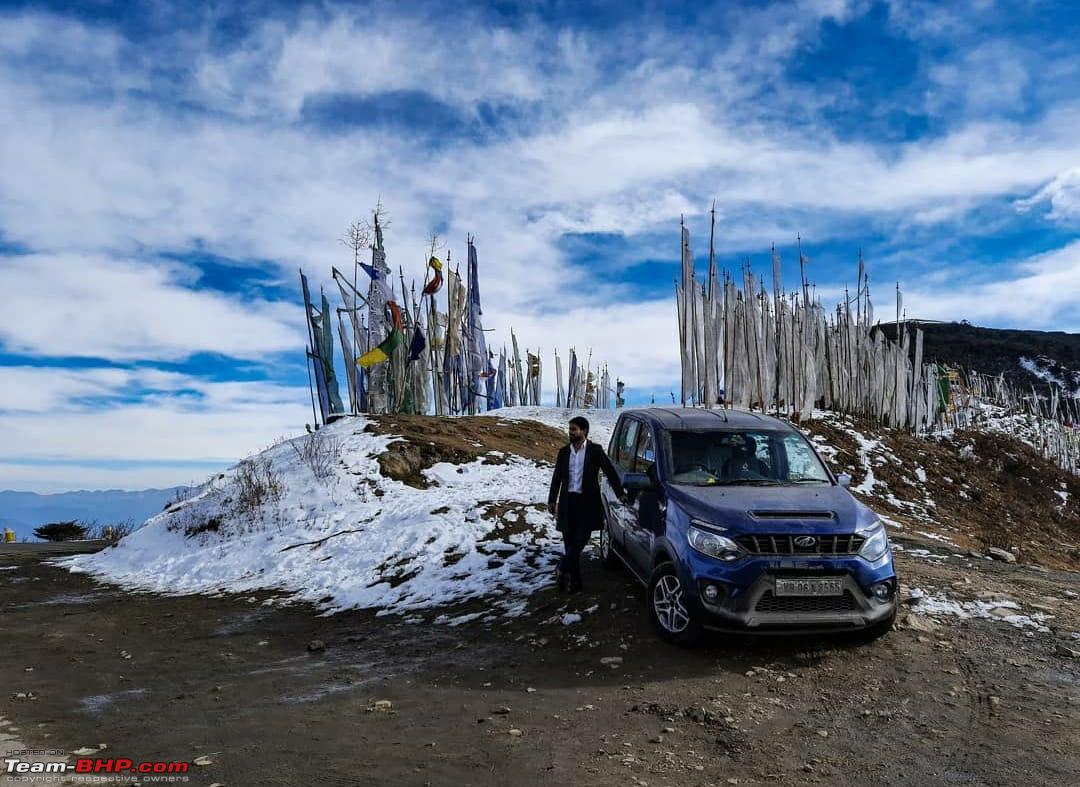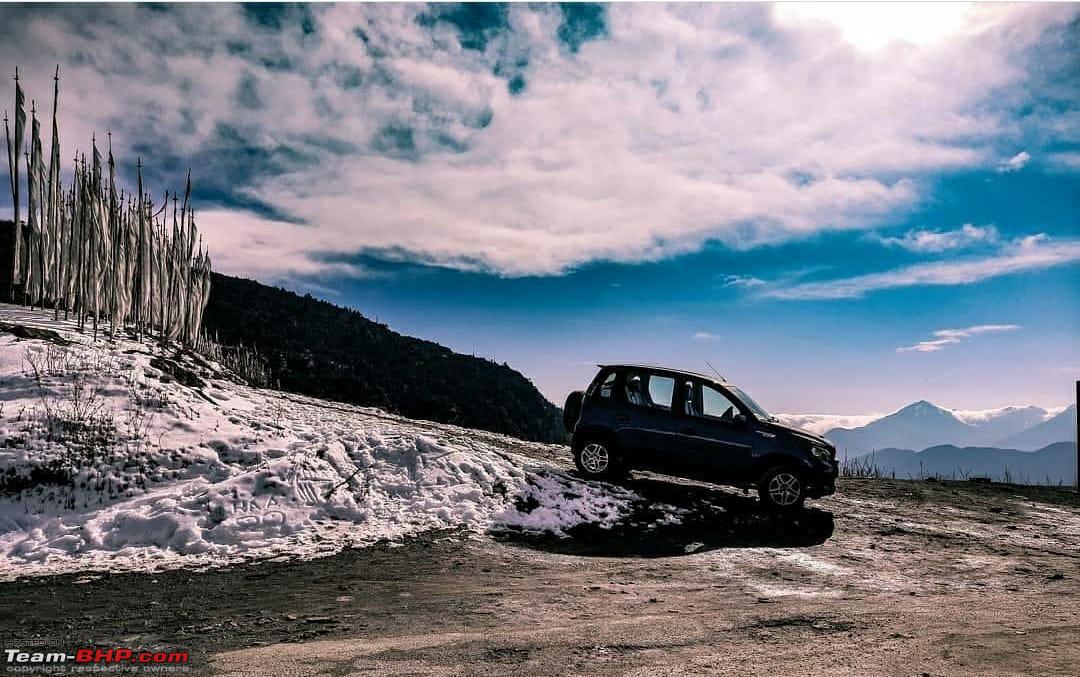 As it was getting late and we were yet to check in, we decided to get down with a heavy. Halfway through our journey going downhill, my vehicle skidded and I lost control of the vehicle in less than a blink. The vehicle completely took 180 degrees turn and slipped towards the inner side of the road (thankfully) and bumped into a rocky wall, I could not even process what was going on and I found our car's bumper stuck onto a sharp icicle that helped to halt the vehicle. The local cabbies and other tourists came running, enquiring about our well-being, thankfully we all were unscratched. The cabbies said that my tires lost traction and it slipped causing the accident. They asked me to go very slowly and apply engine braking as much as possible. I was obviously shaken by this incident and drove dead slowly till we came downhill to the highway towards Paro. We saw a flight taking off while driving along the runway of PARO Airport and it was surreal, to say the least.
It was already dusk when we checked in to our homestay, it was a well-maintained small cottage on the outskirts of Paro town and falls on the way toward the tiger's nest. We had the whole villa to ourselves and we all were in high spirits. We lit up a small fire and went along with the evening (I did not want that night to end).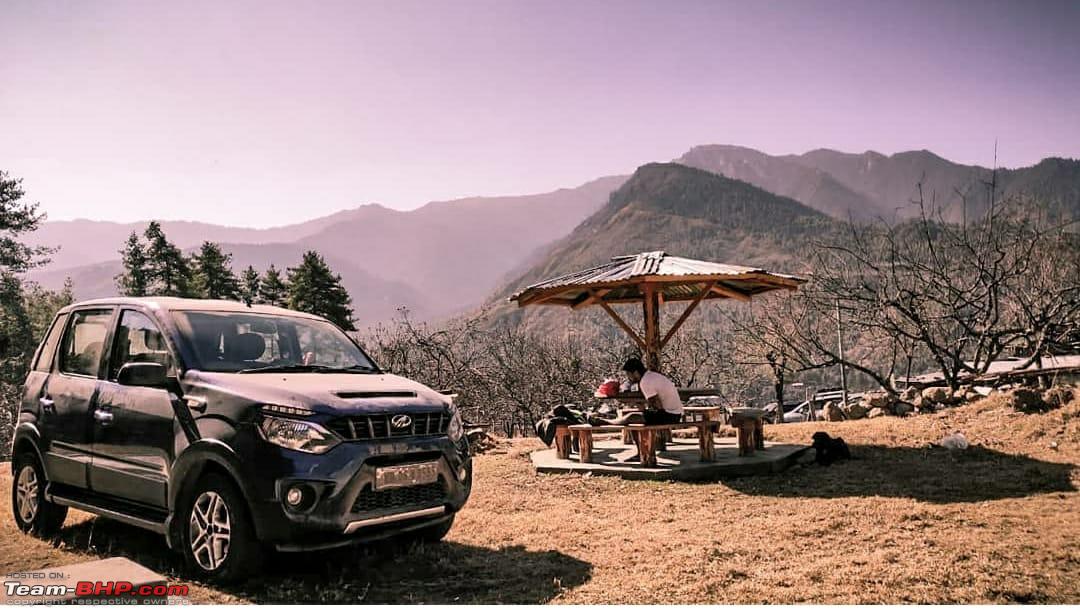 The next day we woke up a little late and arranged for our breakfasts and enjoyed the morning at a leisurely pace. It was already too late to realize that we were due for going to the Tiger's nest trek. We anyways decided to go in that direction and get a feel of it. We spend some time there and later moved towards the town to explore.
It was late in the afternoon and the food that my group of friends had been having for the past few days was not very palatable for them, so we were keen to scout a decent joint that serves some authentic Indian fares. We ended up at a restaurant by the name "PARO DHABA", it was located adjacent to a flowing river and it was extremely beautiful, we had a great time here and gorged on everything that we could order. We later went back to our villa and continued our tradition of the bonfire and endless chatting.
The next day we drove from Paro to Darjeeling, it was a tedious drive and we bid our adieu to this beautiful country with a heavy heart. It was late in the evening when we reached Darjeeling. We all were tired and the temperature was in the single digits (surprisingly we were feeling colder in Darjeeling than we felt in Bhutan). We checked in and freshened ourselves and straight away headed to the mall. As it was quite late in the night, we decided to go for dinner straight away. As usual, it was Glenary's for us, the live performance by Gopal (excellent singer) made our evening even more relishing.
We stayed in Darjeeling for the next 3 days and had a gala time with everyone. We drove back to Kolkata on the 4th day and it was an uneventful and gloomy journey back to our mundane lives.
We could not travel anywhere for most of 2020 due to the pandemic situation. But when things were slowly getting back to normal by the end of the year, we could not stop ourselves and planned for a road trip back to the mountains again. This time we decided to visit Rishap, Gangtok, and Darjeeling (of course). As usual, we started from our place early in the morning and our target was to reach Siliguri before dusk. But unfortunately, the vehicle's fuel pump went rouge just after crossing Kishanganj and the vehicle was stalling whenever I was trying to rev above 40-45kmph. We somehow drove at a snail's pace and reached our destination by night. The next day the vehicle was at the service center, and due to the unavailability of parts, we had to keep the car at the workshop and hired a cab to Rishap. It was quite late when we reached Rishap and hence could not indulge in any activity. We had to satiate ourselves with a few rounds of Uno and called it a night.
The next morning was election day here, and hence almost everything was closed. We took a hike to the nearby places and spent the day exploring the local monasteries and other places. Rishap being a very small and remote village, there isn't much for you to explore. Even the nearest ATM was at Lava, and people need to hire a cab to go there. We all were tired after walking the whole day, hence we decided to return to our resort by early evening. We spent the night chatting, playing UNO, and star gazing.
We hired a cab the next day and reached Gangtok by afternoon from Rishap. After checking into our hotel, we straight away headed to MG Marg and had our lunch at TASHI DELEK. One of our friends also joined us from Siliguri. We spent the rest of the evening at a pub and café hopping. We spent a couple of days in Gangtok before heading to Darjeeling. I got a call from the service center that my vehicle was ready on our second day in Darjeeling. We came back to Siliguri and took delivery of our vehicle and drove uphill back to Darjeeling (this was the first time I was driving my car in the hills on this trip). We had our supper at Margaret's Deck on our way up and later headed back to Darjeeling.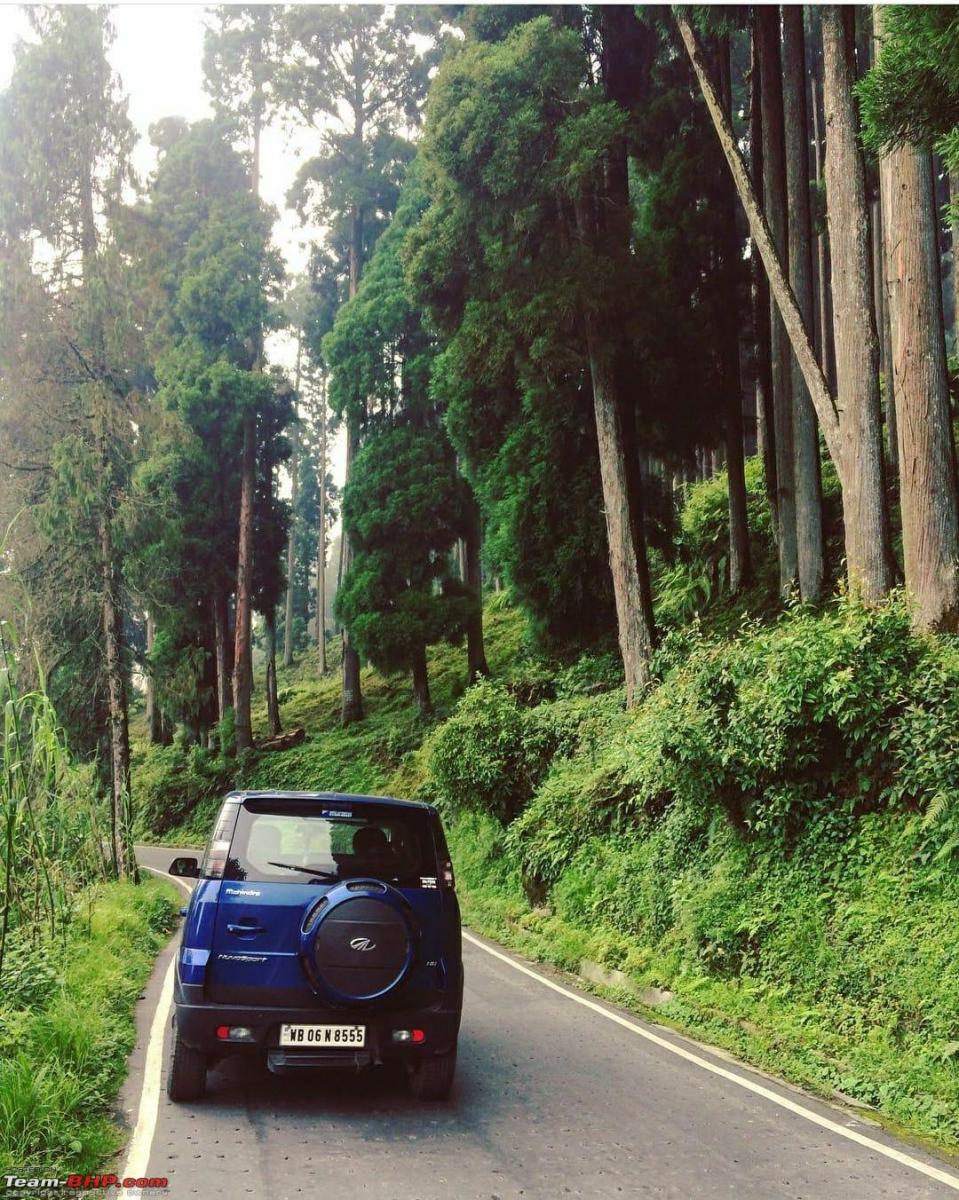 We spent the next 3 days in Darjeeling doing what we do best i.e., NOTHING. We drove back to Kolkata by spending almost a week in Darjeeling. The weather was so great that I was not even feeling like getting back to Kolkata.
My vehicle's ODO reads a little less than 1,25,000kms when I type this post. The clutch has been replaced after it hit 1 lakh km and the suspension needs an overhaul now. But whenever I get into this car and touch the steering wheel, it always takes me back to the mountains and I visualize the mighty Kangchenjunga through my windshield. It has been a wonderful journey of 6 years with my partner Nuvosport. I have always thought of naming this vehicle but never could in the last 6 years because my connection with it is more than christening, we understand each other, and it is an emotion.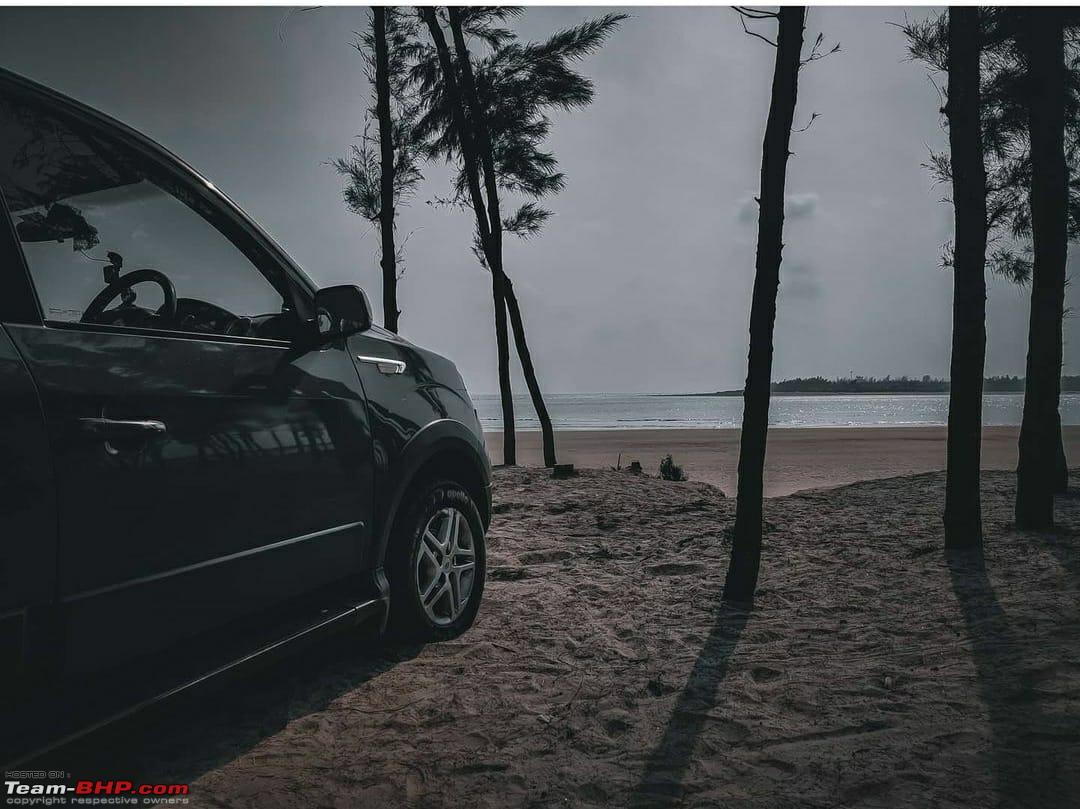 Check out BHPian comments for more insights and information.
Source: Read Full Article