Mercedes A-Class Limousine: Showroom visit & test drive impressions
I must say Merc have done a rather commendable job with the suspension tuning of the A-Class, it absorbs the bumps and imperfections with a soft, velvety feel.
BHPian Tony2298 recently shared this with other enthusiasts.
We all know how much respect a three-pointed star in the automotive industry holds in the minds of people and the respect you command after stepping out from one of them is paramount in fact it is a dream for many people(including me ) to own a car with this badge stuck on its nose. So I just decided to drop by a nearby Mercedes Benz Showroom and check out their new entry-level car the A Class Limousine, it may be an entry point offering but still remember it costs 50L OTR so it better be good out of the box, so here go my impressions followed by a TD experience as well.
The car looks really nice and has a fresh and youthful vibe to it unlike its elder siblings which are more stately in comparison, it may upset a few loyalists but would appeal well to the younger audience who are supposedly targeted by Merc.
Speaking about the dimensions, Merc claims it is the longest, tallest and has the largest wheelbase in its segment though truth be told it is at the most as big as say, the 5th gen Honda City, not bad but not that much big to justify its "Limousine" nameplate IMHO.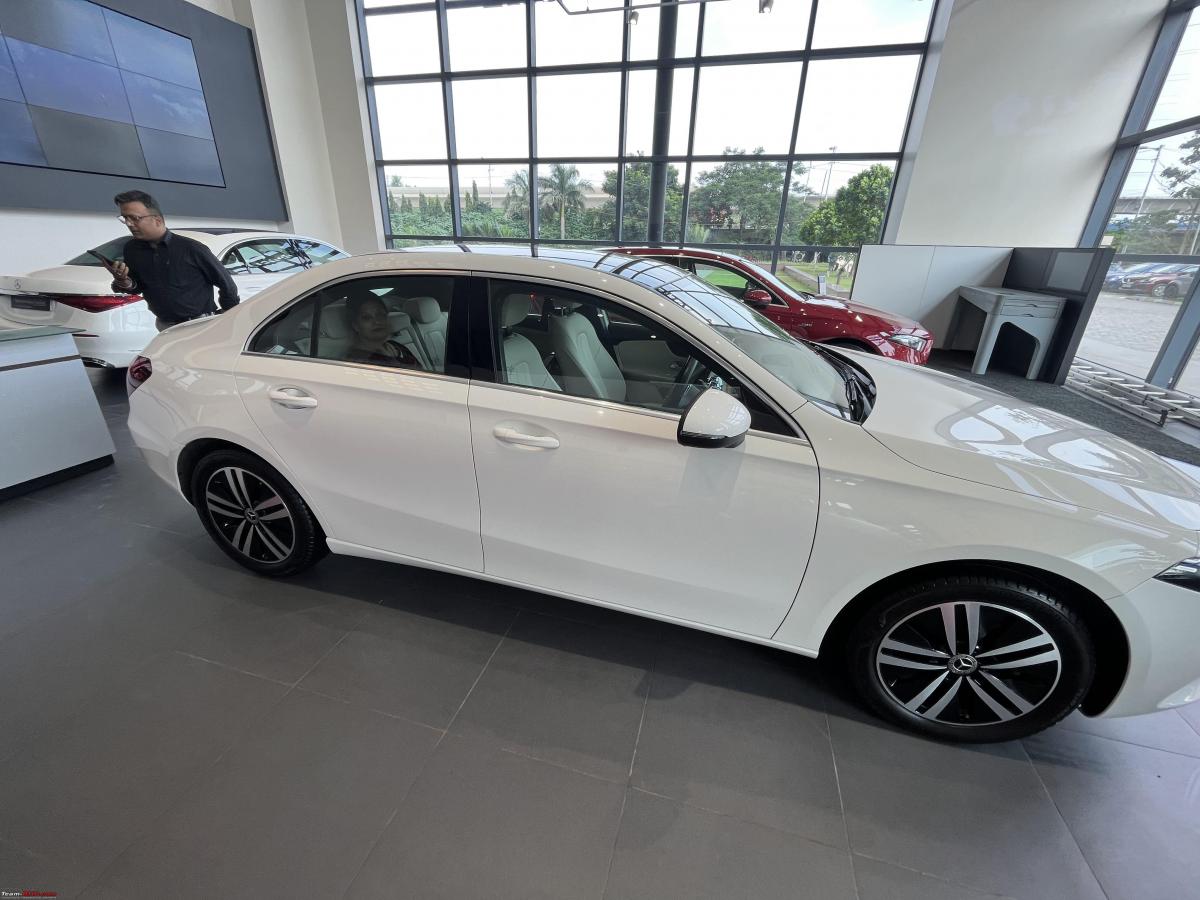 The display car was shod with 205/55R17 Bridgestone Turanza RFT tires and the alloy wheels looked really nice and proportionate too though I'm not so sure about the quality of the tires itself and Merc should've rather given Michelins as standard (they only offered it in the AMGs) and needless to say, there were full wheel claddings all around, after all its a Merc and not even tiniest of cost-cutting should be visible even if its an entry-level product.
Now coming to the interiors Merc has really played it out of the park and given a very nice looking, brimming with tech cabin which also has an old-school vibe to it. The large single panel which houses both the touchscreen infotainment and the digital instrument cluster was really classy looking and very high-res too. Special mention must be made about the unlacquered wood finish which in Mercs language is the open-pore wood trim was truly elegant looking and helped in adding the old school charm we love about Mercs.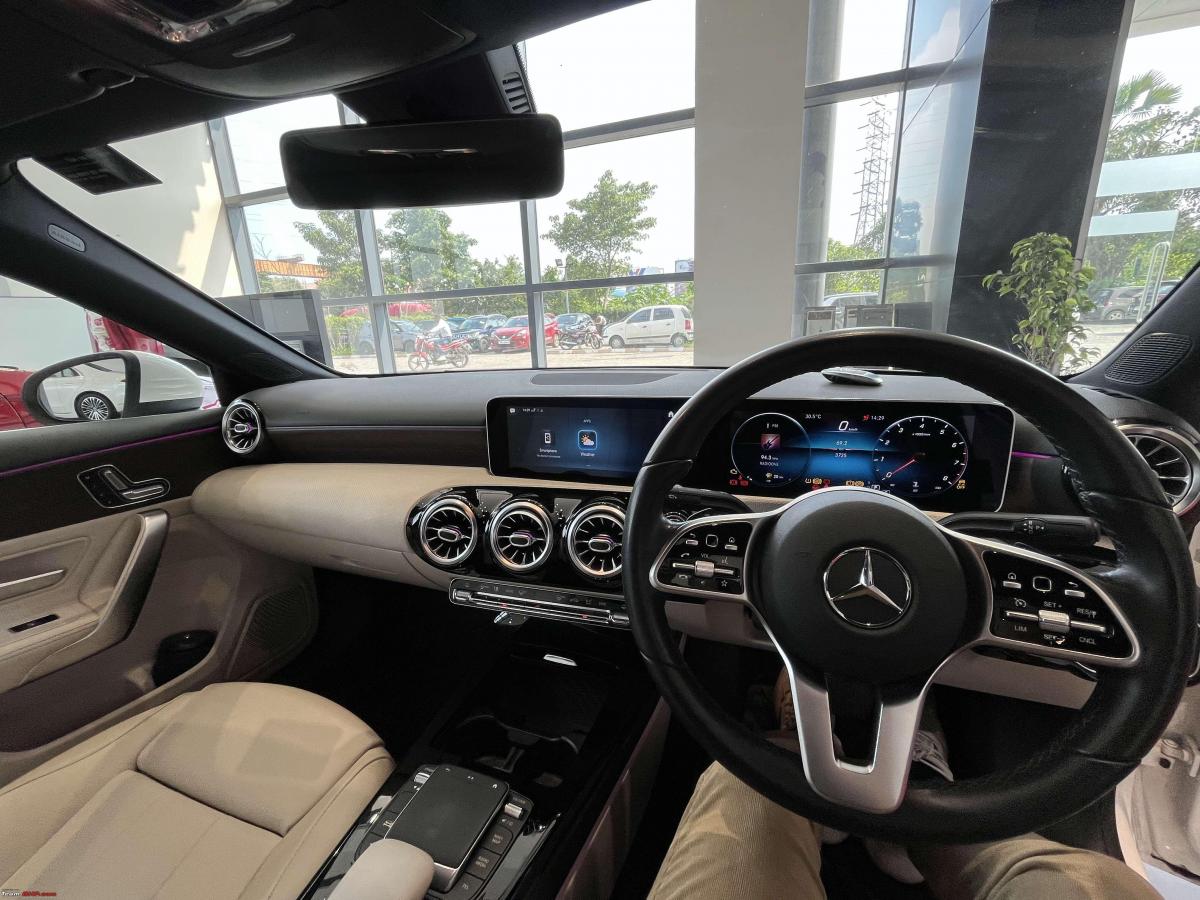 The Mercs COMAND system even has a very intuitive touch pad at the centre console which had really awesome haptic feedback with a tactile sound emitted from the tweeters and the whole experience was surreal, also the sound system too which IIRC is provided by Burmester was crisp sounding as well.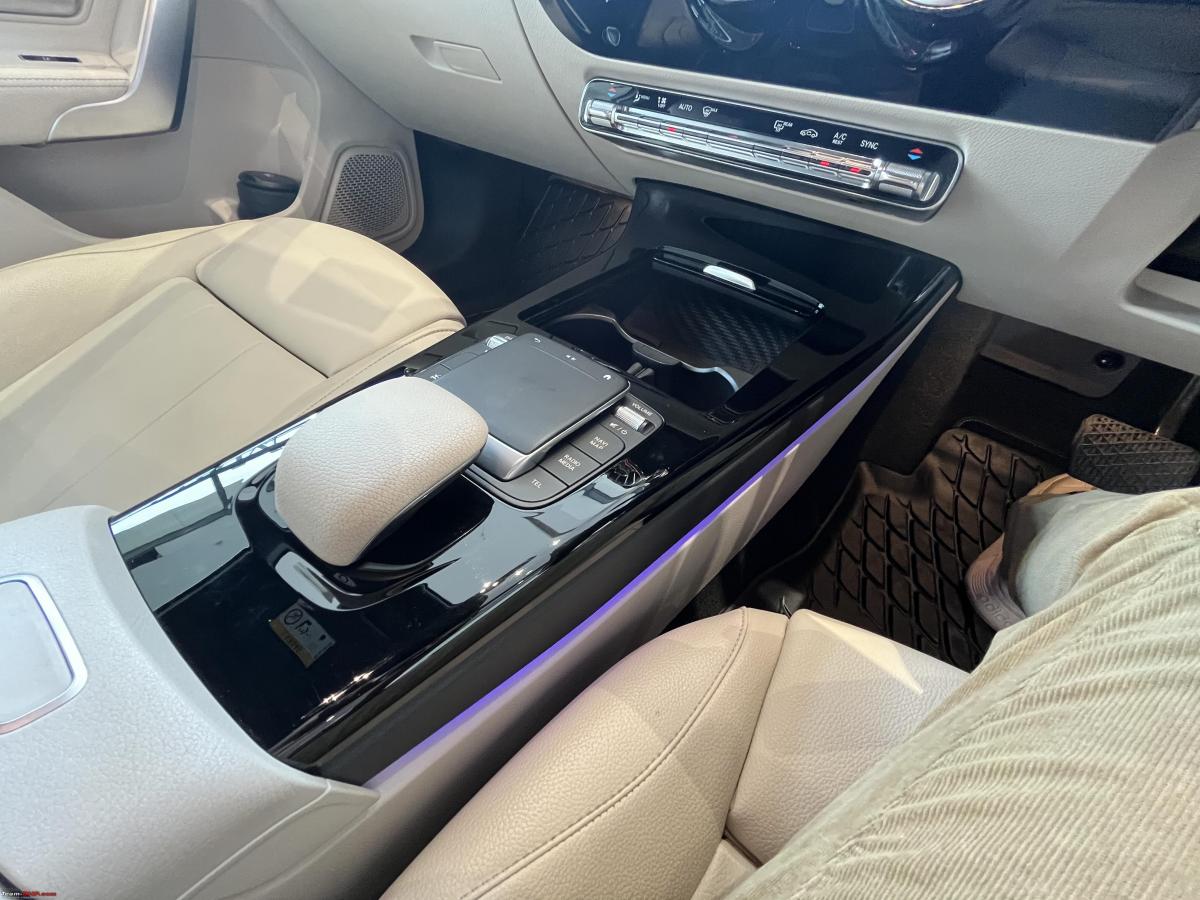 Coming to the steering wheel it IMHO was the best part of the car IMO, it's wrapped in an exquisite leather wrap with perfect stitching, also all the switchgear were tactile and my favourite bit was the small touchpads (similar to what we get in BlackBerry keypad phones if anybody remembers them) which helped in interacting with the infotainment system and the instrument cluster, also yes they also featured paddle shifters)
Space inside was much better than I expected and the promise of being the most spacious in its cabin was indeed true and even though headroom wasn't very good there was adequate knee room, also there were rear air-con vents and an armrest with retractable cupholders too though I must say the bench is best for two thanks to not so generous girth and the huge central tunnel, also not related but I must add that the ambient lighting (which has 64-configurable colours!) around the door handles, central console and air-con vents did add a special vibe in the cabin and do make it feel luxurious.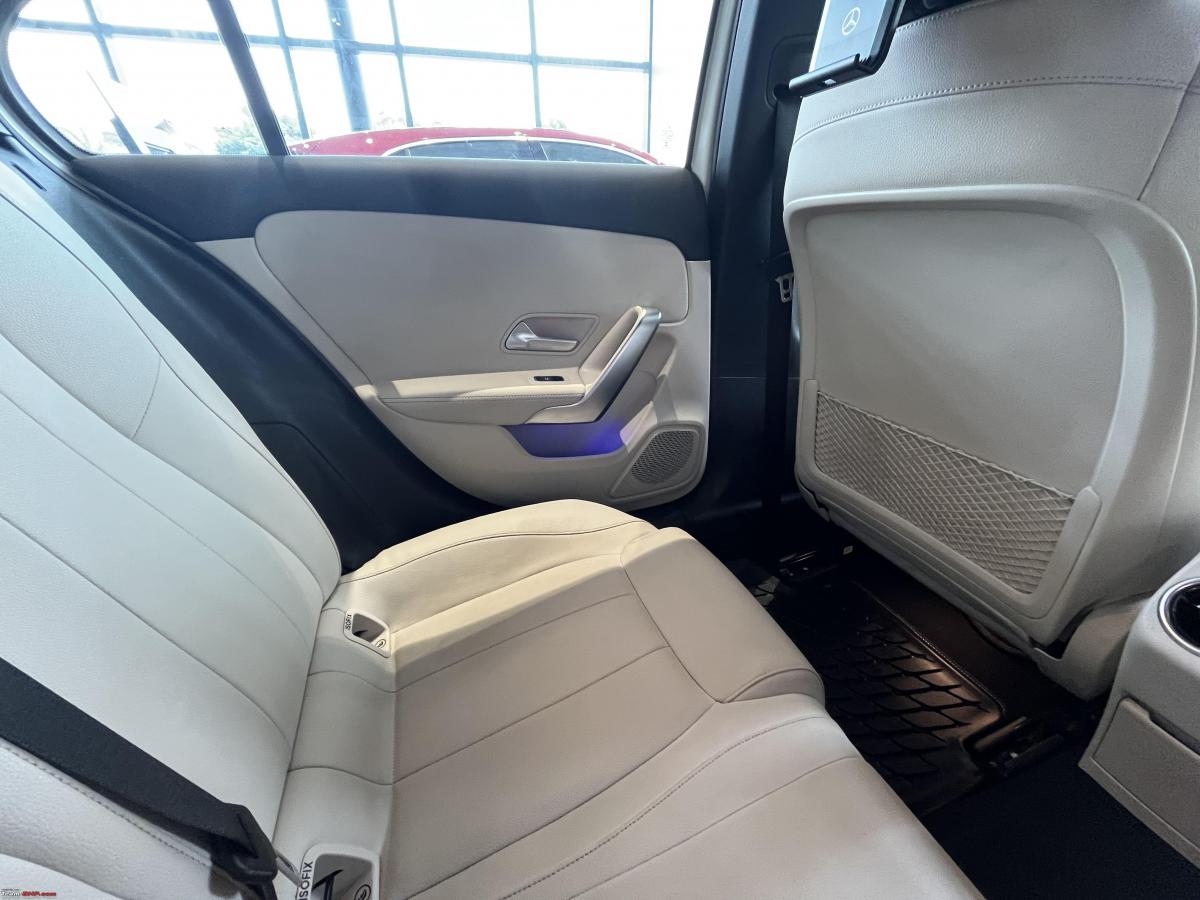 Now coming to the drive experience and as you may know, I'm a diesel head so obviously I asked for a TD of the A220d, for the uninitiated the A220d is powered by a 4cylinder 2000cc Common Rail Turbocharged Diesel engine putting out 150 BHP and 320 Nm of torque via an 8G-DCT automatic transmission, for those keen about the gasoline version, the A200 is powered by a 1.3L Turbo Petrol engine(the same one found in the erstwhile Renault Duster Turbo and Nissan Kicks Turbo!) mated to a 7G-DCT putting out 163 BHP and 250 Nm of torque. Regarding 0-100 figures the former takes 8.2sec and has a top speed of 227 km/h while the latter takes 8.3sec and has a top speed of 230 km/h.
On firing up the A220d you're greeted by a mild clatter which does settle down after a while, you can tell it's diesel but it's not an irritating clatter. As you start driving and after reaching normal speeds you would be passed off if it is petrol, also the 8G-DCT is quite smooth in its operation without having that trademark slow speed jerkiness we usually associate with DCTs and the downshifts are quite snappy as well, also, as usual, you can change the drive modes as well which alter the steering feedback, throttle sharpness, gearbox behaviour and air conditioning, also regarding air conditioning it was quite effective as well though the switches for operating them felt a bit plasticky and not befitting in a Merc, a single thing which I was disappointed inside the cabin.
Since the test drive was within city limits I couldn't push the car to higher speeds so can't comment about the high-speed stability but I can definitely comment about its low-speed ride quality and I must say Merc have done a rather commendable job with the suspension tuning of the A-Class, it absorbs the bumps and imperfections with a soft, velvety feel and TBH riding over bad roads in the A-Class was quite enjoyable! The steering too was über light at low speeds and the turnings were quite easy too, again I can't comment about its sharpness and behaviour since the TD was too short and in the city limits only.
At this point I must tell some other points about the A-Class, since Merc is expecting a lot of first-time buyers they are offering an industry first 8years standard warranty on the drivetrain, suspension and electrical components, also what makes it unique is that it is transferrable too which means the warranty would still be honoured even after the car has changed hands, also the A-Class does come packed with Mercedes me Connected car tech too, regarding pricing I must say Merc has been pretty competitive to and the price for A200 petrol is 44L and A200d diesel is 46L ex-showroom India. The car is currently having a 6month waiting period as well.
To sum it up Merc has done a commendable job with their new A-Class limousine, this car is far more practical than the erstwhile CLA coupé and is a whole lot more desirable than the earlier A&B Class hatchbacks though still something like a Škoda Superb is a far better value the thing is that 3pointed star is too desirable to let go off and I guess which makes it a winner product for Mercedes Benz India.
Check out BHPian comments for more insights and information.
Source: Read Full Article