Key observations on my Alcazar diesel MT after first 5 weeks & 4700 kms
The powertrain is most efficient when driven at the 60-70 kph ballpark. I've seen unreal fuel efficiency numbers on my morning commute runs.
BHPian narayans80 recently shared this with other enthusiasts.
October end update:
The first 5 weeks of ownership saw the Alcazar clock 4670 kms. We had 2 highway drives planned in October, so this sort of mileage was expected.
The NVH has marginally increased since the initial days. It is still within acceptable levels.
The car saw the first triple digit on a trip to Mantralyam. The trip saw considerable percentage of 2-lane driving. Lot of spirited runs in the 80-100 kph region on the onward journey. No complaints on the power on tap for the speeds I was maintaining.
The trip also indicated how non-linear the fuel gauge was. The DTE and fuel gauge fall steeply once past the halfway mark. I had 380 km DTE on the onward when I crossed the COCO I had marked for refill, I ended up refilling after 230 km with 26 km to spare.
Maintaining a white car in monsoon months is a pain. This boy gets itself dirty in one drive to work. Makes it look like I've gone on some 4×4 excursion The biggest annoyance is still that damned reverse camera, which I have to clean after every drive.
The wake your neighbors keyless entry beep is resolved thanks to Saket.
The rear washer is activated by pushing the left stalk back. So that is resolved over the month.
The powertrain is most efficient driven on the 60-70 kph ballpark. I've seen unreal numbers like the one below on my morning commute runs:
On highway runs where it is predominantly, I see the MID show anywhere between 22 and 23 km/l. A tank-tank fill results in high 18s to low 20s. Roughly translates to a 5 Rs/km fuel cost:
The outrageously misleading DTE. This was after driving 50 km after refueling. It showed 1042 km at the pump:
Although the distance per refill chart has hit 800 couple of times. I am going to keep to the 650 km ballpark on future trips to avoid anxiety and hypermiling: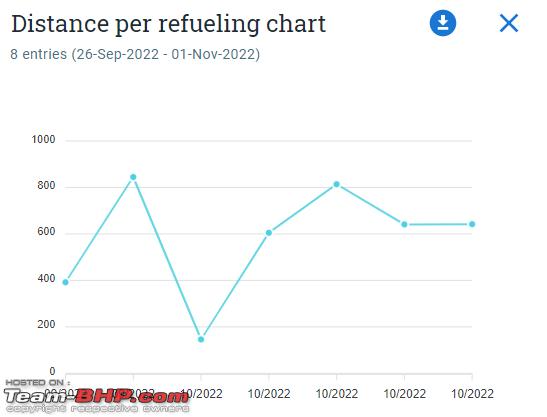 Check out BHPian comments for more insights and information.
Source: Read Full Article