Found a hole in the engine of my Honda City diesel (4th gen)
The car has only done 83000 kms on NCR roads, is properly maintained and engine has never overheated, so engine damage seemed impossible.
BHPian cherub recently shared this with other enthusiasts.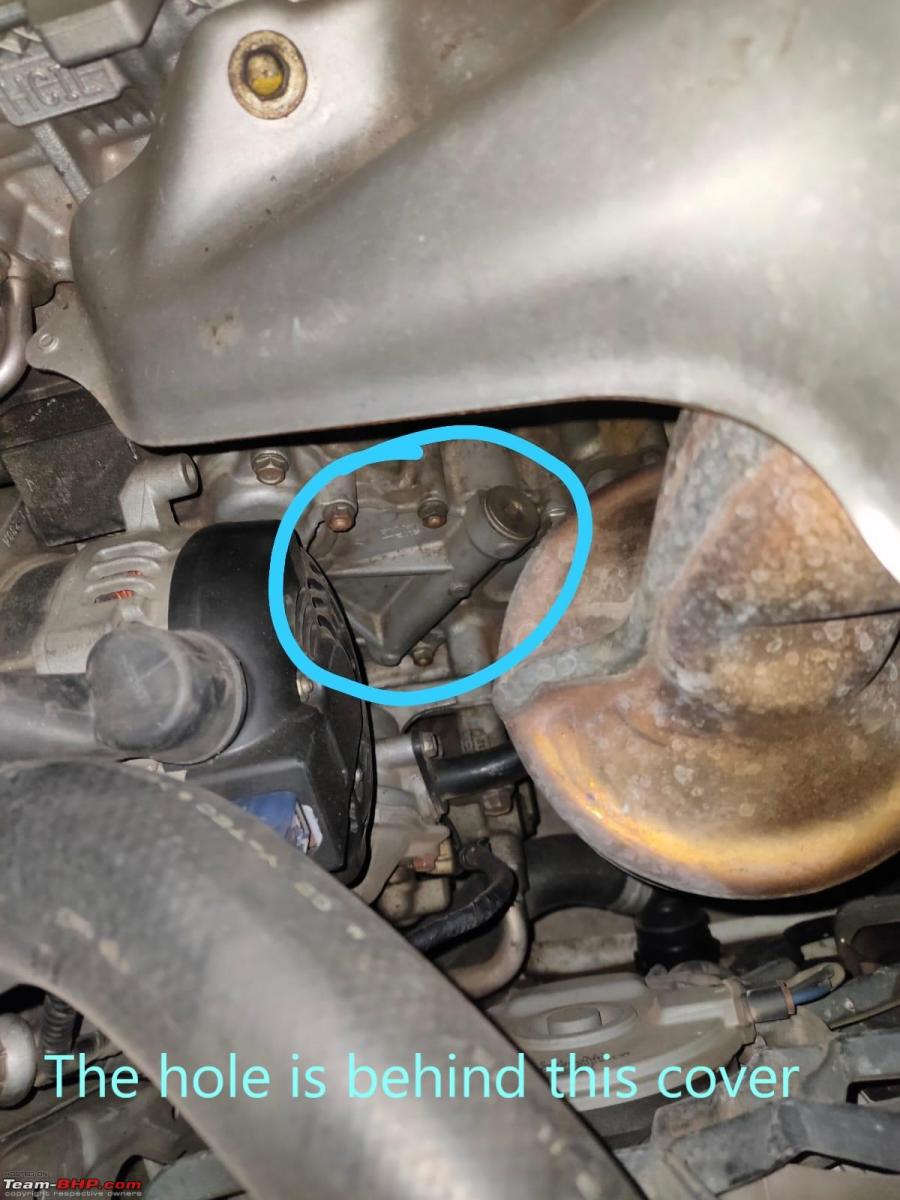 I own a Honda City diesel 2014:
Some basic terms used here: Engine broadly has two parts – head and block. Engine Block is the bottom part of engine containing the pistons, oil reservoir, etc. Engine Head is the top section, containing the fuel injectors, valves, etc. The gasket is kind of rubber seal placed between the head and block to prevent leakage.
I observed leakage below the engine bay area, expecting simple hose damage due to rat bite, sent the car to FNG1 (Friendly Neighborhood Garage). A very unusual issue was discovered, he found that all hoses were intact; engine oil was leaking into the coolant system, mixing with the coolant and overflowing through the coolant filling box. He concluded that the engine block is cracked, a common problem with Honda diesel cars. Repair estimate Rs 60,000.
The car has only done 83000 kms on NCR roads, is properly maintained and engine has never overheated, so engine damage seemed impossible. Never faced any engine issue in our previous or current cars (few Maruti 800's, Zen, Esteem, WagonR, Innova, Etios, Ciaz – each did over 1lakh kms). From among them, WagonR1.1 did over 1.5lakh kms, Etios-P and Innova-D both over 1.9lakhkms, and Ciaz-D is currently over 1.15 lakh kms and still going strong (touch wood!).
After doing some google search, the likely cause seemed to be gasket damage or some kind of engine/coolant pump damage.
Expecting wrong diagnosis by FNG1, sent to HASS (Honda Authorized Service Centre). HASS confirmed engine damage, but they said damage was in the engine head instead of the engine block. HASS said that the engine gasket and valve seals are cracked/destroyed due to infrequent use and long periods of non operation. According to them the engine should be run for atleast 10 mins every week to maintain the valve seals and gasket health (During the lockdown the car was stationary for months, ran the engine for around 10 mins to charge the battery every month). This seemed like another pathetic excuse my Honda to blame the customer for their poor quality product. Repair estimated at Rs 45,000. They charged Rs. 700 for inspection and estimate.

Having heard completely different view points on the actual reason for the leak, I wanted to get the engine opened for a complete and thorough inspection to ascertain the actual problem.
Charges for opening the engine and conducting a thorough inspection from different garages:
HASS – Rs. 9000
FNG1 – Rs. 8000
FNG2 – Rs. 5000
FNG3 – Rs. 1000
Please note here that all three FNGs predicted that the engine block is damaged even before opening the engine, a common problem with Honda diesel engines.
FNG3 found a hole in the engine block, confirming their prediction of damaged engine block.
I contacted HASS stating that damage to engine block at 83000 kms is a manufacturing defect and engine should be replaced for free. HASS said that extended warranty has expired and engine cannot be replaced under warranty. (As per my information/assumption, manufacturers usually do not undertake repair of damaged engine blocks and do engine replacement in such cases).
Having received a negative response from HASS and having experienced their general incompetence over the years, decided to save on towing charges and time, got the hole fixed by FNG3 to stop the engine oil loss.
If someone is planning to buy any Honda product and plans to put huge miles on it, please ask around with your FNG, check the service record for other similar high mileage car at the service station and check the status of the test drive car for indication of the problems in the actual vehicle over the ownership period.
I also observed that Honda diesel engines coolant replacement time is nearly half of standard for a long life coolant with other brands and even Honda petrol, possible signal of engine issues.

I have recently felt that companies (not limited to automobiles) in India are fearlessly exploiting the Indian consumers with sub standard products and services, probably due to the weak and slow implementation of Laws that have no real bite and consequences. General public awareness can help the Indian consumers make a more informed decision and hopefully put pressure on manufacturers towards positive change. Cars are a serious investment and defects can lead to serious injury and cost.
Here is another news of a possible seriously defective Honda.
Please share your thoughts and experience.
Here's what BHPian libranof1987 had to say on the matter:
Sorry to hear of your predicament. Have there been any updates? Did you try reaching Honda directly? Finding a hole in the engine block after seven/eight years of use isn't an everyday event, so involving Honda might get the dealer (and Honda themselves) to look at this seriously.
Check out BHPian comments for more insights and information.
Source: Read Full Article