Drive from Bangalore to Samruddhi Mahamarg: Route, breaks & experience
Maintaining 120 km/h is bliss and effortless. One can easily average 100-110 km/h end to end without a break.
BHPian paragsachania recently shared this with other enthusiasts.
Expressways, then and now
Road infrastructure in India has been improving at a tremendous pace making it absolutely effortless to commute. Pune-Mumbai expressway that started nearly 2 decades back was truly world-class, fully concretized, with lots of tunnels and viaducts and ahead of times and there is absolutely no denial about it.
The Baroda-Ahmedabad expressway set an example of how arrow-straight roads can be with the smoothest tarmac back then. Delhi-Agra expressway was the next trendsetter from the last decade in terms of length and then we have had many more from the state of Uttar Pradesh alone which made it the number 1 state with the maximum length of access controlled expressways.
The last few years have created a buzz, mainly around greenfield and super long expressways (above 500 km) promising reduced commute times and average speeds of 100 kmph and beyond. While the Delhi-Mumbai expressway is witnessing rapid progress which we look forward to driving on soon after it opens up, the new kid on the block is the recently opened section between Nagpur and Shirdi spanning 520 km that is part of Hindu Hrudaysamrat Balasaheb Thackeray Maharashtra Samruddhi Mahamarg.
This one that connects Nagpur and Mumbai once fully ready will be India's first longest and "operational" expressway with a length of 701 km. Crossing 24 districts across Maharashtra, the expressway is developed by MSRDC literally connecting central India (Nagpur) to the commercial capital (Mumbai).
Planning for the drive
While this project witnessed steady progress, especially for the Nagpur-Shirdi section, the official opening kept getting delayed multiple times. In the year 2022 itself, August 15th had become the popular hearsay for the inauguration making a few of us plan a drive soon. However, due to inordinate delays, we could see it officially open only in the month of December 2022. There wasn't much of a need to plan this drive as the route was pretty straightforward. However, we did have our own set of priorities:
Cover maximum distance of the expressway under natural light
Avoid doing Hyderabad – Bangalore on a weekend, especially Kurnool to Ananthapur
Ease of reaching home after entering the city outskirts versus driving from one end of the city to another during the day
How to split driving groups on the last leg so that few can settle for a 3-day plan while rest can manage this in 2 days
Dates and Planning
The usual suspects got into some action to plan this drive in December last year, with a plan to drive in January after the year-end holiday traffic reduces on the highway so we have a peaceful drive. In our own friend circle, we published a poll and the most popular choice was Jan 20-21-22 of 2023 for the travel. Initially, we were 9 cars with 12 members that eventually got reduced to 4 cars and 6 members a week before the drive. Arun_josie and Speedsatya had to drop out due to unavoidable exigencies. We certainly missed you all big time.
The plan was to drive on the 20th (Friday) and return on the 21st (Saturday). However, Day 1 involved 1100 km of non-stop driving and Day 2 involved 1500 km of non-stop driving. Hence, in order to accommodate those who cannot drive late nights or at a stretch, they would be given an option to stay for the night either at Sholapur or Vijayapura on return so that can drive anywhere between 500-600 km on Day 3. So here is how the 2 and 3-day plan looked:
2-day Plan
Day 01 – Bangalore Nagpur – 1100 km (0300 hrs to 1730 hrs)
Day 02 Leg 1 – Nagpur to Shirdi via Samruddhi Expressway – 540 km (0500 hrs to 1000 hrs)
Day 02 Leg 2 – Shirdi to Bangalore via Samruddhi Expressway (for 75 km) Aurangabad Sholapur Vijayapura Hospet Chitradurga – 1600 Km (1100 hrs to 0030 hrs)
3-day Plan
Day 01 – Bangalore Nagpur – 1100 km (0300 hrs to 1730 hrs)
Day 02 Leg 1 – Nagpur to Shirdi via Samruddhi Expressway – 540 km (0500 hrs to 1000 hrs)
Day 02 Leg 2
Option 1 – Shirdi to Sholapur – 330 km (1100 hrs to 1600 hrs) – Night halt
Option 2 – Shirdi to Vijayapura – 430 km (1100 hrs to 1700 hrs) – Night halt
Day 03
Option 1 – Drive Sholapur to Bangalore for 8-9 hours
Option 2 – Drive Vijayapura to Bangalore for 7-8 hours
On Day 2, the convoy will drive together from Nagpur
Post lunch on Day 2, when we are closer to Sholapur, members can take a call to halt either at Sholapur or Vijayapura
Others who have the endurance to drive beyond can continue all the way to Bangalore
Everything was planned and it worked out precisely
We have been driving together since almost 8 years now and we all are fanatics when it comes to super early morning starts, as early as 3:00am and there are a lot of advantages in doing the same and till date, everyone has been extremely diligent about adhering to time
Every break was planned including refuel so all we had to do was to load the next location on maps and reach there, one after another
The route planning didn't rely on maps alone but more on common sense and experience of traveling, hence appropriate via points were shared instead of final destinations, that aided immensely in terms of taking the right entry or exits, efficient routing by traveling on faster sections, easily accessible fuel stations and hotels
Our stay at Nagpur was at the outskirts before entering the main city that ensured we took less than 15 minutes to hit the entry point for Samruddhi Expressway on day 2
Based on rough estimate, we all decided to load our Fastag wallets with at least 5000 INR (total toll being 4000+)
Since we were not driving with families, Dhabas were our preferred choice for food for quicker service and piping hot food, and Nagpur Hyderabad has aplenty of these "authentic" Punjabi and Rajasthani Dhabas
3 Cars from Bangalore and 1 from Puttur
We were all set and here was the convoy, rather a small group and the members who eventually made it:
Bhpian Prasanna_indaje & BHPian bdn317 in his Fortuner
Bhpian _chikku in his Kia Sonet
Myself along with my dad in my Ertiga
Midhun in his Jeep Compass
Among the 4 cars that had Bangalore as origin, the Fortuner was to start from Puttur, at least 5 hours west of Bangalore. Hence, this car started a day early on 19th (Thursday) and stopped for the night at Kurnool while the rest of the 3 cars would drive early on 20th January morning and merge with the Fortuner at Kurnool. From Kurnool onward, we would all drive together throughout the entire trip, except that during return too the Fortuner would fork out at Chitradurga for Puttur again while the rest of us will reach Bangalore via Tumkur.
Day 0 – Puttur to Kurnool
prasanna_indaje and bdn317 started from Kurnool on 19th January with a target of stopping for the night either at Kurnool or Hyderabad. With a 6:30am start, they made it to Kurnool by evening taking the Charmadi Belur Chitradurga Ananthapur road to Kurnool.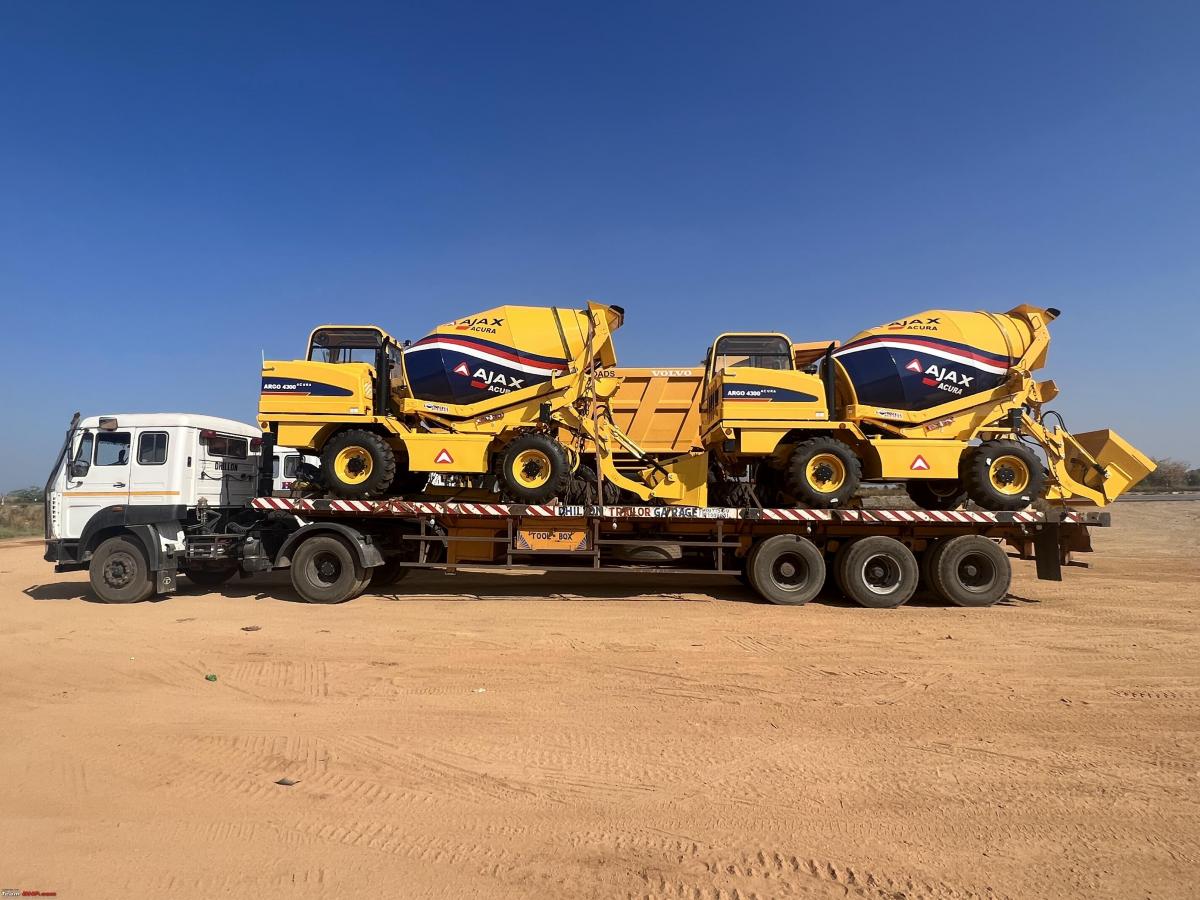 The route taken, driving time and breaks taken
Day 1 – Bangalore (KIAL toll) – Ananthapur – Kurnool – Hyderabad – Adilabad – Nizambad – Nagpur (Butibori) ~1100 km
Planned start from KIAL toll – 0300 (planned) | 0310 (actual)
Planned end at Nagpur Hotel – 1730 (planned) | 1715 (actual)
Total journey time – 14h & 5 minutes
Breaks taken
Merging with the duo in the Fortuner at Kurnool, meeting and greeting – 05 minutes
Breakfast at Food Pyramid – 45 minutes
Refuelling at Medchal, outskirts after Hyderabad exit – 15 minutes
Lunch at Rajasthani Dhaba – 45 minutes
Tea break at Daroda toll plaza – 15 minutes
Total break time – 2 hours and 5 minutes
Total driving time – 12 hours
Day 2
Nagpur (Butibori) – Samdruddhi Mahamarg – Aurangabad – Sholapur – Vijayapura – Hospet – Chitradurga – Tumkur – Bangalore ~ 1450 km
Planned start from Mayur – 0500 (planned) | 0515 (actual)
Planned end (Bangalore) – 0030 (planned) | 0030 (actual)
Total journey time – 19h & 30 minutes
Breaks taken
Dhule bypass exit at Aurangabad – 10 minutes
Breakfast at Aurangabad – 1 hour and 20 minutes
Refuelling at Aurangabad outskirts – 10 minutes
Evening tea at Vijayapura toll booth – 30 minutes
Dinner before Chitradurga – 60 minutes
Total break time – 3 hours and 10 minutes
Total driving time – 16 hours & 20 minutes
Continue reading about paragsachania's drive for BHPian comments, insights and more information.
Source: Read Full Article