Did a 4300 km road trip across 6 states in 5 days on my Suzuki SF250
After all my previous trips, I felt prepared to take on a behemoth road trip. I wanted to meet some of my college friends whom I haven't met after college. They live in Hyderabad.
BHPian phoenix.rider recently shared this with other enthusiasts.
4300 Kms, 6 States, 6 Days and 1 manic machine story:
Gurgaon → Jaipur → Kota → Bhopal → Nagpur → Hyderabad → Mumbai → Bengaluru.
I am a motorcyclist and I like taking long touring trips. I bought my first bike almost 1 year back and after that, I started taking small touring trips. I started with the easiest one from Delhi to Rishikesh (one-way 250Km). Once I completed my first trip I know that this makes me happy and I like being on the road, exploring new places. I went to Rishikesh in March 2021 and just after that India was struck by the second wave of Covid-19. All of our lives became stagnant, and we all had to cancel our travel plans. After sailing through the second wave, I wanted to go on more road trips.
Rishikesh Trip: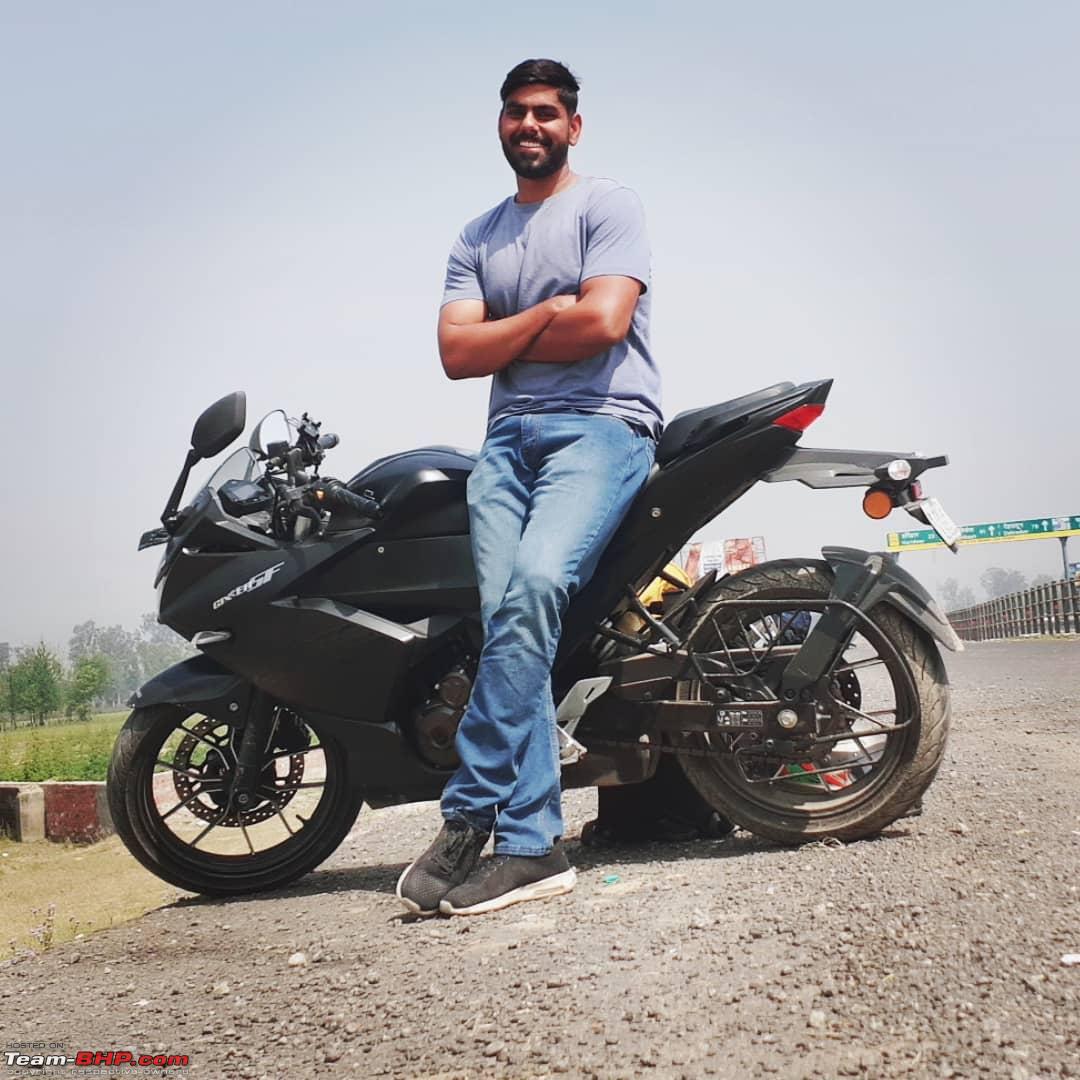 I wanted to push myself more and go on long road trips. In Sept 2021, I went on a Delhi Chandigarh Kasol trip. We were 3 friends and we had 2 bikes. One was RE Thunderbird (we rented it from stone head bikes in Delhi) and the other was my 2019 Gixxer SF250. This trip was about one-way 600-700 km and I had a lot of fun riding through twisty. This trip gave me some perspective on how to manage time on a long trip because it took us 3 days to reach Kasol. After all, we started our trip very late in the day from Delhi.
Trip to Kasol: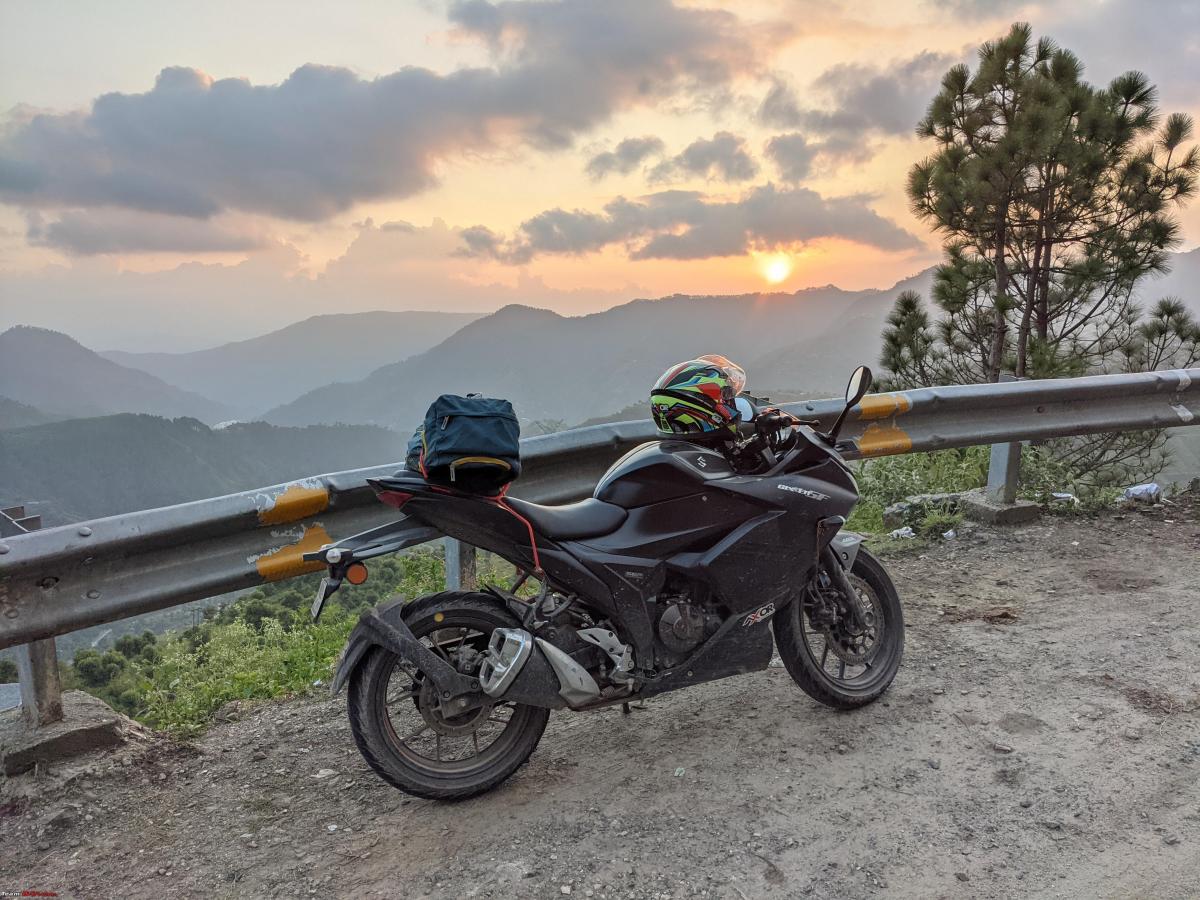 After this trip, I wanted to do more of a similar length trip through the mountains. I went to do the Dayara Bugyal trek on 25-Dec-21. It is in the UK (you know which one). Trek starts from Barsu (base camp for the trek). Barsu is around 550 km from Delhi. I could have reached there in one day but it took 2 days because I stopped in Rishikesh to meet some friends for a day. It was a 3-day trek with a stay in camp for 2 nights. It is an all-season trek but I did it in winters and it is magnificent.
Trip to Dayara Bugyal: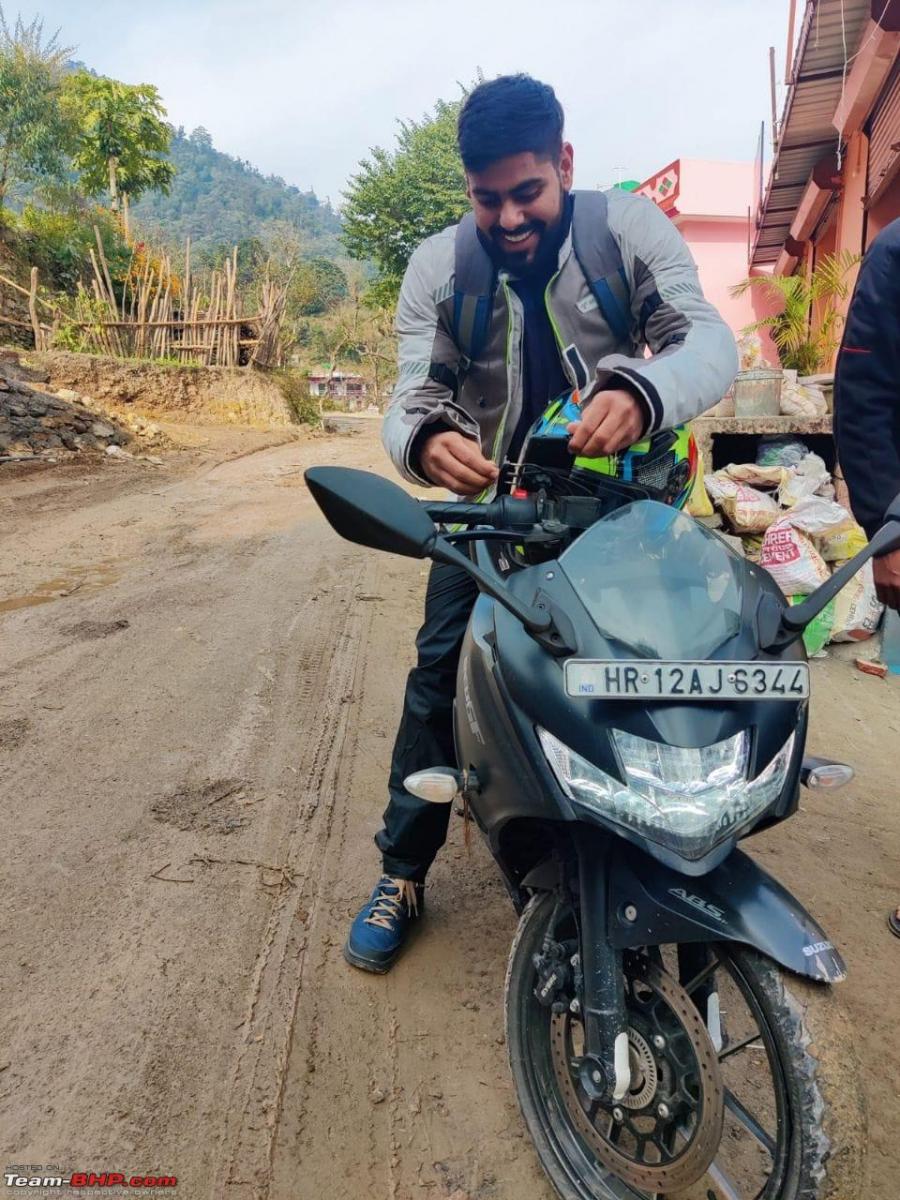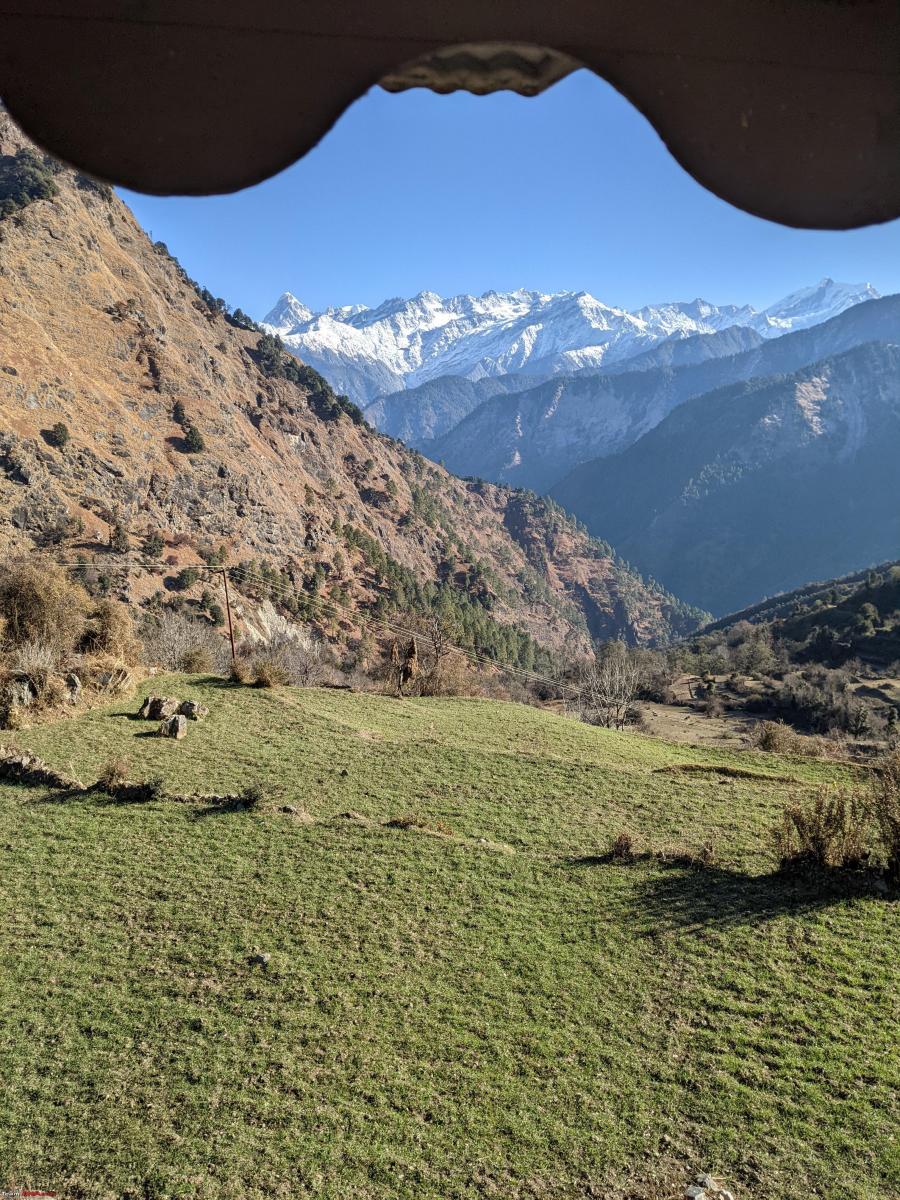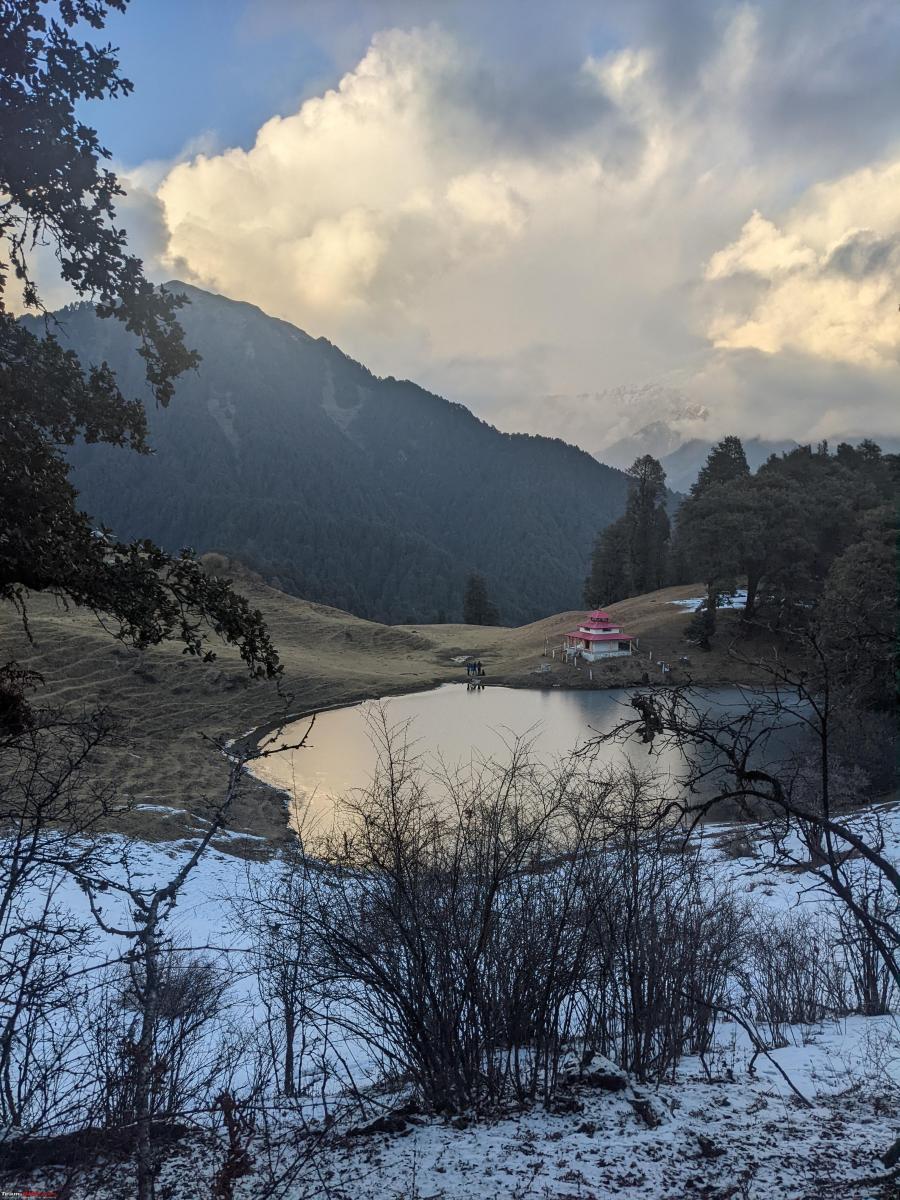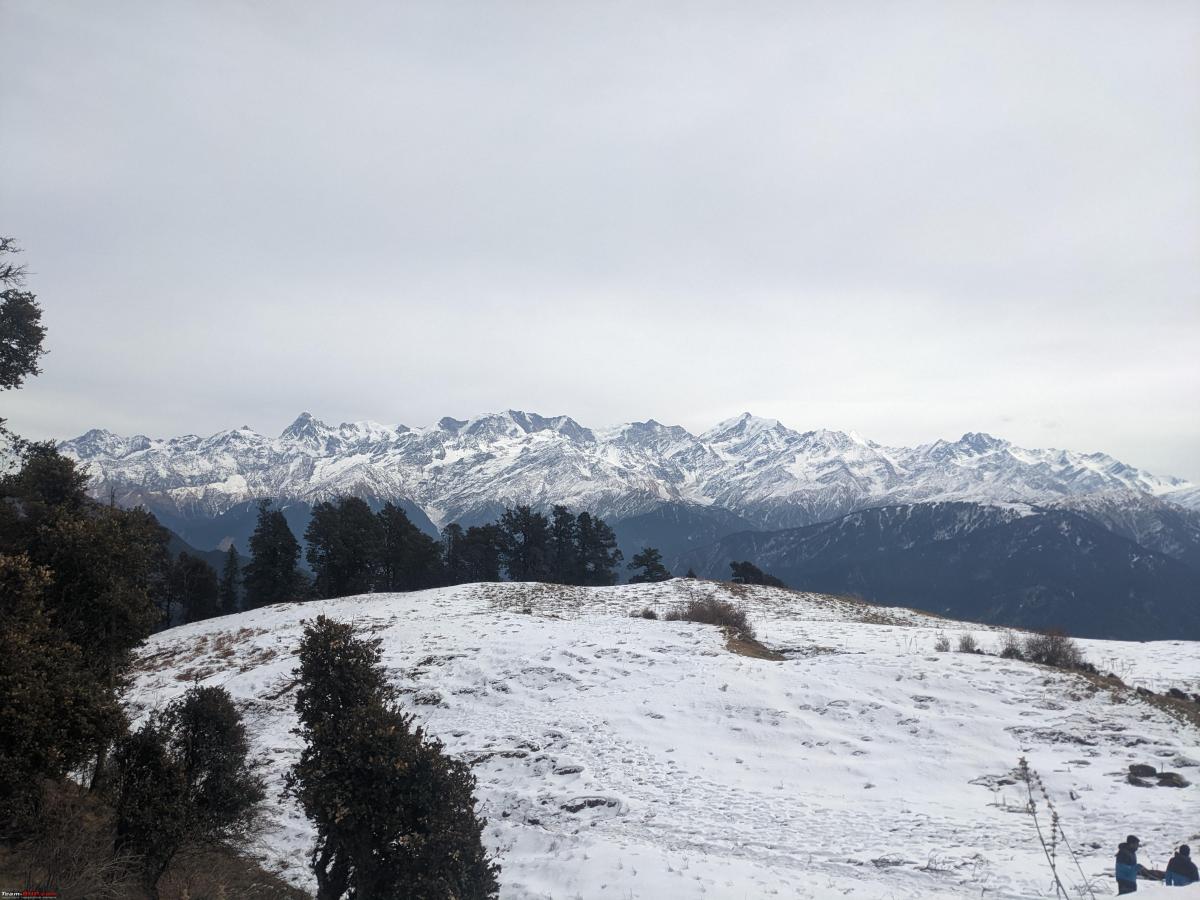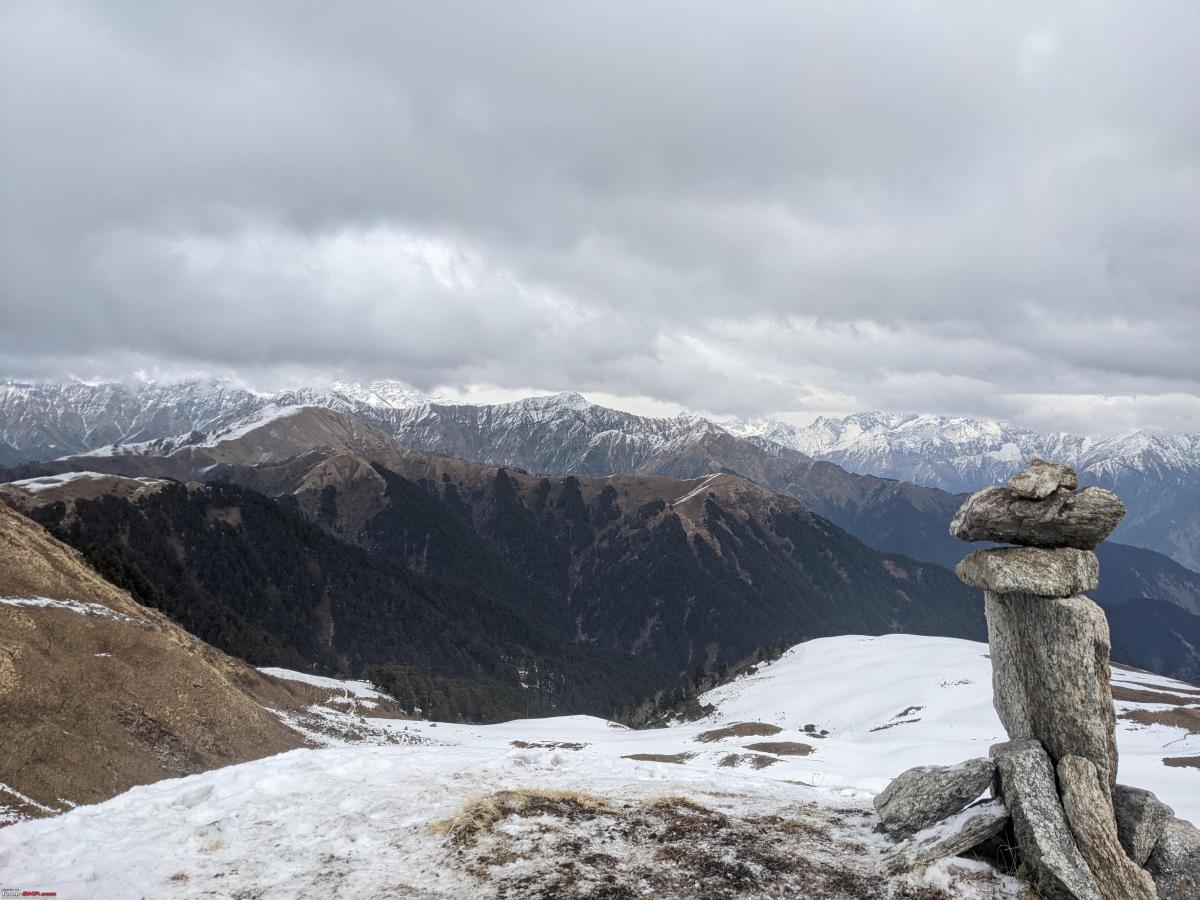 This was a small digress from the main topic. Let's get back to the story. After all these trips, I felt prepared to take on a behemoth road trip. I wanted to meet some of my college friends whom I haven't met after college. They live in Hyderabad. I told them about this plan and they all were shocked and were under the impression that I will chicken out. I said if I come you have to pay for my fuel (best way to get trip sponsors) and that's how I decided Gurgaon to Hyderabad will be the 1st phase of the trip.
Once I fixed my destination, I was unsure about the dates because summer was starting and it was getting hot during the day. So I decided to start the trip on Holi. It was a long weekend during the 2022 Holi and couldn't be a better time for me to do the trip because I get to experience Holi on the road and get to see the celebration in different parts of India.
One piece remaining was route. I didn't want to just reach Hyderabad but to explore places and meet people. The shortest route between Gurgaon Hyderabad is by Gurgoan –> Agra → Gwalior→Jhansi → Nagpur → Hyderabad. I have been to Agra and I couldn't find much in Jhansi.
I decided to go by the Rajasthan route. I have a few of my college friends living in Jaipur and I could also play Holi with them. So my first stop was Jaipur.
Day 1 (Gurgaon – Jaipur – Kota – Bhopal):
I started my trip early in the morning (around 4 pm). I reached Jaipur around 8 am. I have been to Jaipur many times but the Holi celebration was quite lively there. When I reached, people were already celebrating. People came out on the roads and were roaming on bikes looking so colorful. I met with my friends and played Holi with them and then left for my next destination.
Jaipur: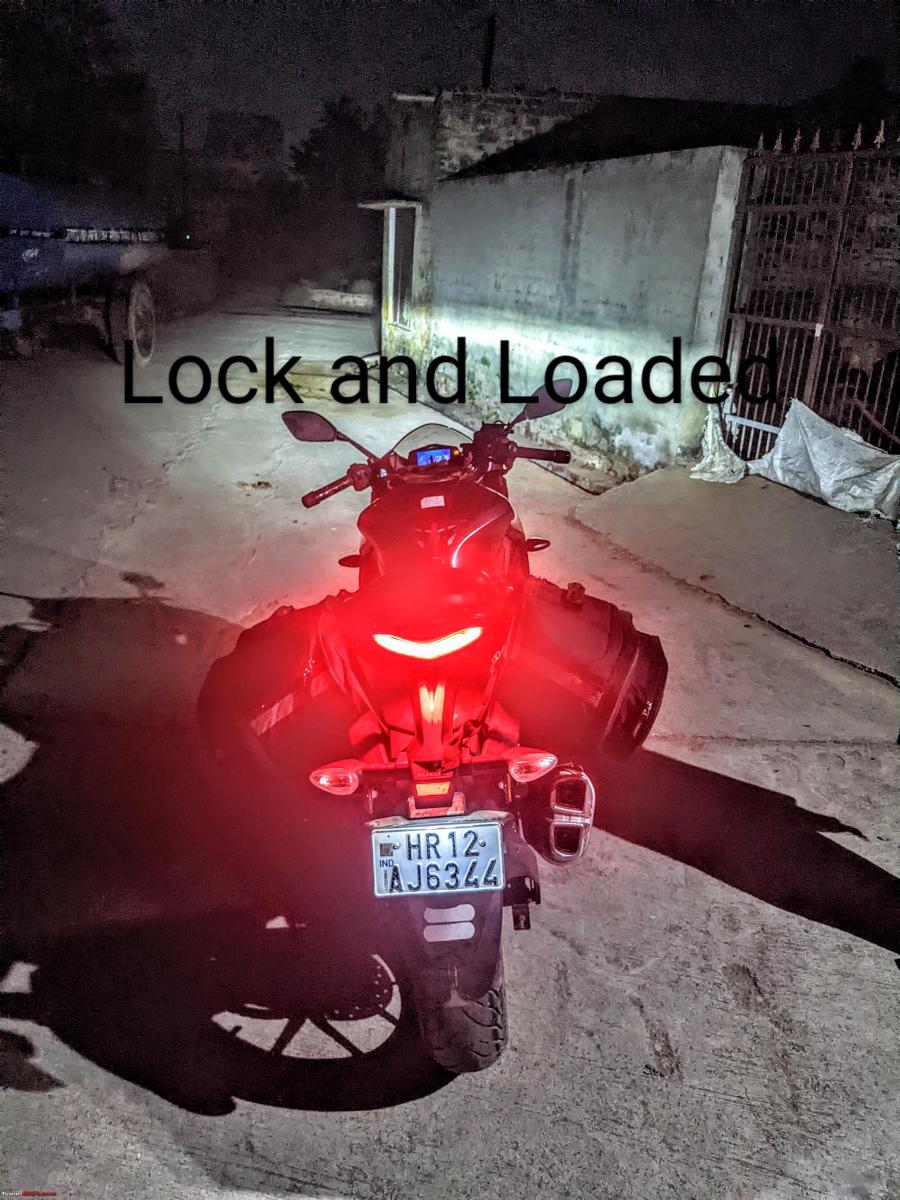 My Next destination was Kota. I wanted to go to Kota for 2 reasons. One was due to the Rajasthan tourism Ad and 2nd because I used to live in Kota when preparing for IIT Advance and I always wanted to go back to Kota to get the nostalgia.
There was this Ad where 2 foreigners were travelling by cycle and they reached a place near Kota and they were stunned by seeing the view. I was also stunned by just seeing the Ad and wanted to go there. That place is called Garadia Mahadev. It is a cliff from where you can see the Chambal river taking a U-turn. I reached there around 2 pm and it was really hot but the view was great. One piece of advice would be to visit this place during the monsoon because it is much greener at that time.
Garadia Mahadev: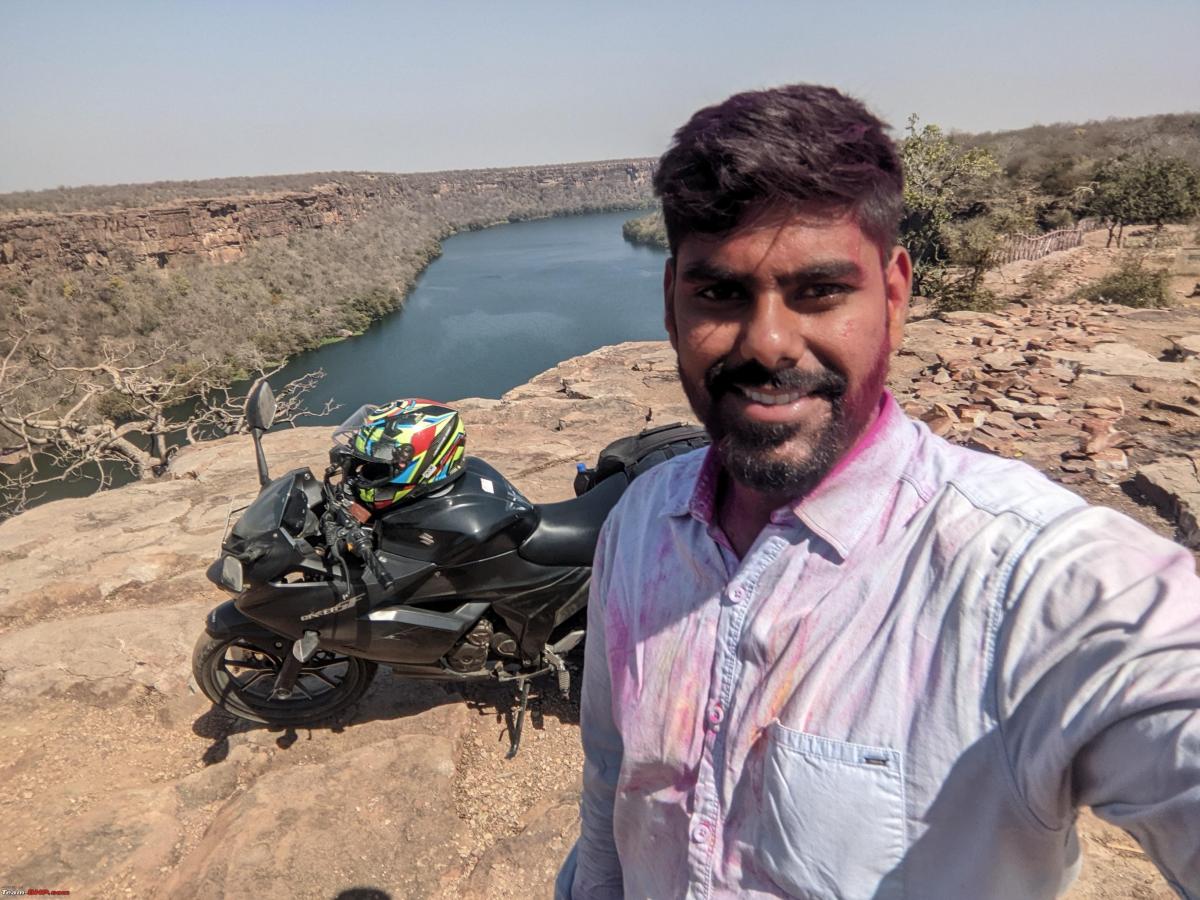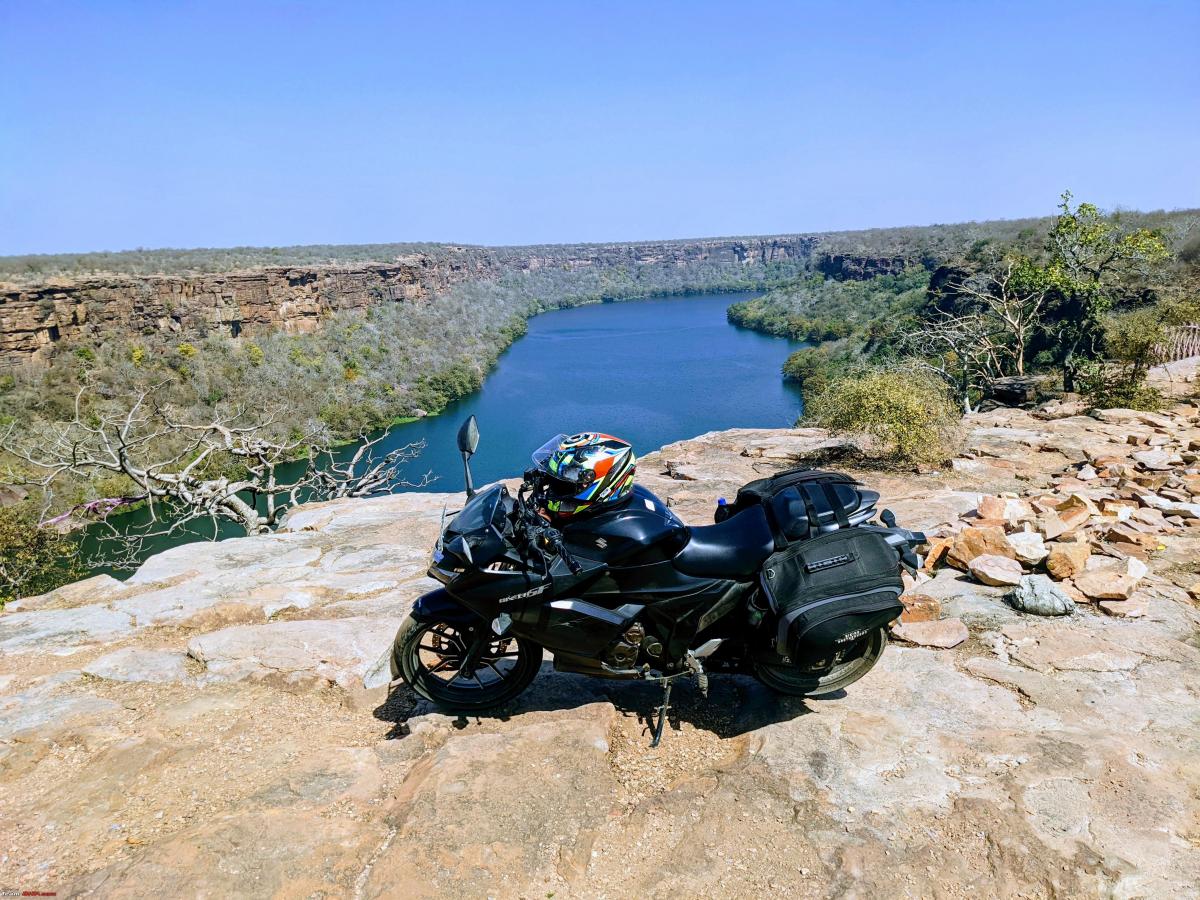 I used to live in Kota from 2013-2015, there were like a billion students at that time. You would have seen IIT Advance coaching banners on every street and corner. But now everything has changed after Covid. I could not find any banners on any big corner or street. There were no students on the roads. There was no celebration in the city. I reached the main coaching institutes area and saw most of the big coaching institutes are non-existent now. Vibrant coaching building was bought by Aakash, Bansal classes building is running on lease and "Bansal classes" name is replaced with "Reliable" which is a completely new institute out of Resonance Coaching. It's a completely changed city now. After visiting my hostel and institute, I moved toward my next destination.
Kota: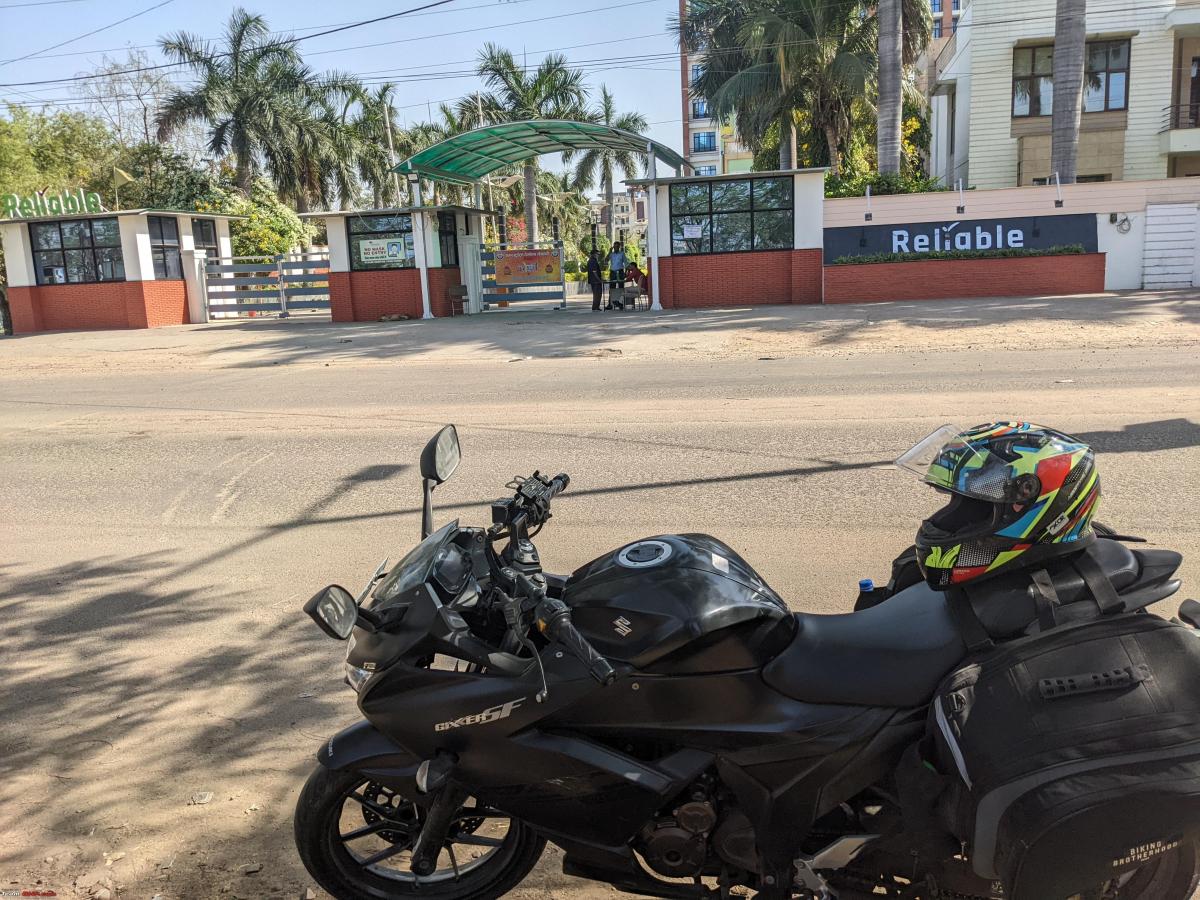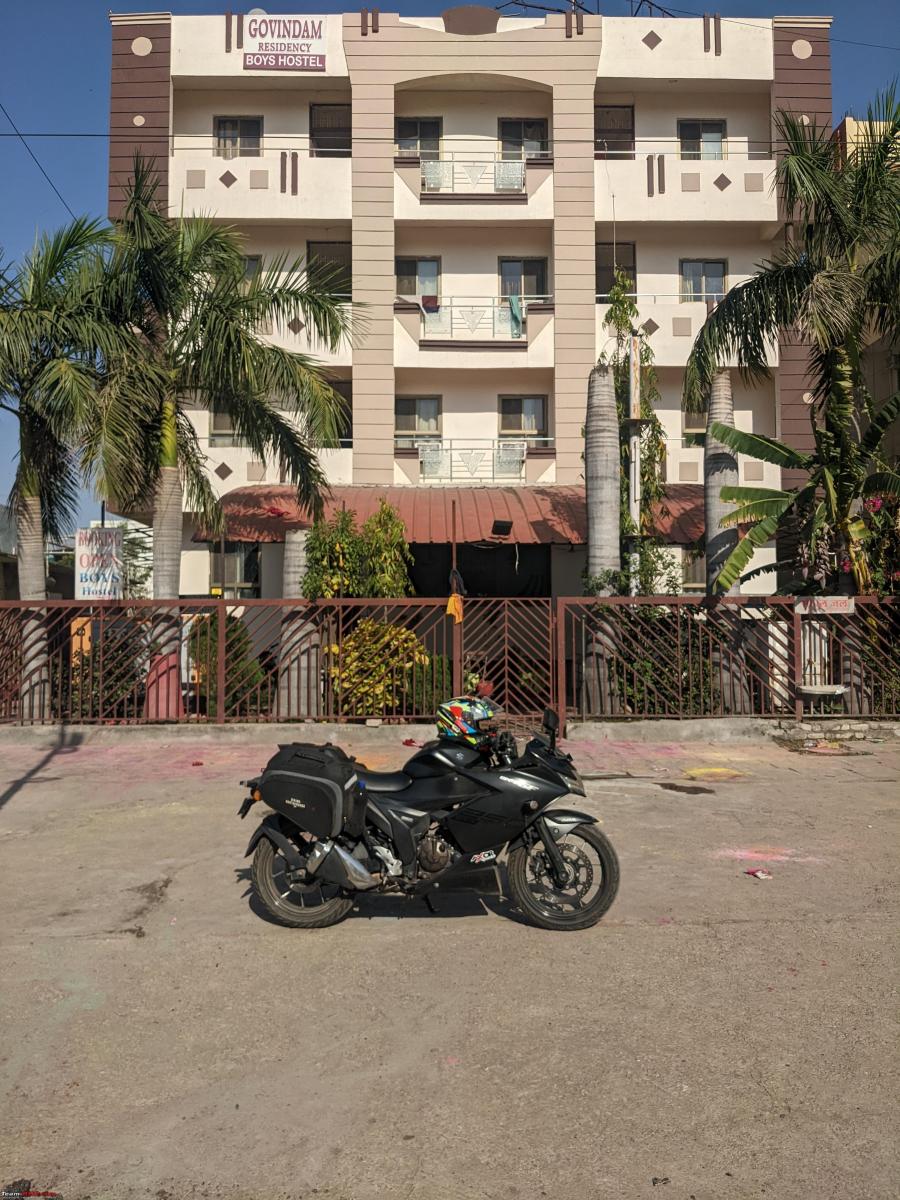 Somewhere in Rajasthan: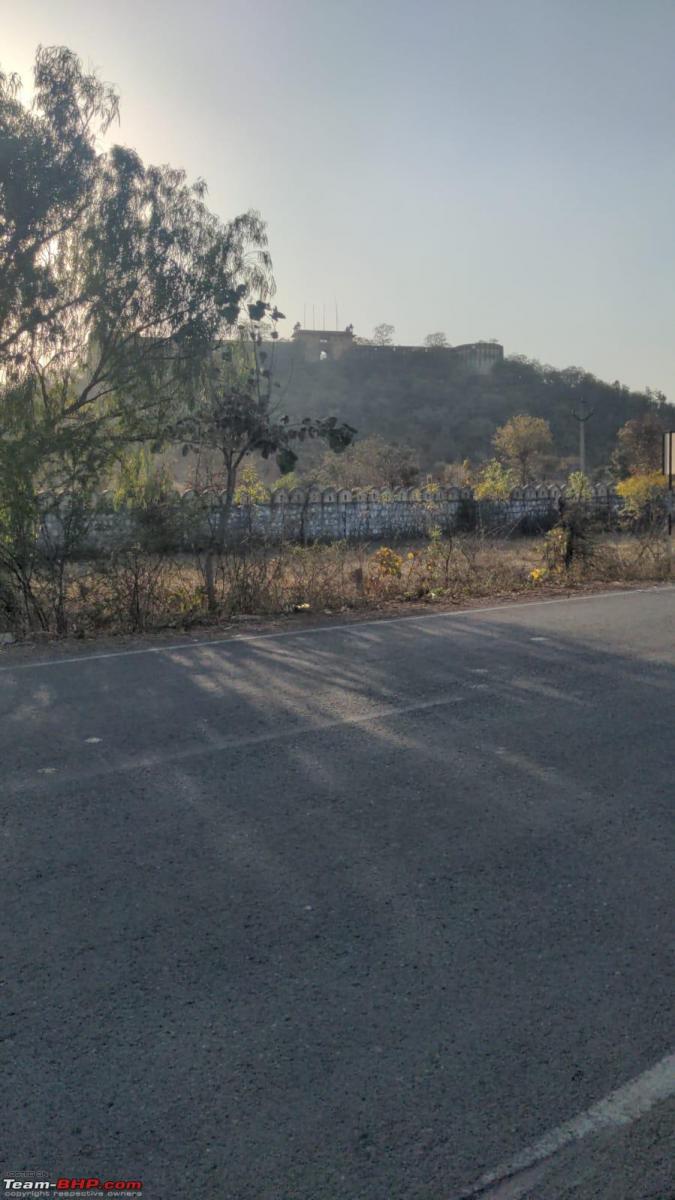 My next destination was Bhopal. Roads are really nice between Kota and Bhopal. On the route, you can find a lot of small forts. Rajasthan is really one of the best places to explore on a bike.
I reached Bhopal in the night around 10 pm and the city was still lively. People were still roaming on streets and you can find a lot of food stalls beside the road. I ended my first day after 1000 km, 18 hours of travel and I was still not tired.
Day 2 (Bhopal – Sanchi Stupa – Panchmarhi – Nagpur):
The next morning I woke up early to explore the City. The city is clean and has nice roads. Street art was also nice. I went to Upper lake and it is a very nice place to start your day. After this morning ride, I started my 2nd-day journey towards Nagpur. There were 2 places which I wanted to visit between Bhopal and Nagpur. Sanchi Stupa(UNESCO World Heritage Site) and Panchmarhi Hills in Satpura Tiger Reserve.
Bhopal: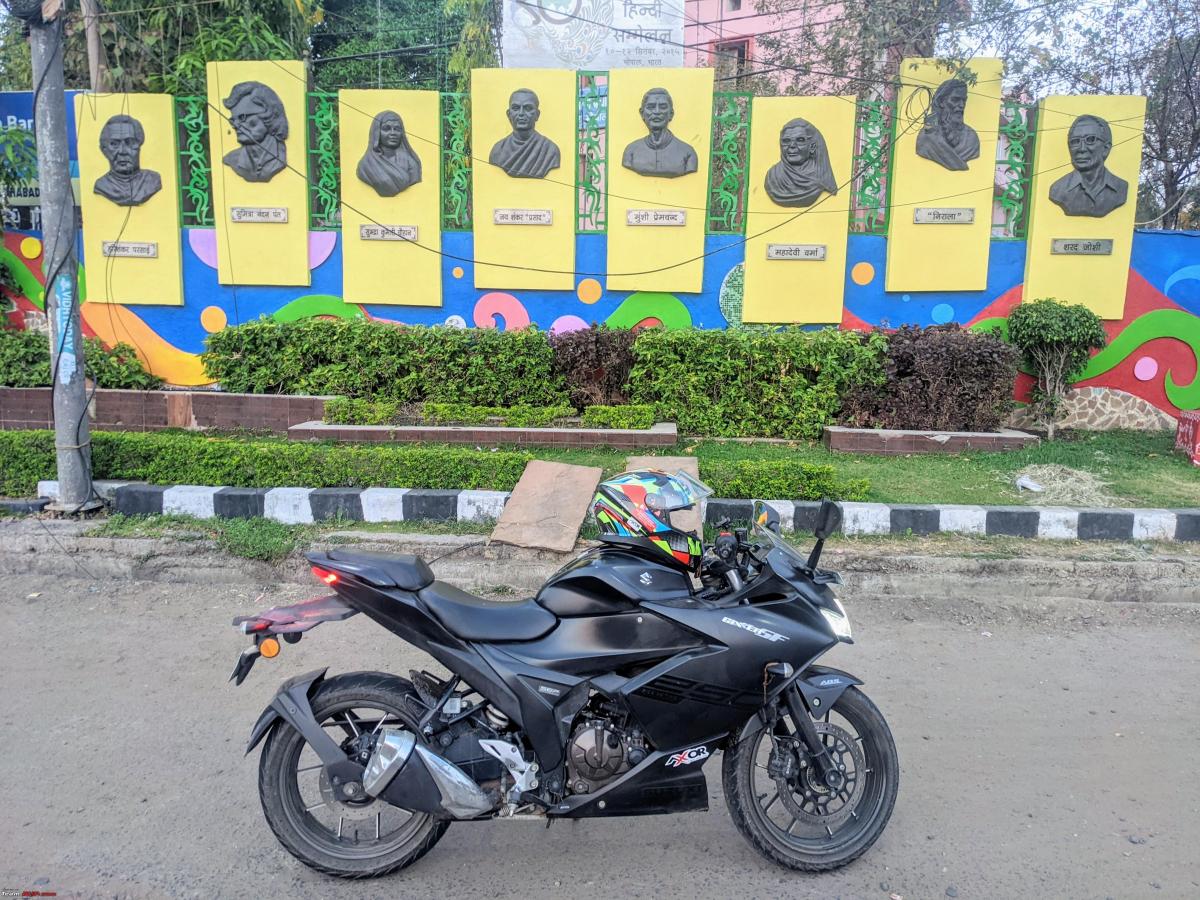 Sanchi Stupa is around 60-70 Kms from Bhopal. Try to Reach this place early in the morning because the crowd will be less and you won't feel the wrath of the sun. It is a peaceful place. One suggestion will be to please take a guide because without a guide you wouldn't understand the significance of this place. The main Stupa has 4 gates and each gate represents a significant story about Buddhism.
Sanchi Stupa: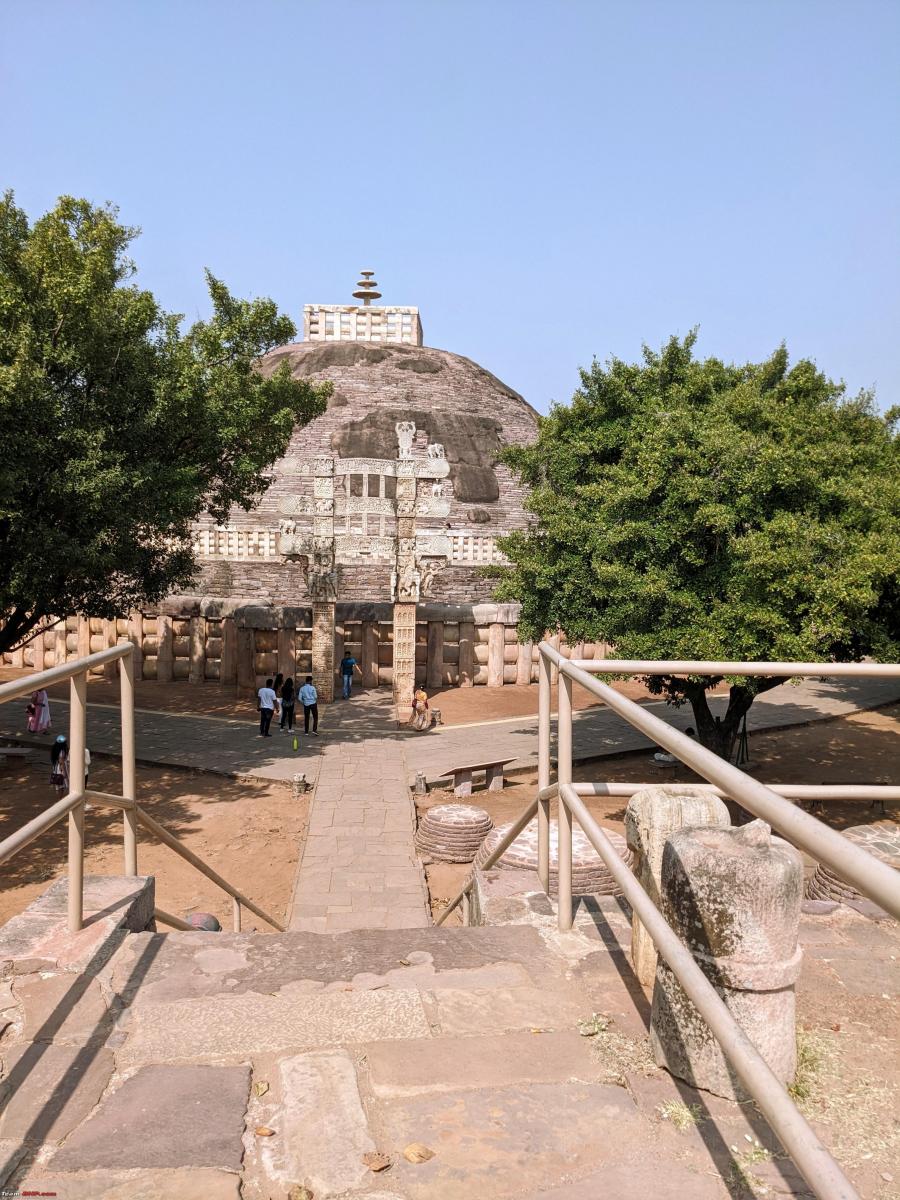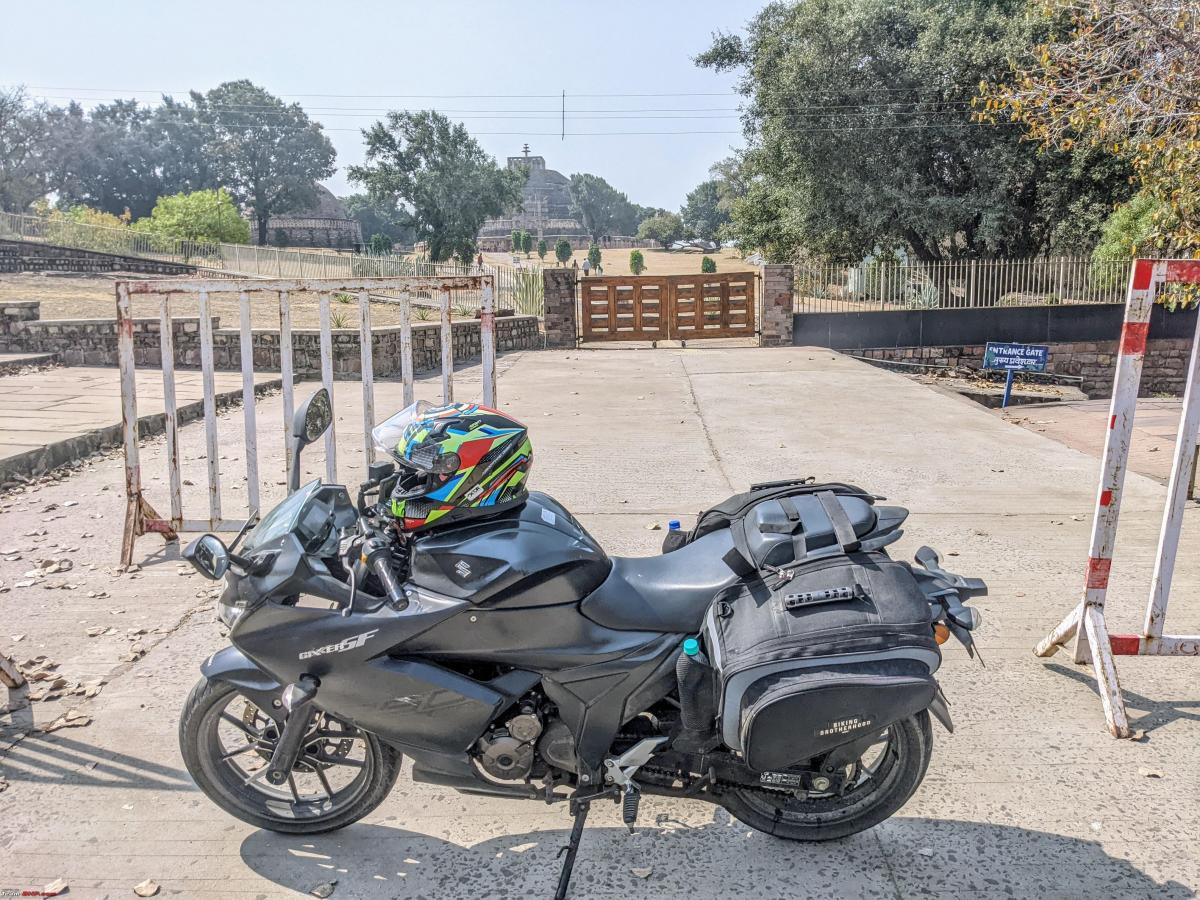 After visiting Sanchi Stupa I departed towards Panchmarhi around 10:30 am. Since MP is a tribal state, most of it is Behad. There weren't many good restaurants on the route between Sanchi Stupa and Panchmarhi. There is this one restaurant chain Midway Treat by MP tourism which serves really nice food and has good accommodation. I did my dinner on Day 1 and lunch on Day 2 in a restaurant from this chain. So if anyone is planning a road trip through MP, they can watch out for these restaurants. Once you approach Satpura Tiger Reserve, you will find roads becoming more and more twisty. Last 30-40 Km till Panchmarhi are proper twisties and I enjoyed them a lot. I reached Panchmarhi around 3pm. One can do a lot of things in Panchmarhi like jungle safari, ATV rides, trek to sunset/sunrise point or waterfalls. Since I reached later in the day, I didn't have time to do a lot of things, so I just visited the bee waterfall. One has to trek around 2-3 km and then take a lot of stairs to reach the waterfall. You can see monoliths during the trek. After visiting the waterfall, I started my journey toward Nagpur. I stopped in between because the Sunset was really nice in these hills. Roads were nice when I started my journey toward Nagpur but the last 100km stretch was really bad and due to this I reached Nagpur around 10 pm late the night. I was feeling tired at the end of the 2nd day. I end my 2nd day after 700 km and 12 hours of riding.
Panchimarhi: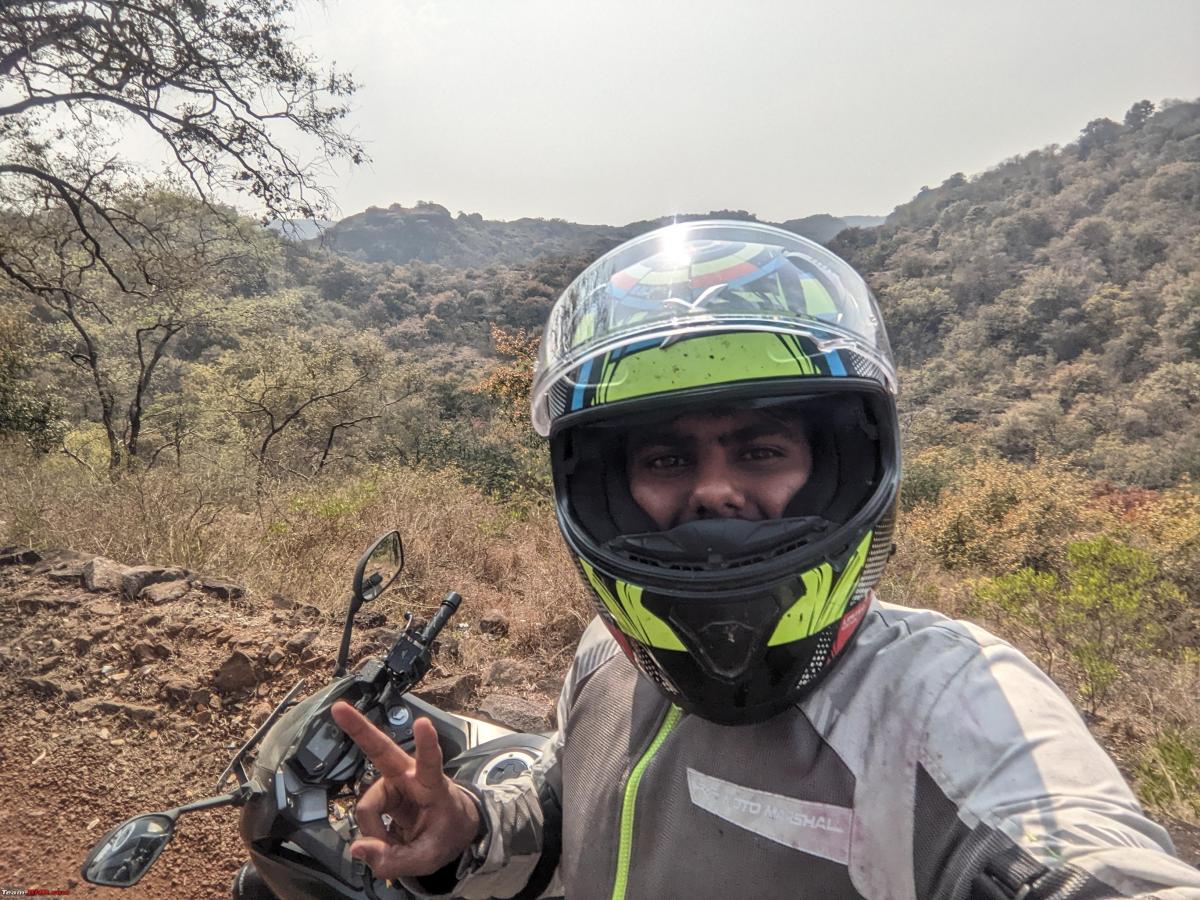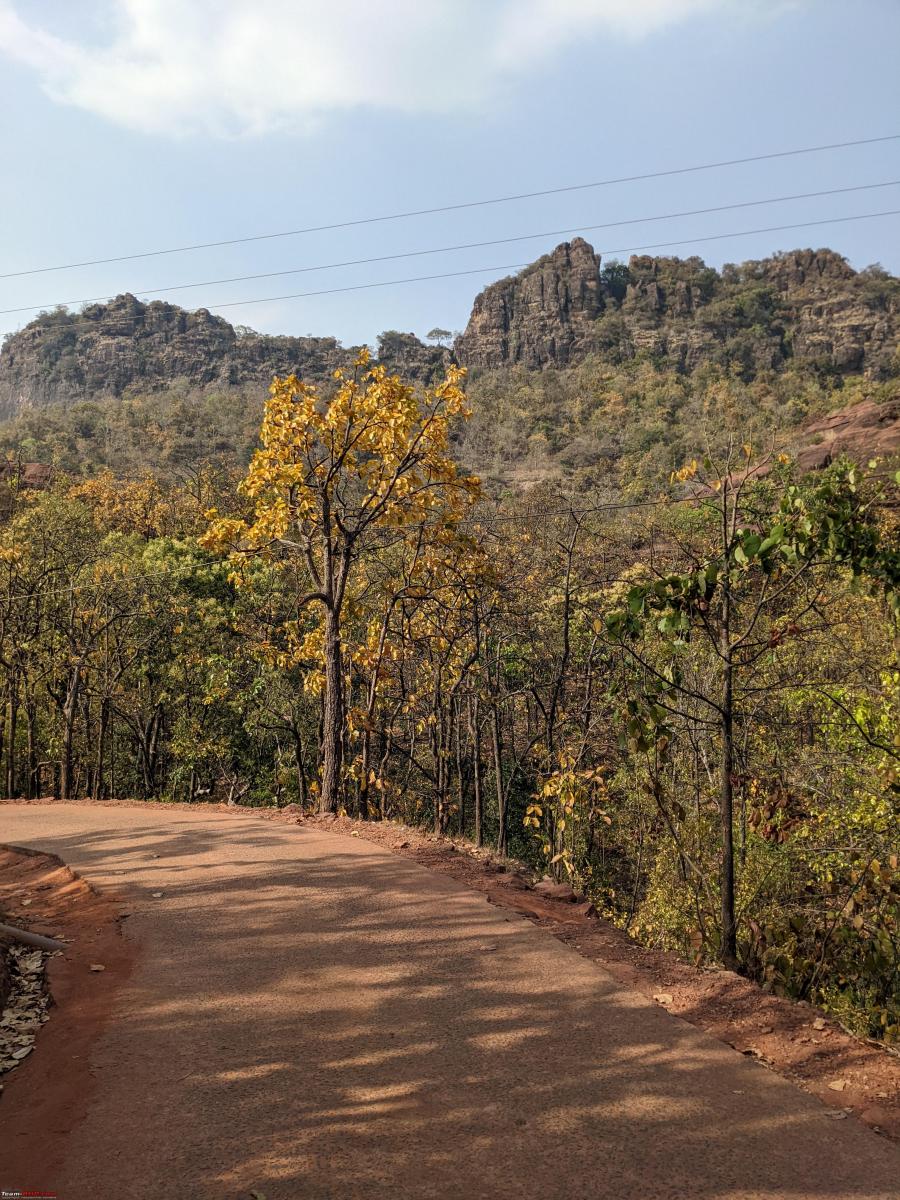 Day 3 (Nagpur – Hyderabad):
I didn't want to feel like I am in hurry to get from point A to point B. It takes the fun out of really being in the movement. So I started my 3rd day a little late because I wanted to give my body proper rest as well. I was looking for places around the Nagpur to explore but could not find much. Maybe others can help me with the places for the next visit. One interesting thing about Nagpur is that it is in the very centre of India. There is this zero mile point from where Britisher used to measure the distance of different parts of India. Since there was nothing much to see around in Nagpur, I had the time to meet one of my friends. I went to his place and meet his family. Finding home food on such a trip is nothing less than a treat. One very fascinating thing is poha served in Maharashtra and MP are quite different. Poha in MP is a little bit on the Sweeter side and in Maharashtra is a little bit on the spicy side. After having breakfast, around 9 am I started my journey toward Hyderabad. I did not plan to visit anything between Nagpur and Hyderabad because I did not know which places to visit. So I just started riding towards Hyderabad. Roads are really well laid between these 2 cities but roadside amenities are not developed. I was unable to find any good restaurant along the road so I had to stop at dhabas which served very basic food. Most of these dhabas are used by truck drivers only. I interacted with a few drivers and they all were very interested in my journey. It felt really good to talk to other people on the road when you are travelling alone. After having lunch, I got back to riding. It was really hot during the day. Temp was around 39-40C. When I was around 200-250 Km before Hyderabad, I started to notice a waterfall poster by the road. I immediately stopped and asked locals about these waterfalls and they said there are a lot of waterfalls on the route. After seeing the poster I was so excited to take a bath to get relief from the heat. The poster had such a nice photo of the waterfall, I was happy but when I reached the waterfall it was completely dried and a very tiny stream of water was flowing but I still ended up taking a bath. After this enjoyment, I started again towards Hyderabad. I reached Hyderabad around 5 pm. This was the last day of the first phase of the trip. I ended my day after 500km and 8 hours of riding. I stayed with my friends for next couple of days.
Somewhere between Nagpur and Hyderabad.
Happiness is finding a waterfall on a bike trip: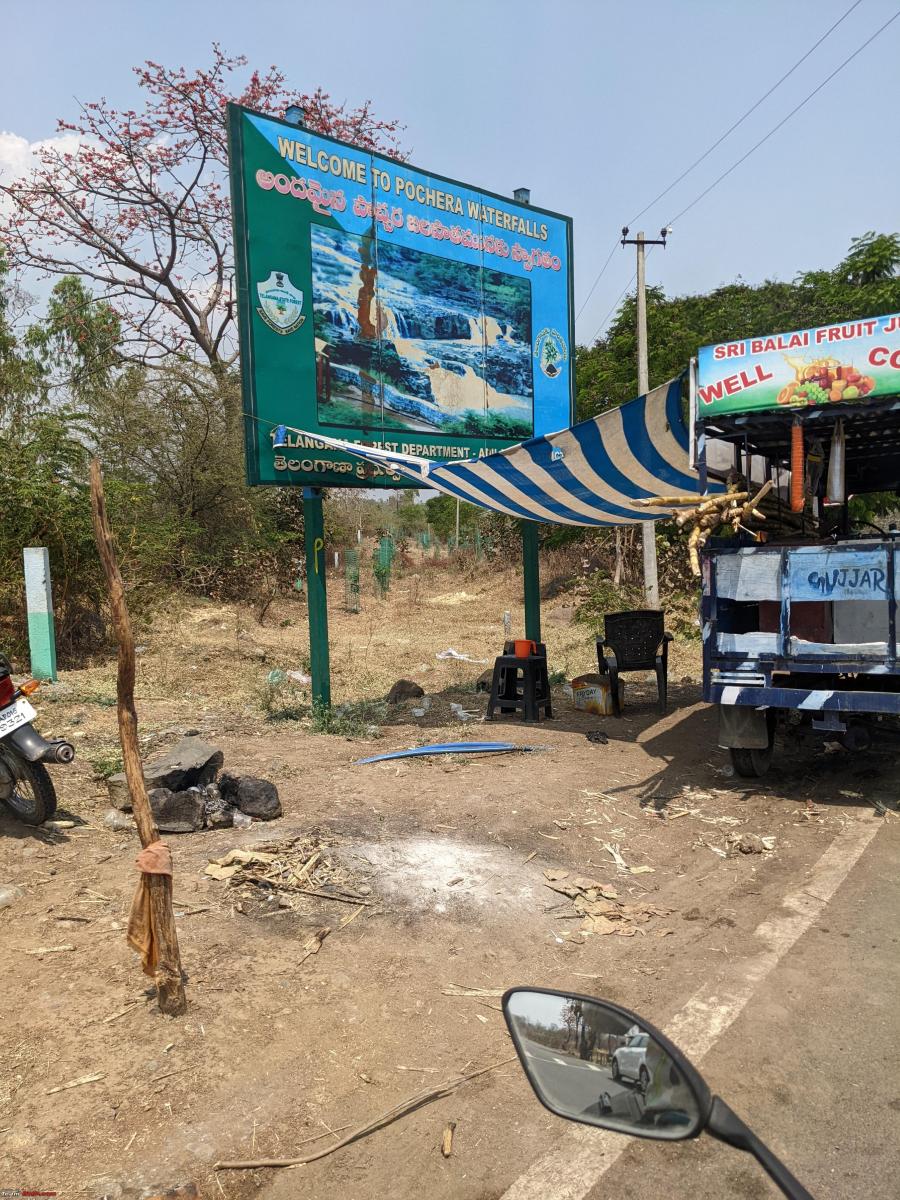 Disappointment is getting this: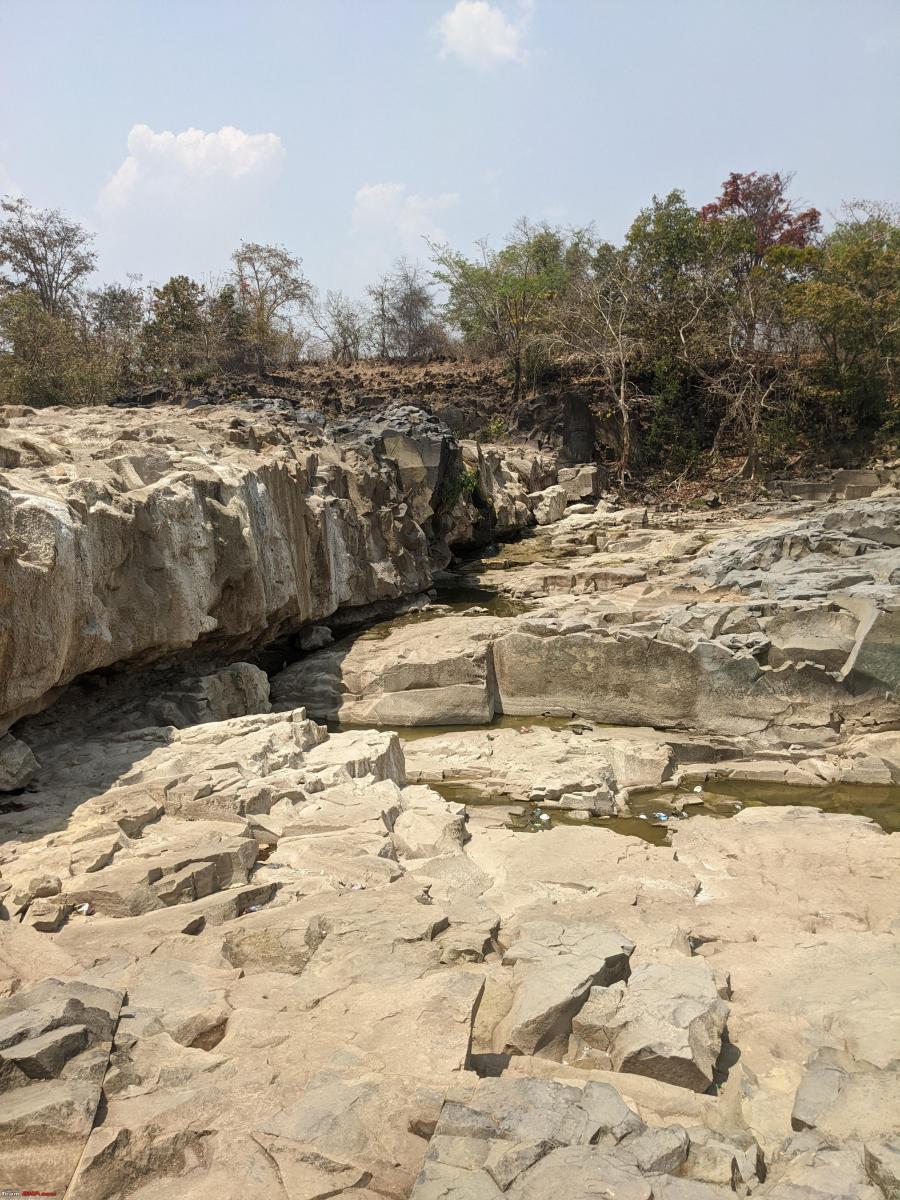 Enjoyment is still taking a bath in whatever is available: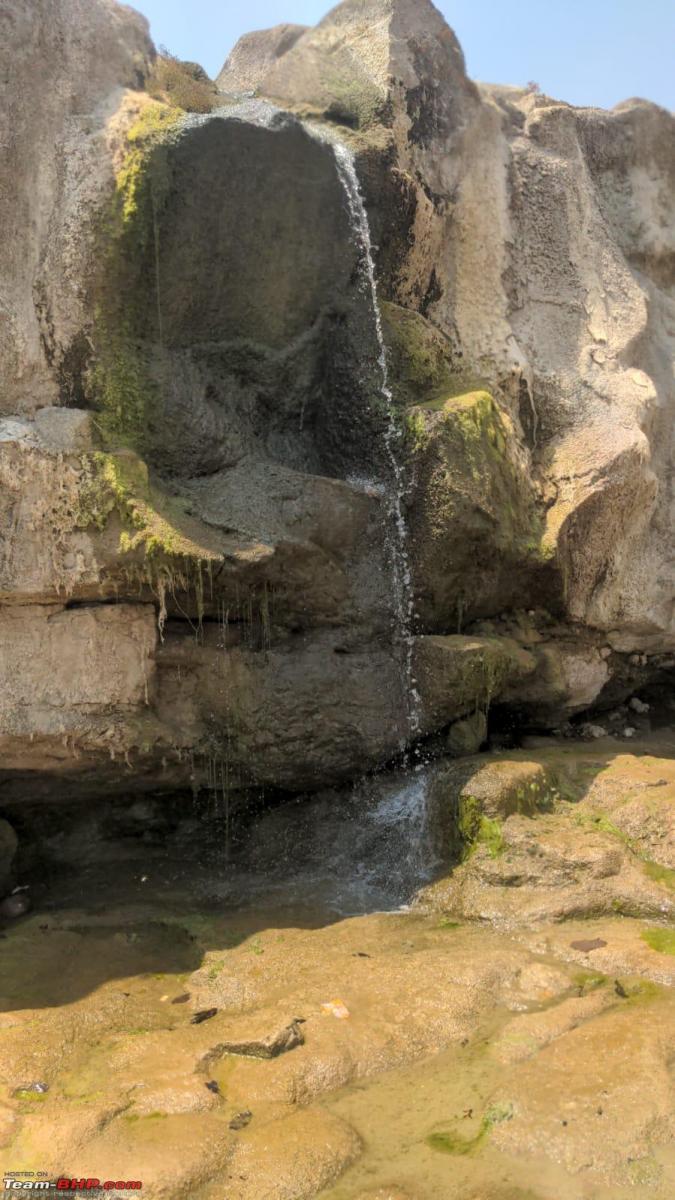 After phase 1 till Hyderabad (2100kms and 3 days):
Continue reading on BHPian phoenix.rider's 4300 km road trip for BHPian comments, insights and more information.
Source: Read Full Article