Bristol 405 Drophead Coupe Heads to Auction, and It's Even Left-Hand Drive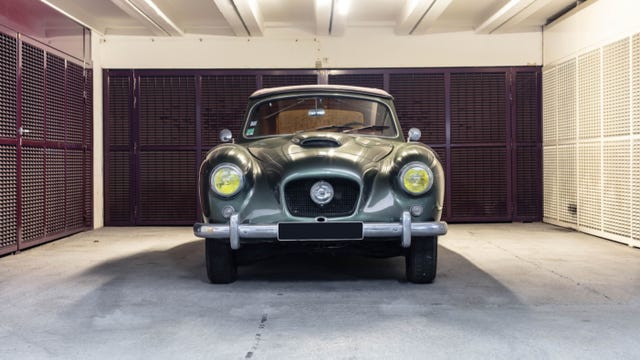 Even among collectors of rare British classics, Bristol occupies a different category. While you won't have trouble finding a Bentley, Jaguar, or a Rolls-Royce from really any decade after the 1950s, chances are you'll never spot a Bristol, even if you live in the U.K. where the majority of them still reside or follow the classic car auction circuit closely. Bristols tend to trade hands quietly among owners and collectors. Their scarcity also make other rare British cars like Lagondas feel almost mass-produced.
But in a few days, Artcurial Auctions will offer a Bristol 405 drophead coupe from the 1950s, making this extraordinary appearance from an enigmatic marque.
Perhaps a quick introduction to Bristol is in order. The boutique sports car maker grew out of Bristol Aeroplane Company after the war, first producing pre-war BMW designs but quickly switching to its own after a few years. In its early years, the company focused on large, tailor-made grand touring coupes that were luxurious and powerful but not flashy or easily spotted in traffic, in contrast to Bentley designs of the time. Bristol later gained an affinity for Chrysler engines fitted to its own chassis and bodies, quickly going through a series of designs in the 1960s and 1970s that slowly traded the fluid bodywork for a boxier look.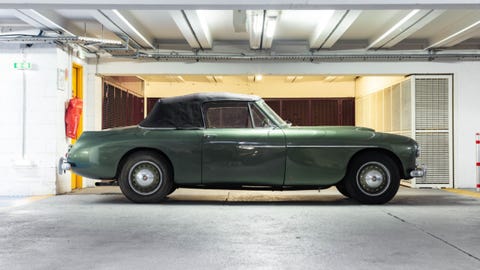 Production of each model numbered in the mere hundreds, and prices were on par with Bentley and Rolls-Royce cars, which enjoyed a much wider, international audience and a greater production volume. Bristol, meanwhile, remained a well-kept British secret, and very few cars really even made it across the channel to western Europe—or any other place, for that matter. The company maintained its tiny output and tailor-made approach to customer service pretty much until the large Blenheim coupe finally exited production in the mid 2000s, as Bristol tried to gain a new (but still exclusive and wealthy) audience with the sporty Fighter coupe.
The car that Artcurial will offer in a few days hails from Bristol's early years, with the 405 model using the mechanicals and engine from the BMW 328. The exterior looks nothing like a BMW 328, instead featuring a design reminiscent of the Bristol Beaufighter, a fighter aircraft the company had produced during WWII. This car was supplied new to France, sold on September 20, 1955, and was finished in a light grey metallic color at the time. The production run of the 405 drophead coupe was not vast; this is actually reported to be one of just three completed in left-hand drive out of a grand total of 43 examples of the 405 drophead coupe.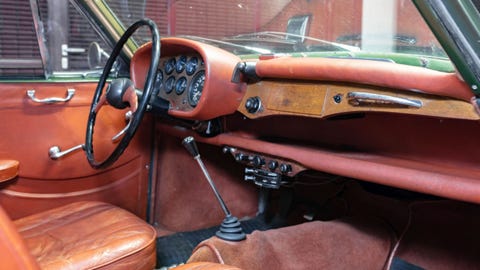 This 405 may have stayed in France its whole life, but little is known of this car's early ownership history. Artcurial notes that the 405 was in Levallois, France, in 2004, and after trading hands a couple of times, it ended up in the collection of the consignor. The auction house reports that by that time it was already on an old restoration and had some patina. The car is said to be in need of a comprehensive overhaul as it had not been driven much in the past several years. And it looks like the convertible top could also use some attention.
"Externally, the car has a homogeneous patina and some details could be refurbished such as the chrome bumpers," the auction house advises. "The red leather interior with matching carpets is plush and in very good condition. The original instrumentation is complete."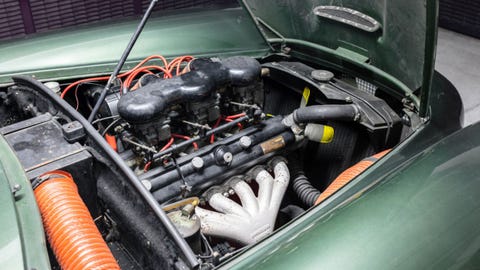 The auction house estimates this Bristol to bring between $123,000 and $184,000 on auction day.
The 405 is rare by any conceivable measure. It's also rare to see one come up for auction at all, whether in the U.K. or outside the country. We have to wonder if it'll stay in France or head elsewhere, as its left-hand drive layout makes it quite exportable.
Visit the auction website to view the full list of lots and detailed auction schedule.
Source: Read Full Article