Bangalore to Pune in a Yamaha Aerox 155: 1800 km ride review
My best mileage was 40 km/l and my worst was 31 km/l. I was consistently between 85 to 110 km/h.
BHPian AnAntinspired recently shared this with other enthusiasts.
Am I the first post this year here on this scooter? Surprising, given the capability of this new profile of two-wheeler to give memorable experiences when taken to streets. This then is a brief summary of a recent touring experience I undertook on my Aerox.
I just finished an impulsive 1800km round trip on the Aerox over 3 days, from Jan 5th to 7th, from Bangalore to Pune and back with errand pit stops en route in Belgaum and Kohlapur. I didn't have this bike until a month ago. Here's how it all unfolded.
Reason to buy?
Purely just GAS (Gear Acquisition Syndrome).
Reason to ride?
A lack of any actual long-distance riding experiences on Youtube, Google or here, with a few 100 km stretches being called long ride reviews made me reach for these keys amidst my more capable motorcycles. I'd heard and read quite a bit of criticism towards its touring capability. The scooter's cubic capacity is dismissed as boring for highways, fuel economy as a hindrance, ride quality as harsh, ground clearance as risky, wind buffeting as intrusive…and so on. When work presented an opportunity to head far, on a road I knew, I thought I'd learn about Aerox's proper long-distance ability first-hand.
Here is a quick summary of my experience with points made about each aspect of the scooter, as my measurable experience post this ride. I hope it's useful for those who own this machine or are considering it for being purposeful for highways.
Distance covered: About 1800 km
Dates, Destinations and timing
5th Jan
Bangalore to Belgaum. Left at 2 pm and reached at 10.40 pm with 2 tea breaks and 4 fuel refill stops.
6th Jan
Belgaum to Pune. Left at 8 am and reached at 1 pm with only 1 tea break and 4 fuel stops.
The same day Left Pune at 4 pm and rode back to Hubli, reached by 12pm with 3 tea breaks and 4 fuel stops.
7th Jan
Hubli to Bangalore. Left at 12, and reached by 6:30. 2 tea breaks and 4 fuel stops.
Average speeds: 85 to 95kmph. When the road allows it, for brief stretches 100 km/h can be easily breached and sustained. What's fun is one is always 10kms faster than what is expected by turn of throttle or time from when last glanced at the speedo. This is a quick scooter for sure!
My dimensions: 46 years in age. 5'10" in height. 84 kilos in weight.
Luggage carried: As I was only going for 2 nights/3 days, I had all my luggage in a Givi top box mounted on a Givi rear rack. About 10 kilos of luggage in all, given some emergency provisions and a DSLR.
Riding style: I don't stop to eat when riding, dry fruits in the pocket to pop thru the helmet and water in a hydra backpack via pipe keep me going and refreshed. I try to combine loo break, coffee/tea with refuelling, and look for pumps clustered to offer this combined facility.
Motorcycles of the past 3 years I ride on: To make you understand the spectrum of my experience and point of perspective, here is what iv ridden on this same route even, the past 3 years – Mojo, GS310, Highness, Intruder, Svartpilen, SF250.
Now to offer my assessment of the scooter across its capabilities:
Ride quality
The so-called Achilles heel. Yes, it's stiff, but I ride a drop handlebar road cycle with a zero flex seat stem and no suspension in the city so for me, this seat is cushy and the ride, while firm enough for the great feedback, doesn't become uncomfortable. I can understand for those with ortho chair jobs or long hours seated careers or conditioned to commuting car rears, ride complaints would be butt obvious, pun intended. During my ride, I discovered that going fast over road patches and undulations actually reduced the impact to the rear and the stiff suspension was a boon as there was no flex, bounce or wallowing that transferred to the spine/lower back on undulating, wavy patches.
Handling
Top points here, and I think opinion on this would be undivided by anyone who rides this. Ghat bends or long sweepers on the highway, this goes where you point it, with no deviation from holding its line.
Stability
My biggest worry prior to the ride was this. Would the bulgy fibre body make it flap around at high speeds? Would it be lightweight causing it to waver and shift lanes? Will the low overall silhouette of the vehicle be imbalanced by my upper body weight and loaded top box?
I'm happy to report, that this bike was as stable as the best of my earlier rides on this highway. There was zero turbulence from heavy vehicles rushing past or the famed crosswinds that operate the Chitradurga windmills. I didn't have a moment of concern even during quick lane changes over 100.
Windblast – surprisingly next to nil. January sun on this highway can be surprisingly harsh, and I enjoyed the wind keeping me cool through my mesh jacket, not once being buffeted into discomfort by the wind. It's also to be noted that this scooter keeps the wind completely away from feet, legs and lower body thanks to its faired construction.
Ride feel/Performance
It's tough to be objective about this one when all that springs to mind in recalling feels effusive. I've been riding for 25 years on highways across India on assorted cc and styles of motorcycles but even if I take just the current motorcycles I've owned across the past 3 years, this comes out tops in ride feel. Instantly responsive to a twist of the hand, with just nothing else to do but enjoy the ride, is a level of convenience that shaves off valuable seconds of activity from the 'process of riding' and shifts it to the 'pleasure of riding'. The way I was able to find gaps, overtake, deaccelerate and accelerate, were all such fun, that it truly felt thrilling to do so little and yet get so much out of it. To repeat, I was always surprised at the speed I was at each time I glanced at the speedo, the stability and ease to get there belying the speed I was at. As a parting point to this category, I'd like to mention a thought that kept reoccurring – I never seemed to reach the limit of this scooter, where it gasped for performance. Each time I pulled back or stayed at a speed, it was for either road conditions, speed limit or varying concentration. Kudos to VVA for delivering such an eager performance and feel.
Uphill performance
Agreed no Himalayas, but over the mild western ghats I crossed en route, there was no change to performance described above.
Fuel Economy
Thank god this scooter has fairly accurate display metrics for this one! There were several heart-in-mouth moments where I would pass a pump for being inconveniently off the road, only to encounter tens of kilometres without a next one and my gauge indicator asking me why the hell wasn't I refuelling. My best mileage was 40 km/l and my worst was 31 km/l. I was consistently between 85 to 110, almost all the time when unfettered. Slowing down was for obvious purposes, so this is the mileage from the above pattern of riding. No complaints on the figures but surely the tank could have been bigger. However, it took away less than 5 minutes each time to identify a pump without any queue and swing into it, flip that conveniently located flap and ask for 500 ka fuel, a note I kept ready to quickly hand over in my upper jacket pocket. I actually found the coincidence of ATMs dispensing 500 notes, the price of fuel in India today and the 4 5 – 5 litre refuelling I did, to be a happy, convenient reason I could speed in and out of pumps in minimal time.
Ergonomics
The two most relaxed parts of me were my hands and legs, enhanced by having nothing much to do with the controls and being in positions that offered leeway for change and little to no stress. I could not see how the central spine of the Aerox was any difference in feel for feet compared to a scooter with no floorboard, as my knee position kept me from gripping the spine in any way or measure. I could vary my feet position forward or rear by about 6 inches, enough to keep me comfortable the entire way. The seat, however, angled me such that I could not move many fronts or back on it, which over a long duration caused ample pinprick sensation to the rear. However, a fuel stop would arise and I would only need to stand up once to be comfortable again. No lower back or spine effects from this ride whatsoever. I did not find my knees fouling with the front apron even while braking hard, something that most reviews I'd seen, keep harping on.
Rough road abilities
The stiff ride of the Aerox actually helped iron out mild rumble strips, cracks and blemishes on the Aerox, especially when going faster, by skipping over them instead of wallowing in and out. Your mileage may vary based on your weight and riding style. However, I found the Aerox very unsettled on a jungle track of 4 kms I needed to run an errand on, with the effect of pebbles and stones below the wheel making the ride nervous and unsettled. What was really worrisome was when coming downhill, at an angle of above 20 degrees descent, the rough track took the scooter out of its line very rapidly and the gearless nature meant it picked up speed on its own while doing so. Applying the brake to restrain it, only means the front ABS kicks back by releasing the brake when the wheel skids, so it ends up feeling like you have no comfort or control in mind or hand. In all, NOT a scooter for off-roading. However, the way I got past this was by saddling, a picture of which I'll include below. One can saddle, at least at my height, and I didn't find it challenging me unduly. Another positive of the Aerox's suspension emerged here – with just 145mm of ground clearance I was sure this would touch many obstacles such a ride would have, but amazingly not ONCE did it touch anywhere. Any speed breaker, at unseen speeds, and all rough roads, were crossed without even a hint of a touch. After a point, I even stopped thinking of the underbody when encountering road disturbances.
Controls and Electronics
My main gripe with this scooter emerges here, thanks to much of my riding being at night. Who the hell does away with the high-beam flasher? Instead, there is a stupid info metric menu switch in that place! Really Yamaha? I want to signal an opposite truck in the wrong lane to get back to his and end up seeing my real-time mileage instead. My only backup in such emergencies. An equally ineffective horn!! Apart from these two bah all else was parred for the course. The headlight too was not as insufficient as made out to be, and maybe if one is spoilt by aux lights then there's no going back. However, I found it as good or bad as my motorcycles and my riding style is used as a way of staying safe on night rides, so the Aerox headlight did enough to aid that.
Luggage ability
10/10. I have never had a two-wheeler that could pack away so much within and around it. Extra spacious under the seat, that fantastic Givi top box and a natural body to hold saddle bags mean the Aerox is really practical to pack in a lot. Apart from all that, one can keep a bag of substantial space between the feet, as the floor it rests is raised up by that spine, thus balancing that bag between the knees.
Desirability
By this I mean two things. How desirable is this scooter to me, measured by whether I turn back to look at it after parking each time, and how long I would keep it, given I rotate my vehicles each year? The first one I can answer immediately to myself – I didn't look at it too much anywhere I parked, nor was I inclined to take pictures of it in assorted dramatic highway landscapes. Even though my scooter is in arguably its loudest colours, orange wheels etc, I still found its modern silhouette aka Dio-styled looks, to be not as endearing to my retro favouring sensibilities. There was good curiosity out there though about the scooter, but my gauge is that this is a fairly under-the-radar looker which doesn't turn heads for style. Since that has no implication on reasons I keep or sell my bikes, the second aspect, of how long this will stay with me, is still open to experiences ahead.
With that, I come to the last aspect I can recall narrating from my ride.
What is this scooter good for?
This is purely a personal opinion and your mileage will vary from the sum of your lifestyle. For me, post this comprehensive ride experience, the Aerox appears to be great for – Solo airport runs where I park there for fly-out-n-back day work trips. Solo short rides within 300 to 400 kilometres. Solo trips for errands that require me to bring back or ferry goods, thanks to that cavernous luggage capability.
The Aerox will not be used for pillion duties. No one who has sat behind has expressed comfort both getting on or during the ride. It will definitely be a highway scooter but I will have to ensure the road condition involves no mud/gravel and has enough fuel pumps. For all these pros and cons I see the Aerox being a great intercity ride for within states or even interstate. For the hot summers, when every effort can drain a rider, the value of not having to focus on the clutch, gears, foot controls etc of motorbikes, will be immensely useful in relaxing the rider. For the monsoons, the Aerox will be ever prepared with all the raingear in its under-seat storage and keeping some splashes away with its body style and fairing. So hey, the Aerox is turning out to have a few aces for every reason and season. If this post is useful in helping you explore the scooter you have or convert thought to purchase, then do know that the purpose of writing it is to help with how it fares when outside its obvious scope of usage. Obviously, as a city commuter, it's a point-and-scoot tool like no other!
Attaching some pictures of no specific order or significance except to showcase that I undertook the ride.
Happy motoring and year ahead!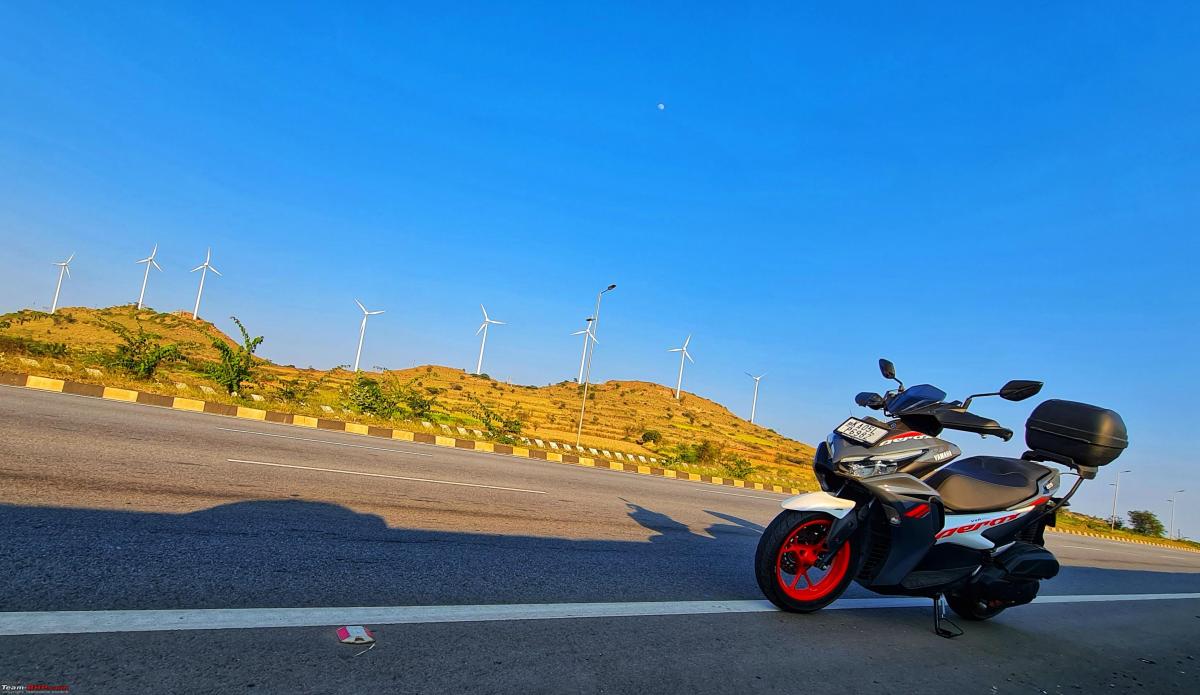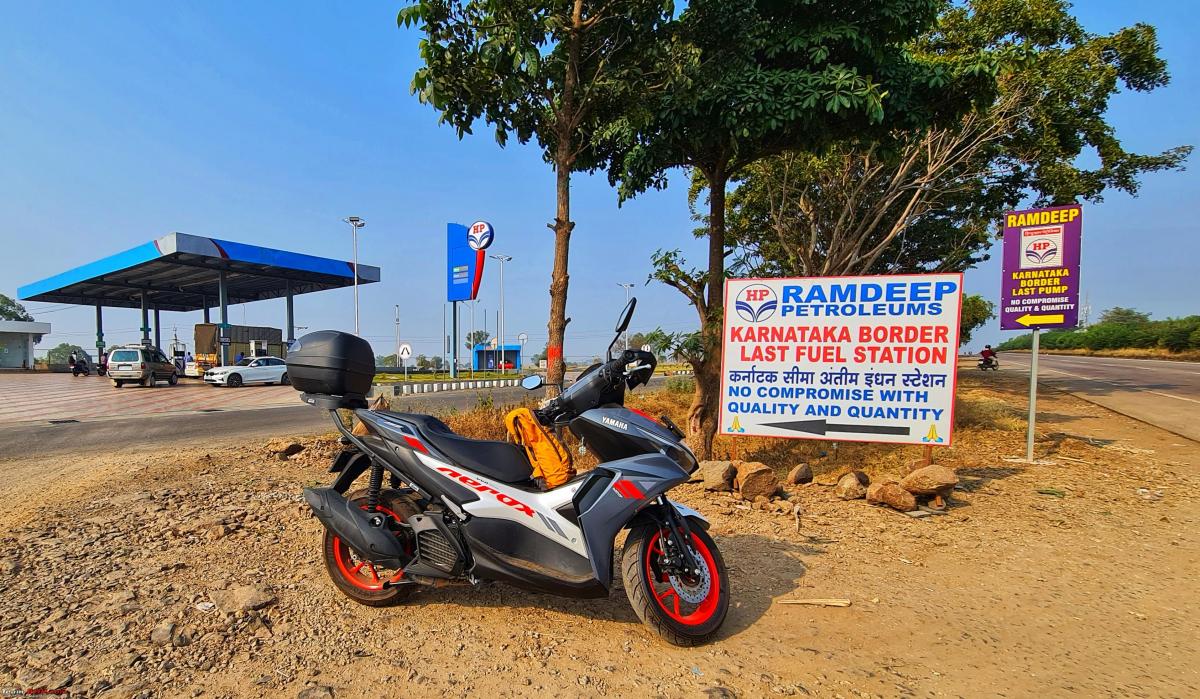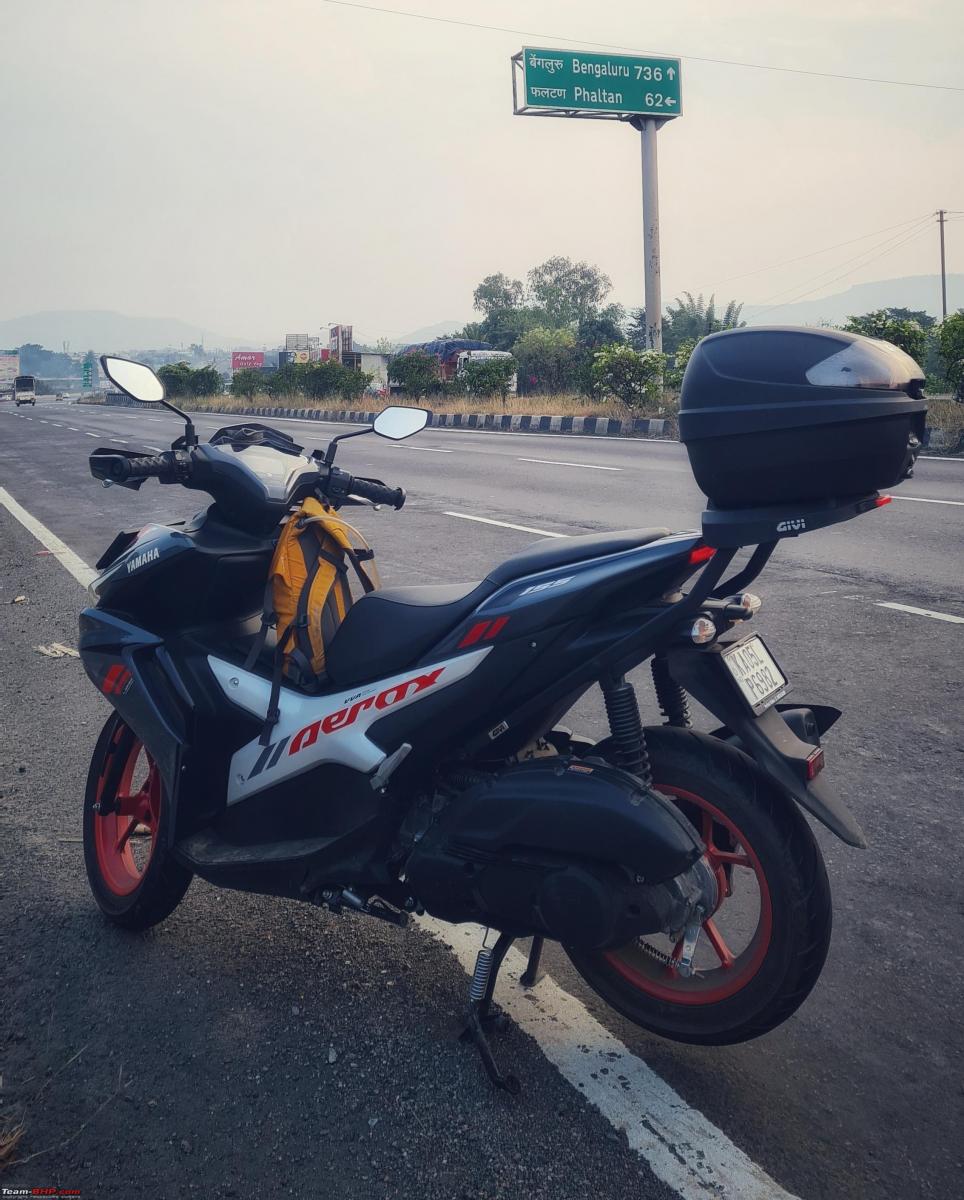 Check out BHPian comments for more insights and information.
Source: Read Full Article