2022 Annual Sales Report – Superbikes & imported motorcycles
Kawasaki Z900 is, once again, India's highest-selling premium motorcycle with 562 units dispatched in 2022.
BHPian CrAzY dRiVeR recently shared this with other enthusiasts.
The low-volume market for Superbikes and Imports in the country doesn't allow for a meaningful monthly analysis of their sales data. However, the same over a longer period of a full year makes for a healthy discussion – and with that goal in mind, below is the 2022 Annual report and analysis of the premium two-wheeler market in India.
3739 premium motorcycles were dispatched in the year 2022. The market, saw a minor 1.8% increase in dispatches compared to 2021, with all the brands enjoying higher dispatches, except for the segment leader – Kawasaki.
Note
All data has been compiled from the data presented by Auto Punditz.
These manufacturer-reported sales numbers are factory dispatches to dealerships. They are NOT retail sales figures to end customers.
Manufacturers like BMW Motorrad, Ducati, Benelli etc are not included because the data is not available.
2018 report can be seen here
2019 report can be seen here
2020 report can be seen here
2021 report can be seen here
Click any picture to open a larger higher-resolution version in a new window/tab.
India's favourite premium bikes by sales volume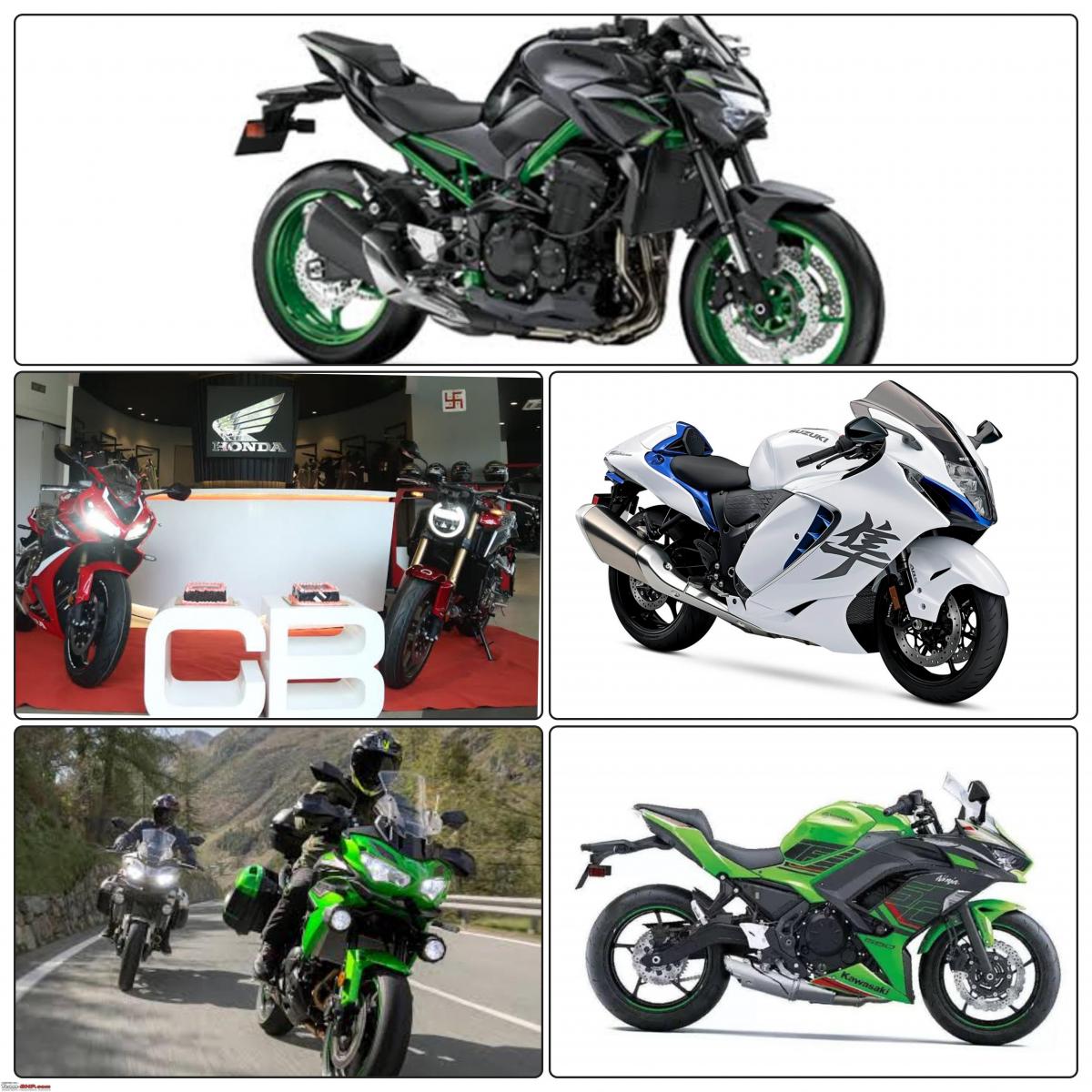 An all-Japanese lineup for the top 5!
Kawasaki Z900 is (once again!) India's highest-selling premium motorcycle with 562 units dispatched in 2022.
We have the 650R twins from Honda for second place – 260 units for both the Honda machines, with a split-up for the CB650R and CBR650R not provided.
Suzuki's all-time favourite hyperbike – the 3rd generation Hayabusa climbs even further up the ladder to 3rd place – dispatching 250 units.
Two Kawasaki 650 machines take up the 4th and 5th places. The Versys 650 has always been a popular machine, but the recent facelift seems to have given a big boost in sales – coming in for the first time in the top 5, dispatching 212 units.
Ninja 650 falls down the sales ladder, thanks to sibling rivalry and ends up in 5th place with an identical 212 units.
Manufacturer Market Share and Trends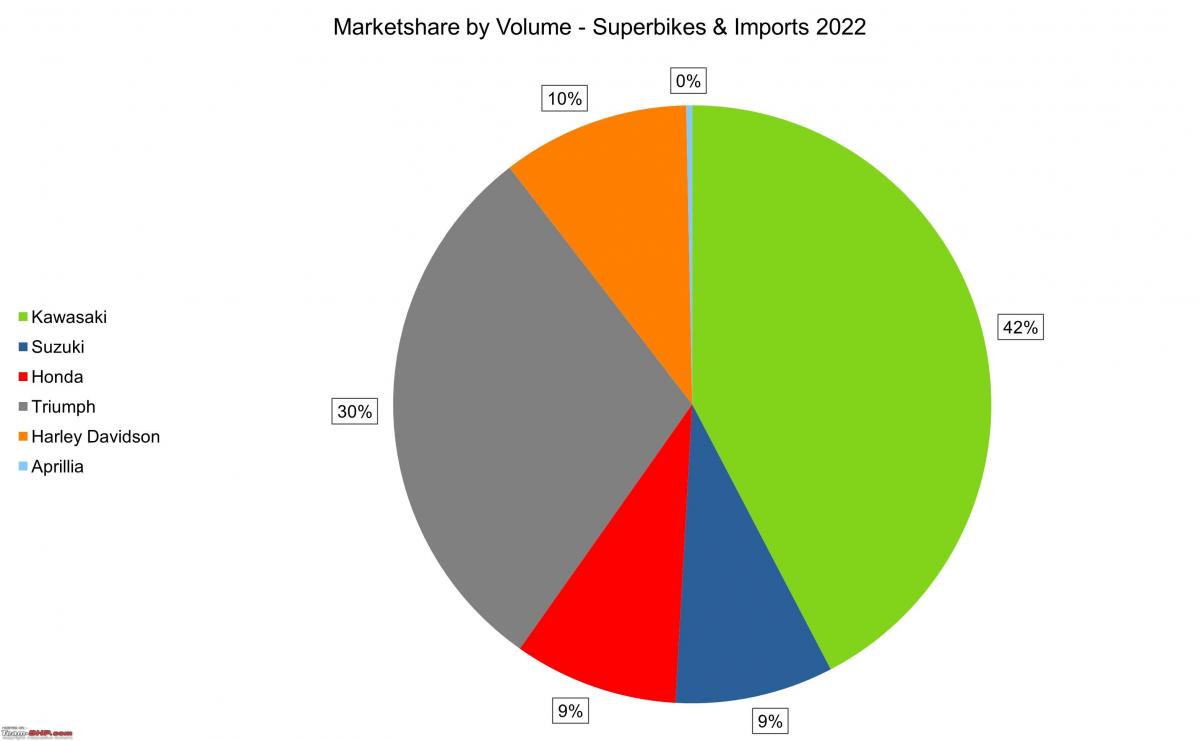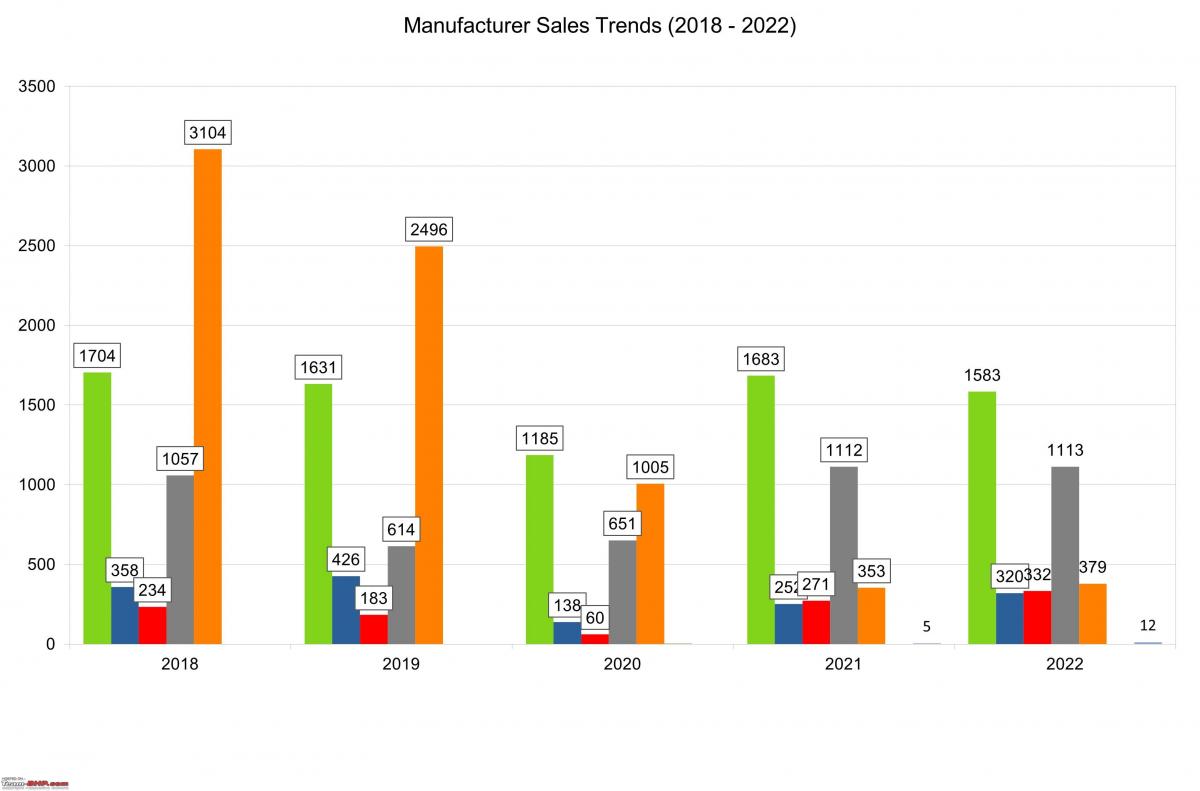 Kawasaki diverted numbers from the Ninja 650 to the Ninja 400 – their loss! Everyone else seems to have increased their number YOY, even Harley Davidson under Hero Motocorp distributorship.
Kawasaki is still the dominant player in 2022 with a 42% market share.
Triumph managed to beat last year's dispatches with just 1 more unit! Comes in at second with the maximum entries in the Top 20. Ends up with 30% of the market.
Honda had their best year yet – backed once again by strong sales of the 650R twins. Ends up with a 9% market share.
Suzuki can do no wrong with the Hayabusa, even if they botched up the VStrom 650 and Katana pricing. Ends the year with 9% market share.
Aprilia has a niche presence in the market – which is still heartening to see, as compared to Yamaha!
Premium Motorcycle Sales 2022 – Sorted by price
The below graph gives a clear picture of which products have really caught the fascination of the market, at various price points.
Note – The leftmost product is 6.4L ex-showroom, whereas the rightmost product is 40.04L ex-showroom.
Kawasaki Z900 is once again in first place with sheer numbers, selling 562 units of a 9.02L motorcycle.
Suzuki Hayabusa comes second, selling 250 units of a motorcycle that retails at 16.41 lakhs.
Kawasaki ZX10R remains the only VFM litre-class superbike option, even with the recently facelifted model priced at 16.15 lakhs – dispatching 195 units.
Triumph Tiger 900 range starts at 13.7 lakhs and with 181 units dispatched – comes in at 4th place.
Honda 650R twins come in at 5th place – retailing 260 units of a 9.34L motorcycle.
Other noteworthy entries include Kawasaki Ninja 1000, Kawasaki Versys 650, Triumph Trident 660, Triumph Tiger Sport 660, and Harley Davidson Pan America
Kawasaki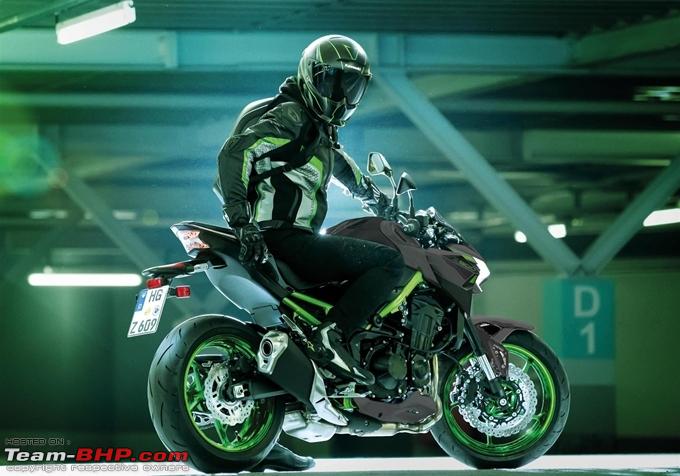 Kawasaki lost ~6% sales compared to 2021, all thanks to the loss of numbers from the Ninja 650 to the Ninja 400. But still remains the market leader with a market share of 42% in 2022.
The value-priced Z900 brings home the maximum numbers for Kawasaki – with 562 units.
ZX10R remains the VFM and popular litre-class superbike option – with dispatches of 195 units.
Ninja 650 and Versys 650 with 212 units each – bring healthy numbers for the Kawasaki 650 range.
The other 650s have paled in comparison – Vulcan S with 68 units, Z650 with 47 units and Z650RS with 62 units. In total – the 650 range brought in 601 units for Kawasaki.
Ninja 1000 sales are down compared to last year, possibly after the price increase on the face-lifted SX version – but still bring in 179 units.
Triumph
Triumph managed to hold on to their excellent performance of 2021 (where they achieved a 70% YOY!) – with a 30% market share. One unit dispatched more than in 2021!
Tiger 900 brought in the maximum money with 181 units dispatched, whereas the Trident 660 brought in the maximum numbers for Triumph with 208 units dispatched.
Tiger Sport 660 did not get a full-year run but looks all set to be their best seller – with 171 units dispatched over 10 months. In fact, counting only those 10 months on sale – it has in fact managed to outsell the Trident.
The new Tiger 1200 has been well received as well – dispatching 70 units in around 9 months.
Harley-Davidson
Hero Motocorp (the India distributor for Harley Davidson) managed to increase dispatches by 7.36% YOY. Quite a feat, considering all the negative sentiment after Harley's exit. Many don't even know they are still around!
Not the leader it once was, but Harley still manages to close the year in 3rd place, with 10% market share.
Even more surprises in store – there is a new Harley favourite in town, and it is not even a cruiser! Pan America (ADV) sees maximum dispatches for Harley with 73 units.
Fatbob and Fatboy remain the market favourite cruisers – with 71 and 69 units dispatched, respectively.
Continue reading CrAzY dRiVeR's sales report for BHPian comments, insights and more information.
Source: Read Full Article