2021 Toyota Fortuner Facelift Review
I drove down in my 2018 4X4 MT beast so as to get a better immediate idea of the key differences.
Angad sahani recently shared this with other BHPians.
Finally got a chance to test drive the new Fortuner last Tuesday at Lakozy Toyota, Malad branch in Mumbai. Test drove both the 4X4 AT and MT. I drove down in my 2018 4X4 MT beast so as to get a better immediate idea of the key differences. I am no expert but I'll summarize what the new beast felt like.
1. Much much more refined compared to the pre-facelift, the AT mainly. For some reason, the manual felt more or less like a pre-facelift, at least in terms of start-up sound and a cold engine drive. The AT was almost in the same league as the 3.2L Endeavour from my view point after a short drive of it in 2019, in terms of refinement and vibration.
2. Ok, this might sound controversial, but the manual has definitely lost a lot of low end punch that the pre-facelift had. My car starts pulling from around 1,400 rpm, but this car seems to slowly pull ahead at around 1,800 rpm. The main reason I chose a manual over the auto 2 years back, was that the low-end pull that the manual had, was in truck loads. It made it effortless to drive on highways and during overtaking manoeuvres.
The manual seems to deliver torque in a very linear manner and doesn't seem to push you back like the old one did. Mind you, I drove the car in Sport mode and it felt like the normal mode of my car. The power mode in my car makes it lurch ahead in an unexplainable manner.
But the manual feels a lot smoother than my car and definitely revs a lot cleaner (I guess BS6 changes have a lot to do with the above as in the case of many cars that lost mid-range punch post BS6).
3. The automatic feels a generation ahead compared to the pre-facelift car. It's very smooth, gearshifts are quick and hardly noticeable on downshifting. The car is quick to respond to a sudden acceleration. The engine feels properly matched this time around and there is no unnecessary revving.
AT downshifts, uses the torque and power and changes up quickly. Even when you revv it, it feels much better thanks to the engine becoming more revv-happy especially at the top-end. The refinement simply blew me away. I refuse to believe that I was in a Fortuner – that's how good it was on start-up and low speed driving, although it does sound gruffy post 3,500 rpm. It is definitely going to lure a lot of buyers who refused to buy it because of engine refinement and an average autobox.
4. The JBL system is all hype in my opinion. It doesn't sound anywhere as good as Toyota would have liked it to.
Although the sound quality has improved a bit, the bass is clearly lacking.
5. The suspension does seem to be a bit more composed, but nowhere close to the likes of the Endeavour, which has gone even softer.
6. The variable flow control steering is definitely making its presence felt at driving speeds till 60 km/h. It's a lot lighter and maybe a bit unnatural. I definitely prefer the heft of my car's hydraulic unit without VFC. The main area where it should have been light is at parking speeds as the pre-facelift is extremely heavy. But it's more or less the same here, so I could say it's a job half done.
Although Toyota claims the steering feel changes with change in driving mode, that is not something I couldn't feel.
7. Ventilated seats do a good job as the seats of the black AT with black interiors were cooking in the Mumbai sun when I sat in it.
8. The digital speedo in the MID is a good addition.
9. The black interiors do look premium and the seats with perforations mainly help its cause.
10. I did not get a chance to test drive or sit in a Legender, but I feel that if someone doesn't need a 4×4, it is definitely a must buy, as it differentiates the pre and post-facelift car well in terms of exterior looks and it's decently equipped as well. The JBL system is not something anyone will miss out on. The wireless charging, rear USB port, ambient lighting and the maroon and black interiors will more than make up for it, not to forget the looks that will draw attention everywhere you drive.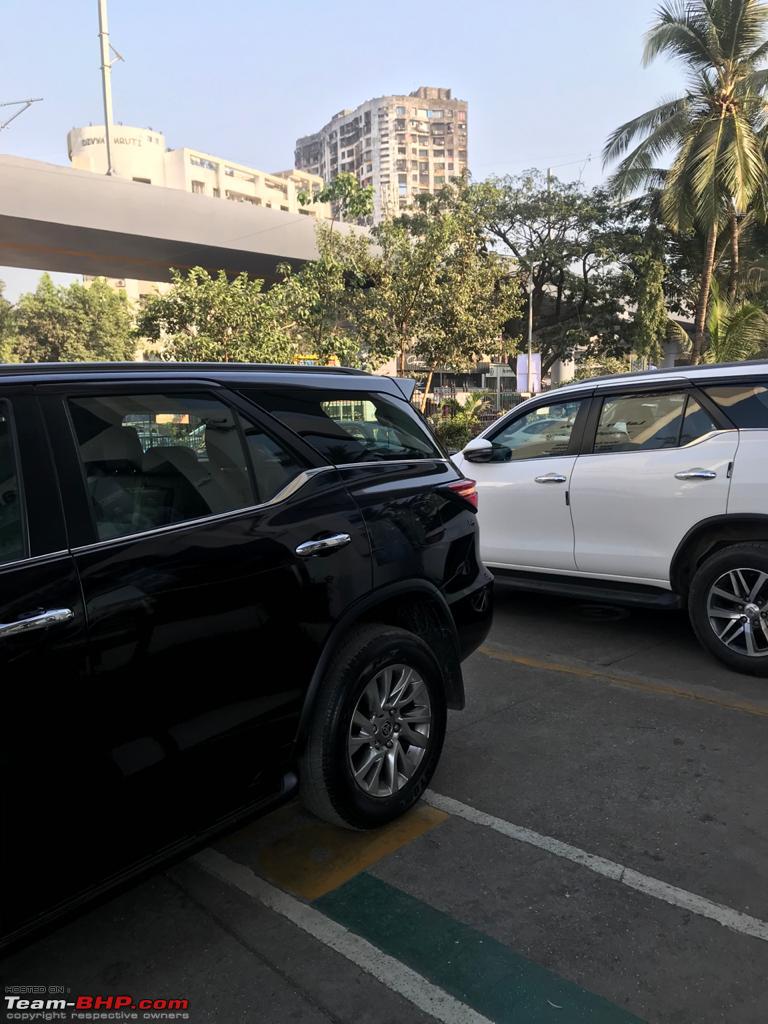 Thanks to Angad sahani once again! Check out BHPian comments for more insights & information.
Source: Read Full Article