1964: Crush Your VW Bus and Buy the Tough Dodge A100!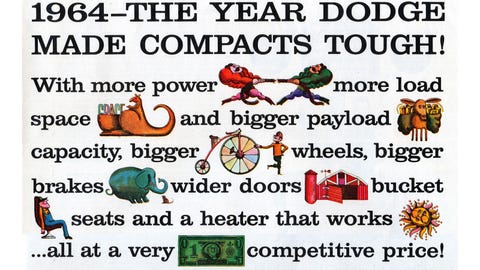 The first of the small vans that sold really well in postwar America (not counting sedan deliveries, of course) was the Volkswagen Type 2 Transporter, which was a rear-engined, forward-control steel box that couldn't haul heavy loads but drove in somewhat un-truck-like fashion. Then Ford came out with the original Econoline for 1961, and suddenly Americans could buy a mid-engined, forward-control steel box that could haul heavy loads but drove like a dumpster sitting on a couple of skateboards. The Econoline sold like crazy, and so GM and Chrysler followed in 1964 with the Chevy-Van/Handi-Van and A100, respectively.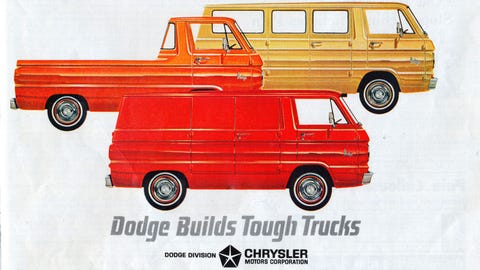 As the former owner of a 1966 A100 project (which I have since sold to my former colleague, Andy Stoy), I feel that the A100 was the best of the ill-handling-but-sturdy mid-engine Detroit FC vans (sorry, Corvair fanatics, your vans go in a different category). In honor, here's a beautifully illustrated magazine advertisement for the first-year A100 van, pickup and station wagon.

Source: Read Full Article